Mack Horton & Family On Life Under Siege Due To Calling Out Sun Yang's Doping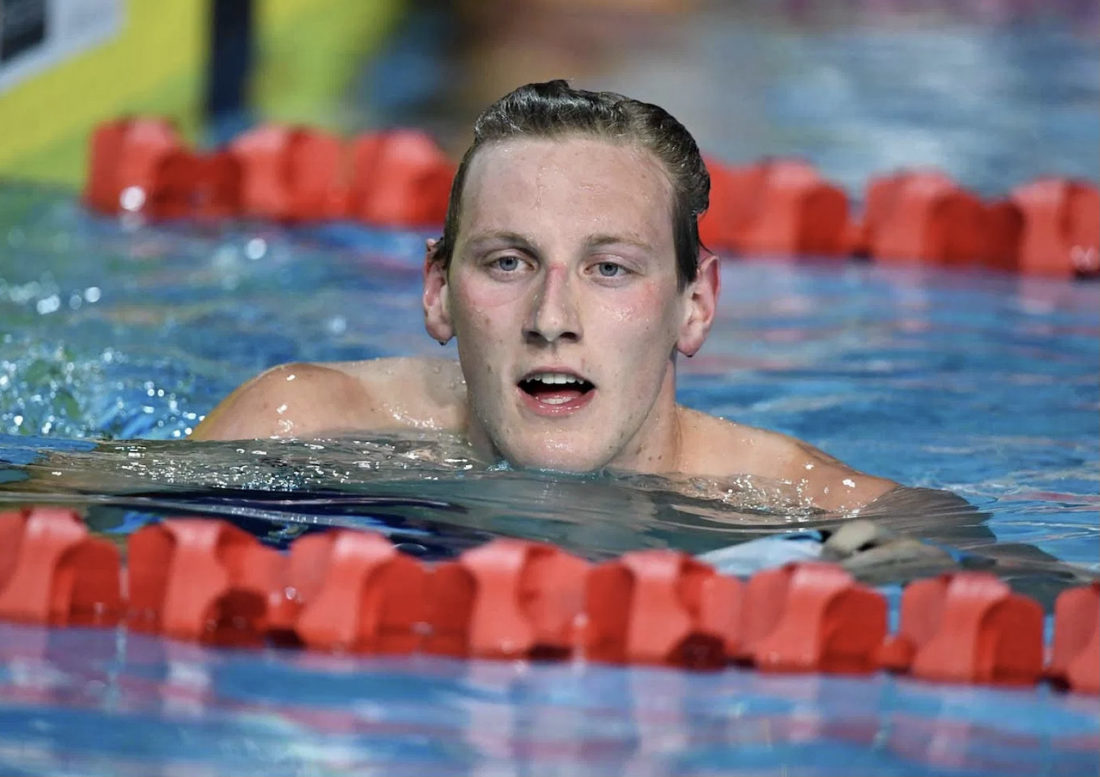 Mack Horton Challenge To Sun Yang in Focus As Parents Cheryl & Andrew Horton Reveal The Horrid Happenings In Their Backstage Story To The Australian Weekend Magazine
Mack Horton and his parents Cheryl and Andrew had to have military security follow them around during the Rio 2016 Olympic Games, younger brother Chad received threats, the family home was broken into, broken glass was placed on the bottom of the family pool, dog faeces hurled over the garden fence and pots and pans banged outside the home at night to cause disturbance on a regular basis after the Australian swimmer called out Sun Yang as a cheat in the wake of a 2014 positive test for a banned substance.
Since Rio 2016, the Hortons have faced constant abuse online, including death threats, had computers hacked and felt like they were living through a siege, The Australian Weekend Magazine reveals in an exclusive feature this weekend.
Andrew Horton receives regular briefings from national security and Department of Foreign Affairs and Trade officials, the newspaper reports with shocking details of the "siege:" the family have been living under.
At one of the security meetings, Horton senior was told that Mack Horton's podium protest after the World-Championship 400m freestyle final in Gwangju, South Korea, last year, was the lead story in 6,000 media outlets across the world. The Australian reports:
"Consular officials informed him 24 hours after his son's comments in Rio that they'd received nine million messages and "none of them were pleasant".
Sun Yang was in the news again yesterday after this author alerted the World Anti-Doping Agency (WADA) to a Chinese Swimming Association notice naming the 2012 Olympic 400 and 1500m freestyle champion as a member of the Olympic training team for a an April through June preparation exercise. 
WADA's intervention resulted in the CSA withdrawing the "invitation" to Sun, who on February 28 this year was served an eight-year ban for tampering with a doping-control blood sample he removed from the chain of command after signing it over to the custody of anti-doping control officers in an out-of-competition test in September 2018.
The penalty was requested by WADA in its appeal against a FINA Doping Panel ruling in January 2019 to hand Sun a caution but go no further. A panel of three senior judges at the Court of Arbitration for Sport sided with WADA when it announced its decision on February 28 before releasing its Report In Full the following week.
Sun has until the end of this month to lodge an appeal with the Swiss Federal Tribunal (SFT). The CAS is based in Switzerland and subject to Swiss law, which is significant in terms of legal procedures and processes and human rights, for example).
This weekend in The Australian Magazine, Andrew and Cheryl Horton reveal the "backstage story of Mack's public stance". Before Horton deprived Sun of the Olympic 400m freestyle in Rio, he called the Chinese swimmer a "cheat" and said that he did not believe Sun had a right to be in Rio and racing alongside swimmers with a clean record.
Mack Horton, who is aiming to defend the Olympic 400m freestyle crown at a Games in Tokyo rescheduled by a year to July 2021 due to the coronavirus pandemic, knew that Chinese fans would pepper him with abuse online but there was worse to come.
The Australian reports:
"For nearly four years the family has lived in a virtual state of siege. Supporters of Sun, most believed to be on student visas, regularly bang pots and pans late at night in the alley behind the back fence and abused the family from the driveway. Plants have been poisoned, dog shit hurled over the fence, and a man speaking broken English calls Andrew Horton regularly to threaten his daughter (he has no daughter). Last year, after South Korea, Cheryl was cleaning the family pool when she discovered "a bucket load" of broken glass at the bottom.
The newspaper and magazine quote a nationa­l security analyst, who decline­d to be named, saying:
"The family's ordeal is believed to be well-organised and part of a systematic pattern of harassment and intimidation directed at perceived critics of China. This is not an amateur operation. The Hortons' story is very disturbing … It says something about the reach of foreign powers within Australia."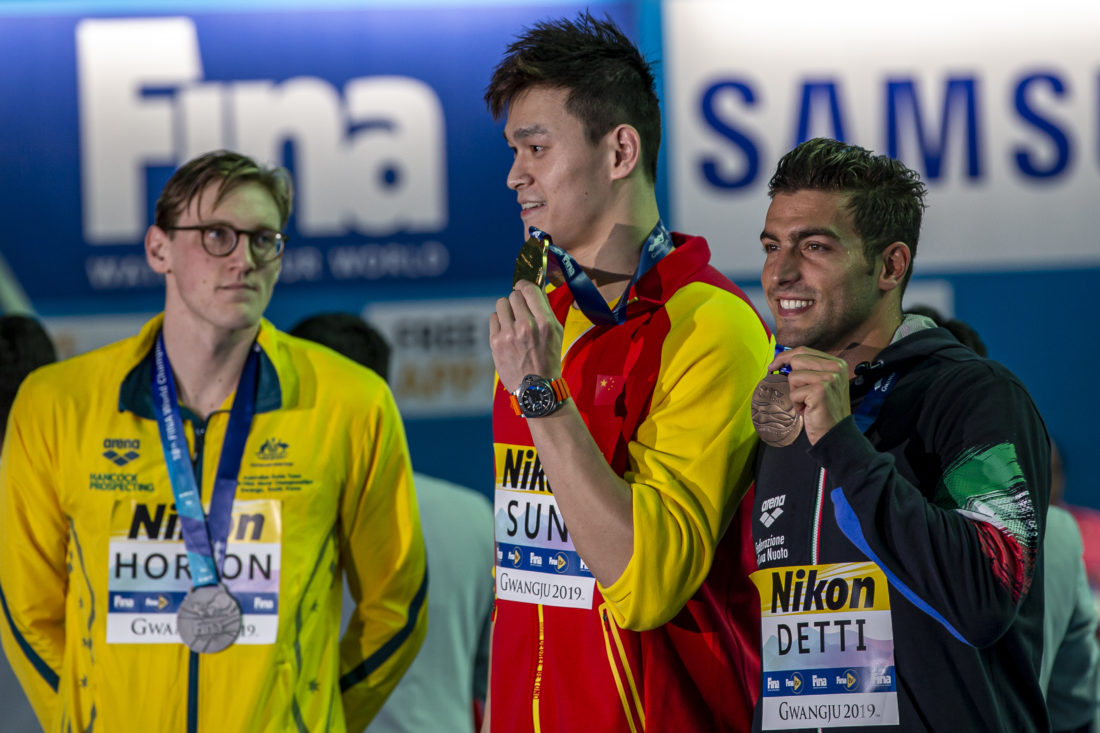 Mack Horton, a 24-year-old reading business management at La Trobe University, denies that his podium protest in Gwangju was pre-meditated and while he continues to receive threats alongside compliments for what supporters refer to as his acts of courage, his primary concern is for the welfare of his family. Horton tells The Australian:
"My primary concern has been my family. To be honest, initially I wasn't aware of a lot of what was going on as my parents tried to protect me. To see and hear the impact it has had on those I love most has been the most upsetti­ng part."

Image: That podium protest –  Photo Courtesy: Patrick B. Kraemer
While Mack Horton's South African-born coach, Craig Jackson, and the swimmer's parents believe the Olympic champion may had had protest on his mind in Gwangju, Horton himself says that his act was neither pre-planned nor an anti-China gesture. Rather, the state of swimming governance was at the heart of his frustration. He tels The Australian:
"It wasn't pre-planned. I made the decision within the minute leading up to the ceremony. It was about frustration with the governance of the sport. Everyone should be held to the same rules equally."
In Rio, Sun Yang claimed the 200m freestyle crown ahead of Chad Le Clos, of South Africa and the first man with a clean record to the end wall. There to greet Sun on the poolside with a big embrace was FINA director Cornel Marculescu. There were no hugs for Sun's rivals, two of whom, Horton and Britain's Duncan Scott, were singled out for criticism by Marculescu at the closing press conference at the 2019 World titles in Gwangju even though, like them, Sun had also received an official warning for the acrimonious part he played in the podium protests that took place under giant banners of the championship motto: Dive Into Peace.
EDITED EXTRACTS FROM THE AUSTRALIAN WEEKEND MAGAZINE
On where it all started: At the Rio Olympics, before competition had even begun, Horton says Sun tried to provoke him in a warm-up pool by splashing water and hurling abuse as they both paused at the ends of their lanes. Asked by a reporter afterwards about the contretemps, Mack coolly replied that Sun had "splashed me to say hello, and I didn't respond because I don't have time for drug cheats". "That was the moment our lives changed," says Andrew Horton. "That's when it all started."
"We've had so many death threats that we've stopped taking them seriously," says Andrew with a grim chuckle.
On The Reaction to Horton calling Sun a drug cheat: "Within 45 minutes, some 680,000 slurs, insults and death threats had assailed Facebook, Instagram, Twitter and the Chinese social media platform Weibo. His Wikipedia entry was later trolled. Mack was dog shit, a racist, destined for the Paralympics, and perhaps a nuclear bomb strike. He must apologise. Or else."
On the abuse and threats: "The biggest change was the intensity," says Andrew. "It was unrelenting. Every day and night in the second half of 2019, peaking in September, easing off in February this year." It relented in the same month that Sun received an eight-year suspension for destroying a blood sample in an out-of-competition doping test.
On living under siege: " … during an interview for Australian tele­vision, Andrew noticed his phone light up with text messages. Two suspicious vans had been spotted outside the family's home, where their other son Chad was preparing for his Year 12 exams. Andrew shows me one of the texts from a concerned neighbour, which reads: "The garage door was open and so was the house and Mila [the family dog] is missing. The alarm is going off now I am waiting for the police to arrive.
Cheryl cuts a sharp look at her husband as he tells me this. "This is news to me as well… "
On what a father told his son and why that sparked this from Mack's mum: "… if nobody stands up, nothing changes."