M50Fr – Caeleb Dressel Dashes To Gold No4 In 21.07 Olympic Record Ahead Of Manaudou & Fratus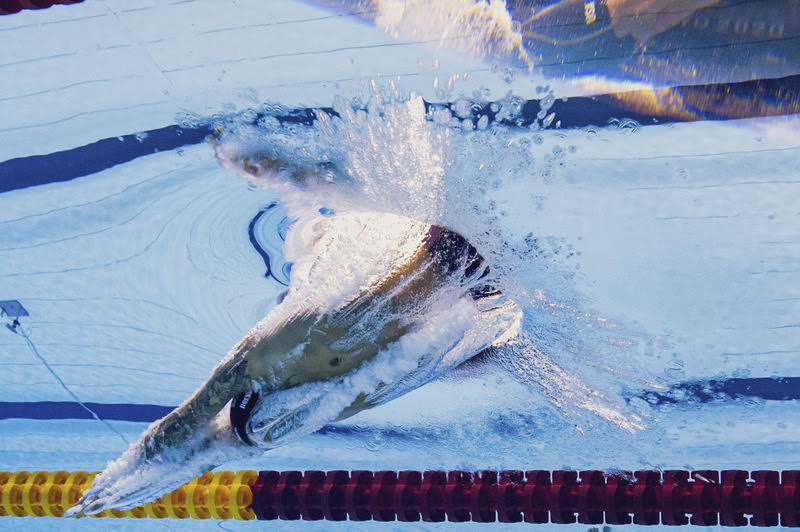 Tokyo 2020 Olympic Games, Men's 50m freestyle – Caeleb Dressel, USA, delivered a 21.07 Olympic-record blast ahead of the rest for his fourth gold of the week, with one more race remaining, the 4x100m Medley.
The 2012 champion and 2016 silver medallist Florent Manaudou, of France, added another silver to his Olympic dash collection in 21.55, 0.02sec ahead of Bruno Fratus, who gave Brazil its first medal in the Tokyo pool. Result In Full.
That locked American Michael Andrew out by 0.03sec, With Britain's Ben Proud and Greek challenger Kristian Gkolomeev a snap for fifth in 21.72.
Gold for Dressel was the fifth for the United States in the modern era, and all-time, the event having been held in 1904 before an 84-year absence from the Olympic program.
Dressel joins the club of freestyle sprint doubles as a triple solo champion, his golden collection in Tokyo including the 50 and 100m freestyle and a 49.45 World-record victory in the 100m butterfly. There was also gold in the 4x100m free with mates.;
There were two misses in the mix: he was left out of the 4x200m freestyle line-up and the United States finished out of the medals in fourth, while the mixed medley relay saw the USA take fifth place, those two events marking the first time in Olympic history that American men have missed the podium in any relay events.
Dressel had arrived in Tokyo looking for six gold medals but that tilt fell apart with the second U.S. relay debacle of the week on Saturday. What Michael Phelps had – other teammates who could match or beat the rest in relays – Dressel did not and by the time he left his blocks for the freestyle leg of the mixed relay 9sec behind Britain's Anna Hopkins the writing was on the wall.
"Fifth place is unacceptable for USA Swimming," Dressel said. "It stings."
More later…