M4x200 Free – Dean, Guy, Richards, Scott (1:43.4) & Jarvis Celebrate First GBR Gold Since 1908 In 6:58.58 World Textile Best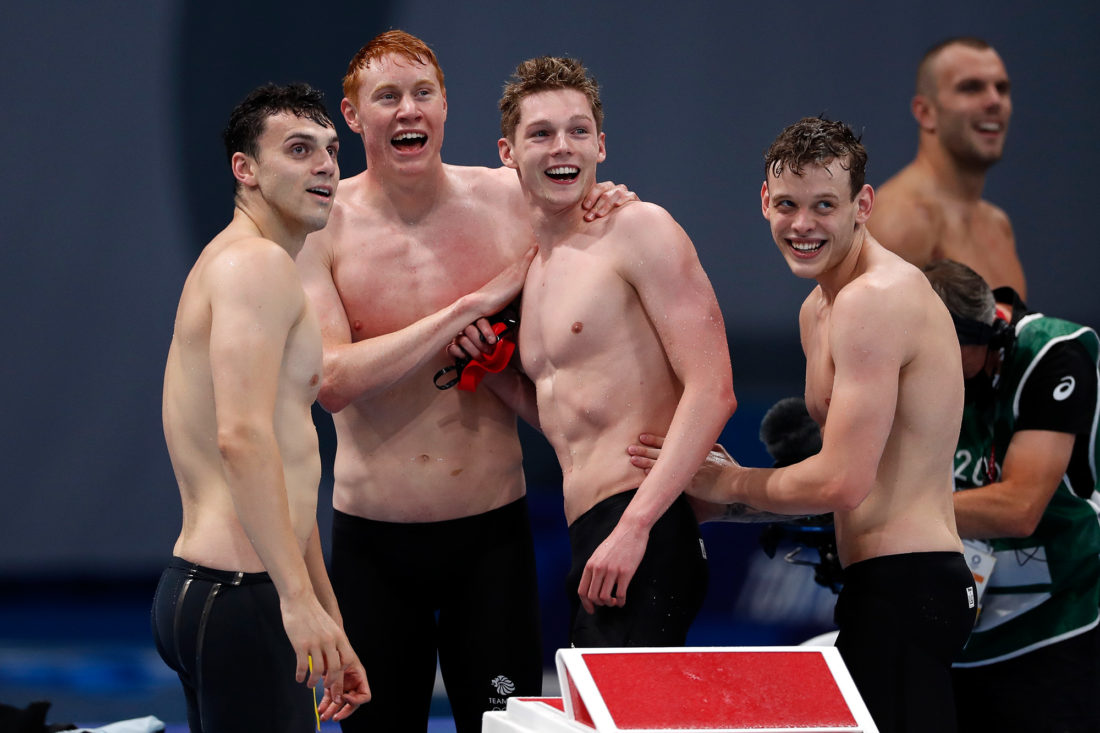 Great Britain men's 4x200m freestyle quartet of Tom Dean, James Guy, Matt Richards and Duncan Scott ended a 113-year thirst for gold with a dominant victory at the Tokyo Aquatics Centre this morning, their combined 6mins 58.58 the fastest time ever swum in textile suits.
A European record, the winning effort is only the second sub-7-min swim in history after the 6:59.70 in which the United States claimed gold at London 2012. Four years on, the USA added another gold, for 17 in all, to maintain a record of having made the podium for all Olympic relays since 1908.
Today, the Americans suffered their first miss in all those years as TeamGB defeated not only the Olympic champions but the World champions and the quartet that claimed the European crown ahead of Britain in May this year.
"Pick your fights" is among the many mantras of Mel Marshall, who guides Adam Peaty and others at the Loughborough Performance Centre but has also played a key role at relays camps that have contributed to a surge in success among British quartets since the disappointment of coming away empty-handed from a home London 2012 Olympics. Europeans, Olympics? Which one to go for? … Tricky, or perhaps not.
Behind Britain, the new holders of the World Textile best, continental champs Martin Malyutin, Ivan Girev,  Evgeny Rylov and Mikhail Dovgalyuk took silver for Team Tchaikovsky in 7:01.81, Australians Alex Graham, Kyle Chalmers, Zac Incerti and Tom Neill the bronze just 0.03sec away. 
The mighty USA, with 17 golds to its credit since the 4x200m became an official Olympic event in 1908 and Great Britain struck gold at a home Games in London, put up a strong early fight, Kieren Smith setting a lifetime best of 1:44.74 in a scrap with Dean, on 1:45.72, 1.5sec down on his winning time in the solo 200m yesterday and struggling with fatigue from that, his tour of anti-doping, media, the dawning realisation that his success is a game and life-changer, and his efforts qualifying Britain for the relay final yesterday evening.
Guy, the 2015 World 200m champion, was next in for Britain, his 1:44.40 overhauling Drew Kibler, of the USA and granting Britain a lead of 0.13sec.
American Zach Apple stuck with Matt Richards for the first 100m of the third leg but the British teenager rocketed away from him over the next two lengths for a 1:45.01 split time that handed over a big 5-metre lead to Scott.
It was all over but the silver medallist behind teammate Dean in the 200m final yesterday left nothing to chance as he fired off a 1:43.45 split, the fifth fastest in history and the swiftest four lengths in the field, Guy's 1:44.40 next best. Britain's lead had been extended to a huge 3.23sec.
The World record survived – just … by 0.03 the shiny suits live to fight another day but consider the fatigue in Dean and it is easy to see why the Brits are talking about it as a standard that is living on borrowed time.
Asked if Britain could break the World record some day soon, Dean said: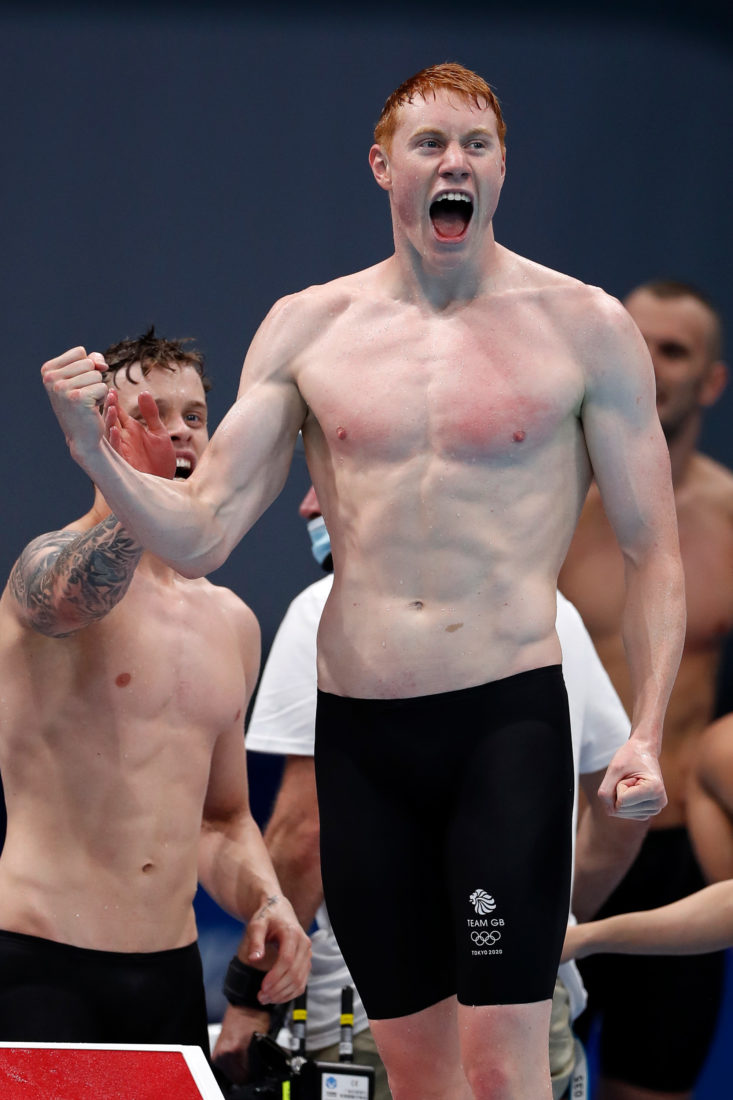 "Yes we can and we're only going to get stronger. We were within 0.03 of setting a world record and there's definitely more to come and we can get quicker. I've had a lot of swims in a short space of time and I was starting to feel that a little bit. Since yesterday, everything has gone a bit crazy. There's more to come, no doubt. We will get quicker and quicker and that world record will be on, sooner rather than later."

Tom Dean – Photo by Simone Castrovillari, courtesy of Speedo
Asked about his debut in an Olympic final, Richards, a teen with a head on his shoulders wiser than his 18 years, said: "It was a different feeling to anything I've ever had before. To be in an Olympic final is the pinnacle of our sport. Being alongside these guys gave me a lot of confidence but I also have a lot of respect for my opponents. I knew the Americans were going in and trying to win, the Aussies, the Russians, the Italians. Those guys were right there and I had to make sure I stuck to my race plan. Thankfully James, Tom and Duncan have so much experience on that bench and passed down their knowledge to me that it helped me and helped me come up with a race plan that led to a good swim. It was a fantastic experience and I hope to build from that."
Without a crowd at the COVID Games, the noise came from the Great Britain. Team in the stands and the yelling of Dean, Guy and Richards on the deck as Scott came home to deliver Britain's third gold and fourth medal in the pool in four days.
Scott leapt out of the pool the moment the last man was home. Emotions spilled as the new awesome foursome of global 4x200m racing celebrated their victory, the Britain team in the stands going wild. Dean, Guy, Richards and Scott pumped muscles, yelled and then went into a huddle, their bond eternalised through the alchemy of Olympic gold.
Only the winning quartet got to step onto the rostrum to receive medals but Calum Jarvis, who raced in heats with Dean, Guy and Richards yesterday, but here is the wonderful celebration of a teammate at his own special ceremony in the bowels of the Aquatics Centre today:
Dean denied Scott a snap for the solo 200m title by 0.04sec yesterday but the British teammates today got to share gold with Guy and Richards – and Jarvis.
The last and only other time Britain claimed the crown, the 4x200m free was new to the official Olympic program: it was 1908 and victory was celebrated at a home Games in London.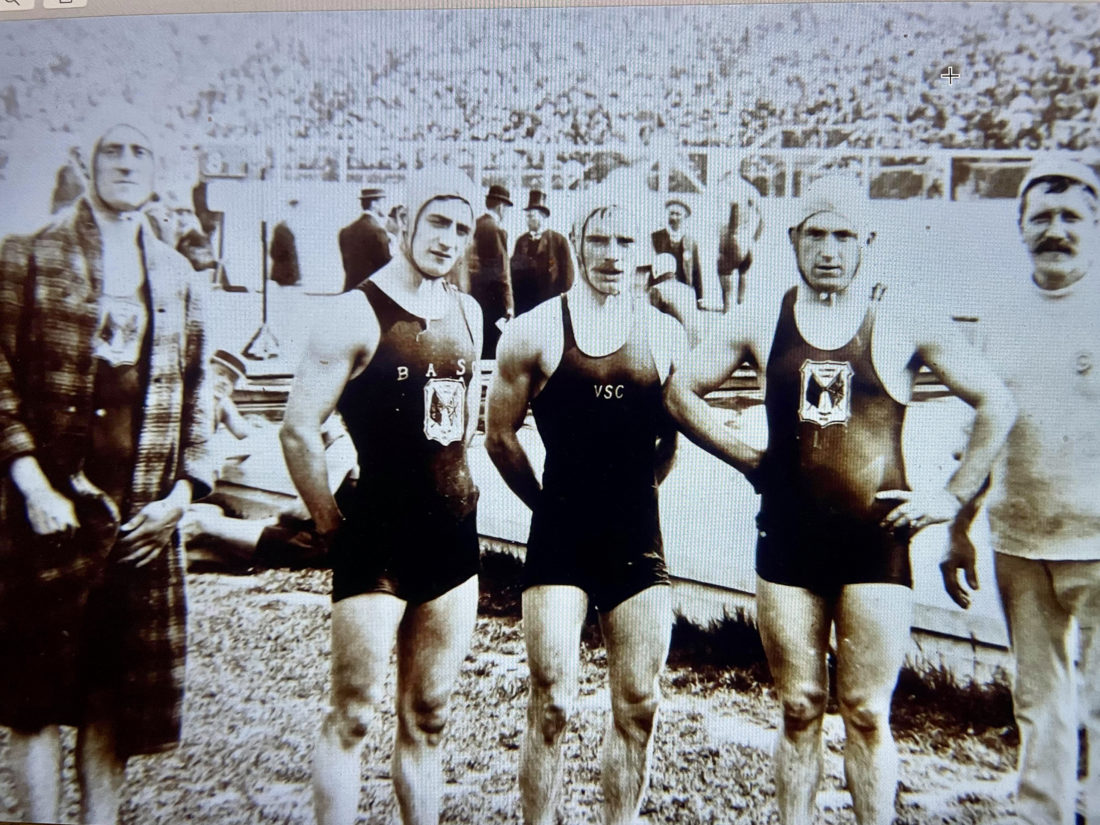 The 1908 quartet of John Derbyshire, Paul Radmilovic, William Foster, who was 18 years and 2 weeks old and remains the youngest British Olympic gold medallist in any sport, and Henry Taylor added to Taylor's two solo golds, over 400m and 1500m and those three golds at one Games have remained the best of Britain until now.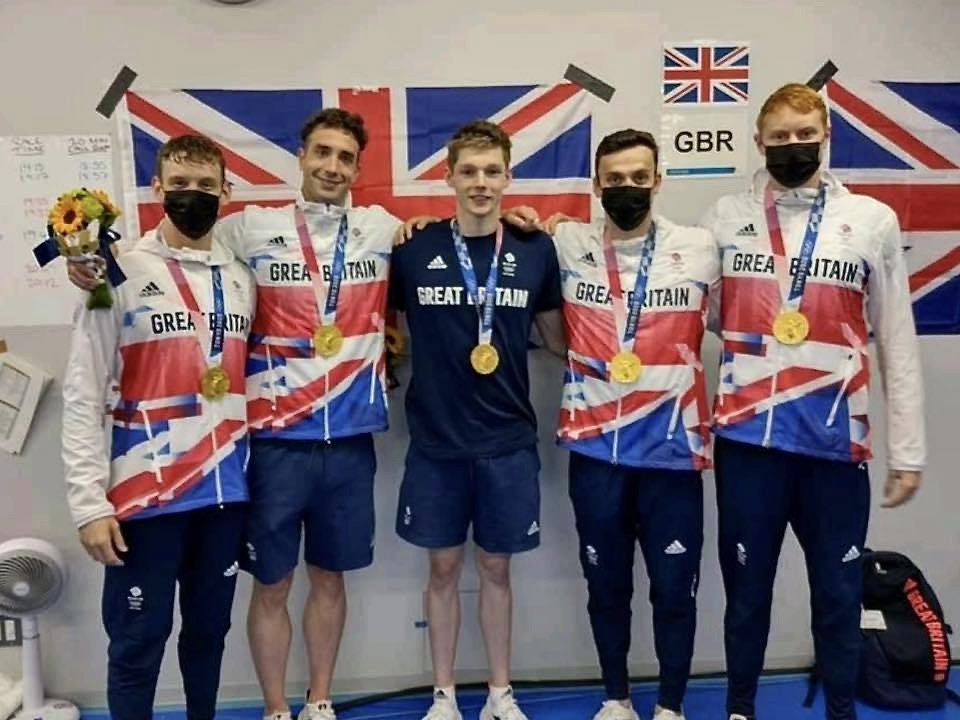 Today, four men – Guy, Dean, Richards and Jarvis – guided by coach Dave McNulty and TeamBath – and Scott, coached by Steve Tigg at the University of Stirling (where Scott graduated In Business and Sports studies only last month), matched the 1908 golden tally, with four days of chances remaining.
Richards, seven months older than Foster was when he raced in 1908 but in this day and age, looks set to be a foundation stone in future Britain 4x200m success with a foot and experience in the past as he learns from the men around him. As Richards put it when asked what it was like to race in his first Olympic final and swim away from an American rival: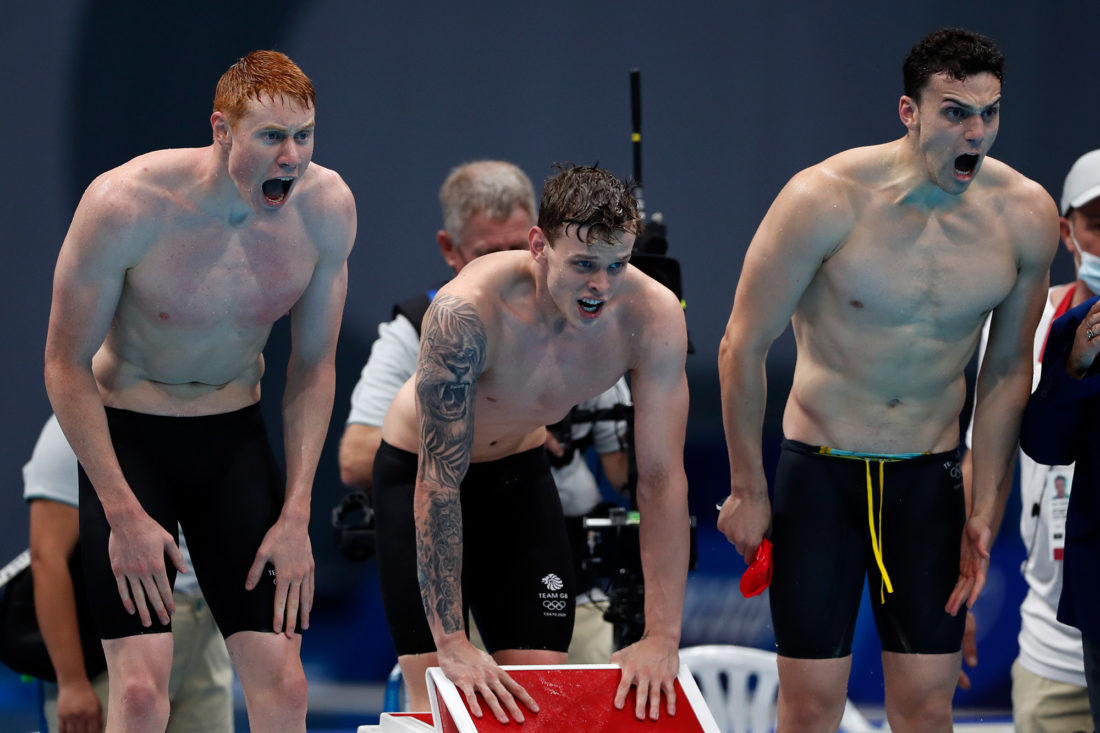 "It is an incredible feeling, pride is the word that keeps coming to mind. I don't think I've ever been so proud to have been part of a team. Going in after the current Olympic champion and a former world champion, and knowing the guy going in behind me won a silver medal in that event yesterday, the confidence that gives you is just incredible. The experience I've gained from that race is something I will take forward now for future races. Just a huge thank you to the other lads in that race for helping us out."

Matt Richards – Photo – (l-r) Tom Dean, Matt Richards and James Guy yell Duncan Scott home – by Simone Castrovillari, courtesy of Speedo
Britain has now won three golds in as many days, with Adam Peaty's 100m breaststroke title retained, Dean's 200m victory and the 4x200m squads exploits. That makes it the first time since 1908 that Great Britain has won three gold medals at an Olympics in the pool. There are more chances ahead but ion nerves are held and game plans stuck to, Tokyo could become the most successful Olympics ever for Great Britain.
Dean's success over two days also makes it the first time since Rebecca Adlington's 400-800m free double triumph at Beijing 2008 that Britain has lauded a swimmer with two gold medals, Adam Peaty having come closest in Rio 2016 when he claimed gold in his solo event and silver with Britain mates in the men's medley relay. There will be no comment on that, nor counting chickens nor getting beyond the moment from Adlington's personal mentor Bill Furniss, the head coach to Great Britain in the post-lindon 2012 years. "The time to assess and analyse is when the job is done," he once said.
Beyond battle, Dean was asked how he felt about his news status as a winner of not one but two gold medals in just over 24 hours. He said: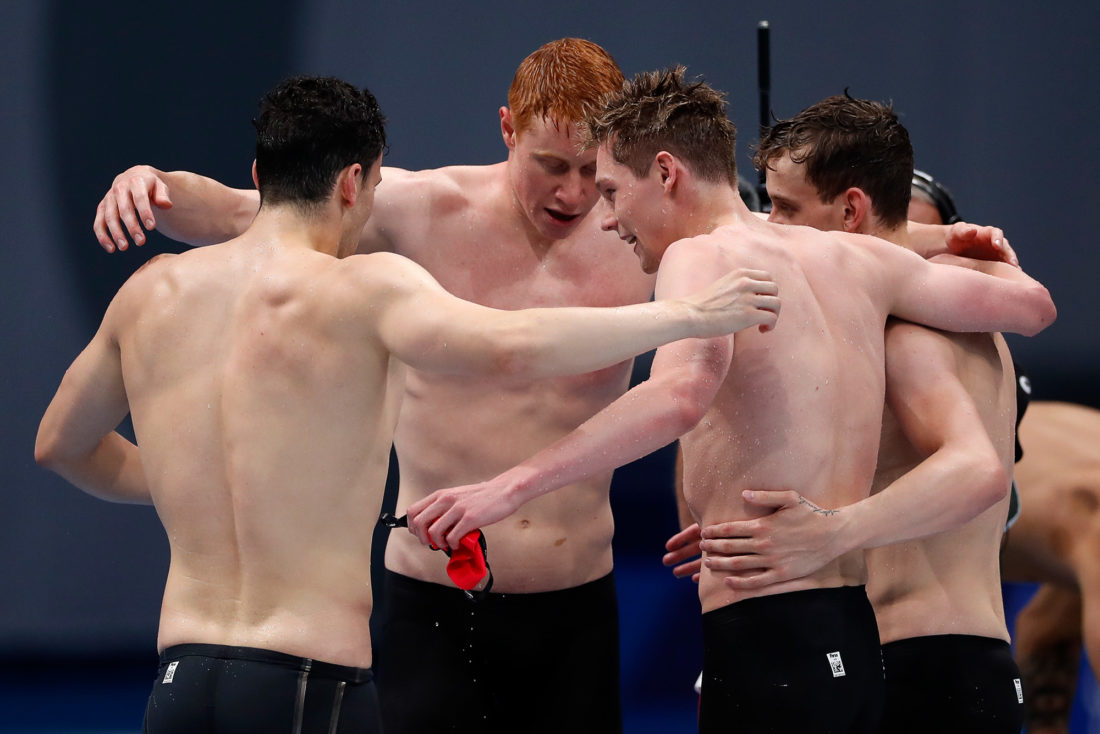 "It feels pretty special. Double Olympic champion sounds pretty good. The last 24 hours have been a bit crazy. I saw that video (of his family and friends cheering him on at a party in their garden back home) yesterday when I got back to my apartment. I hadn't been on any social media until I got back home. Ross Murdoch, my flat mate, mentioned this video. I checked it out and I've watched it quite a few times. It was amazing to see your family and friends back home, just celebrating and everyone coming together after so long of not being able to do that. It was pretty special. And backing it up with the boys today for a second gold, it is better than I could have asked for."

Tom Dean – Photo – (l-r) Tom Dean, Matt Richards and James Guy yell Duncan Scott home – by Simone Castrovillari, courtesy of Speedo
Dean paid plaudits to absent teammates as he spoke to the media, Guy and Scott already getting ready for their next challenges, including the 100m butterfly for Guy, the 200m medley for Scott and the men's 4x100m medley with fellow World Champions in that event, Peaty and Luke Greenbank.
"Duncan always pulls it out of the bag in the relay, we've seen that so many times, same as Jimmy," said Dean. "Duncan has joined the 1:43 club on relay splits which is a pretty exclusive club to be part of. I never had any doubt he was going to do something special after seeing him yesterday. Because he is such a professional in the pool and out of the pool, he was able to park yesterday's swim, which was still a huge swim, we both got a 1:44.2s. it was just down to fine margins.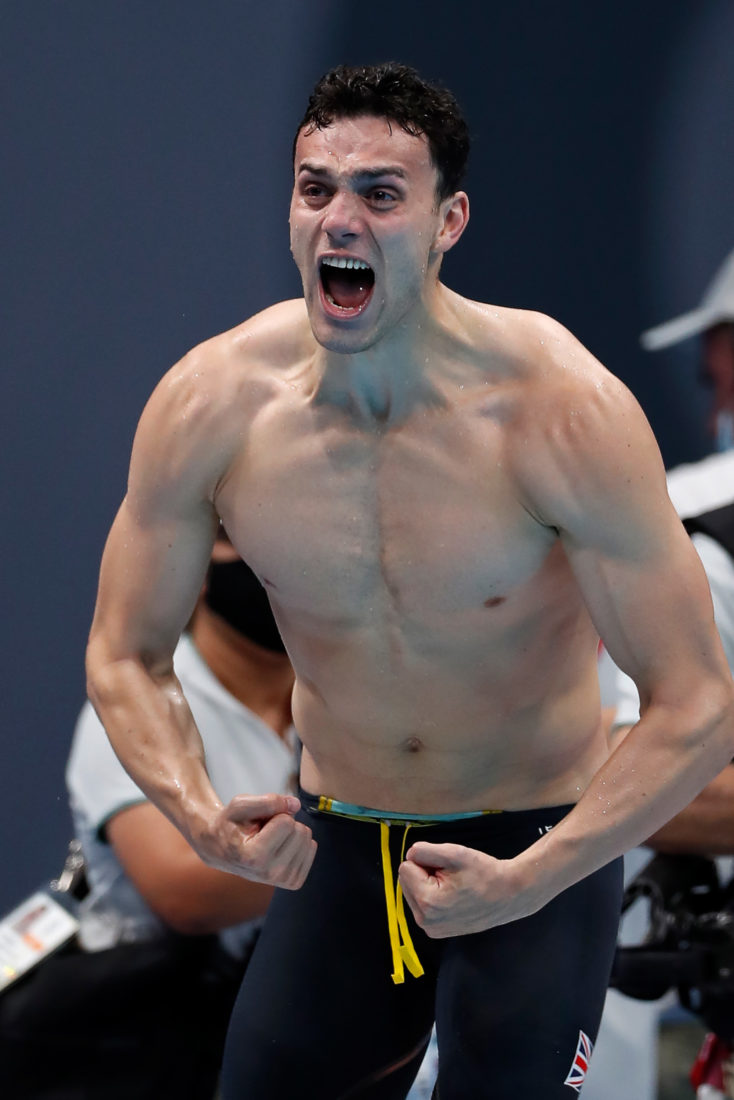 "We're great mates, in and out of the pool. I've looked up to him for a long time for what he's done in the sport. He is the complete professional, able to back up one solid swim with another solid swim, every time. He has a really heavy programme this week and you wouldn't know. You are always confident he's going to pull it out of the bag in the relay and he also delivers even in a really pressurised environment. To see him do a 1:43 split shows you that.

I think he'll have done nine swims by the end of the week. I've had five and it's starting to take its toll."

"Jimmy – I have never had any doubt with him. I've been watching him every day in training and the times that he has been dropping. I always knew he was going to be quick. It was a really mature swim from him to hold it together and do what he needed to do."

Tom Dean – Photo by Simone Castrovillari, courtesy of Speedo
Asked about whether he felt part of a continuum in a long-term plan to build relay strength in Britain, some of that work dating back 20 years, Dean said: "We have got some senior members on the team.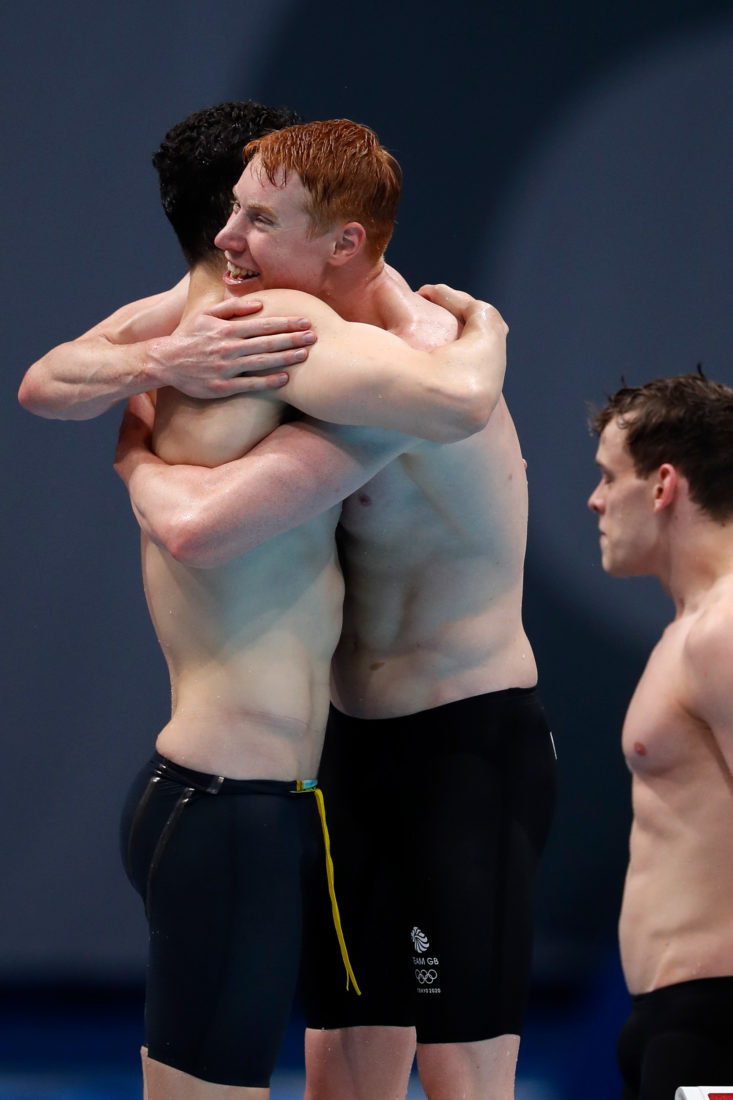 "When I did my first relay with these boys in Europeans back in 2018, I was Matt's age and it was a great taste of what it is like to be part of a prestigious event in British swimming. The 4x200m free has been getting stronger and stronger. I know it looks like we have burst onto the scene and won the Olympics, but this has been years in the making. The last few years we have been getting stronger and stronger, more and more depth. It is such a tight event. Jimmy has been on this team since 2013. Duncan has been on it for many years. They have both done amazing things. We are only going to get stronger and stronger."

Tom Dean – A hug from one Olympic Champion to another – by Simone Castrovillari, courtesy of Speedo