M400 Free – Short Margin Of Victory 0.02sec Over Hafnaoui With 3:40.68 To Get Dolphins Rolling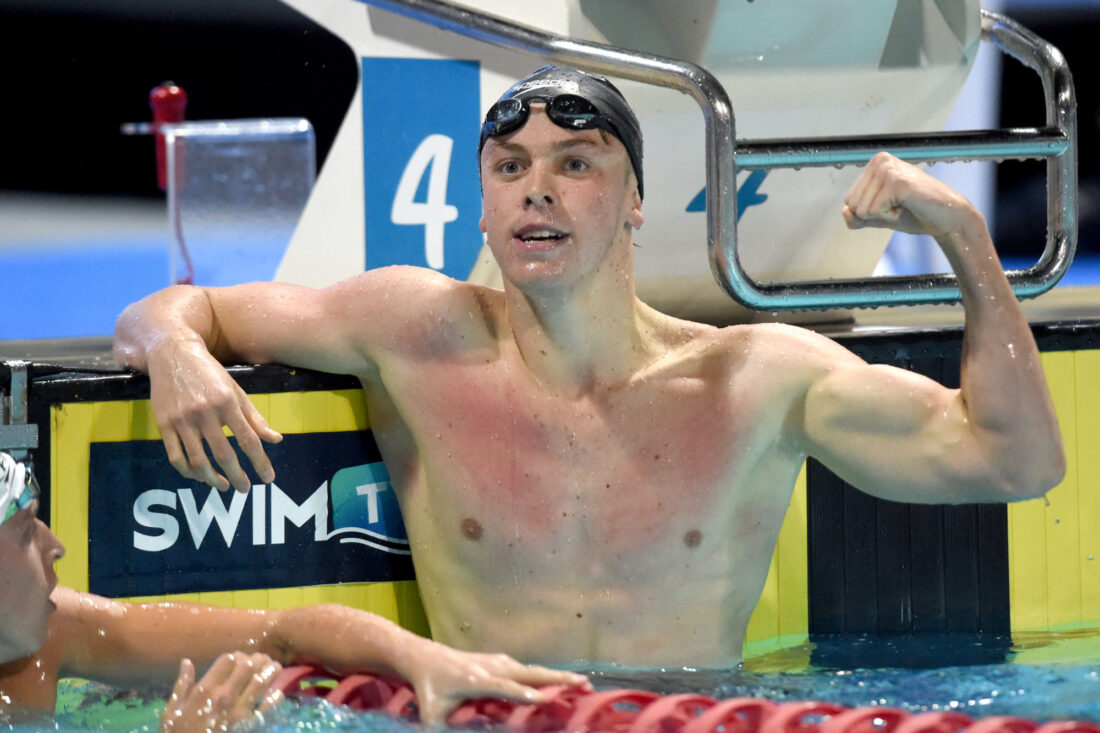 Sam Short, 19, scorched well inside World record pace for seven of the eight lengths of the 400m freestyle on his way to victory in 3:40.68 in the opening final at World Championships in Fukuoka, Japan, a nailed finish delivering the first global long-course gold of his career by 0.02sec over Olympic Champion Ahmed Hafnaoiu.
The margin of victory was the smallest in the history of the 400m freestyle at World Championships, the previous record having dated back to 1982, when Vladimir Salnikov pipped Svyatoaslav Semenov by 0.13sec. No Russians in town this time round.
Adrift the new African record of 3:40.70 was Lukas Maartens, of Germany, bronze taken in 3:42. 20. Short's win marked the start of a phenomenal four-gold run for the Dolphins, two of the victories achieved in World-record times.
The Australian's battle with the Tunisian at the start of eight days of showdowns at the Marine Messe pool, brought him the closest any Australian (or anyone else barring a man in a shiny suit) has ever come to Ian Thorpe at his phenomenal fastest.
It was in the same venue in 2001 that Thorpe took the 400m title in 3:40.17, a World record and the second fastest ever in textile to this day behind the 3:40.08 he clocked a year later at the Commonwealth Games in Manchester.
Those two efforts surpassed Thorpe's Olympic golden efforts on day 1 at a home Games in Sydney in 2000 as a 17-year-old: 3:40.59. Now, Short is the next swiftest Aussie, his 3:40.68 sailing past teammate Elijah Winnington's 3:41.22 victory at World titles in Budapest last summer in an Olympic cycle thrown off kilter by the Covid pandemic and dictating, due to contracts signed, a global long-course showcase every year between 2022 and 2025.
Three men swam inside the World-record pace for at least half the race but that was to be expected: Paul Biedermann on his way to gold for Germany and a World record of 3:40.07 in Rome back in 2009, swam the last length as though it was his first. That was the surf of shiny suits. And so, not for the first time in the sink between Rome '09 and all that followed, the roar of swimmers racing without highly significant material aid left them shy of the World mark. The same explanation holds for why bronze was faster in 2009 and why eighth was faster in 2009 than in 2023.
The splits compared
53.58; 1:49.29; 2:45.49; 3:40.68 (55.19) Short
53.82; 1:49.50; 2:45.63; 3:40.70 (55.07) Hafnaoui
53.77; 1:50.73; 2:47.13; 3:42.20 (55.07) Martens
The top three splits, textile and all, before the race:
53.02; 1:49.57; 2:45.43; 3:40.08 Ian Thorpe AUS Manchester 2002, Commonwealth Gold
53.59; 1:50.52; 2:46.64; 3:40.14 Sun Yang CHN London 2012 Olympic Gold
52.96; 1:49.97; 2:46.89; 3:41.22 Elijah Winnington Budapest 2022 Gold
Shiny Top 3
54.42; 1:51.02; 2:47.17; 3:40.07 Paul Biedermann GER Rome 2009 Worlds Gold
53.86; 1:50.44; 2:46.29; 3:41.11 Ousamma Mellouli TUN Rome 2009
53.97; 1:50.71; 2:47.15; 3:41.35 Zhang Lin CHN Rome 2009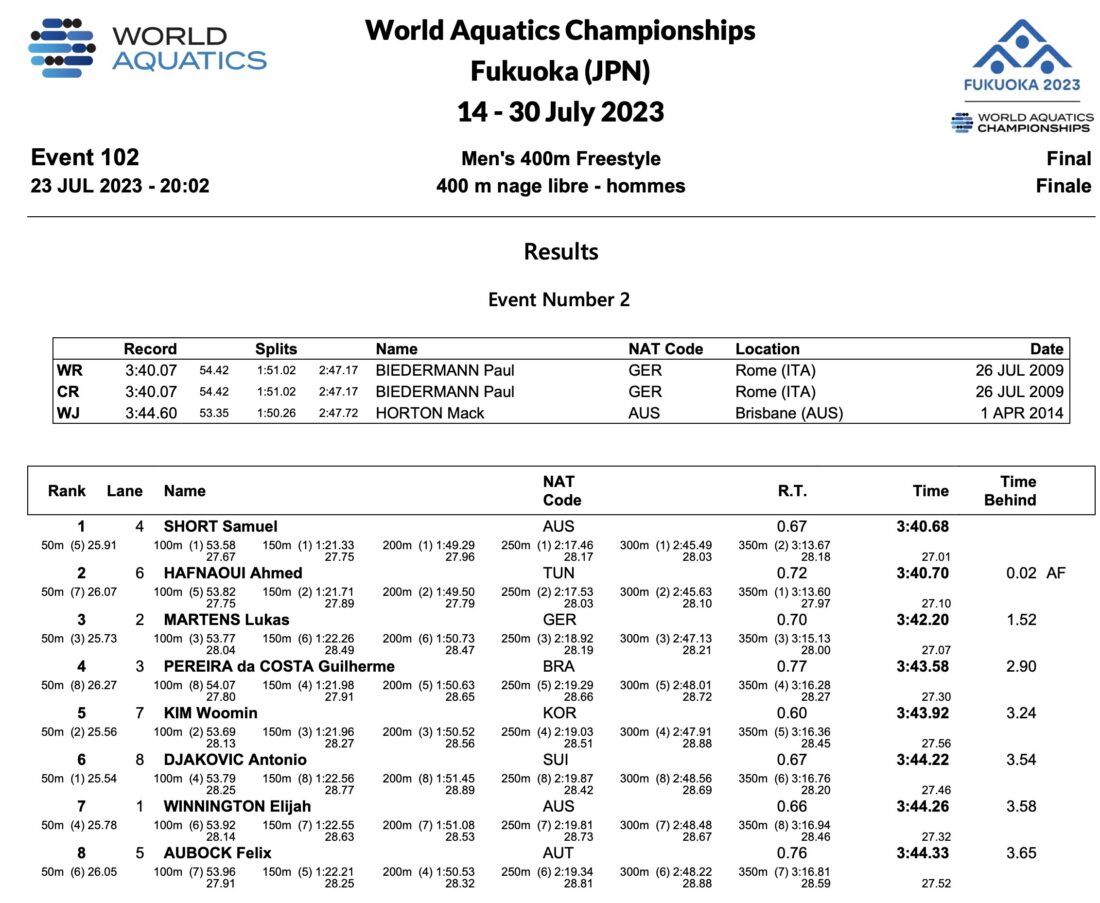 Short & The Long History Of Aussie 400m Success
The Australian teen won it from the front, taking on the pace and living up to billing and buoyant speed in heats and trials back home in Australia.
By the time gold and silver had been decided, the 400m freestyle had several new lines written in the history book of the event. Australia now account for seven of the twenty 400m world crowns handed out, Short following Winnington (2022), seventh today, Grant Hackett (2005), Thorpe (3, 1998, 2001, 2003) and Kieren Perkins (1994).
The Fukuoka race marked the first in World-Championship history with two swimmers inside 3:41 and the fastest podium in textile (Rome 2009 saw bronze go in 3:41.35).
Short emerged from victory to say:
"With 100 to go, I was just going for the win because Ahmed is the Olympic champion so this was going to go down to the wire. I just put my head down at the end and I don't know how I beat his long arms to the wall but I did!"
He cited his training for the 1500m as the reason why his 400m is so strong and paid plaudits to Winnington for providing the domestic challenges that have fed their progress.