M200 Butterfly: Kristof Milak Makes Magyar Swim History With Dominant 1:51.25 Olympic Record Victory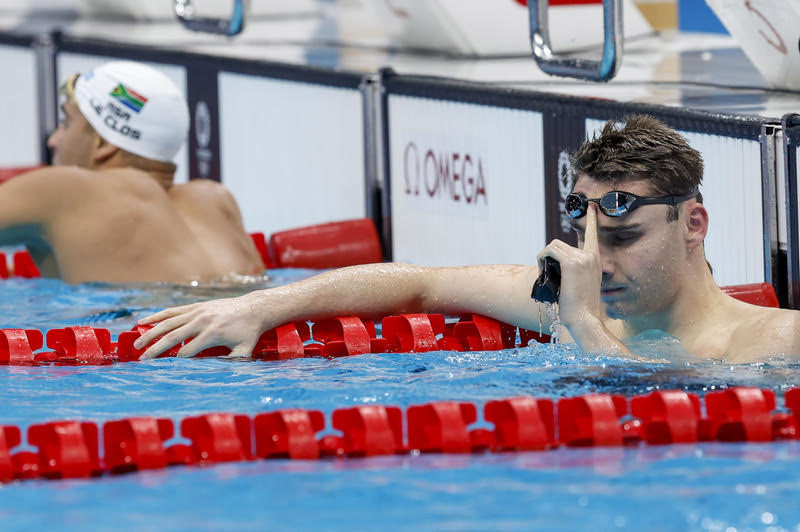 Men's 200m butterfly, final – Kristof Milak grumbled at the circumstance of being in a league of his own: if only he hadn't had a rushed changed of suit 10 minutes before he blasted a 1:51.25sec Olympic-record victory to become the first Hungarian ever to claim the Olympic title, his pre-pandemic World record of 1:50.73 would surely have fallen.
Missing the record clearly niggled Milak, 21, but the Hungarian ace did not miss his mark, his elevation to Olympic champion achieved with a masterful, flowing effort. He swam faster enough for gold in all three rounds, too. No other swimmer in Tokyo this week, heats, semis nor final, raced faster than any of Milak's three swims, which started with a heats efforts of 1:53.58, speedier than the times in which Japan's Tomoru Honda claimed silver today (1:53.73) and Federico Burdisso, of Italy, took bronze (1:54.45).
Since he sailed past American great Michael Phelps on the clock at 2019 World Championships in Gwangju, Milak has been the dominant global force over 200m butterfly. Today in Tokyo, he topped Phelps – the most decorated swimmer in history and most-decorated Olympian ever, all sports – on the all-time rankings not just in one-off speed but on the count of all-time speediest performances. The American led the all-time rankings every year between 2001 and 2018.
Milak's victory time was the third fastest ever and left the Hungarian boasting the swiftest four performances ever, while his 1:52.22 effort in his semi-final yesterday contributed to Milak now having six of the fastest 10 performances in history, one more than Phelps, who has four entries in the top 10 all-time, placed at Nos 5, 6, 7 and 8, Milak in No 9 and 10.
You have to trawl back to 2003 to find an all-time top 10 that did not feature Phelps in at least the top 4 slots and with most entries on the list. No4 that year was France's Franck Esposito, who was No 2 in 2002, when Phelps had still to claim most entries in the top 10 for the first time, former teammate and Olympic champion Tom Malchow at the helm of the count with four efforts.
Triumph delivered Milak to a destiny and destination foretold by the curve of his progress from a teenage talent of great promise to one capable of racing inside the best effort of Phelps even at a time when the American wore a part-poly shiny suit.
Gold in the 200m butterfly at the 2017 World Junior Championships was followed by the Youth Olympic Games crown in 2018. Then came that sensations 2019 season in which he became the global pace-setter and, for the first time in 19 years Phelps was no longer the World No 1 on the clock, the only season of setback throughout that time his London 2012 loss to South African Chad Led Clos, who finished fifth today half a second outside the medals.
Milak was out in 24.48, reached half-way in 53.48, biding his time in third place before booming off the wall to take a lead that he would never relinquish and would extend with every passing, racing stroke towards the gold that had had his name pencilled in on it since Gwangju 2019 World titles.
Power, endurance, a brutal mastery of pace in the back half of the race were all on Milak's side as he reinforced the message his rounds had already delivered: chase the minor spoils, the big one's mine.
having duly delivered, Milak was clearly less than ecstatic as he made his way through the media ranks and explained: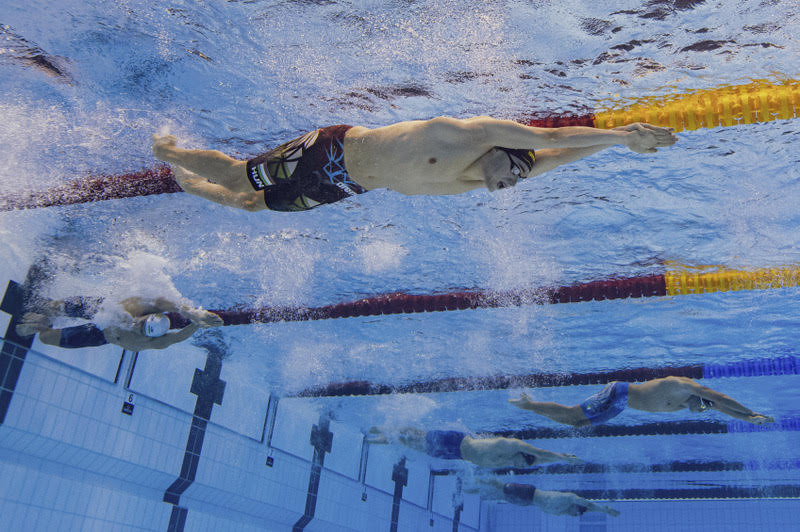 "My suit tore 10 minutes before the start of the race, just before entering the call room. At that moment I knew that the world record was gone, because I was totally off focus. When that happens to a swimmer, it could be the goggles, or suit, but just prior to a race, it can destroy your focus, absolutely. I got tense. It was on my face and it was no longer that easy to do what I wanted to do."

Kristof Milak – image – (From Top) Kristof Milak of Hungary and Leonardo De Deus of Brazil in the Tokyo 202One Olympic 200m butterfly final – by Patrick B. Kraemer
Praised by Phelps and his coach Bob Bowman back in 2019, Milak is among an elite shoal of swimmers considered to be 'winning certs' who dominate the all-time rankings in their respective best events, including Adam Peaty and Katie Ledecky.
Another dominant force this week is Caeleb Dressel, the American who Milak will now face in the 100m butterfly, starting with the heats here in Tokyo this evening.
Honda, meanwhile, produced one of the few great efforts of the week by home-Games hopes, lifting spirits in Japan after a final that went without pre-Games medal favourite Daiya Seto.
"I'm genuinely just so happy," Honda said. "When I touched the wall I was so elated. In the semi I put a lot of pressure on myself but in the final I decided to just have fun. I've been training to really push it on the last 50m. It felt good and I managed to push myself to the wall."
Burdisso was also delighted: "I am really happy about the race. The time is not really good, but the important thing is a good touch. I remember in 2018 in Buenos Aires I came third at the Youth Olympics and now to be here on the podium at the Olympics is an honor."
The 200M BUTTERFLY final:
1. Kristof Milak (HUN) 1:51.25
2. Tomoru Honda (JPN) 1:53.73
3. Federico Burdisso (ITA) 1:54.45
4. Tamas Kenderesi (HUN) 1:54.52
5. Chad Le Clos (RSA) 1:54.93
6. Leonardo de Deus (BRA) 1:55.19
7. Gunnar Bentz (USA) 1:55.46
8. Krysztof Chmielewski (POL) 1:55.29