Qin Haiyang 57.69 Asian Mark A First For Self & China Ahead Of Triple Silver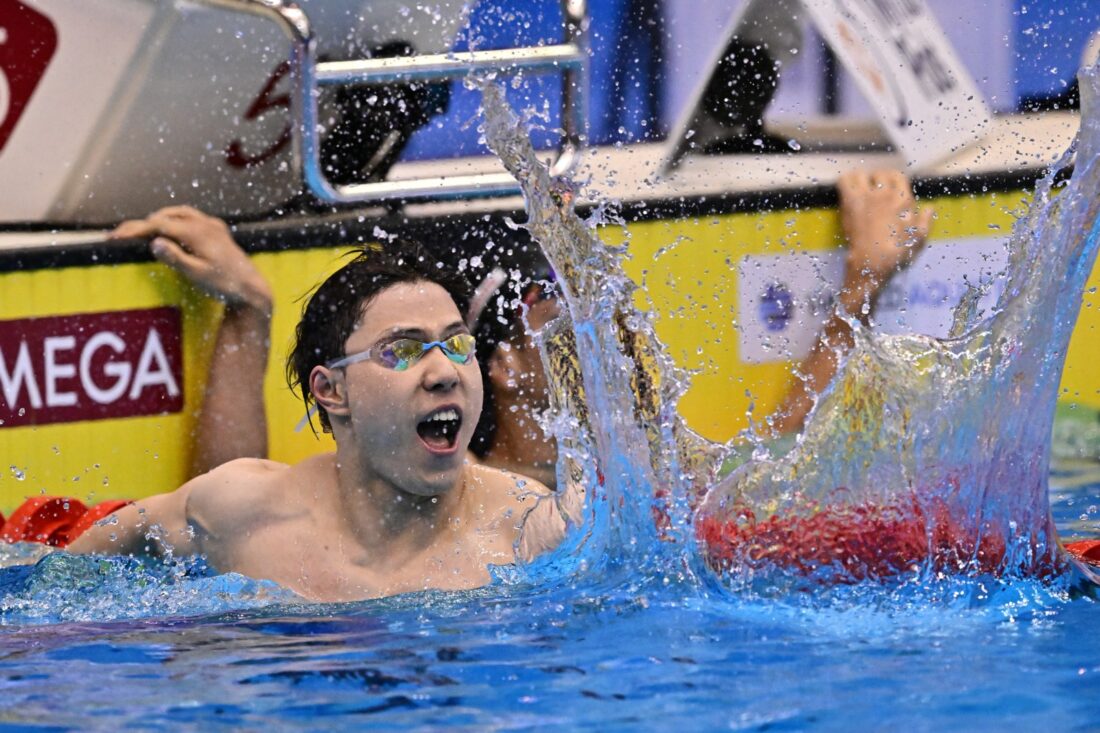 Breath easy Adam Peaty, your 56.88 standard remains almost a second ahead of the latest World champion to wear the 100m breaststroke crown in your absence and an Asian record of 57.69 from Qin Haiyang as the latest World champion to wear the 100m breaststroke crown in your absence is outside the best four performances ever seen in global top-flight fighting.
All five belong to Peaty, from 56.88 to 57.59 in 2017 and 2019 on his way to becoming the first British swimmer ever to retain an Olympic title. The Brit ace is taking time out of racing in preparation for being the best he can be come the Paris Olympics next year. And doubtless keeping a keen eye on events in Fukuoka.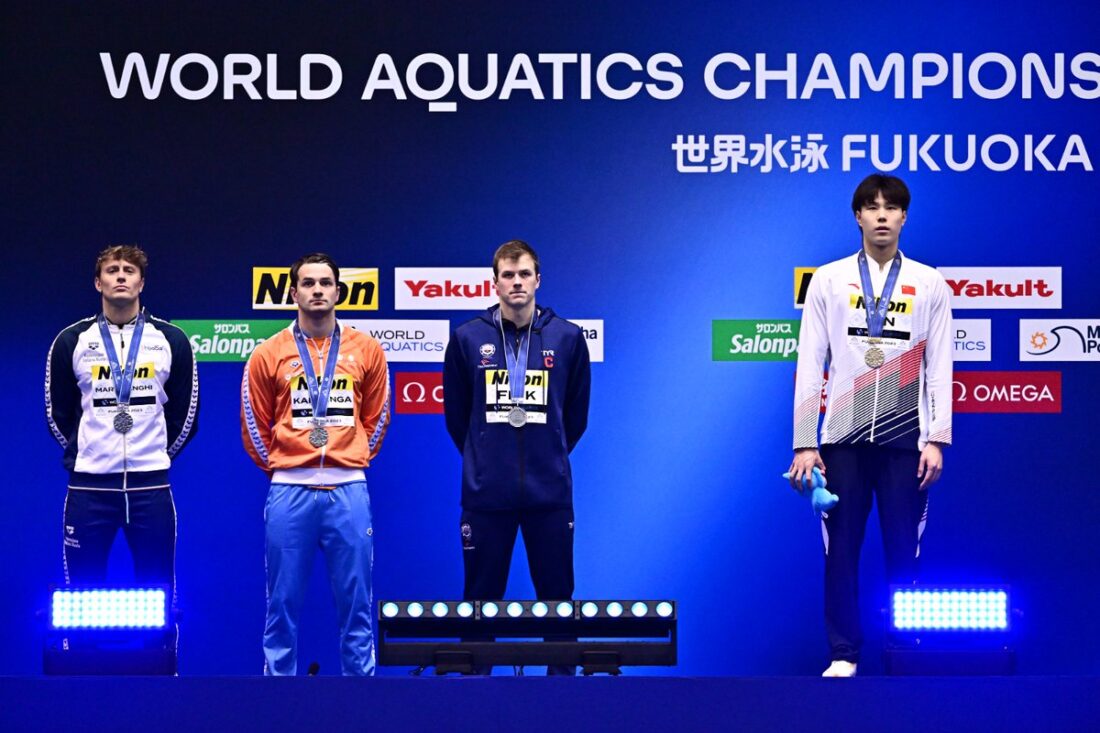 Here's where Peaty has the edge on the best of the rest, two of whom, Qin and Dutch double Olympic silver medallist Arno Kamminga, have cracked 58secs, none yet close to 57:
26.63; 56.88 (30.25) Peaty, WR, 2019
26.96; 57.69 (30.73) Qin, AR, 2023
Qin, racing in his first World-Championship final, won it sort of like Peaty has won his races, just slower and with a slightly weaker back end in relation to his front speed: out fastest, home fastest, the silver shared three-ways.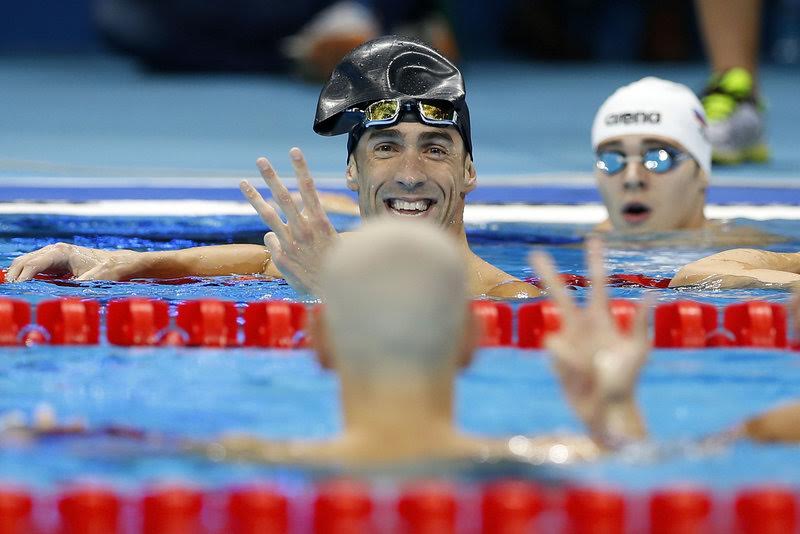 Not the first in general – shared silver for Michael Phelps, Chad Le Clos and Laszlo Cseh in the 100m butterfly adrift Joe Schooling at the Rio 2016 Olympics a case in point – but a very rare outcome in swimming and a first in the 100m breaststroke: defending World champion Nicolo Martinenghi, Kamminga and Nic Fink all on 58.72.
That's half a second down on the pace of the Italian's World and European title wins of 2022 and a second off Kamminga's best.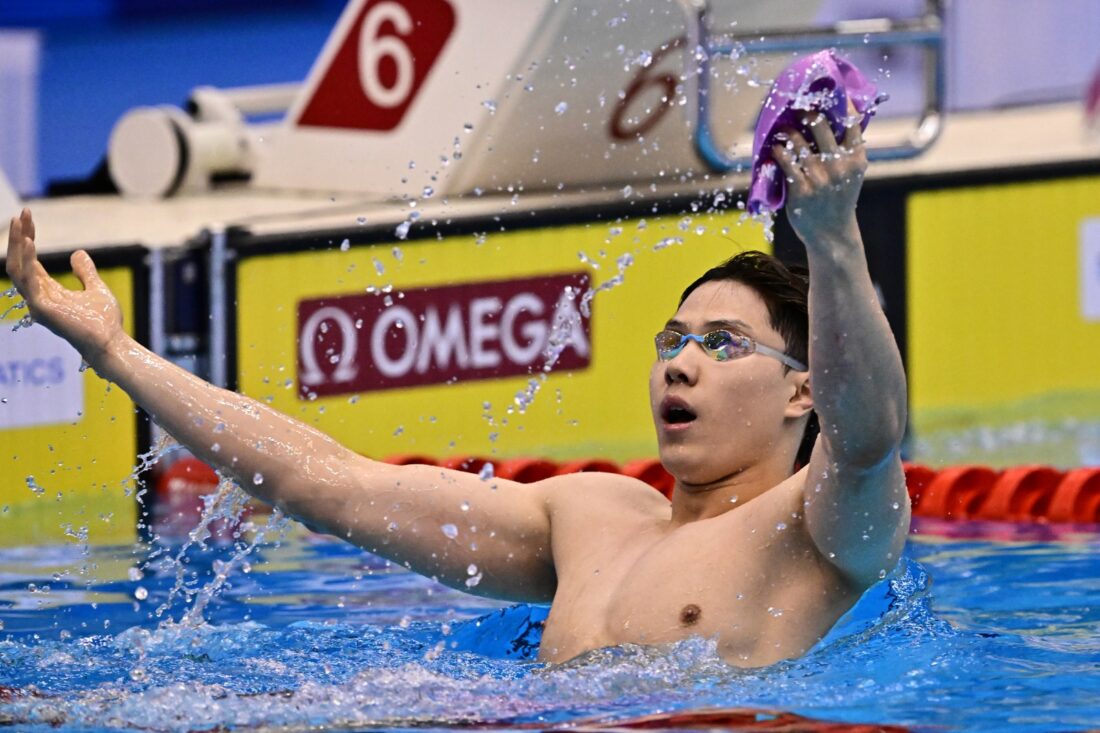 Here's how it ebbed and flowed:
27.27; 31.45 Martinenghi ITA
27.52; 31.20 Kamminga NED
27.08; 31.64 Fink USA
Entertaining. Qin's win made him the first Chinese swimmer ever to claim a global crown in the 100m breaststroke, at World or Olympic level. He is also now the second-fastest all time, with Kamminga third with his 57.80 from heats at the Tokyo Olympic Games in 2021. Peaty's list of the best 17 efforts ever is now reduced to 14, with Qin coming in at 15 on the all-time performances ranking.
The Race: … which shows Qin as a swimmer who has studied Peaty's technique. Watch the kick off the wall, too…
The Result