Luke Greenbank Downs James Goddard's 2010 British 200 Back Mark In 1:55.34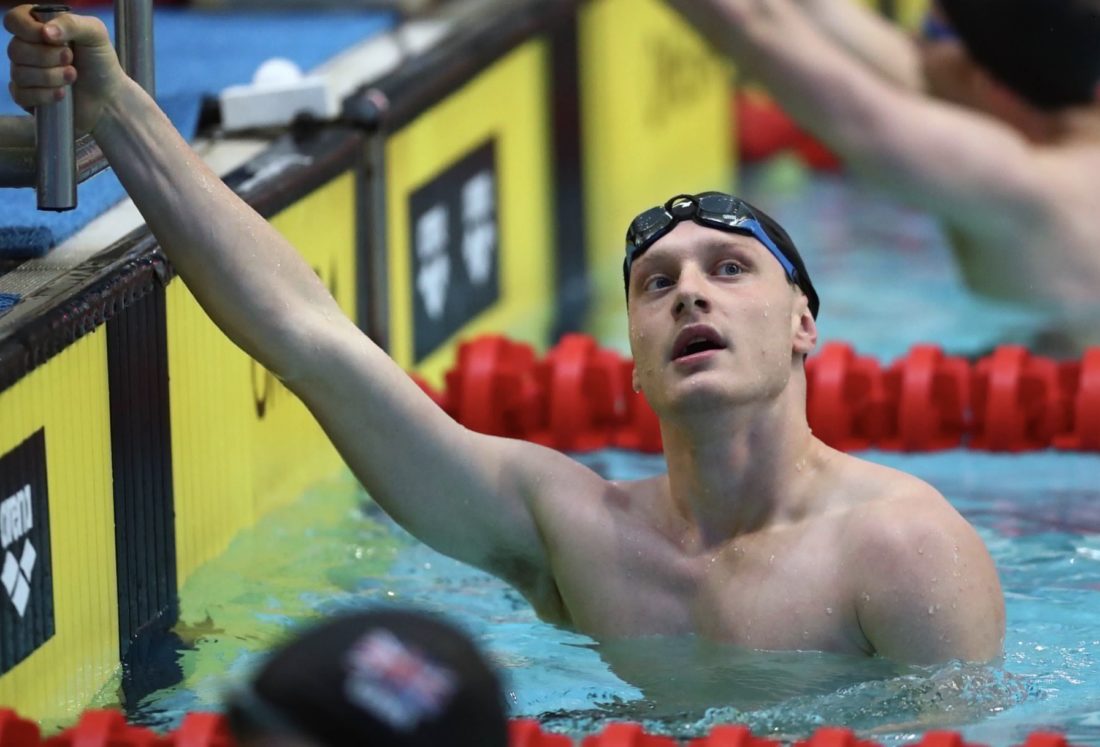 Luke Greenbank had put the decade-old British 200m backstroke record on notice in morning heats when he missed the mark by 0.11sec but come the final this evening at the Manchester International (and British Invitation, reflecting Covid lockdown) he left no doubt: 1:55.34.
The 1:55.58 blast that granted James Goddard (see tribute below) the Commonwealth title for England back at Delhi 2010 was finally confined to history after a fine run that reflected the quality of the faster swim of his career: at the time, Goddard's high was the seventh swiftest all-time in textile.
Greenbank, the 23-year-old who in 2019 lifted bronze at World titles and is coached by Mel Marshall at Loughborough, was in a race with seven others but his biggest challenge was the clock.
Out in 27.43, he had a slim lead at the first turn. By the half-way mark, he was in a league of his own, on 56.33, 1.9sec clear of next fastest, teammate Elliot Clogg.
Greenbank, who grew up in swimming at Cockermouth with coach Sean Balmer, turned for home in 1:26.03 on his way to a 1:55.34 victory, inside the personal best of 1:55.69 he clocked in heats. That had left him third all-time in Britain adrift Goddard's standard and the 1:55.67 of Craig McNally at 2013 World titles in Barcelona.
A delighted Greenbank said:
"I'm over the moon with that! I came into this meet wanting to build on the last one and to do that in the heats gave me great confidence for the final tonight. I've had my eyes on this one for a while, but I didn't think I'd break it in-season, I thought it'd be at trials where I could have a go at it.

"It feels absolutely amazing, and obviously it was James Goddard's record before this and as a kid I watched him swim at an international level, so was he kind of an idol of mine, so to get that record is amazing."

Luke Greenbank
The standard of Greenbank's swim can be measured in a 900-plus point swim that ranks 15th all-time in textile and granted Britain a third place in the all-time top 25.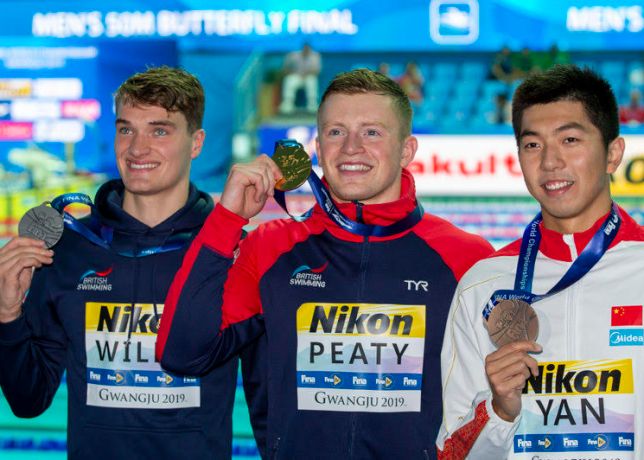 Not often one of Marshall's swimmers outshines the big beast of her squad, Olympic champion Adam Peaty but that was the case today.
That's not to assume Peaty was sluggish, of course. Out in 27.19 and home at the helm in 58.52 in the 100m breaststroke, his only company was the man who followed him home for silver at the 2019 World titles, James Wilby, on an encouraging 59.31.
Not bad a month out from Olympic selection trials that will not require qualification from Peaty, Wilby and Greenbank, all pre-selected to race for Britain at the delayed Tokyo 2020 Olympic Games on the basis of the Gwangju 2019 World-Championship podium successes.
Confirmation that the Games will go ahead is nigh and at least three big hitters are in a fine place despite all the challenges of the Covid-19 pandemic, which have dictated life in a bubble for all attending the Manchester event today and over the weekend.
Make that four: Ben Proud, of Energy and Plymouth Leander, brought the curtain down on the opening session of finals at the meet with a swift 22.15 in the 50m freestyle ahead of Matthew Richards, Bath, 22.81, and David Cumberlidge, Edinburgh, on 22.99.
Close Call For Molly Renshaw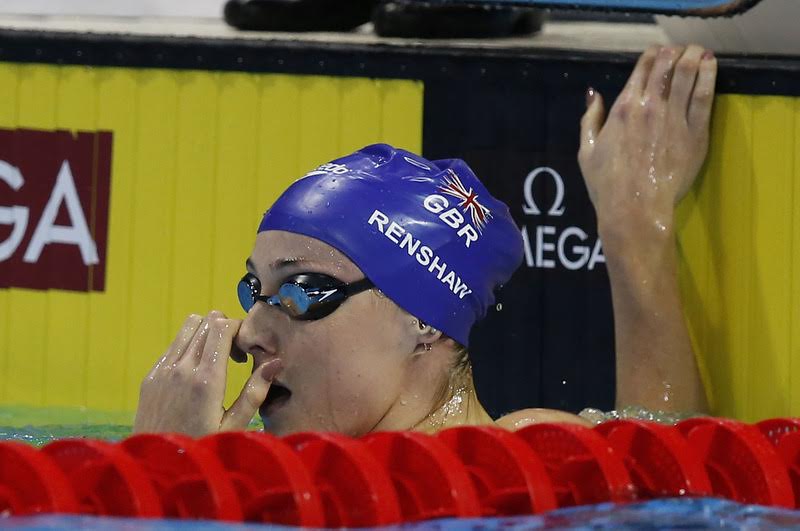 Molly Renshaw was a drive to the wall shy of the British 200m breaststroke she equalled last month.
Home in 2:22.78, Renshaw was 0.7sec adrift her own new high and Jocelyn Ulyett's British record of 2:22.08, which has stood since April 2017. Loughborough University's Ulyett was second this evening on 2:26.19, with City of Manchester Aquatics' Katie Matts third in 2:26.70.
The women's 200m butterfly produced a tight three-way tussle that was decided by a fast last length from Laura Stephens, Plymouth Leander, her 2:08.58 finish getting the better of a 2:09.54 from Emily Large, Bath, and a 2:09.88 from Keanna MacInnes, University of Stirling.
The men's 'fly final was over 100m and triumph belonged to James Guy, Bath, on 51.71 ahead of training partner Jacob Peters, 52.73, Loughborough's Joe Litchfield on 52.86.
In other action, there were wins for Holly Hibbott, Bath University, and Daniel Jervis, Swansea University, in the 400m freestyle, she on on 4:12.26, he on 3:49.74; University of Stirling's Kathleen Dawson, in Scottish-record time of 27.63 in the 50m backstroke ahead of Georgia Davies, of Energy and Swansea, on 28.06 (Davies was European Champion in 2018 in Glasgow when Dawson set the Scottish record of 27.92 in heats); and Anna Hopkin, Ealing and Loughborough, look the 50m free in 25.46, 0.04sec ahead of Lucy Hope, of Edinburgh.
From the archive in tribute to James Goddard and coach Sean Kelly
James Goddard Golden Again With England Triumph Eight Years On From Debut Crown
October 6, 2010 – Commonwealth Games, Delhi, day 3 finals: Men's 200m back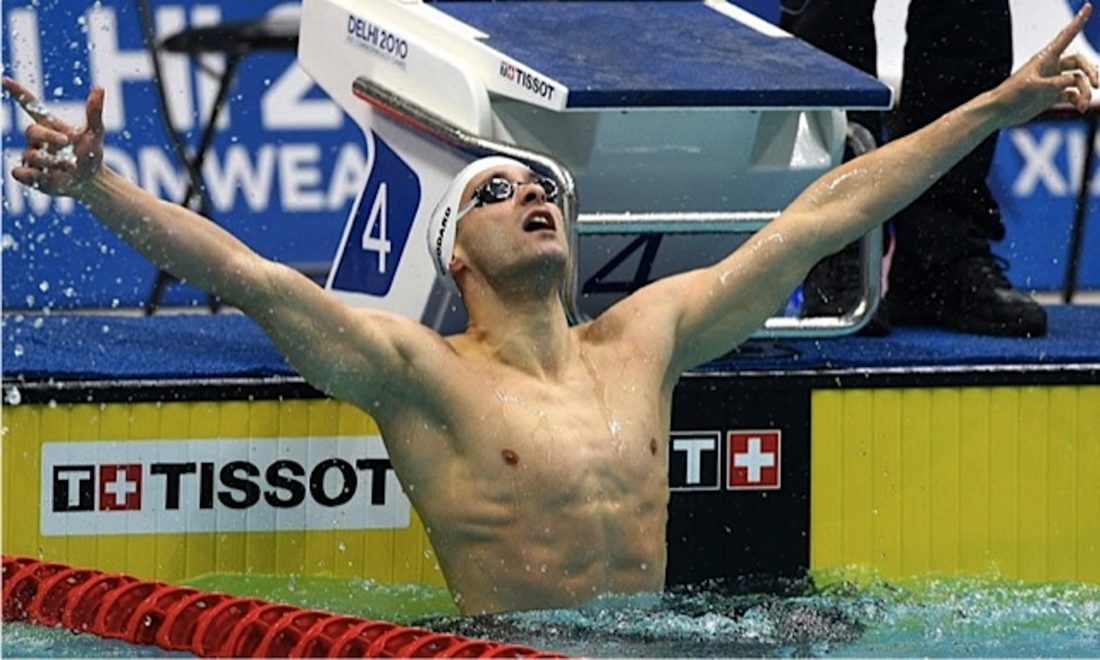 James Goddard (ENG) stormed to the crown in a Games record of 1:55.58, a lifetime best and British record, eight years after claiming the Commonwealth title at Manchester 2002. The silver went to Gareth Kean (NZL) in 1:57.37, the bronze to Ashley Delaney (AUS) in 1:58.18.
Goddard was a champion from blocks to beaming smile after he clocked the clock that confirmed not only victory but his fastest ever swim, better than the 1:56.05 of teammate Chris Walker-Hebborn in shiny suit at Rome 2009, 4th best in the world this year and 11th best all time including silly season.
Out in 26.85, Goddard, coached by Sean Kelly at Stockport, had a 0.23sec lead over Delaney at the first turn, Walker-Hebborn in lane 1 third, Kean close by in lane 8 next to Delaney. In lane four, Goddard built his lead steadily, turning at the 100m mark in 55.86, to 56.30 for Delaney and 56.99 for Walker-Hebborn, with Kean on 57.19. Down the third length, the champion-in-waiting stole the show and the race, his 1:25.78 a second up on the battle for the minor spoils led by Delaney, Kean moving into third by the last turn.
The knowledge that gold was in his grasp spurred Goddard to a sweeping, lonely sprint home, the crown his by a big 1.79sec. Long one of Kelly's heroes, Goddard was "stunned" by the win and the time "from shiny to suit". His swim was a show of talent, hard work, grit, determination and, for whatever drives him, passion.
At 27 the oldest member of the England team, Goddard held back the tears on the podium as Jerusalem (at 2mins 44 longer than his race) floated across the waters he had just won in. The moment, the commitment and sacrifices he has made were, perhaps, not far from the front of his mind. Goddard's has been a long journey via a traumatic fourth place in the 2004 Olympic final, silver lost in the last two strokes.
Goddard said:
"I am so happy right now. I knew it was going to be a tight field, especially in this morning's heats. But I went out strong early and was able to pull it off. It was such a good time. I am really stoked."

James Goddard
Coach Sean Kelly was stocked too and had a big hug for the man he helped persuade not to throw in the towel in tough times some time back.
Head England coach Chris Nesbit rated Goddard's the performance of the day, coming in as it did at 4th best in the world this year and better than the mnan had ever swum before.
Goddard said: "I wanted to step it up after this morning's heats but I'm blown away by that time, which is a big Commonwealth Record.
"I was champion in 2002 and to be crowned again eight years later is an amazing feeling. In 2002 I was the youngest on the team, today I'm the oldest. I didn't think about the medal coming into the event, experience has taught me that: I targeted a time, but to get a lifetime best is just outstanding."
Indeed it is.
Kean, who saw room for improvement in his turns, said of his feelings for the silver: "I just felt relief to know I had finished the race." On his coach and 1978 Commonwealth 200m back champion Gary Hurring, Kean said: "Gary just told me to give it my all and that was a great boost."
The result:
James Goddard (ENG) 1:55.58GR
Gareth Kean (NZL) 1:57.37
Ashley Delaney (AUS) 1:58.18
Chris Walker-Hebborn (ENG) 1:59.00
Charles Francis (CAN) 2:00.07
Marco Loughran (WAL) 2:00.11
Tobias Oriwol (CAN) 2:00.24
Ryan Bennett (CAN) 2:01.86
Loughran and Walker-Hebborn grew up together in swimming as members of Britain's offshore training squad under the tutelage of Chris Nesbit, in Delhi the head England coach.
History in the making:
Top 3 comparisons
2010: 1:55.58; 1:57.37; 1:58.18
2006: 1:58.65; 2:00.32; 2:00.72
2002: 1:59.83; 2:00.55; 2:01.04
Gold-medal leader board: CAN: 4
Records:
Shiny suit WR: 1:51.92 Aaron Peirsol (USA) 2009
Textile suit best: 1:54.12 Ryan Lochte (USA) 2010
Rankings
Impact on 2010 world rankings:
Lochte USA 1:54.12
Clary USA 1:54.90
Irie JPN 1:55.11
Goddard GBR 1:55.58
Peirsol USA 1:56.22