Lilly King & Michael Andrew, Defender & Pretender, In Fine Fettle Heading To Olympic Trials & The Tokyo Test Ahoy; Claire Curzan A Star In Waiting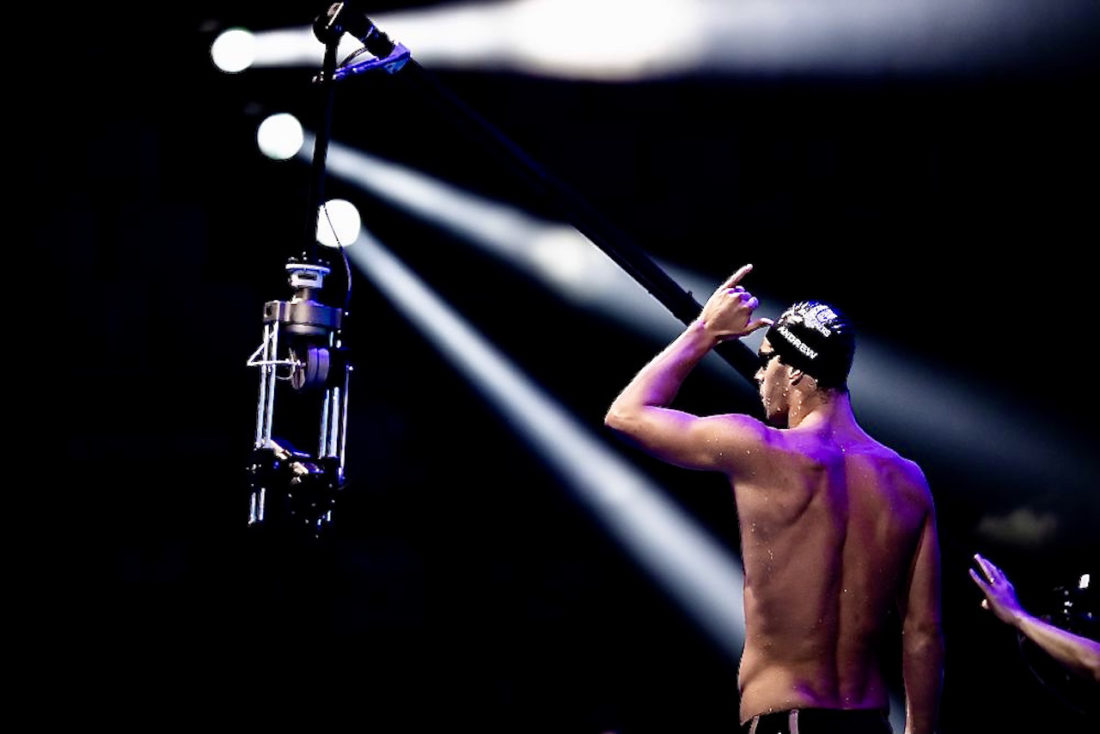 A month out from U.S. Olympic Trials, Olympic champion Lilly King, on 1:05 and 2:21 at the helm of 100 and 200m breaststroke pace, and Michael Andrew confirmed their fine fettle as the last Pro-Swim series event of the season came to a close: she on a trajectory to defend a status, he the pretender to one that requires ultimate medal-winning potential just to make the national team.
For the avoidance of linguistic doubt, 'pretender' is not because he's pretending: impressive meet records of 58.67 in the 100m breaststroke, 50.80 in the 100m butterfly and a 1:56.84 in the 200m medley (after 1:57.17 in heats), just 0.01sec shy of his 2020 lifetime best, helped to confirm that "a person who claims or aspires to a title or position" is the definition we're looking at as trials loom on the horizon for the swimmers' rights and New York Breakers pioneer.
It is moot-point-with-knobs-on to note that, in American context, it won't be easy. After all, when was a berth on a U.S. Olympic swim team ever that? Andrew's 200m medley best places him 6th on the all-time American ranking topped by the 1:54.00 World record of Ryan Lochte, now 36, on the comeback trail (in the Vortex) and ever a danger, as are others at that level, though not when retired, as is the case with two of those above him on that national ranking, Michael Phelps and Eric Shanteau.
Phelps, who turns 36 on June 30 this year just as Claire Curzan turns 17 (see foot of the file for details for a footnote on her 50 free World junior record and first sub-59 00 back), is there to remind us of one of several other questions, namely, when was it ever about the money, at least for the athlete?
Michael Andrew, now 22, is guesstimated by American websites dedicated to such exercises to have a net worth of anywhere between $1m and $5m. Whatever the figure is and however it is calculated, it would rise if he makes an Olympic podium, manyfold if it's gold, Tokyo 2020ne or at any other time.
The financial lines get somewhat blurred with long-term goals and personal ambitions in Olympic waters, however. It wasn't dollar signs driving that other Michael, he who made 23 atop 28 the number of the GOAT and a Phelpsian tally for all to aspire to for as long as evermore may last; it wasn't the $ driving a young pretender called Chad le Clos to the wall a fingertip ahead of Phelps in the 200m butterfly at London 2012; it wasn't the $ driving a 30-year-old Phelps back to Bob Bowman and the water for a last and glorious bout in the fifth ring of his career to take back what he'd lost in one event and found the four-crowns/one-event club in swimming.
No. And though the money counts and athletes insisting they get fair pay for fair play clasped the International Swimming League with one hand while taking a pump gun full of chlorine to stagnant international federation waters with the other at the helm of revolution in the sport, it won't be the dollar driving Andrew or anyone else at Olympic trials. At least not if they want a golden ticket to a team that boasts the longest bull run of success of any squad in any sport the world over.
Success in that soup requires a different spoon. Racing (the value of the ISL is also about much more than money) is where it's at on the day but the result and the pinnacle aspired to will reflect not the sunlit tip but the stuff below the surface capable of sinking ships that leave their docks for blocks with all the promise of the Titanic on that fine and unknowing day of awe and wonder.
Race practice Andrew is not short of: he started swimming at age 7, taken to the water by his parents, Peter and Tina, like Le Clos South Africans, who moved to America in 1997, two years before Michael was their first born (his sister Michaela is two years younger). Athletic build and genes were there from go: Tina appeared in the British and South African versions of Gladiators, respectively as Laser and Sheena, while Peter is a former college swimmer and Navy diver.
The family moved to Lawrence, Kansas, in 2011. By then, Michael Andrew had been on swim tour to meets across the country, between age 10 and 14, he took down 20 national age group records, exceeding some standards that had been held by Phelps and topping the tally of junior marks held at the same age by the boy who would be GOAT.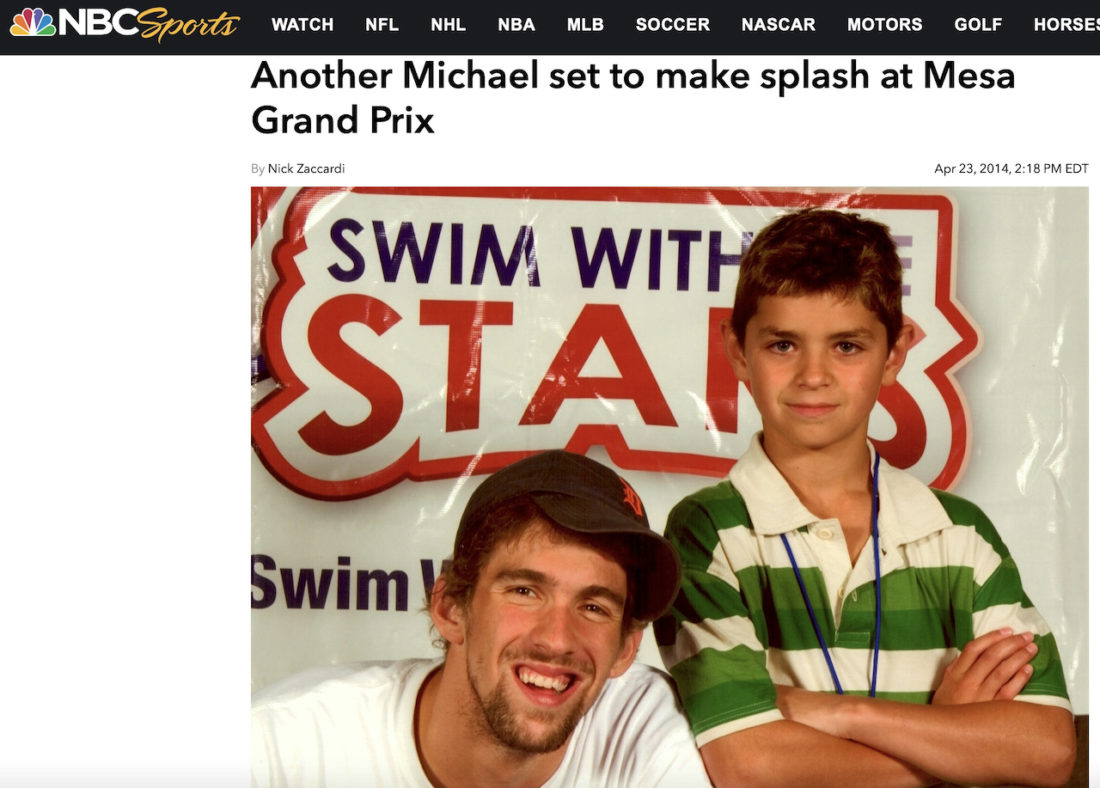 Michael the boy, met Michael the man along the way, as the screenshot of an NBC article by Nick Zaccardi from 2014 and an image taken by Tina Andrew shows. That article noted that at 14 Michael Andrew became what Americans call the "youngest professional swimmer in history". In his 15th year, Andrew grew taller than his dad, topping 6 feet, 5 inches. It was 2014, the year we find Michael Phelps entering the first test of his comeback on the way to a Rio 2016 Swansong: he enters the 50m free at the Arena Grand Prix with a 23.20, only to find himself one place below Michael Andrew, 15, on 23.19 on the start sheet.
Fast forward 5 years. Phelps is three years, a wife and almost as many children into a new life and Andrew, his Olympic ambitions still ahead of him, turns 20 in the year he goes down in swimming history as a pioneer on two key fronts: captain of the New York Breakers at the sawn of the International Swimming League … and one of three swimmers, with fellow pioneers Katinka Hosszu and Tom Shields, who put their name to a class action in a U.S. court designed to remind FINA of its regulatory role and lack of right to a monopoly stretching to telling swimmers where and when they can race and earn and living from the sport they excel in.
That action is ongoing but the birth of the ISL and the overwhelming support for the League from a bulk of the world's fastest current swimmers and, in roles as coaches, managers and supporters, a wave of past high achievers in the fast lane.
His status in the sport is assured as is his part in the ISL with all its potential but Michael Andrew now faces the next test, the approach to which has included focus on endurance, a key part of the answer to the question all will face at trials in Omaha from June 13 to 20.
Michael Andrew – Putting The Parts Of A Sum Together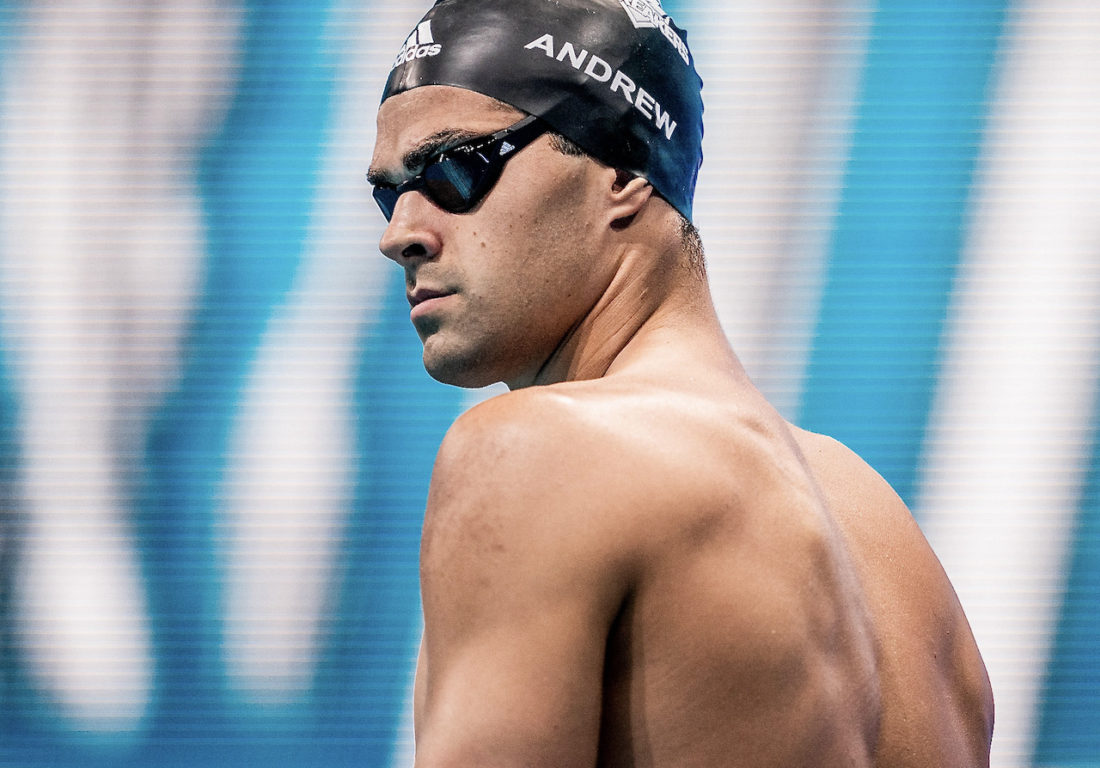 Capable of muscling in among sprinters at the top of their game on any stroke, Michael Andrew was made for the ISL and its points-make-prizes format. In Olympic context, it also makes him a contender over 200m medley.
At 17, Andrew was 2016 World short-course champion over 100m medley and was giving stroke specialist a hard time in dash events far and wide. Now, he must put it all together and come home on freestyle at sizzling speed to be able to compete with the likes of Lochte to the right and the likes of Chase Kalisz and others who have a turn of 200m speed and a foundation of 400IM endurance in their tool kits.
Andrew has taken a different approach, Ultra-Short Race-Pace Training (or USRPT), which involves very low volume, all at race pace, long a part of his preparation.
He was written up as ranked fourth in the world over 200IM in the 2019-2020 season. That gives a wholly false impression: ninth in the world in 2019 and out of the top 2 in the States for the World Championships, Andrew was 4th in 2020 on his career high of 1:546.83. That is where it's at. His 1:56.84 today indicates a rested swim at trials that could put him win the Olympic team as a medal contender come Tokyo.
Andrew has been working on building the blocks of a potential masterpiece. He recently told the ISL after a 1:57.9 at the Mission Viejo Pro Swim last month: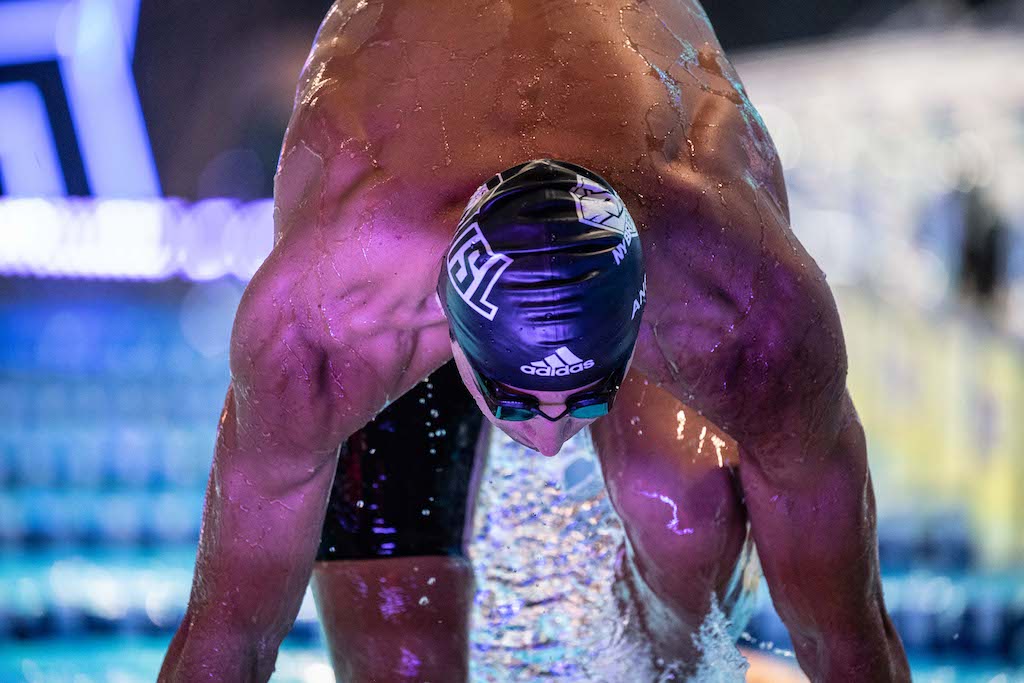 "Overall, the piece of art, it's coming together. The outline, the frame, is there, we just need to fill in the spots. I think the endurance is being built nicely. We really didn't rest coming into this meet, and that says a lot for me because I'm used to resting into everything. I feel really confident with the endurance and the base we've put in, now it's just getting that speed going. The last couple of weeks have all been focused around 200, endurance, and now it's time to get some of that speed back."

Michael Andrew – by Mike Lewis, courtesy of the ISL
Other Pro-Swim Highlights: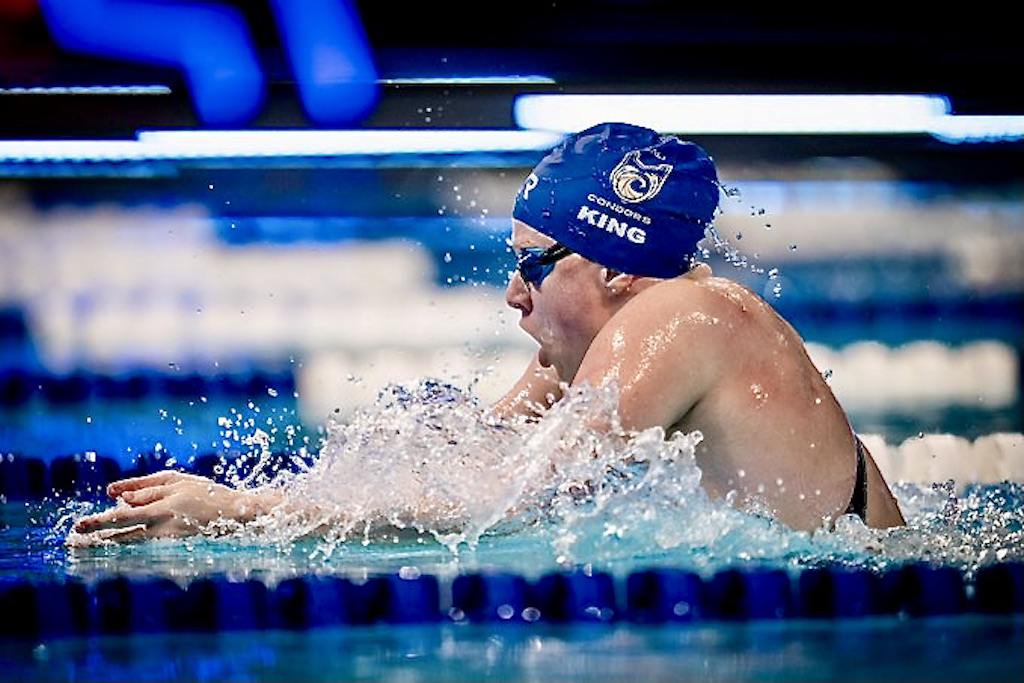 Lilly King, with efforts of 1:05.47 in the 100m and a 2:21.82 today in the 200m ahead of a 2:22.81 from Emily Escobedo, was among bill-toppers at the last stop of the series ahead of Trials and the Tokyo Games.
Swift and solid unrested swims included the respective times of 2:06.84 and 2:06.90 from Phoebe Bacon and World champion Regan Smith, on a snapped 32.92 each down the last 50 of the 200m backstroke. Smith times in at 58.77 in the 100m today and included in her speed test a 57.68 win in the 100m 'fly and a 2:07.59 in the 200 'fly behind a 2:06.70 from Hali Flickinger that sparkles with the prospect of rested speed ahead.
The women's distance freestyle finals featured a winning 4:04.60 over 400m from Emma Nordin, like Flickinger based at the Sun Devils with Bowman, ahead of big podium placer Leah Smith, on 4:04.83. Nordin also clocked 16:01.37 in the 1500m for second behind a 15:59.54 from Ally McHugh, third place to Sierra Schmidt in 16:06.85, the second berth in the inaugural Olympic 30-length battle for women up for grabs behind what must be assumed will one of the Tokyo targets that Katie Ledecky confirms at trials next month.
For further details – Meet results in full
The Further Rise Of Claire Curzan
At the TAC Titans Spring Invitational, junior ace Claire Curzan broke the 59-second barrier for the first time in the 100m backstroke with a strong 58.82. Out in 28.78, home in 30.04, she is the fourth American to go inside 59sec this year, a month ahead of U.S. Olympic Trials. Olivia Smoliga (58.31), Rhyan White (58.43) and Regan Smith (58.77) are ahead of her on the 2021 ranks, while Regan of course, is the sub-58sec pioneer and World-record holder yet to race unrested.
Racing at her home meet in North Carolina, Curzan clocked 56.43 in the 100 butterfly and 24.17 in the 50 freestyle on Friday evening, the dash time setting a World junior record. Sunday brings the 100m free, while Trials next month offers multiple chances for her to make a debut Olympics as a potential multi-medallist.
Curzan turns 17 on June 30, the same day a certain Michael Phelps turns 36.