Likith Selvaraj Prema & Every Athlete In The World Deserve An Answer FINA: What Are You Doing About The Blank Scoreboard At The Uzbek Open?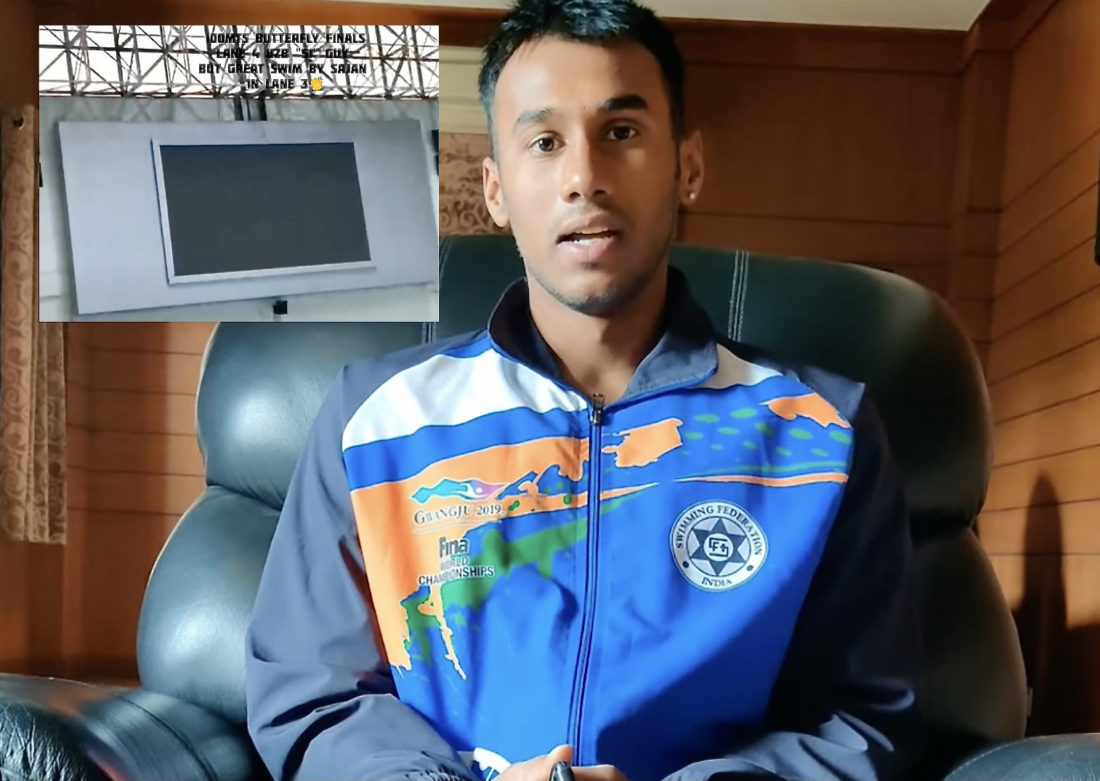 Editorial – When the big swim federations of the world hand out awards towards the end of the year, they might think of introducing an International Integrity Courage Award – and give it straight to Likith Selvaraj Prema.
After witnessing what appears to have been blatant manipulation of results at the Uzbek Open Swimming Championships in Tashkent this month, Prema waited for the last day of action to stage a peaceful protest that will surely have caused consternation among officials at the heart of his allegations and evidence posted on YouTube.
Prema raise to his blocks for the 200m breaststroke but when the gun fired, he froze and stayed on his blocks for 2mins and 5sec before jumping in, hand on the timing pad so that the clock would stop precisely when he wanted it to, and then asking the officials: "So, was that a World record – did I break a World record?"
Cue drum roll; lay out the red carpet for India's first World record holder. Brilliant way of making your point, Likith Selvaraj Prema. Take a bow, that man.
It wasn't a case of what the butler saw. It was yet more shocking and scandalous: it was what everyone saw at the same time as the Indian breaststroke swimmer – and why he deserves that Integrity award from those top swim federations is clear: because they all owe him a debt of thanks for providing the kind of checks and balances in global swimming that their own representatives – folk with an enormous say at the FINA top table but rarely willing to use it when it most counts on issue of integrity, truth and transparency – have failed to provide for all too long.
Here's what Prema pointed to in a nutshell: Uzbek 22-year-old clocks 51sec in the 100m free; result sheet comes out and, apparently, the bloke had rattled out a 48.5 just shy of the national record, having never been inside 51 in his life before. Then there was the 100m 'fly: same swimmer in a line-up in which, says Prema, "the times of all eight swimmers were manipulated", including the 54 manually timed swimmer for one of Prema's teammates being rounded down to a 52.7 and a 54sec effort slower than said Indian teammate being rounded down to a 52-flat by the very same Uzbek swimmer who'd dazzled with an apparently invisible 48.5 free.
Prema was "showing them what they were doing wrong". He left the pool – and guess what: officials and organisers followed him. What might his problem be?
Confronting them with less cheek than they'd been showing for days (and who knows on how many other occasions), Prema told them that they'd been cheating by manipulating results.
Get real, they indicated. What Prema didn't understand was "the politics", which included being told by "higher authorities" that they were to send 10 swimmers to the Tokyo Olympic Games.
So, having pleaded for mercy because they were "just following orders" but found Prema steadfast in his belief that cheating should not pass, they tried a sport of bribery, according to the courageous Indian hero of swimming.
They offered Prema "a lot of money to keep my mouth shut". He declined. He asked them instead to stick to fair competition and sportsmanship.
So, what did they do next: they returned to him and demanded he sign a letter to say he was mentally unstable. At this point, you can check out the video reposted below (after being included in our Vortex compilation yesterday). Likith Selvaraj Prema appears to be very sane and in possession of all his mental faculties, including a strong integrity gene, if you ask me.
His skills extend to being able to spot a 54sec 100 'fly and a 52 timing that would have annihilated the Indian national record – and the supposed 52-flat of the man finishing second in what would also have wiped almost a second off the Uzbek national record.
There have been other similar events in history, including the notorious moment in Hungary back in 1996 when a nation realised it had been training without a keen for too long and a critical deadline was looming. Solution: make up an entire Hungarian Olympic qualification event, complete with split times, the lot.
It was wrong then – and what is alleged now would be wrong, too.
Likith Selvaraj Prema Points To What Out Never To Be
Likith Selvaraj Prema follows his words with the videos of races that clearly do not add up to a 48.5 nor a 52 flat, free, 'fly or hopscotch over 100m at the Uzbek meet.
I send a question to FINA yesterday, pointing out the video and asking: "… will FINA take the matter up with the relevant leadership figures at the Uzbek national federation and those who are members of FINA committees and commissions, given that they would have had oversight responsibilities at an event that was a FINA Olympic qualifier competition?"
It would be normal to reply to The Times within 24 hours. So far, more than 30 hours have gone by without even a polite response to say 'get back to you when we've looked at it'. Nothing. Not a word.
The Uzbek event was a FINA-designated Olympic qualifier and therefore must have had observers in place at a competition under FINA rules and under the auspices of the Asian Swimming Federation (AASF), which includes 6 current and former FINA Bureau members on its own top table.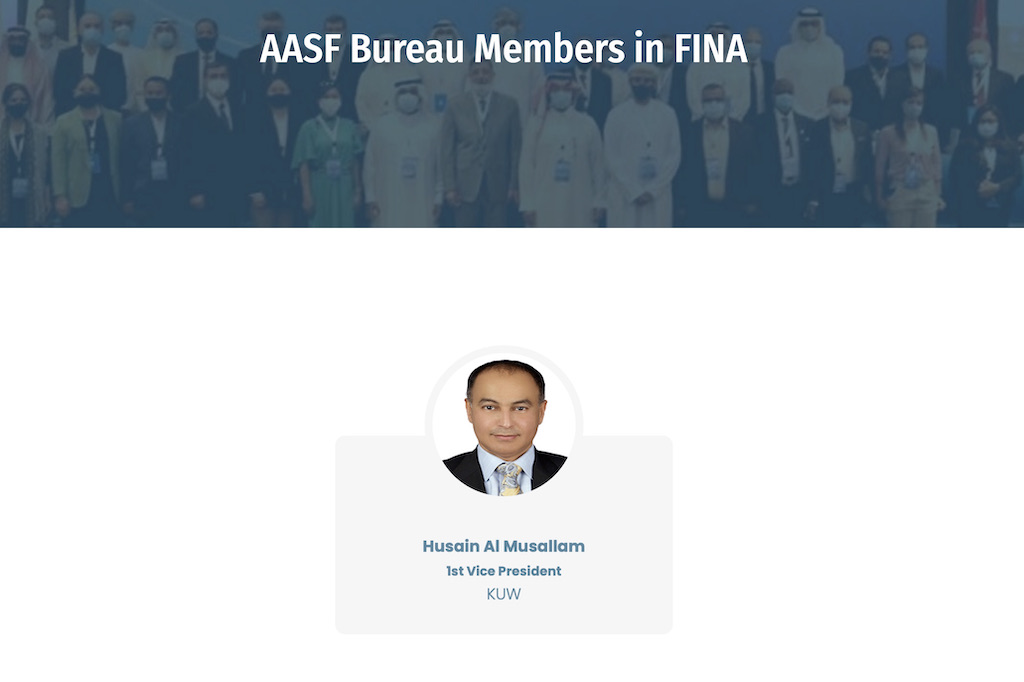 The AASF top table also includes Uzbek representative Gulyamov Ganiyevice and the country's Ethics Committee representative is Ernar Adam, who will doubtless be digging deep to find out what might have gone wrong at the Open. There's also heir to the FINA throne, vote pending on June 5, Kuwaiti Husain Al-Musallam, who is listed among "AASF Bureau Members in FINA", even though he is not listed as an actual member of the Bureau.
Doubtless, he and all those other officials will be digging alongside Ernar Adam to get to the bottom of the questions raised by Likith Selvaraj Prema.
Meanwhile, how about a professional answer to a reasonable question, FINA. In response to an Australian Daily Telegraph feature and subsequently other articles in the Australian press focussing on the international federation's model of governance and its relationship with athletes and stakeholders, FINA complained that it hadn't been given a right of reply.
That's an astonishing assertion from a federation that has failed to respond to more than 600 questions from this author alone since 2014, the bulk of them to the FINA press office, others to members of the FINA Bureau, who were indeed asked for comment of late. Some replied, too, off the record, perhaps with the Code of Ethics (see below) in mind.
My latest question stands, when you can make time for it, Pedro Adrega, Media director elevated to No2 at HQ, pending the search for a Cornel Marculescu replacement:
"… will FINA take the matter up with the relevant leadership figures at the Uzbek national federation and those who are members of FINA committees and commissions, given that they would have had oversight responsibilities at an event that was a FINA Olympic qualifier competition?"
I do have a little sympathy for the Media Department's apparent nervousness at FINA HQ. After all, here is the hysterical C.6 entry in the federations' Code of Ethics:
No FINA staff or Bureau member shall make adverse comments on a policy adopted by the FINA Bureau once the FINA Bureau decision has been taken.
Quite where that clause would fit into a scenario in which a whistleblower might approach swimming's Integrity Unit (no, there isn't one, nor is there an advertised whistleblowing policy on the FINA website) to report a conflict of interest at the heart of a "policy adopted by the FINA Bureau", for example, is unclear.
Meanwhile, I have no idea whether there's been a FINA Bureau decision to answer only questions perceived to be "friendly" but I can confirm that at least some Bureau members did engage a London PR agency back in 2015 to run a campaign that would seek to "discredit" the work of this journalists, coaches criticising FINA and use Michael Phelps as a poster boy for boss, Julio Maglione and the federation (what a shame no-one asked him first; it might have save on the ink of a contract set at $150,000 for four months of proposed woe).
It is against that backdrop that I remind FINA of the last question I put to them that was answered. It was back in 2014 and Lauren Boyle had just broken a world s/c 1500m freestyle record in a pool in Wellington that was set up in a way that broke FINA's Minimum Pool standards in its Facilities Rules.
The Wellington pool was shallower than the required FINA Minimum Standard Pool rule that is made obligatory in more than one place in the FINA rule book, including a Work Record Application form that calls on the referee or other official to confirm that "All FINA Rules" were complied with when the new standard was set.
Critical to note: minimum pool depths are set because everyone, from athletes to learn-to-swim kids can (and have) suffer(ed) broken teeth, cracked heads and, worst of all, life-changing and life-threatening head and spinal injuries. Experts set the limits with such athlete-safety measures in kind.
New Zealand Swimming signed the form knowing that Facilities Rules had not been upheld, while FINA backed it by ratifying the record and issuing the following reply to this reporter:
"…there is no specific requirement concerning the depth of the pool when considering the application for a World Record."
Well, clearly that could not be right, given that Facilities Rules include stuff like the length of pools, the definitions of long- and short-course, the width of lanes, the height of blocks and other matters of standardisation absolutely critical to the measurement and ratification of World Records.
So, I tried again, asking "… how it would be possible for any event at which a world record is set to overrule minimum FINA standards on facilities". The reply came back that the powerful Technical Swimming Committee, of which USA Swimming's long-time member Carol Zaleski is chair, had dismissed the need to follow facilities rules designed to ensure athlete safety, noting:
"…the TSC also confirmed the application from New Zealand, specifying that there is no specific requirement for depth in the WR procedure".
Codswallop, of course. A case of interpreting the rules to whatever warp you want if the rule doesn't suit the hour. Three years on, in 2017, I asked the FINA Athletes Commission to take a view on whether Facilities Rules are a part of the "All Rules" that must be observed for World-record ratification. Their reply:
"Regarding the facility rules and world records – as far as we know the facility rules do apply when a world record is set."
Correct. They could hardly have thought otherwise. Here's another reason why, unless my eyes deceive me:
"All other events held under FINA rules should be conducted in pools that comply with all of the minimum standards contained within these Facilities Rules."
That would include the national Championships of all member nations, New Zealand included. What FINA should have done was upheld the record, given that the athlete was not at fault nor was anyone injured that day, but slapped the New Zealand federation with a warning and penalty to reflect that FINA rules designed with athlete safety in mind were broken.
So, FINA, with all that in mind, don't be shy, please reply. Given the witness of Likith Selvaraj Prema to events in Uzbekistan, are you investigating a serious allegation of cheating and manipulation of Olympic-qualifier results? Have you informed the International Olympic Committee? Or will media from around the world get to Tokyo and find itself writing about the Uzbek swimmer in lane X who seemed to be somewhat shy of his entry times after FINA … ?
After FINA did what?