Lewis Pugh Swims 500Km Of The Hudson To Remind Us: 'Rivers Are The Arteries Of Our Planet'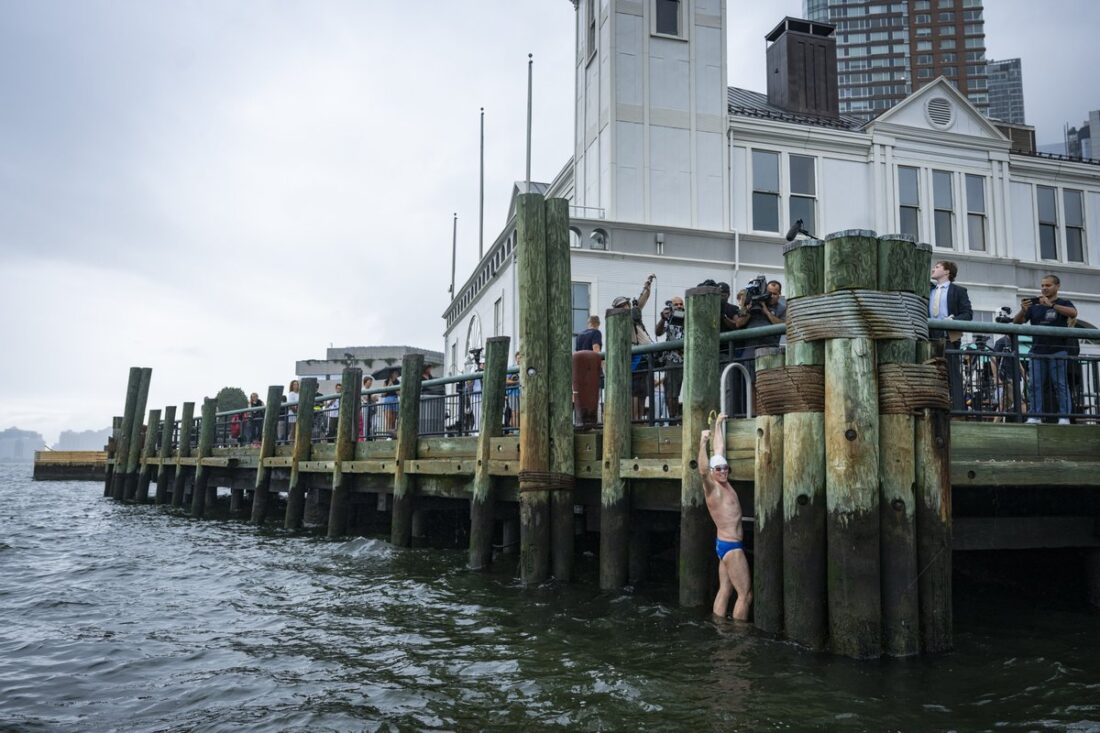 Lewis Pugh, the British endurance swimmer and first UN patron of the oceans, added another mighty swim in support of healthy arteries, veins, valves and the source of life on the Blue Planet by completing a 500km voyage down New York's Hudson River on Wednesday.
Hail a hero of the High Seas and Cold, nay icy, waters! Awareness raised with every stroke he took, Pugh emerged from the Hudson in Manhattan after his month-long swim to the cheers of those celebrating the Pier Pressure on healthy oceans, seas, lakes and rivers that the 53-year-old has been bringing to bear for the best part of two decades.
Pugh, known for his astonishing efforts in some of the most hostile, icy and magnificent waters on the planet undertook the marathon swim to raise awareness about the importance of clean, healthy rivers.
He told media on the pier in Manhattan: "Seeing the Statue of Liberty on the horizon and seeing that beautiful torch, it just made me think that every single thing which we hold dear to us depends on us being able to drink clean water and breathe fresh air and take care of our planet so that is habitable."
"Rivers are the arteries of our planet."
Safety In The Hudson
New York's Hudson River made a fine choice for Pugh to highlight his cause: the New York river has been polluted by everything from industrial chemicals to sewer runoff since a time long before Frank Sinatra belted out New York, New York for the first time in the late 1970s.
Regulations have been tightened in recent years and Pugh set out to show an example of a river that proves his point: it's possible to undo some of the damage humans have caused by pollution.
He told media in Manhattan: "They're going to be inspired by what happened here and say to themselves: 'If they can do that in the Hudson, surely we can do it in our river and our river can also be saved."
Even so, Pugh had to dodge floating plastic litter as well as tug boats as he powered through fatigue.
His latest mighty swim follows many others undertaken in more than three decades of open water campaigns, which turned into a highly effective awareness-raising campaign for the health of the element that makes Earth a perfect planet for life to flourish.
Pugh's swims include crossings in Antarctica, the North Pole and the Red Sea as part of his UN Mission for clean waters worldwide.
Resources:
UN Patron of the Oceans announces first unassisted Hudson River swim
Interview with The Global Environment Facility (GEF)
Lewis Pugh – official website and campaigns
The Lewis Pugh Foundation
UN: Lewis Pugh, Ocean Advocate, Patron of the Oceans
A few examples of his magnificent efforts:
Snippets From The SwimVortex/SOS Archive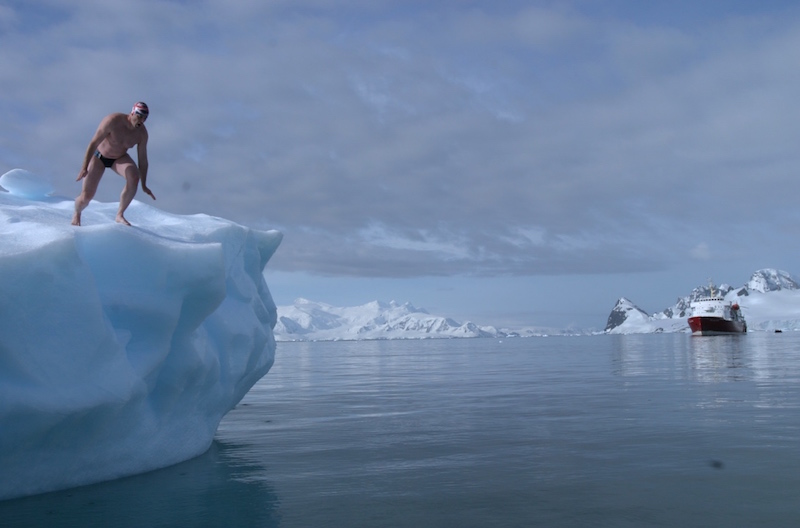 December 2005 – Pugh Breaks the Chilliest of Records
Wearing a normal suit, goggles and a swimming cap, Lewis Pugh, a British eccentic if ever there was one, has completed two record-breaking swims in the icy waters of Antarctica.
Pugh, who broke the record for long-distance swimming in the Arctic in August, took 18 minutes and 10 seconds to complete a 1km swim off Petermann Island on December 14.
It was the southernmost swim undertaken to date at 65 degrees 10 south. The previous best was held by Lynn Cox, of the US, who swam at 64 degrees south in 2003.
Pugh took the plunge two days later near Deception Island to swim 1,65km in 30 minutes and 30 seconds, according to the statement. It marked the first time that a swimmer had been in such cold water (two to three degrees Celsius) for so long.
"As soon as I dived in, I had a screaming pain all over my body," Pugh said in a statement released from his MV Polar Star ice breaker from Drake Passage.
"After three minutes, I'd lost all feeling in my hands and feet. And after six minutes I lost all feeling throughout my arms and legs. I am not sure how I kept on going for so long. I had to concentrate all the time and swim as fast as I could to keep the cold out."
January 2006 – Pugh Completes Open Water 'Holy Grail'
Lewis Pugh will not be among those chasing medals when Beijing hosts the first open water Olympic race of the modern era, however, he has completed what he calls the "Holy Grail" of his seas-swimming exploits by becoming the first person to complete a long-distance swim in all of the world's five oceans.
"It feels great," Pugh said. "The Pacific was the most forgiving of the five oceans but it was still an arduous swim." Pugh started his bid in 1992 when he swam across the English channel in the Atlantic Ocean and only last week crossed the Indian Ocean's Nelson Mandela Bay in South Africa to complete the fourth leg.
Pugh, 36, who grew up in South Africa, swam into Sydney Harbor from the city's Manly Beach, a swim of just 17 kilometers (10.5 miles), to complete a full house of long-distance swims in the world's five oceans. He completed his last swim in just under six hours, emerging from the water tired but ecstatic at reaching a goal he set himself over a decade ago.
Pugh swam across the English Channel in 1992, part of his Atlantic Ocean endurance swim. In 2003 he swam around North Cape in northern Norway to conquer the Arctic Ocean. Last year he donned just a cap and swimming trunks to swim at Deception Island in the South Shetland Islands off Antarctica, part of the Southern Ocean, and earlier this year he swam across Nelson Mandela Bay in South Africa, part of the Indian Ocean.
"All five oceans presented very, very different challenges. Without a shadow of a doubt, the hardest was the Southern Ocean swimming in Antarctica with icebergs and leopard seals around," Pugh said. "Probably the nicest and the kindest of all was the Pacific. What a wonderful way to finish – at the Sydney Opera House. It's a sight that will be etched in my memory."
July 2007 – Pugh Conquers The North Pole's Icy Grip: 1km in waters of 1.8C!
Lewis Gordon Pugh, British adventurer and swimmer of chilly waters, today became the first person to wade in the icy waters of the North Pole. He did so to raise awareness of the effects of global warming on the polar ice cap.
Pugh, 37, took 18 minutes and 50 seconds to swim 1km in waters of minus 1.8-degree Celsius. That's the coldest water ever swum in, according to the man himself, whose ability to speak after emerging from the icey bath may represent another record of sorts.
"I hope my swim will inspire world leaders to take climate change seriously. The decisions which they make over the next few years will determine the biodiversity of our world. I want my children, and their children, to know that polar bears are still living in the Arctic. These creatures are on the front line up here," said Pugh.
He swam in a water hole where the usually thick polar ice has melted. According to a recent United Nations report it has shrunk by six to seven per cent in winter and by 10 to 12 per cent in summer over the past 30 years.
"I am obviously ecstatic to have succeeded, but this swim is a triumph and a tragedy: a triumph that I could swim in such ferocious conditions but a tragedy that it's possible to swim at the North Pole," Pugh told the world media.
In an AFP report, Ralf Doescher, an oceanographer at the Swedish Meteorological and Hydrological Institute, added weight to the argument when he said: "Since the 1980s and 1990s the Arctic ice has shrunk. The ice has definitely become thinner … (and water) can now be found here and there. These kinds of holes in the ice are going to become increasingly frequent in the future."
Some of his efforts have attempted to transcend global politics and have leaders set aside their differences when it comes to existential matters for all of us and the magnificent home we're graced with.
October 2016
Lewis Pugh + Cold-Water Jaw-Jaw = Ross Sea's Polar Garden Of Eden To Be Protected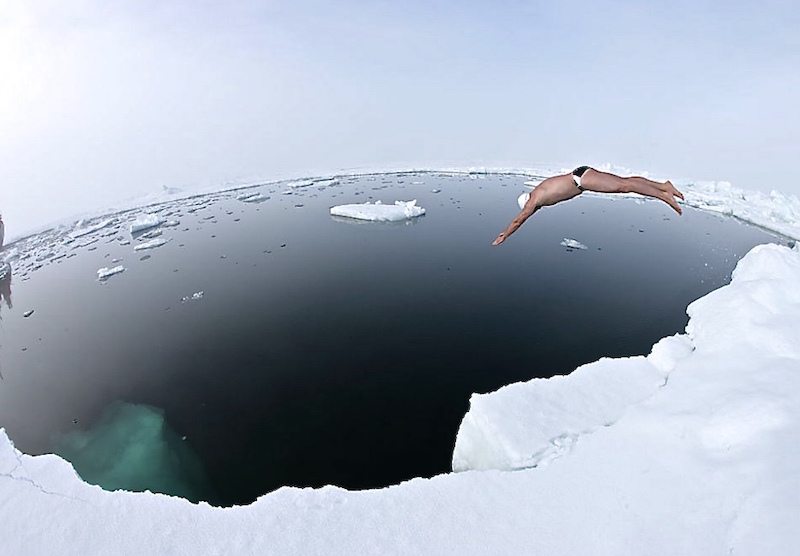 After five years of protracted negotiations, pressure from and the knowledge of scientists and tireless cold-water jaw-jaw not war-war drive by endurance swimmer and UN Environment's Patron of the Oceans Lewis Pugh, Antarctica's Ross Sea has finally been declared a Marine Protected Area.
The Ross Sea is considered to be the last great wilderness area on Earth and known as the polar 'Garden of Eden'.
At the annual meeting of the Commission for the Conservation of Antarctic Marine Living Resources (CCAMLR)yesterday, delegates from 24 nations and the European Union voted unanimously to create the world's largest protected area on land or sea.
Said said UN Environment head Erik Solheim:
"We are thrilled that this very special part of our planet's oceans has been safeguarded for future generations. We are especially proud of our Patron of the Oceans Lewis Pugh, who shuttled between the nations to help find consensus. Today's result is a testament to his determined efforts."
The historic decision marks the first time a large-scale marine protected area has been established in the High Seas. The 1.57 million square kilometre zone – larger than the UK, France, Germany and Italy together – will be protected from industrial fishing and the damage done by such things in many seas around the world.
US scientist David Ainley, the first to call for a marine protected area 14 years ago, told the media: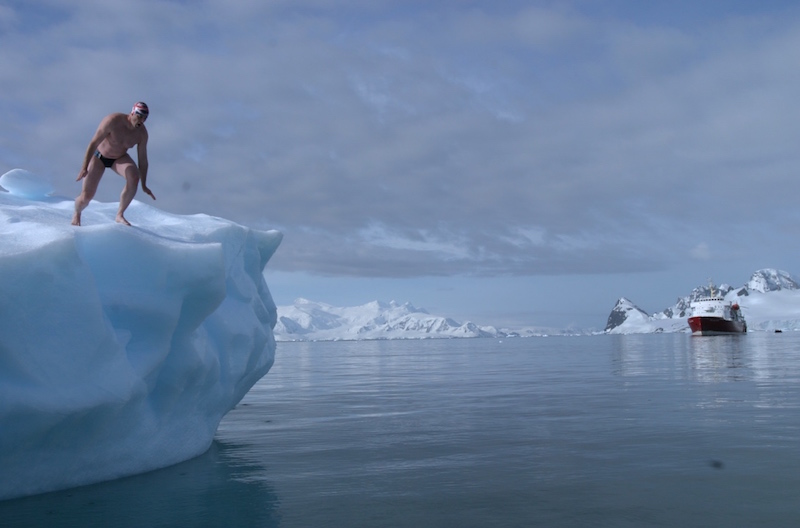 "The Ross Sea is one of the most pristine marine ecosystems left on Earth, and home to many species found nowhere else. The data collected from this 'living laboratory' helps us understand the significant changes taking place on Earth right now. The Ross Sea has much more value as an intact marine ecosystem than as a fishing ground."

Lewis Pugh – Image, An icy plug for the planet, courtesy of Lewis Pugh
The Ross Sea is home to
50 per cent of ecotype-C orca, or killer whales (also known as the Ross Sea orca)
40 per cent of Adélie penguins
25 per cent of emperor penguins.
"I am overjoyed," says Pugh, UN Environment's Patron of the Oceans.
"The Ross Sea is one of the most magnificent places on Earth. It is one of our last great wilderness areas. This is a dream come true."
Pugh – Polar Warrior
In the past two years of his long cold-water campaigning swims, Pugh has campaigned for Ross Sea protection. he undertook a series of swims in the Ross Sea in February 2015 to draw attention to the issue and on the BBC Radio 4 Today program this morning said that no-one could ever take pleasure in swimming in waters with temperatures of -1C but he had done so not to become the record holder for the human who swam in more southerly waters than any other ever had but to draw the attention of Russia, a key player in whether the High Seas will have 'protected zones'.
Russia had blocked the proposal to endorse the Ross Sea protected area no less than five times.
Pugh visited Moscow numerous times in an effort to convince Russian officials to change their minds. The media dubbed Pugh's efforts 'Speedo diplomacy. Says Pugh on the outcome:
"Today's announcement marks an important moment in the history of conservation. The High Seas represent 45 per cent of the Earth's surface. But they are largely unprotected and are facing rampant overfishing. This is a crucial first step in what I hope will be a series of marine protected areas around Antarctica, and in other parts of the High Seas around the world."
What makes the decision all the more remarkable, says Pugh, is that Russia, the US, the EU and the other CCAMLR nations shook hands at a time of deep political divisions.
"In 1959 at the height of the Cold War, Antarctica was set aside as a place for peace and science," says Pugh, an ocean advocate, maritime lawyering the first person to complete a long-distance swim in every ocean of the world.
"Today's announcement shows that Antarctica continues to be a place for peace and bridge building, a place where we can find common ground. My hope is that what has been achieved here, can be used to foster dialog and cooperation in other parts of the world."
Sergei Ivanov, President Vladimir Putin's Special Representative for Ecology, also welcomed the deal:
"Russia has a proud history of exploration and science in Antarctica," he said. "In this time of political turbulence in so many parts of the world, we are pleased to be part of this collaborative international effort to safeguard the Ross Sea."