Leon Marchand At The Double With 1:55.2 Bounce That Beat dad Xavier's Silver in 1998 0.04sce Shy Of Cseh's 2009 European Standard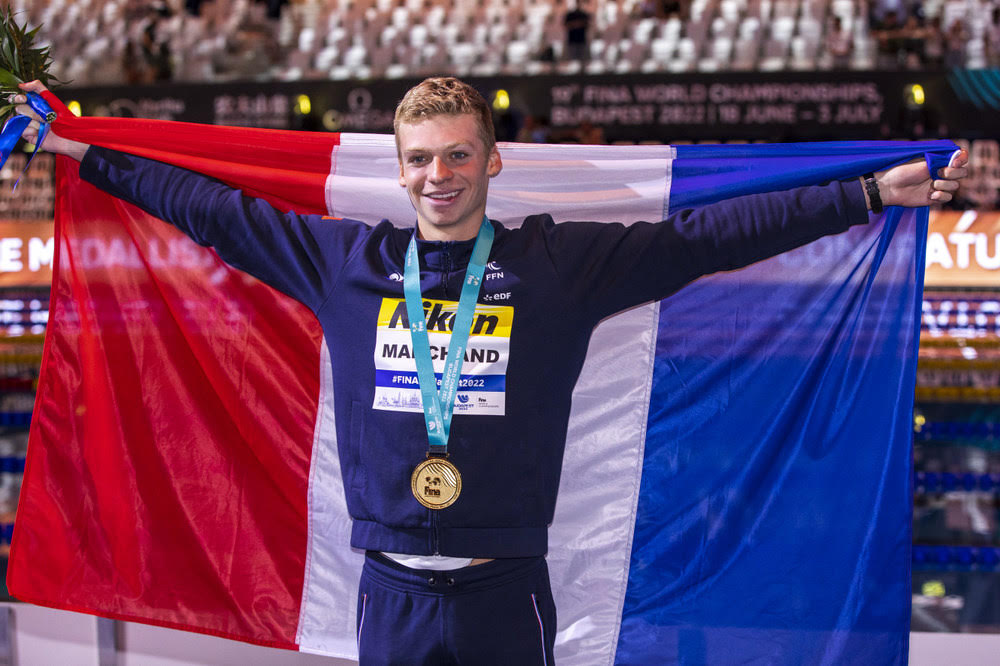 Leon Marchand, double World medley champion, a nice ring to it, one that's chimed for three world-class all-rounders to have counted Bob Bowman among their coaches.
The 20-year-old Frenchman from a family of Olympic swimmers joined an exclusive club of folk who doubled down on the medley mission and claimed the 200m and 400 crown at the same Championship: Andras Hargitay, of Hungary founded the whole thing in 1975 before Michael Phelps ended a drought with doubles in 2003 and 2007 and U.S. teammate Ryan Lochte followed up with his own double-double in 2009 and 2011.
Since then, there's been former Bowman charge Chase Kalisz, 2017, and Daiya Seto, 2019. Now Marchand: 18th in Tokyo on 1:58.30 a year ago, hwe stropped the clock at 1:55.22 today, a pace that would have squeezed him into silver by a slither between Wang Shun's winning 1:55.00 Asian record and Duncan Scott's 1:55.28 British record and ahead of Jeremy Desplanches' 1:56.17 Swiss record for bronze.
That's progress for you. The moment a dad doesn't mind being second best in a nation. Before this evening, France had one medallist in the history of 200IM at World Championships: Xavier Marchand, dad of the new golden boy, who took silver er behind Dutchman Marcel Wouda back in 1998 when a young Jacco Verhaeren was busy honing a boy called Pieter Van Den Hoogenband. Verhaeren is now steering the performance team for France into Paris 2024 after successful tenure at the helm of Holland and Australia.
The tired writer runs out of superlatives for the young on a night when Popovici preens towards Paris and Summer sizzles in a McIntosh but unrelenting on all four strokes sprang to mind when watching Marchand flip a 0.7sec deficit to Carson Foster, the gap that twixt first and seventh, to a 28.81 on backstroke for a game-on third through to breaststroke at half-way.
Bowman noted after Marchand had swum a 4:04 world textile best a slither behind Phelps at his mighty best in Beijing for the first of eight golds that breaststroke was the Frenchman's strength.
Splitting hairs, Marchand's 33.01 was second-best on breaststroke, Olympic 400m champion of Tokyo and World 200-400 champion of 2017 Kalisz a touch quicker on 32.86 but by then it was the Bowman's latest charge who had a 0.7sec vantage over his former pupil and all that was left was to see if he could hang on.
He could – and did. 28.06. Only Olympic 200m freestyle champion Tom Dean was swifter on the way home, a 27.54 lifting him to fifth in 1:56.77. By then, Marchand was slapping the water in celebration of a 1:55.22 that kept Foster at bay on 1:55.71 for silver, veterans Seto, who will have turned 30 come Paris 2024, keeping Kalisz off the podium 1:56.22 to 1:56.43.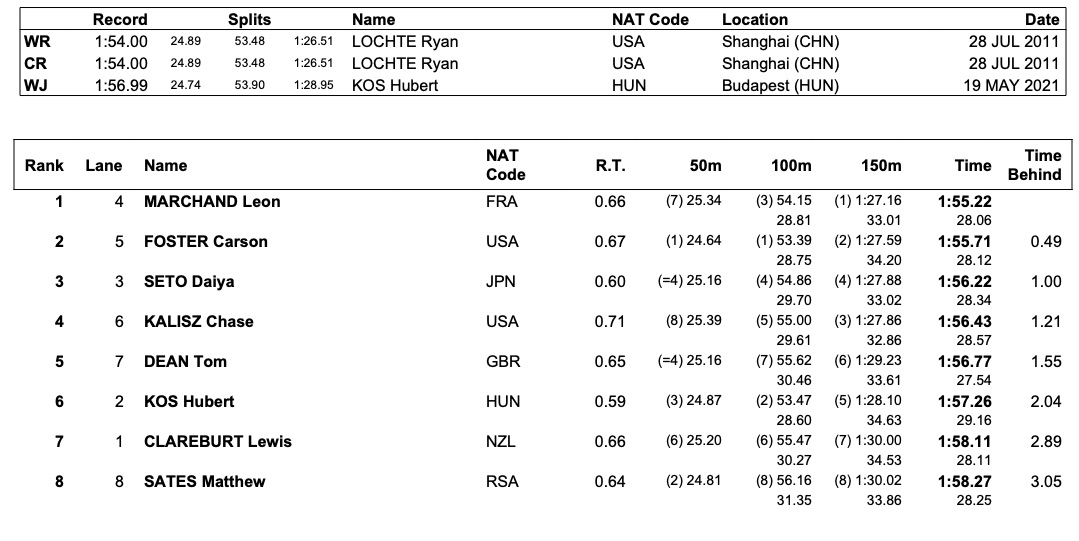 Dean and his coach Dave McNulty may well be working on backstroke when home in Bath. 30.46, the lengthy that made the difference between fifth and gold. Scott, back home having opted out as he recovered from a Covid infection on the eve of the championships (in the Vortex Diary), will surely have taken keen note of how the battle panned out.
A doodle for the diary of a fighter noting, perhaps, where the balance of strengths fell in a final that went without Shun and Desplanches, both left in the wash of semis on this occasion at a meet where many Europeans based in Europe, Asians and Australians have not given the moment anything like the focus of Americans, for whom Budapest is the only major senior meet of a summer that holds two, three and even four (Popovici) tests and targets.
Marchand took down Laszlo Cseh's 2008 European record in the 400m on day 1. Today, he fell 0.04sec shy of Cseh's 2009 1:55.18 continental standard set in semis at the Rome circus of shiny suits. The Frenchman is now sixth swiftest all-time behind Lochte (1:54.00), Phelps, Wang, Kosuke Hagino and Cseh, his progress in line with the all-time record he established in the 200 yards medley at NCAAs for the Sun Devils.
Marchand said: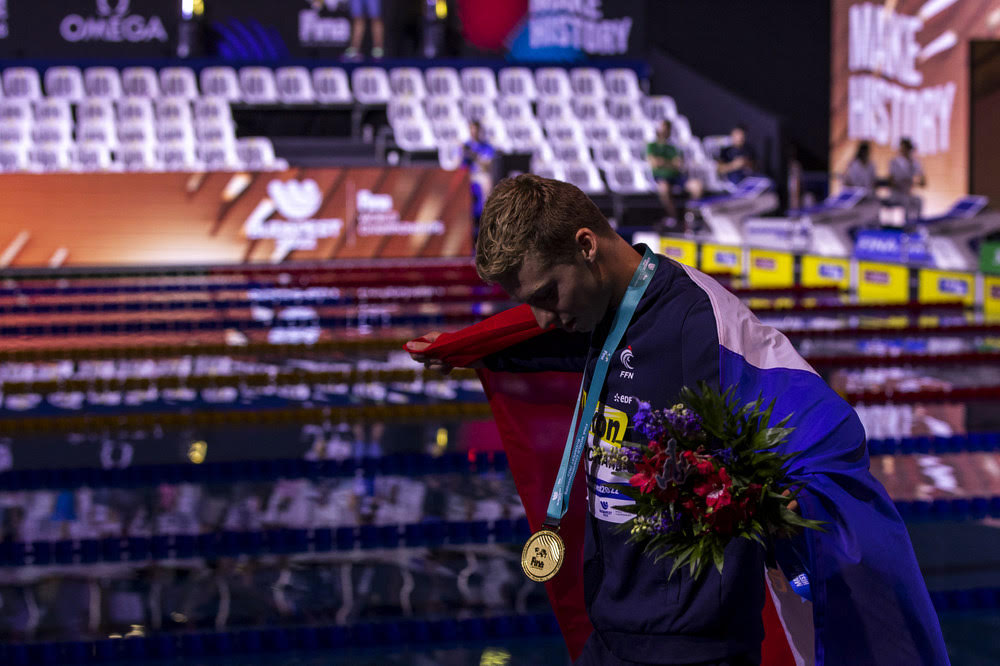 "It's a dream for me because five years ago, I was watching this race, and I was like, 'Wow, that's amazing,'And now, I can win two titles, so it's amazing. I feel like there is a very positive environment in the French team, and everybody knows that they can do something in each race. That is the first time I've felt that in this team, so that's great."

Leon Marchand – Photo by Patrick B. Kraemer
A fine day indeed for France and the Paris 2024 plans of Verhaeren and French coaches hurtling towards a home Olympics. Marchand's gold held hands with silver for Maxime Grousset in the 100m free and a bronze for Analia Pigree in the 50m backstroke. Marie Wattel had got the ball rolling for the French with silver in the 100m butterfly on day 2 last Sunday.
Foster, two silvers in medley events behind a rival head come to know in domestic racing, did not really have cause to look at Marchand in the way Cseh regarded Phelps with tongue in cheek back in 2008: first human home, "I got three silvers behind "The Alien".
A 1:55.7 to follow a 4:06.5 in the 400m place Foster as the top American challenger two years out from Paris. He said: "I was excited. I think that was kind of my goal going into this season was to get down into that 1:55 range so now we got more room to improve on and try and break the next barrier: get into the 1:54s."
He paid plaudits to Marchand, saying: "He is like the nicest kid ever, and it makes him easy to race. He is obviously very talented, so we are going to have some great races in the coming years, I hope, and we're bringing the best out of both of us."