Ledecky A Legend In Lights Of An 8:08 Record 6th 800 Free World Title, Li & Titmus On 8:13 Asia/Oceania Marks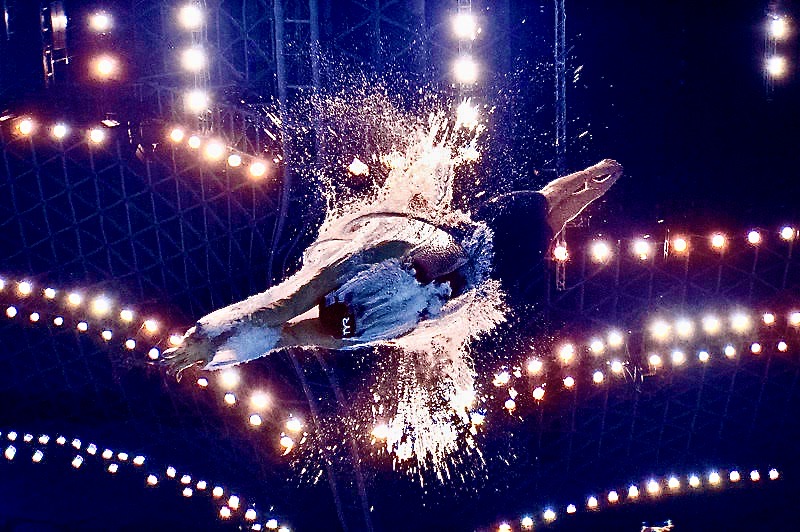 It felt like the time, 8:08.87, and the race, were demoted to the role of understudy in the celebration of a record sixth World title when Katie Ledecky delivered her latest in a series of epic distance-freestyle performances at the 20th World Championships in Fukuoka.
Don't get me wrong. There's no intention to downplay the decade-long grit, grind, steel and persistent, consistent delivery of the astonishing from Ledecky.
It's just the "sixth World 800m freestyle title" … well, it sounds faintly ridiculous in the ear of those of us harnessed to longevity in a different sphere of swimming when pumped to parody in the lines being put to the American ace before her breath slowed and the metaphoric blood could be wiped from proverbial swords.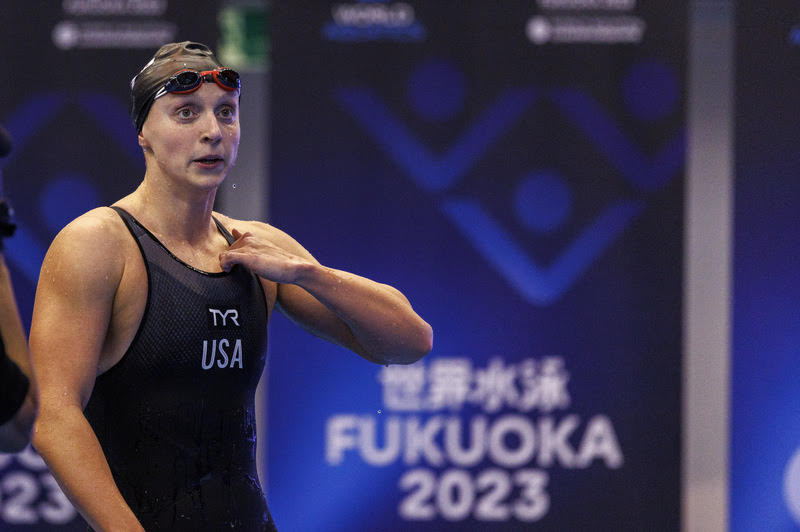 So, legend, did you dream of winning six world titles like this as a kid. "No". Had never crossed her mind. She was just trying to "enjoy every moment".
So, legend, was it soooooo hard to race the clock? "No". It wasn't like that at all. Plaudits flowed for the 8:13 girls: "I know I need to bring my best every time."
And that she has. And that's the point. Each of those six is like a child in a family, each unique, special in its own right. To celebrate the six in context is fine but out of it in a gush of "greatest" feels uncomfortable.
It's an opportunity lost, too. Like dipping your toe in a paddling pool when the ocean is right there in front of you.
A little of what I mean. In the days of Janet Evans, Sippy Woodhead er al, a "stretch of six" would have meant a stretch of 20 years, not 10. Two decades at the top on distance freestyle from 16 to 36 years of age. Who knows, maybe it will happen one day. Ledecky is a decade shy of that, at 26, and going very strong indeed on a heartening trajectory to what would be her fourth Olympics in Paris next year.
So, back to the start and the notion of the performance being at least if not more impressive than the sum of many impressive performances. Let me explain it like this. Here are Ledecky's six sensations, each one a rich stream of racing and competitive grind and challenge, among the most impressive and entertaining aspects of all of it the way she drew so many to their best, the best of a sorority of speedsters inspired to go "Faster, Higher. Stronger" in the true spirit of Olympism.
2013: 8:13.36 WR ahead of Lotte Friis (DEN) in 8:16.32 ER and Lauren Boyle (NZL) in 8:m18.58 OC
2015: 8:07.39 WR ahead of Boyle, 8:17.65 OC and Jazz Carlin, 8:18.15
2017: 8:12.68 ahead of Li Bingjie, 8:15.46 and Leah Smith, 8:17.22
2019: 8:13.58 ahead of Simona Quadarella 8:14.99 NR and Ariarne Titmus 8:15.70 OC
2022: 8:08.04 ahead of Kiah Melverton 8:18.77 and Simona Quadarella 8:19.00
2023: 8:08.87 ahead of Li Bingjie 8:13.31 AS and Titmus 8:13.59 OC
The slowest win, in 2019 when back from missing the 200 and 1500 at those championships through illness, was one of the most impressive swims of Ledecky's career. It kept the prospect of six aline but was more significant than that in the grand scheme of things, with Covid turbulence and a delayed Olympics. If anyone ever got to think that Ledecky might lose the will to win because it was all too easy, they need only look at the 2019 race to dismiss the thought right out of their head:
Katie Ledecky Makes The Memory That Will Fuel Her To Tokyo 2020 In Epic 800m With Simona Quadarella
On 8:08.87 today, Ledecky clocked her third swiftest effort of the six wins: faster than her first World-record win and a little adrift her second and last global-standard victory, the post-Rio 2016 efforts having ton contend with on of the most sensational records in history relative to its time and contemporary speed of rivals: 8:04.79, the second of Ledecky's three Olympic triumphs. The first was her debut-Champion moment ahead of Mireia Belmonte, of Spain and defending 400-800 champion Rebecca Adlington in London.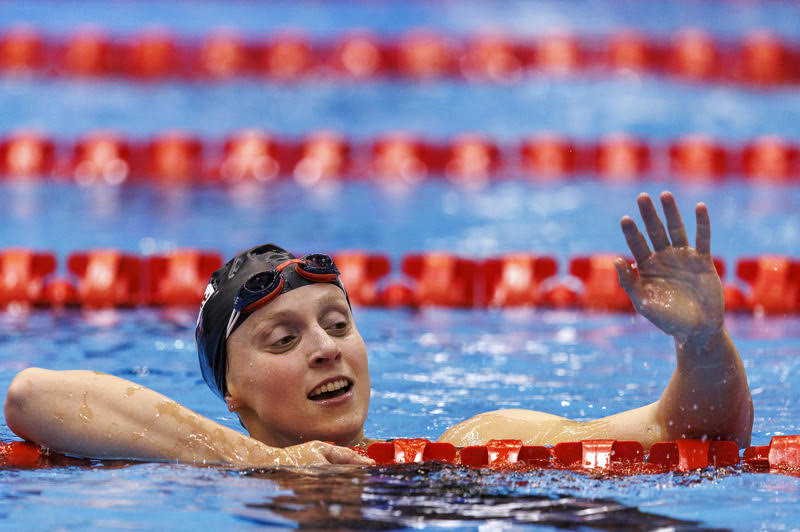 On 8:08.87, a time every other woman and a world of good male club swimmers can only dream of, Ledecky was not entirely satisfied, having clocked 8:07.07 at national championships last month. She was giving that some thought: "I've got everything turning in my head right now. I kind of wanted to be better than I was tonight."
That's the driving force, right there, the same thought in the minds of a decade of terrific distance swimmers, reflected in this fact: by the time the podium was completed 5 second behind her, the tally of continental records set chasing Ledecky had grown to six in 12 possibilities. Many more national records were set, too, chasing Ledecky's wash.
Ledecky's contemplation of how "to be better" is specific to her kind, one with a champion mindset. Don't let it trouble you. Here's where it fits: it was her 7th best all-time on a list that is a homage to the 30 best performances ever swum in the 800m freestyle. All her's. Among them are five world records since 2013.
Li overhauled Titmus in the final sprint for home today as the Australian felt the weight of a fabulous week, the 400m freestyle world record followed by silver in the 200m a fraction adrift teammate and training partner Mollie O'Callaghan's post-Pellegrini 1:52.85 global mark and a starring role in the 4x200m free World-record victory.
The sixth world title was nailed to the mast by Ledecky in the name session as Sarah Sjostrom equalled her feat of five (800 and 1500) with a quintet of 50m butterfly triumphs. The sixth also nudged Ledecky one gold past Michael Phelps on a record 16 solo-event titles at World long-course championships. She's now medal shy of Sjostrom's 20 solo-event podium record, set today in the 'fly dash, though it may be two by this time tomorrow, the Swedish ace having set the world record of 23.61 in 50 free semis for a US$30,000 ticket to lane 4 in the curtain-closing showdown.
Speaking to media in Fukuoka, Ledecky summed up: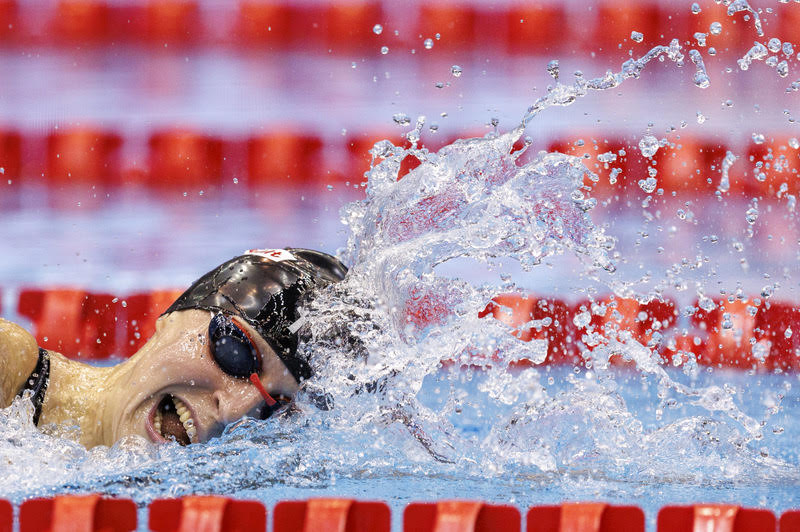 "It's cool. It's always fun to come to this meet, come to World Championships, try to do my very best. If that's a gold medal, it's a gold medal. I'm really happy with how I've been able to be consistent over all these years. Just always trying to get a little bit better.

"It's my favourite race, definitely. I think just the history with it, with it being my first Olympic race and getting that gold and then I guess it was my second world record. It's the one that I hold closest to me given that the 1500 was added to the Olympics only in 2021, so it was my first big race and the one that I focused on. I think it's continued to be the one that I've focused on the most, along with the 1500. It's fun to end a meet with your favourite event, and I just wanted to leave it all in the pool."

Katie Ledecky. Photo by Patrick B. Kraemer in Fukuoka
Gracious in victory and defeat, Ledecky is the same in her praise of those who race her and who helps her to be the athlete she is. She paid plaudits to her coach at the University of Florida, Anthony Nesty, the 1988 100m 'fly champion for Surinam ahead of Matt Biondi, for his caring attitude at times when she is overly self-critical.
Her pace is metronomic but her feelings are very human, that side of her hidden in the repetitive nature of world-class performance, its routines and regimens, or, as Debbie Meyer once put it to me, its discipline, dedication and determination.
We saw the human in Ledecky after she lost the 400m to Titmus in Tokyo and spoke about what mattered to her and moved her:
Katie Ledecky & A Legend's Perspective In The Space Between Loss, Loss, Gain, Retain
In Fukuoka, she shared a childhood memory and hinted at that being the place she can go to find calm, the true self, the being she is, the eternal core, her swimming soul:
"I remember that I just started swimming as a six-year-old for the fun of it in the D.C. area, and that's how it should always be," Ledecky said. "When I come to meets like this, I try to have the best time that I can. It's something that I tell people, 'Don't be fooled by the serious face that you see behind the blocks.' I'm someone that loves a good joke, loves to cheer on my teammates, loves to smile. I just try to have as much fun as I can when I'm on the pool deck."

Katie Ledecky in her happy place (Photo by Patrick B. Kraemer / MAGICPBK)
The Paris pool deck is the next big one and, who knows, perhaps her last as a living legend still in the swim. Perhaps not in these days of longevity being a realisation not just a vogue.
In France next year, the 800m offers a further reach of Olympic immortality. Australian pioneer Dawn Fraser established the triple-crown club in 1964 with her third victory in the 100m freestyle (1956-1960-1964). The club doubled its membership when Hungarian ace Krisztina Egerszegi won her third 200 backstroke title at Atlanta 1996, eight years after she was flanked by East Germans twice her size in Seoul.
Then came Ledecky to make it three in Tokyo. In Paris, she could be the founder member of the four peat club for women and the athlete who doubled the Quadruple club for all swimmers, Phelps its only member with this 2004, 2008, 2012 and 2016 triumphs in the 200m medley.
Beyond that point, sometime when, there'll be the first truly great interview to be had with Katie Ledecky, if she's inclined to dive deeper into the choppy challenges, the ebbs and flow, the swells and doldrums of a swimming life spent almost every big-race day on the crest of a wave towering and tidal in nature.
The Sixth Race – Result In Full: