Kylie Masse Joins Pioneer 100 Back Sorority With 57.70 Canadian Record & Maggie MacNeil Leads Rush On Tickets To Olympic Debuts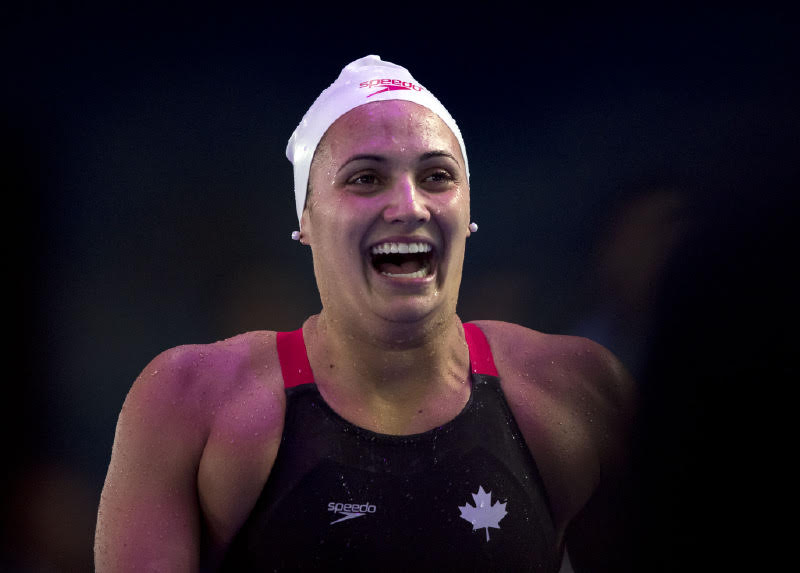 Kylie Masse, World 100m backstroke champion of 2019 at the last time of global-elite asking before the pandemic, stamped her ticket not only to the Tokyo Games on the opening day of Canadian Olympic Trials in Toronto, but to the club of sub-58sec swimmers, with a 57.70 national record.
Masse was the second of Canada's 2019 World champions to book passage to Japan next month but for Maggie MacNeil Tokyo will mark her debut Games, after she claimed her right to a fight with the best of the rest in 56.19sec.
On an encouraging day for Canada beyond the ongoing challenges of Covid-19, target times were also met by Taylor Ruck, Katherine Savard, Markus Thormeyer and Cole Porter in the 100m backstroke; Joshua Liendo in the 100m butterfly.
Women's 100m backstroke – Masse Makes It 3 In Sub-58 Club
The new high bar of Kylie Masse is not a Commonwealth record because that happens to also be the World record, after Kaylee McKeown, of Australia, took down American Regan Smith's 2019 global standard of 57.57 last week in Adelaide with a 57.45.
The best times and splits of the four among the all-time top 5 (American Kathleen Baker did not make the cut at trials in Omaha) now heading to Tokyo:
28.10; 57.45 (29.35) Kaylee McKeown AUS
27.74; 57.57 (29.83) Regan Smith USA
28.07; 57.70 (29.63) Kylie Masse CAN
28.23; 58.08 (29.85) Kathleen Dawson GBR
Second home and also inside the Tokyo A target time in Toronto, on 59.60, was Taylor Ruck.
Women's 100m butterfly – MacNeil On 56.1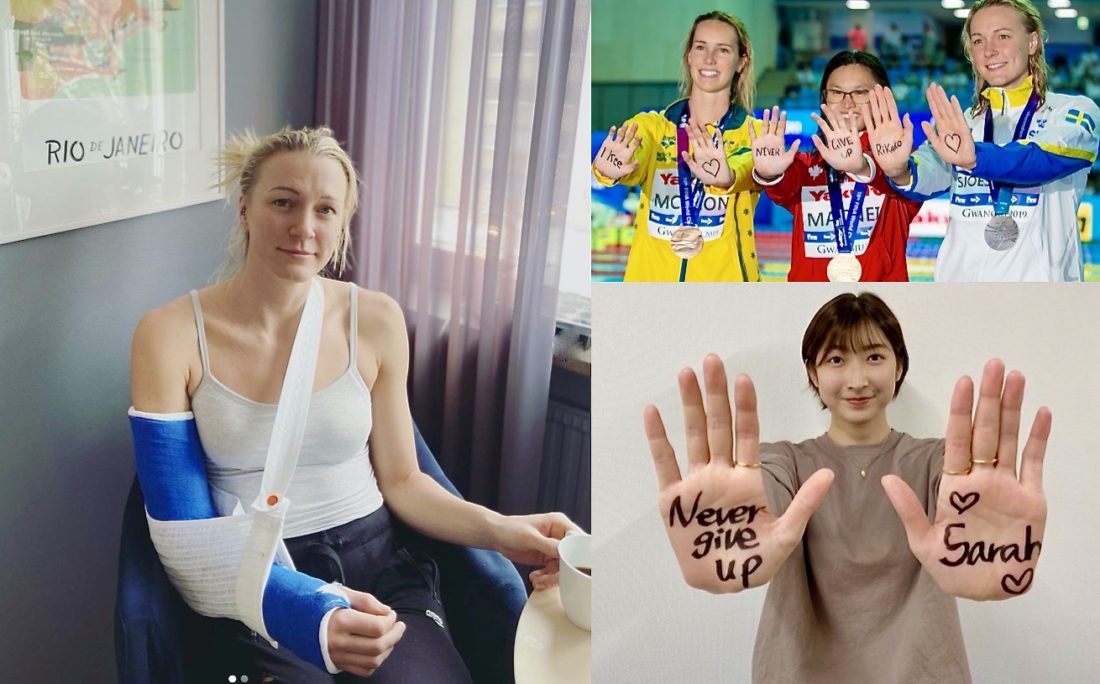 Maggie MacNeil was out in 26.40, home in 29.79 for a 56.19 victory and the first of two tickets to the Tokyo race.
On the way out, MacNeil had close company in Rebecca Smith, on 26.63, but in the hunt for home, the race shifted shape. Experienced Katerine Savard, 28 and back for another title at the Games, clawed back a 0.54sec deficit to Smith at the turn and, having caught her quarry with strokes to go, nailed her finish to take the second Olympic berth in 57.86, to Smith's 57.93. Savard raced home in 30.69, Smith in 31.30.
MacNeil is now well placed for the fight for medals in Tokyo, at fourth in the world just beyond the sub-56ers of the season. The 2021 Top 5:
55.66 USAOLY21 Torri Huske USA
55.73 CHNNAT21 Zhang Yufei – CHN
55.93 AUSOLY21 Emma McKeon – AUS
56.14 CANHPE21 Maggie MacNeil – CAN
56.20 USATAC21 Claire Curzan – USA
Zhang and McKeon have Olympic experience, while the two key unknowns are what may be possible for Sarah Sjostrom and Rikako Ikee, the latter if Japan thinks with its head and heart not pen and ruler.
MacNeil approached the 2019 season with a best time of 58.38. Beyond college yards racing, at a long-course metres test in the United States on the way to Canadian nationals and trials, she moved her best on to 57.55. Then came nationals and it was 58.66 in heats; another new high of 57.04 in the final.
She was clearly a swimmer on the move but at World titles in Gwangju, a 57.10 in heats gave warning of a debut sub-57sec in semis, which was duly delivered in 56.52. Once in the final, the gloves came off and in 55.83, MacNeil took the title ahead of McKeon and Sjostrom.
Men's 100m backstroke
– THormeyer Hangs On
Markus Thormeyer, on 53.40, and Cole Pratt, 18 and on 53.54 took the tickets to Tokyo, closest to them Javier Acevedo in 54.49. The fight of there and back:
25.68 53.40 (27.72) Thormeyer
26.26 53.54 (27.28) Pratt
Men's 100m butterfly
– Liendo Takles Sole Ticket
On 51.40 in heats, Josh Liendo, 18, followed up with a 51.72 ticket to a debut Olympics, via splits of 24.21 and 27.51. Finlay Knox and Keir Ogilvie rounded out the top 3 in 52.65 and 53.28 respectively.
400m Freestyle
There were no qualifiers in the 400m freestyle finals. The A cut at 4:07.90, in the women's race, Alyson Ackman took the win in 4:10.92; the A cut at 3:46.78, Peter Brothers topped the men's final in a personal best of 3:49.35.