Krístof Mílak Retains Euro 100 'Fly Title To Add To World Crown But Falls Through Two Stools In 200 Free Before Relay Silver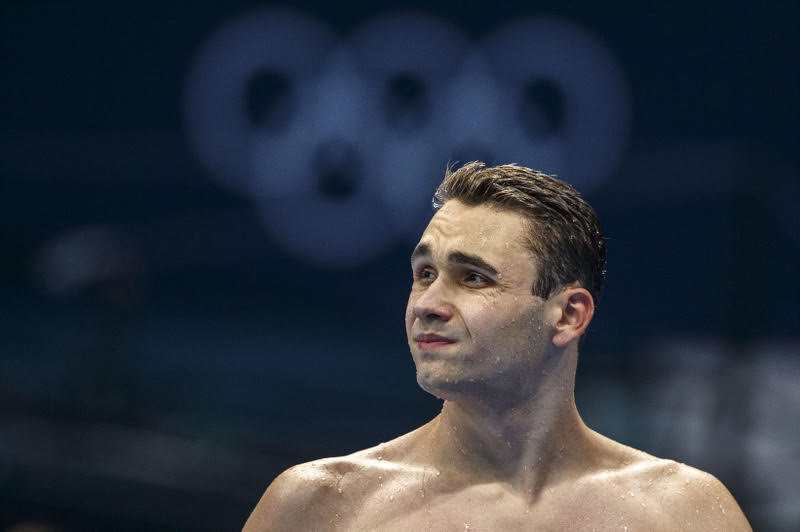 Majesty and might but not the peak speed flowing, Krístof Mílak retained the European 100m butterfly crown in 50.33, ahead of an Olympic podium order retained, Switzerland's Noe Ponti taking silver in 50.87, the bronze to Poland's Jakub Majerski in 51.22.
Mílak, 0.19sec down on the speed of his June World title and 0.65sec down on the European record of 49.68 that he set when chasing American Caeleb Dressel and Olympic gold in a 49.45 World record, had another challenge just 15 minutes later: the semi-final of the 200m freestyle, a 1:46.2 under his belt from heats.
The challenge proved a mission too far, but Mílak flew past Laszlo Cseh as the first Hungarian in history to retain the European title:

The Hungarian ace had to wait until day 4 finals to show us what he'd got in his 'fly wings, all his fine form over the first three days of racing on freestyle:
And 10th place in 1:47.37, for fourth in the second semi, lane 4 for the showdown having been booked by David Popovici in 1:44.91 (swum: 23.98; 50.50; 1:18.24 – compared to a 1:16.27 split on his way to the World title in June on 1:43.21), a hint that we're looking at a 1:42 swim in the final tomorrow.
There was still a second medal to be had for the Hungarian today, the 4x100m freestyle awaiting him at the close of play…
In the 100m butterfly final, Mílak was the might in the fight on the way home: he turned second in 23.47, dash ace Nyls Korstanje, of The Netherlands, on 23.29, Ponti on 23.85.
The Hungarian surged off the wall and taken the lead just shy of half-way home. The race clearly won, he kept the crown on his head by causing home for the sole sub-27sec split in the race, 26.86. Ponti and Majerski were both on 27.02. Job done for the Hungarian – off he went to tick a box that refused to be ticked in the 200 free semis.
Where Mílak Summer 2022 100m Titles Fit In The All-time Top 10 (all suits)
49.45 Dressel USA 2021 – Olympic Gold
49.68 Mílak HUN 2021 – Olympic Silver
49.82 Phelps USA shiny 2009 – Worlds Gold
49.95 Cavic SRB shiny 2009 – Worlds Silver
[50.14 – Mílak European title 2022]
[50.33 – Mílak; World title 2022]
50.39 Schooling SGP 2016 – Olympic Gold
50.40 Casas USA 2022
50.40 Crocker USA 2005 – World Gold
50.41 Munoz ESP shiny 2009 – Worlds Bronze
50.45 Temple AUS 2021
50.56 Le Clos RSA 2015 – Worlds Gold
There was no real duel in the 100m butterfly final in Rome today like that 13 years ago, when Michael Phelps beat Milorad Cavic for the World shiny suits crown here at the Stadio del Nuoto at the Rome 2009 World Championships a year after a 0.01sec same-order finish at the Beijing 2008 Olympics.
When Mílak took down Phelps' 200m World record – also set at Rome 2009 – with a 1:50.73 gust in Gwangju for the World title a decade later in 2019, I asked him if he could recall where he was when I was scribbling this contemporary note in my archive: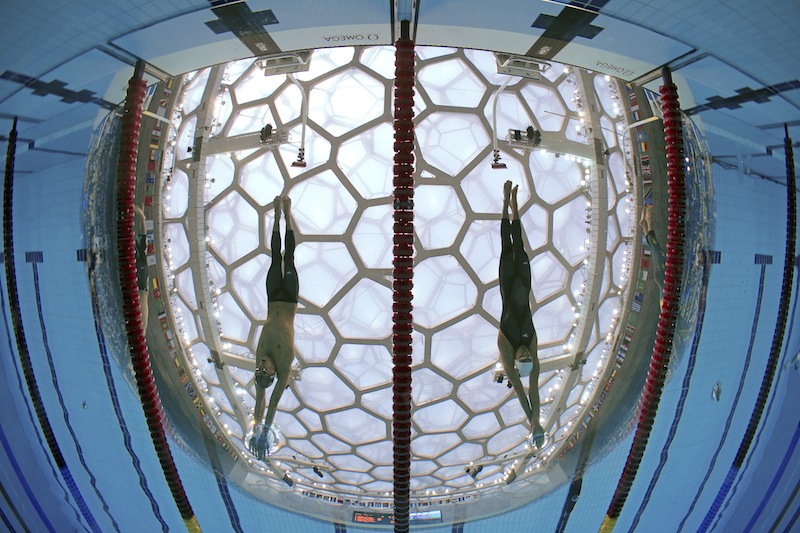 Are you not entertained? Get me Russell Crowe on the line. Bring on the gladiators. Lions at the ready. Rome awaited a swimming hero – and it got two. It was Mikey Maximus but hardly Milo Minimus. Michael Phelps, 14 Olympic gold medals in tow, rocked the history of his sport in a raw display of pugilistic passion to crack the 50sec barrier over 100m butterfly and drag his Serbian rival, Milorad Cavic, into uncharted waters with him. It has been 33 years and 7 days since Jim Montgomery of the US sent a Montreal Olympics crowd into a frenzy with the first sub-50sec 100m freestyle swim. He wore nylon briefs at a Games that introduced goggles and underwater vision to Olympic waters …. In what will go down as the ultimate battle of the bodysuits before the shiny stuff sinks on January 1 next year, Phelps and Cavic surfed on a tide of strategy and raw score-to-settle aggression.

Craig Lord Archive, 2009 – Image – A year earlier: Michael Phelps Vs Milorad Cavic in a 100m 'fly final at the WaterCube that would spill with controversy down the years – image by Patrick B. Kraemer – all rights reserved
Milak laughed and said: "I was 9 … somewhere at a youth championship, that's where I would have been at 9."
How he's grown since, and not just over 200m. The 100m remains a work in progress if the double he managed at 2022 World titles without Dressel in the fight, the American on his way home ill at that stage, is to be an Olympic dream come true at Paris 2024.
Of the 100m 'fly win, Milak said: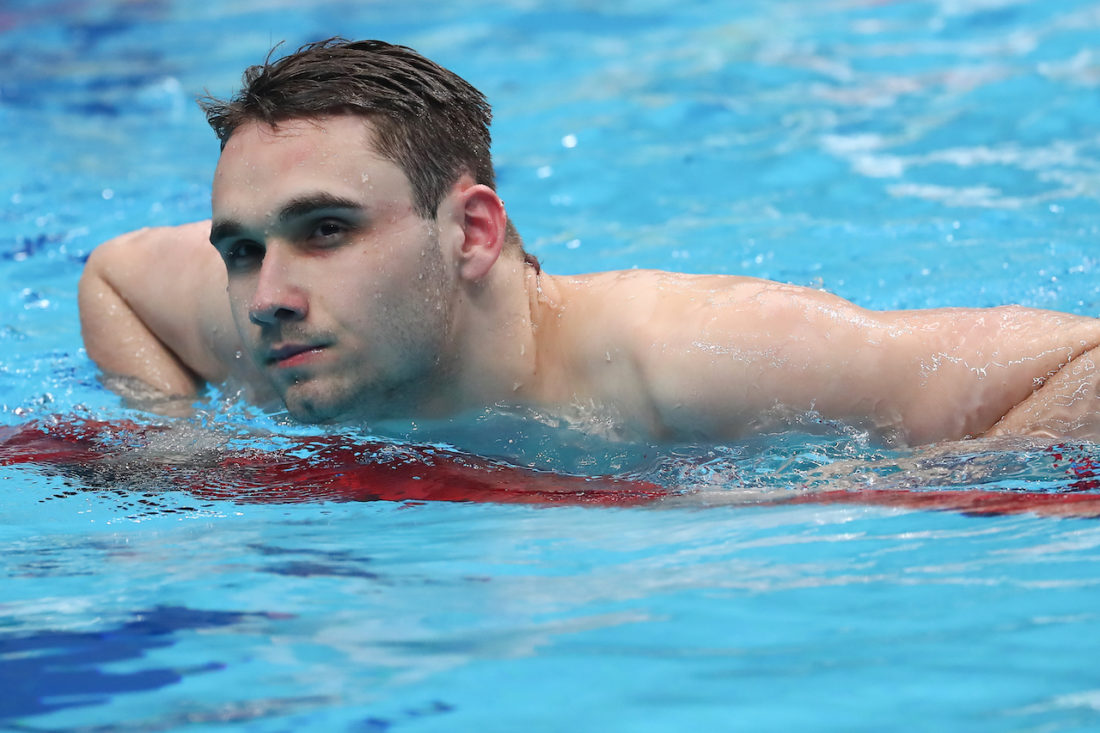 "I wanted to win this, but with a better time. I always want to go under 50sec which I was unable to do today. I want to improve all the time, want to do 49s all the time, this is my target, to get better every day, by every race.

"Honestly, I don't have the same comfort in the 100m what I have in the 200m. Still, I swam 50.3 and I won the title so I should be happy obviously."

Kristof Milak – Photo MÚSZ/Derencsényi István – courtesy of the Hungarian Swimming Federation
Silver Lining In Relay – Regrets 200 Free Miss
Milak swam the fastest split of the entire field with a 47.24 helping Hungary to silver in the 4x100m freestyle with mates Nandor Nemeth, Szebasztian Szabo and Daniel Meszaros.
The 22-year-old had mixed feelings: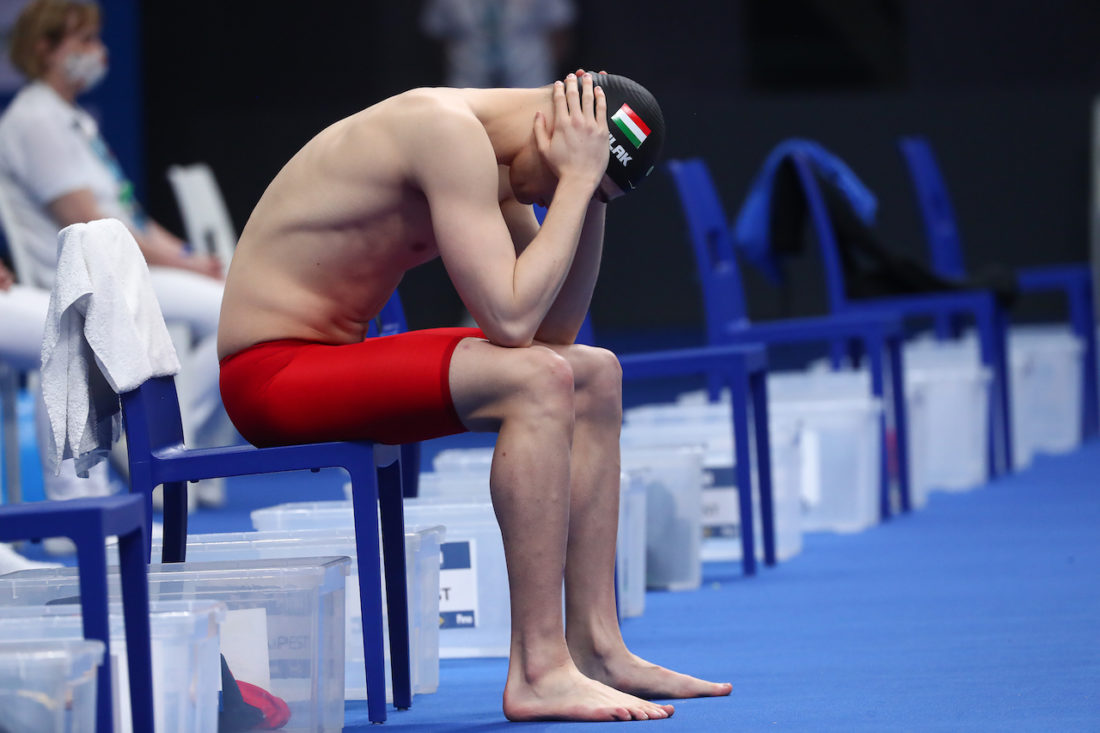 "Tears in one of my eyes, smiling the other.

"I'm still a bit upset because of the 200m free where my duel will not happen with David (Popovici).

"I could have swum way better than today in the semis, minutes after the 100m fly final.

"What makes me happy is this relay silver. The guys put me a great position and while catching the Italians was impossible, I could out-touch the Brit at the wall to take the second place and that's a great end for this extremely exhausting day."

Kristof Milak – photo courtesy of the Hungarian Swimming Federation