Kristóf Milák Blasts Dashing 22.19 Warm-Up For 1:51.40 Fastest-Morning 200 'Fly In History & Inside Best Of Michael Phelps For A Second Time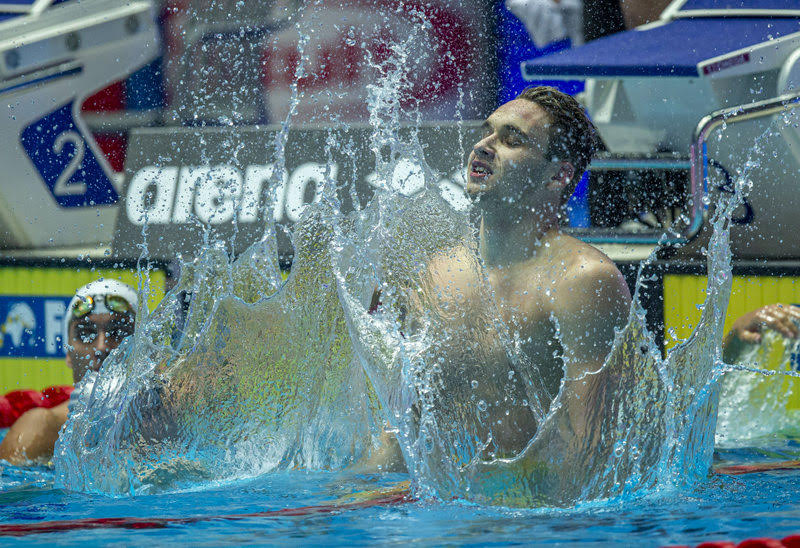 Kristóf Milák started the day where he left off: at the helm of pace and rippling gauntlets out from Hungarian national championships in Budapest to rivals around the world, first with a 22.19 (first posted as 21.84 as show to the right before printed sheet was made to match what appeared on the scoreboard ) for victory over 50m freestyle and then … 1:51.40 over 200m butterfly.

That's the fastest ever morning swim and a pace that no other swimmer has ever achieved, Milák, coached by Attila Selmeci at BHSE, granting his all-time No1 rank and World record, 1:50.73, a closer companion – as No2 all-time performance.
In day 1 heats of the 123rd nationals yesterday, Milák laid down the swiftest 200 'fly heat in history, at 1:52.50 to take the helm of the early World rankings. What might he do the morning after at a meet with early finals to replicate the topsy-turvy NBC-TV schedule pending at the Covid-delayed Olympic Games in Tokyo this July?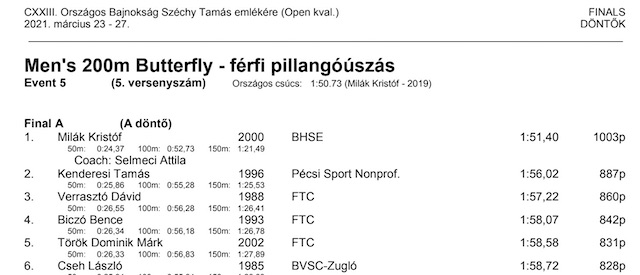 The answer was: 1.1sec faster than yesterday and into a speed zone that no other swimmer, including the signature king of the 200m butterfly Michael Phelps, has ever swum in. Milák 2021: 1:51.40. Phelps 2009: 1:51.51.
Both are faster that Mark Spitz ever raced over 200m freestyle, his Munich 1972 victory, one of his record seven golds, a 1:52.78. That standard fell to fellow American Tim Shaw two years later: 1:51.66. Then a year further on in 1975, Bruce Furniss, on his way to Olympic gold in 1976, set a world record of 1:51.41.
Milák was even inside that this morning and in Tokyo this summer could rattle the 1:50 mark, a barrier broken on freestyle by Sergei Kopliakov, of the Soviet Union, in 1979 on his way to the Olympic title at a home Games in Moscow.
Splits compared:
24.37; 52.73 (28.36) 1:21.49 (28.76) 1:51.40 (29.91) Kristóf Milak today in Budapest
24.51; 53.41 (28.90) 1:22.63 (29.22) 1:52.50 (29.87) Kristóf Milak yesterday in Budapest
24.66; 52.88 (28.22) 1:21.57 (28.69) 1:50.73 (29.16) Kristóf Milak 2019 World record and title
24.76; 52.88 (28.12) 1:21.93 (29.05) 1:51.51 (29.58) Michael Phelps 2009 World record and title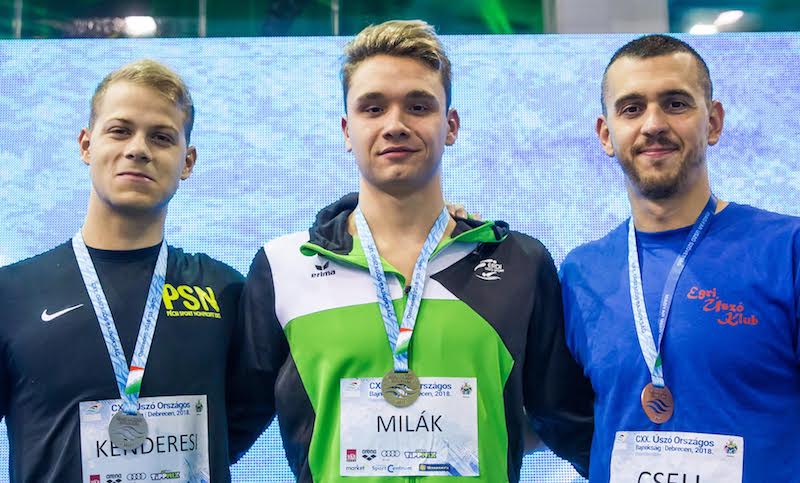 Milák's judgment on his 1:51.40:
"The last 50 wasn't so good – a clear sign of under-training. Serious preparation starts after this."

Kristóf Milák (image: flanked by the men he aspired to and then past – Laszlo Cseh, right – and

Tamás Kendersi

)
Watch out Tokyo in July…
The Budapest race:
The all-time top 10 still had three Kristóf Milák efforts in the count but still has three, his No10 entry today knocked out by his new No2 entry: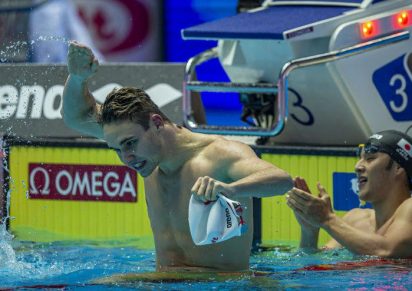 1:50.73 Kristóf Milák HUN – world record, 2019
1:51.40 Kristóf Milák
1:51.51 Michael Phelps USA – prev. world record, 2009
1:52.03 Michael Phelps
1:52.09 Michael Phelps
1:52.20 Michael Phelps
1:52.53 Daiya Seto JPN
1:52.70 Laszlo Cseh HUN
1:52.71 Kristóf Milák
1:52.76 Michael Phelps
No 11: 1:52.79 Kristóf Milák
Michael Phelps still has the edge on Hungary, with five top 10 entries to three for Kristóf Milák and one for Laszlo Cseh, who claimed the 2015 World title seven years after racing to three silvers behind Phelps at the Beijing 2008 Olympic Games, over 200 and 400m medley and 200m butterfly.
All but one in the Hungarian final raced inside 2 minutes, the podium completed by Tamás Kenderesi and medley ace Dávid Verrasztó, sone of 1975 World 200m backstroke champion, Dr. Zoltán Verrasztó, in respective times of 1:56.02 and 1:57.22. Cseh, 36 this year, was back in sixth this day on 1:58.72.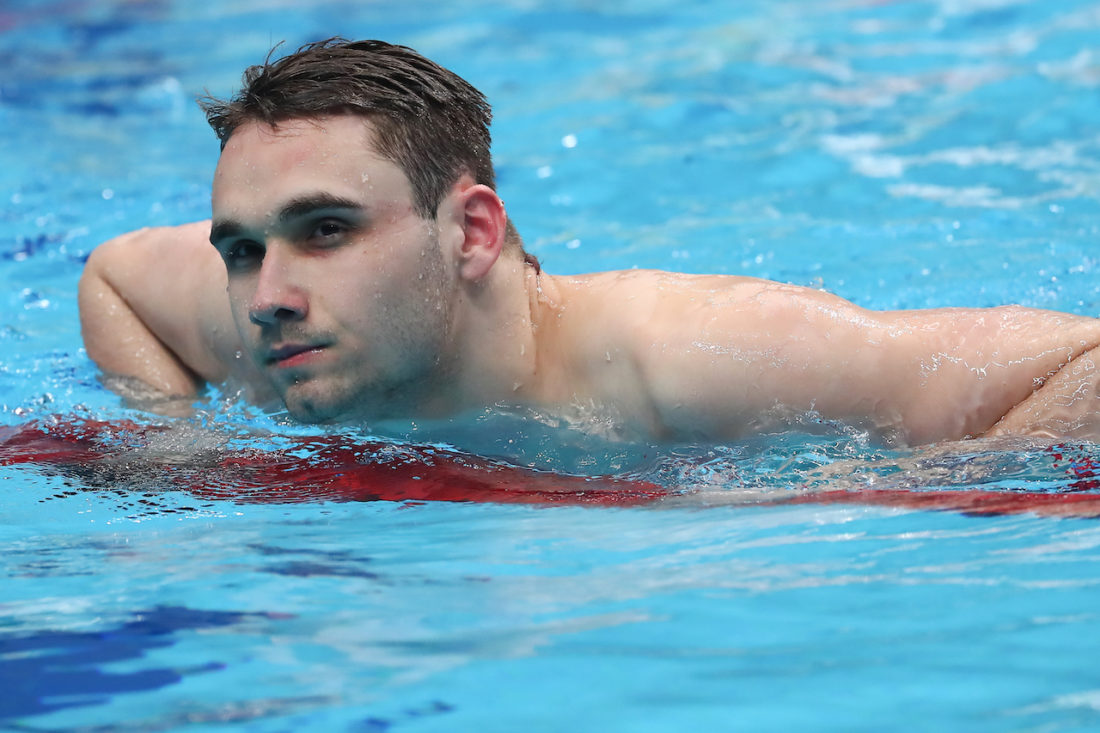 Speaking after heats yesterday, Milák alluded to his recovery from Covid-19 last autumn:
I'm not in the best physical condition and still feeling a little of the effects of the Covid virus (he caught it last autumn and needed several weeks of cautious recovery). But this was good; it was a message to myself to say 'this is my pool and I can beat anyone here'."

Kristóf Milák racing in Budapest at nationals (Courtesy – Hungarian Swimming Federation)
Reflecting on 2020 and the oddest swimming season in living memory, Milák noted:
"2020 went down the drain.In the autumn I got Covid, and it hit me really badly. The worst were the post-effects, it took months to get rid of them and I cannot tell that it's completely over but at least I could begin serious trainings from January".
Asked if he had not sent a message to others too, Milak replied:
Mmm .. I suppose they might think that but it was mostly a message to myself.
By December last year, Milák was on the road to recovery from his scrape with Covid-19 but succumbed to Kenderesi in the 200m at winter nationals.
His coach coach Atilla Selmeci added after the evening 1:52.50:
That was more or less good. Obviously he is not in good enough shape to bring it back hard at the end but it's a good sign for the Tokyo Olympics. It was a good thing that we were able to stay home in Hungary on training camp. The home preparation has served him well."
Boglárka Kapas Matches Kristóf Milák As A World Champ Winning At Home
In the women's 200m butterfly, World champion Boglárka Kapas clocked 2:07.24 for the win, after 2:06.85 in heats yesterday and ahead of double Olympic medley champion Katinka Hosszú, on 2:08.45, a touch inside her heats time. Third place went to Réka Nyirádi, 16, in 2:10.84, ahead of Ajna Késely, whose 2:11.50 followed an 8:37.14 win in the 800m freestyle at the start of the session.
The other big distance final of the day, the men's 1500m, went to Gergely Gyurta, 30 this year, in 15:09.56.
After a 53.89 in heats yesterday, Richard Bohus, of the BVSC-Zugló edzői team, took the 100m backstroke title in 54.11 ahead of Benedek Kovács, on 54.27, after 54.12 yesterday, and Ádám Telegdy, on 54.65 after 54.35 in prelims.
In other finals, Fanni Gyurinovics, of Vasas SC, took the 50m freestyle in 25.76; Katalin Burián, BVSC-Zugló, took the 100m backstroke crown in 1:00.35 after 1:00.02 in heats yesterday; and the 100m breaststroke titles went to Csaba Szilágyi, NICS-HSÚVC Hódmező, on 1:00.26 and Dalma Sebestyén, Győri Úszó Sportegy, in 1:08.79.