Korea's Hwang Sunwoo Takes Down One Asterisk, Misses The Other By 0.01sec For 1:44.40 Asian-Games-Record 200 Free Victory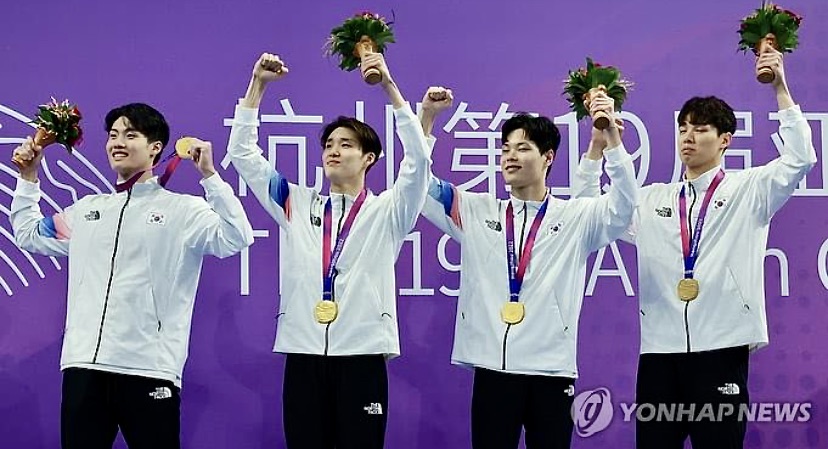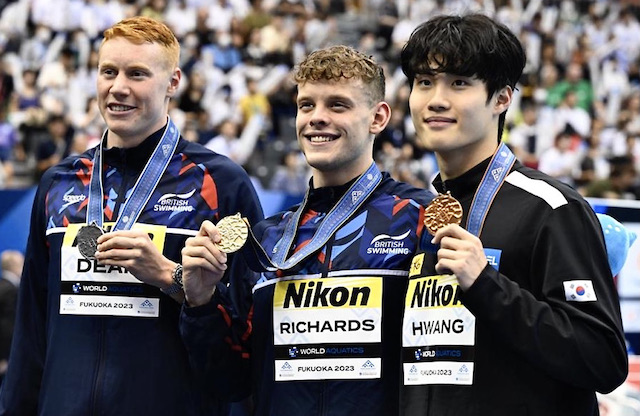 Hwang Sunwoo, the Korean ace who left his teens behind in May this year on the way to bronze in the World-title 200m freestyle fight topped by Brits Matt Richards and Olympic champion Tom Dean, clocked 1:44.40 for an Asian Games record-victory in Hangzhou today.
Hwang led from go to gold, the silver claimed by Pan Zhanle, the Chinese sprinter who was fourth at the last turn 1.68sec behind Hwang before a 25.99sec last length swept him past all but Hwang. Korea celebrated a 1-3 finish courtesy of Lee Hojoon, on 1:45.56 for bronze.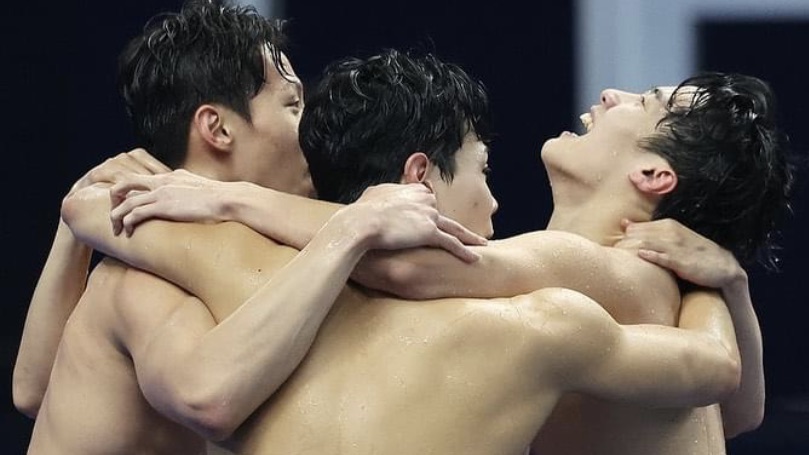 Hwang was a member of the growing Korean 4x200m force that stunned China and Japan with a 7:01 Asian-record victory two days ago: Yang Jaehoon (1:46.83), Lee (1:45.36), Kim Woomin, on a stunning 1:44.50 – the fastest split in the final but the swimmer not selected for the solo event, and Hwang, whose 1:45.04 split was slower than his victory today. So, room for improvement on that 7:01 …
Hwang learned well the lesson of pace through his experience at the Tokyo2020ne Olympic Games, having led the final to the last turn before finding that he had too little left in the tank and by the end of the last length, in a race topped by another Brit 1-2, Dean and Duncan Scott, was seventh.
Pan appears to have been testing a game plan that is now there for all to see but will need some work if he is to be a contender for the Paris 2024 Olympic title.
The ebb and flow:
24.33; 50.69 (26.36) 1:17.61 (26.92) 1:44.40 (26.79) Hwang KOR
24.57; 51.54 (26.97) 1:19.29 (27.75) 1:45.28 (25.99) Pan CHN
24.60; 51.27 (26.67) 1:18.51 (27.24) 1:45.56 (27.05) Lee KOR
24.78; 51.72 (26.94) 1:19.04 (27.32) 1:46.15 (27.11) Hidenari Mano JPN
Other significant splits compared:
Fukuoka gold:
1:44.30 – 24.23; 50.83 (26.60) 1:17.77 (26.94) 1:44.30 (26.53) Matt Richards GBR
Textile
1:42.97 – 24.10; 50.36 (26.26) 1:16.96 (26.60) 1:42.97 (26.01) David Popovici ROU 2022
1:43.14 – 24.55, 50.64 (26.09) 1:17.16 (26.52) 1:43.14 (25.98) Yannick Agnel FRA 2012
1:43.21 – 23.77; 49.96 (26.19) 1:16.27 (26.31) 1:43.21 (26.94) David Popovici ROU 2022
1:44.06 – 24.81, 51.45 (26.64) 1:18.26 (26.81) 1:44.06 (25.80) Ian Thorpe AUS 2001
1:43.86 – 24.47, 51.00 (26.53) 1:17.73 (26.73) 1:43.86 (26.13) Michael Phelps USA 2007
Non-textile
1:42.00 – 24.23, 50.12 (25.79) 1:16.30 (26.18) 1:42.00 (25.70) Paul Biedermann GER 2009
1:42.96 – 24.31, 50.29 (25.98) 1:16.84 (26.55) 1:42.96 (26.12) Michael Phelps USA 2008
Hwang & The Asterisks Of Swim History
Impossible not to mention the asterisk Hwang took down and the asterisk he missed by 0.01: fellow Korean Park Taehwan* held the meet mark at 1:44.80 since 2010, while China's Sun Yang* remains the Asian record holder with the 1:44.39 in which he claimed the 2017 World title a year after taking Olympic gold ahead of South Africa's Chad Le Clos, the first man home with a clean record.
That 1:44.39 also unfolded three years after a positive doping test and a year before an out-of-competition visit from anti-doping testers that would lead to Sun receiving an eight-year ban from the sport, reduced to four years and three months at retrial called on grounds that an anti-animal cruelty tweet (issued long before the Sun case reached the Court of Arbitration for Sport) by the chair of the judging panel at the first hearing in response to horrific video footage from China unrelated to sport included a remark deemed a possible anti-Chinese racial slur.
Such are the asterisks that litter swimming history with threads too red for the good of the sport.
Zhang Yufei 55.86 Games Record In 100 'Fly For Gold No3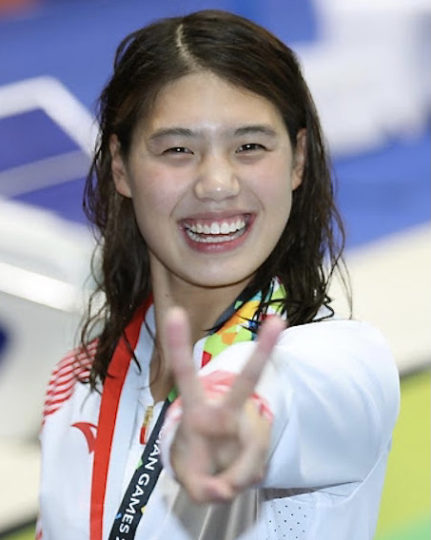 Olympic silver medallist over 100m and champion over 200m butterfly, Zhang Yufei , left, collected her third gold medal in Hangzhou with a dominant 55.86 Games-record victory over two lengths.
Out in 25.81, home in 30.05, Zhang notched up her seventh career sub-56sec effort just 0.2sec shy of her Asian record of 55.62 from China nationals in 2020. The time matched the fourth best of Zhang's career. The record number of sub-56sec swims is held by 2016 Olympic champion and World record holder (55.48) Sarah Sjöstrom, of Sweden, at 12.
The Hangzhou podium was completed by Japan's Ai Soma in 57.57 and China's Wang Yichun, in 57.83, with Korea's Kim Seoyeong on 58.18 and Japan's Rikako Ikee on 58.98 as she makes her way back to best form after recovering from leukaemia. Zhang took down Ikee's 2018 Games record with a 56.20 in heats this morning.
Zhang's Gold No4 Another China World-Record Relay Rattler – 0.15sec Shy
Zhang took her fourth gold of the Games as the session came to an end with yet another China assault oa world-record relay standard.
Xu Jiayu (51.91), Qin Haiyang (57.25), Zhang (56.05) and Yang Junxuan (52.52) combined for an Asian-record victory in the Mixed 4x100m medley, their 3:37.73 falling a touch shy of the 3:37.58 World record set by Great Britain's Kathleen Dawson, Adam Peaty, James Guy and Anna Hopkin for Olympic gold ahead of China at Tokyo2020ne.
Japan took the silver in Hangzhou today, a distant 3:44.64 keeping Korea at bay on 3:46.78.
In other action:
In the men's 100m butterfly, Japan's Katsuhiro Matsumoto took gold in 51.13 ahead of China's Wang Changhao, on 51.24, with Kazakstan's Adilbek Mussin third in 51.86.
Hosts China scored another 1-2 in the women's 100m backstroke, Wan Letian and Wang Xueer on 59.38 and 59.52 respectively, the bronze to Korea's Eunji Lee in 1:00.03.
There was also a 1-2 finish for Japan today when Reona Aoki and defending champion Satomi Suzuki topped the battle with respective efforts of 1:06.81 1:06.95 ahead of China's Yang Chang, on 1:07.01. Suzuki was just 0.09sec shy of her own Games record from 2018 in morning heats but her 1:06.40 standard lived to fight another day.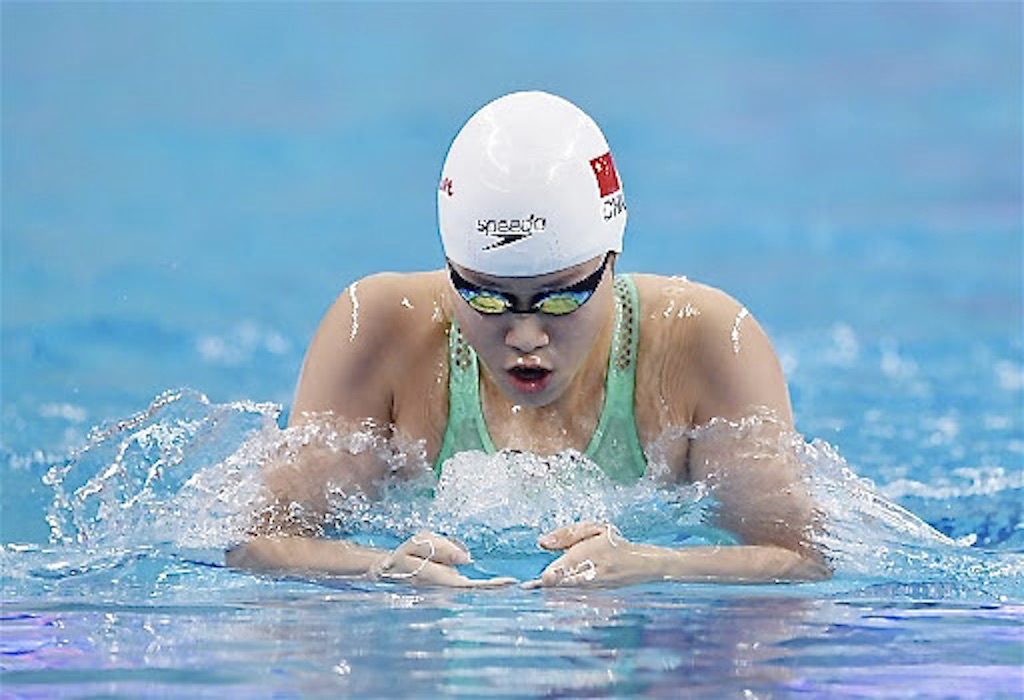 The last solo China vs Japan tussle of the day produced gold for the hosts, silver and bronze for the visitors and fourth for the hosts in the women's 400m medley.
Yu Yiting claimed the crown in 4:35.44 in a tight fight with Ageha Tanigawa, on 4:35.65 for silver ahead of teammate Mio Narita, on 4:38.77, with Ge Chutong locked out in 4:42.46. Yu held a 1.68sec lead over Tanigawa going into freestyle.
The fight for gold:
59.04; 2:09.49; 3:30.67; 4:35.44 Yu
1:01.62; 2:12.62; 3:32.35; 4:35.65 Tanigawa