Kneeling In Respect For Anthony Ervin And The Right To Stage Peaceful Protest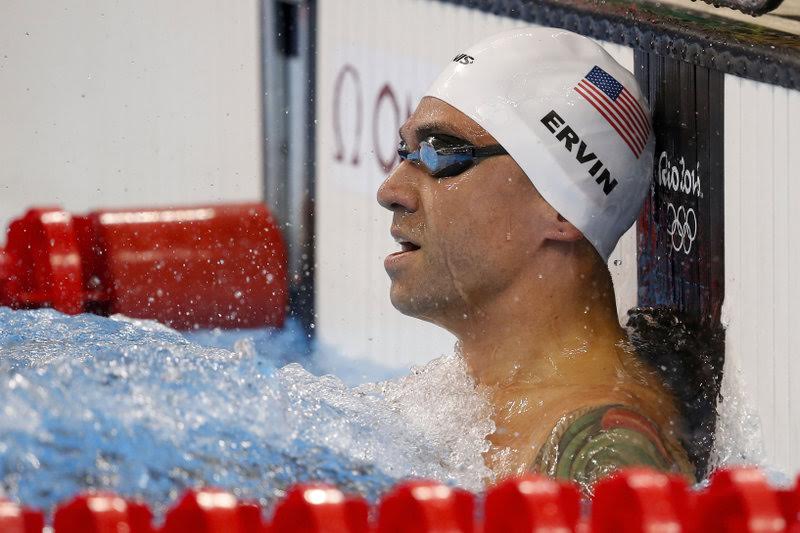 Editorial – Anthony Ervin, the American sprinter who in Rio last year became the oldest Olympic swimming champion in history when he reclaimed the 50m freestyle crown 16 years after sharing it with teammate Gary Hall Jr at Sydney 2000 in his teens, kneeled during the playing of his national anthem at the Raia Rapid Challenge in Rio de Janeiro yesterday.
Ervin, 36, joined fellow American sportsmen and women in the club of those taking the knee as a form of protest against systemic racism and the attitude of the President in the United States. Donald Trump, who took days to single out and specifically name neo-Nazis and white supremacists after violence broke out during and as a cause of a nationalist rally in Charlottesville in August, issued immediate tweets and statements roundly condemning sportsmen such as Colin Kaepernick of the NFL, among others, who chose to kneel during the national anthem as a form of protest against what is widely viewed as injustice and the support of such things.
Ervin's gesture places the swimmer in conflict with the rules of a sport that forbids political protest. In 2008, Milorad Cavic was removed from the European Championships for wearing a shirt in support of Serbia.
In Ervin's case, however, his taking the knee in protest against racism also upholds one of the key points of the FINA Constitution, including the international federation's objective of "encouraging" participation in aquatic sports regardless of "age, gender or race".
Hard, then, for FINA, or anyone else to complain that Ervin engaged in an act of protest against racism and discrimination (the latter another word at the core of the FINA constitution).
FINA, of course, won't say or do a thing, one must assume, not only because they have been so idle on so many occasions when doing the right thing demanded the top-table blazers to be vocal and proactive but because the Raia Rapida sprint event in Rio, while under FINA rules, was not an actual FINA event. I stand to be corrected but FINA might well be expected to look the other way.
Swimming is run by people – some hailing from countries that could be said to actively discourage women from taking part in aquatic sports and do nothing to promote swimming "regardless of age, gender and race" – who demand athletes leave their politics at home when they take part in global competitions. The governors feel they have a right to play politics and vocalise such things. however.
The wisdom of silence may, for whatever reason, prevail, in this instance, given that the fifth FINA sport beyond swimming, diving, water polo and synchro is politics and an unseemly game of thrones far removed from the role of serving athletes. Nothing to rock the boat, especially when the rocking is being done by an Olympic champion from the United States.
Ervin, of course, is more than just a USA swimmer with Olympic crowns to his name. His story is well known, his autobiography well worth reading.
Anthony Lee Ervin, of Burbank, California, lays claim to three firsts: he was the first man of African-American extraction race for the United States, the first to win an Olympic swimming title (2000, 50m freestyle) and the first man, with teammate and Sydney 2000 roommate Gary Hall Jr., to share one (the women's first was 1984).
The racial stereotyping started when Ervin, at 19, made the US team and gathered pace when he clocked 21.98sec with Hall Jr, 0.05sec ahead of a bronze medal that prevented Pieter van den Hoogenband (NED) from winning an historic treble (50, 100, 200m).
Born of a three-quarters African-American father and a white Jewish mother, Ervin said: "I feel the labels, in a way, belittle who I am. I'm proud to be black. I'm proud of my Jewish heritage. I'm proud of everything that makes me who I am. All of that makes me a unique person, just like anyone else."
Bravo! And Bravo once more, now, to a man who sold his 2000 gold medal on ebay for $17,100 in March, 2005, with the aim of donating the money to UNICEF for tsunami relief, and now takes the knee alongside others who have a constitutional right of peaceful protest.
Those who don't like such things have argued that kneeling is disrespectful to the military and the men and women who have fought and died for their country.
That, of course, is an argument for the willfully blind. Neither Ervin nor anyone else is kneeling for that purpose. Indeed, kneeling is itself a form of respect and is widely interpreted for what it is – an act that may well be perceived as showing respect for "what the USA stands for – BUT NOT THAT!"
The issues are particularly pertinent in sport and extend to the right to do what Lilly King, Mack Horton, Michael Phelps and his coach Bob Bowman, coach Jon Rudd and many others, including those who booed and jeered, did at Rio 2016: stand up for and speak in support of clean sport and against simply accepting that cheats have a right to stay even when that means them beating those being robbed of their rightful place. Blazers could not or would not – or both – do it for them and have shown themselves unworthy on that score for decades; there are moments when athletes need to make gestures to show how they feel in support of a better day for all.
Meanwhile, while all this kneeling is making some froth at the mouth in the United States, the truth is that the practice of playing the national anthem at every game and moment of competitive combat is relatively new – less than a decade old – in some of those big pro sports making the headlines long before the swimmer took to the same block.
In swimming, the flag sails up the pole for the first three home and the anthem heard for the man or woman who got to the wall first.
Of late, it has also made the realm of post-race mixed zone, to the extent, in fact, that mentions of 'the flag' and 'doing it for the flag' and so forth are not only becoming tedious but sound somewhat orchestrated. It is as if the kids have been coached to bleed passion through patriotism. There are moments when the parallels with war and sport run too close for comfort, some, by their own endless reference to a flag, appearing only to be able to swim fast in a relay when reminded that they were born here or there on this relatively small rock we're all on as it hurtles as a dwarf through the vastness of space, the greater gold things like the discovery of the day when orbs collide.
Back down to Earth – and the United States is at the forefront of swimming pace in the pool when it comes to team-wide success – and there can be no question that the flag is harnessed to drive the medals machine further down the road of sporting history. Much of that is inoffensive, even when it does indeed grate, simply because it has become the swimming equivalent of hearing a tennis player saying for the millionth time "my backhand was a little off today" as if that might not have been obvious.
Whether you are among those who support Ervin in his decision or not, all should support his right to join a peaceful protest against some of those key ingredients that were poured into the poison pool that Hitler presided over, hatred held for a moment on a high flag that demanded to be felled and reduced to ashes.
Many are the historical and cultural references one can turn to for wisdom when waving flags and belting out anthems. There's a place for both in sport, including using them as a peaceful way of protesting against the unacceptable.
As for those shouting about disrespect for those who died so that we could live, it is possible and entirely reasonable to love one's country while agreeing wholeheartedly with the message of Dulce et Decorum Est by Wilfred Owen, in defiance of Horace's "It is sweet and fitting to die for one's country." The words of a poet who experienced combat conclude:
If in some smothering dreams, you too could pace
Behind the wagon that we flung him in,
And watch the white eyes writhing in his face,
His hanging face, like a devil's sick of sin;
If you could hear, at every jolt, the blood
Come gargling from the froth-corrupted lungs,
Obscene as cancer, bitter as the cud
Of vile, incurable sores on innocent tongues,—
My friend, you would not tell with such high zest
To children ardent for some desperate glory,
The old Lie: Dulce et decorum est
Pro patria mori.
The background to taking the knee in peaceful protest, followed by Anthony Ervin and others: