Kliment Kolesnikov Kicks His Way To 4th On Russia All-time 100m Free Ranks With 47.60 Ticket To Lane 4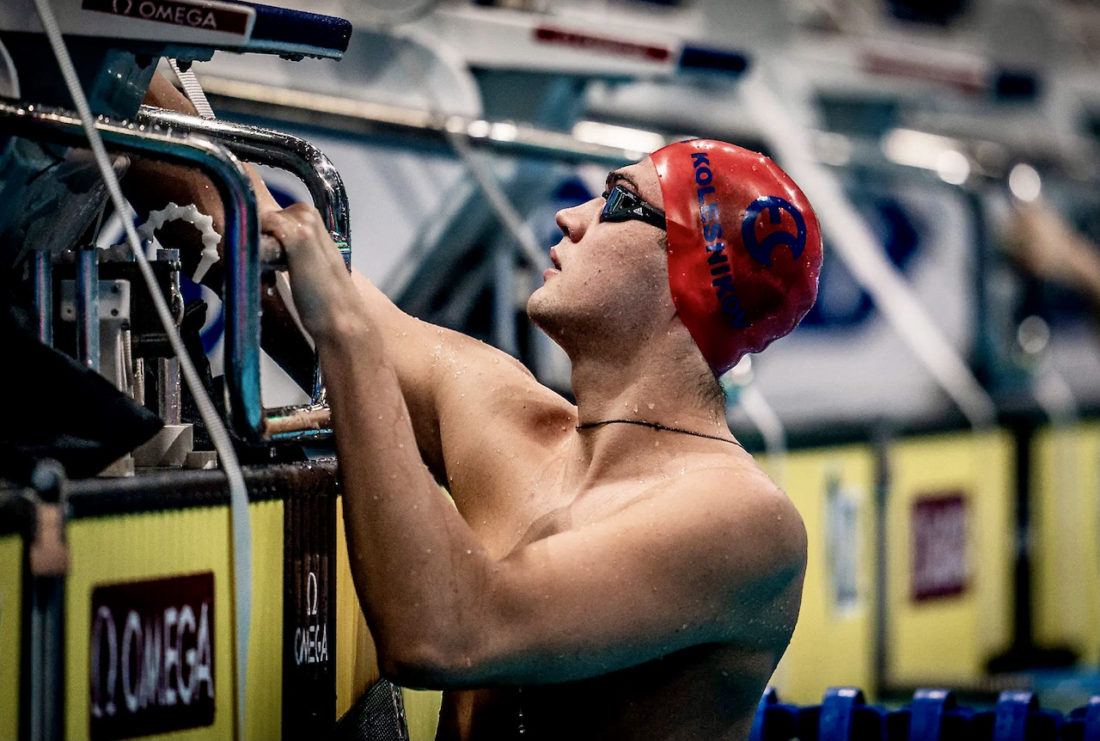 Kliment Kolesnikov arrived at Russian Swimming Championships in Kazan this week as 16th fastest all-time in his nation over 100m freestyle with the 48.52 career high in solo racing and a 48.04 best leading off the winning Russian 4x100m free relay at 2018 Youth Olympics. He entered Lane 4 for the final of the Olympic trials as fourth swiftest Russian ever, on 47.60 in his semi-final today.
For perspective behind the obvious bomb of drop at that speed over two lengths from a swimmer ostensibly known for his backstroke blasts: that's faster than Vladimir Morozov has ever swum; 0.08sec shy of what it took Nathan Adrian to claim London 2012 Olympic gold; and the eighth swiftest time all-time in textile (all suits: 20th, such was the lasting power of shiny 2008-09 on freestyle sprints).
Either side of Kolesnikov in the final tomorrow will be Russian record holder (at 47.43) Vladislav Grinev, on 47.85 today, and Morozov, on 48.00, the hunt for two solo berths and a place in a quartet capable of making the podium at the Covid-19-delayed Tokyo 2020 Olympic Games in July.
If they make it to the medals, the IOC flag will rise up the pole for them, Russia currently serving a two-year penalty for falling foul of the WADA Code and agreements to provide everything it was asked, untampered, for by the World Anti-Doping Agency (WADA) in its investigation into a doping crisis that rumbles on yet. Last December, the Court of Arbitration for Sport reduced the Russian penalty from four to two years, while confirming that the national anti-doping agency, Rusada, was non-compliant.
Tokyo will mark the second Games at which Russian athletes have been unable to compete under their national flag and the third time in history that they have been represented by the IOC flag (in 1992, after the break-up of the Soviet Union, Russians raced under the neutral country code CIS).
Meanwhile, in Kazan, at the mid-way stage of the Russian nationals in Kazan, with three days of action to go, Anastasia Kirpichnikova became the fourth woman below 16mins over 1500m freestyle this year with a 15:58.98 victory and Tokyo 2020 Olympic qualifier ahead of Alexandra Khaylova's 16:38.77, and Yana Kurtseva's 16:55.28.
The men's 200m butterfly title went to Alexander Kudashev in 1:55.40 ahead of Aleksandr Pribytok, on 1:56.92, and Egor Pavlov, on 1:57.14.
In the 200m freestyle, Veronica Andrusenko (nee Popova) kept the crown in 1:57.97, the top candidates for Tokyo relay action Anastasia Guzhenkova, 1:58.54, 400m champion Anna Egorova, 1:58.77, Valeria Salamantina, 1:59.49, and Arina Openysheva, 1:59.78.
Anastasia Sorokina took the 200m medley in 2:13.12 but was outside the Tokyo qualifying target in a close race with Alexandra Denisenko, 2:13.79, and Maria Astashkina, 2:14.05.