Kliment Kolesnikov 23.80 Blasts Backstroke Dash Record Inside The Pace Of Jonty Skinner's 1976 World-Best 50 Free Pace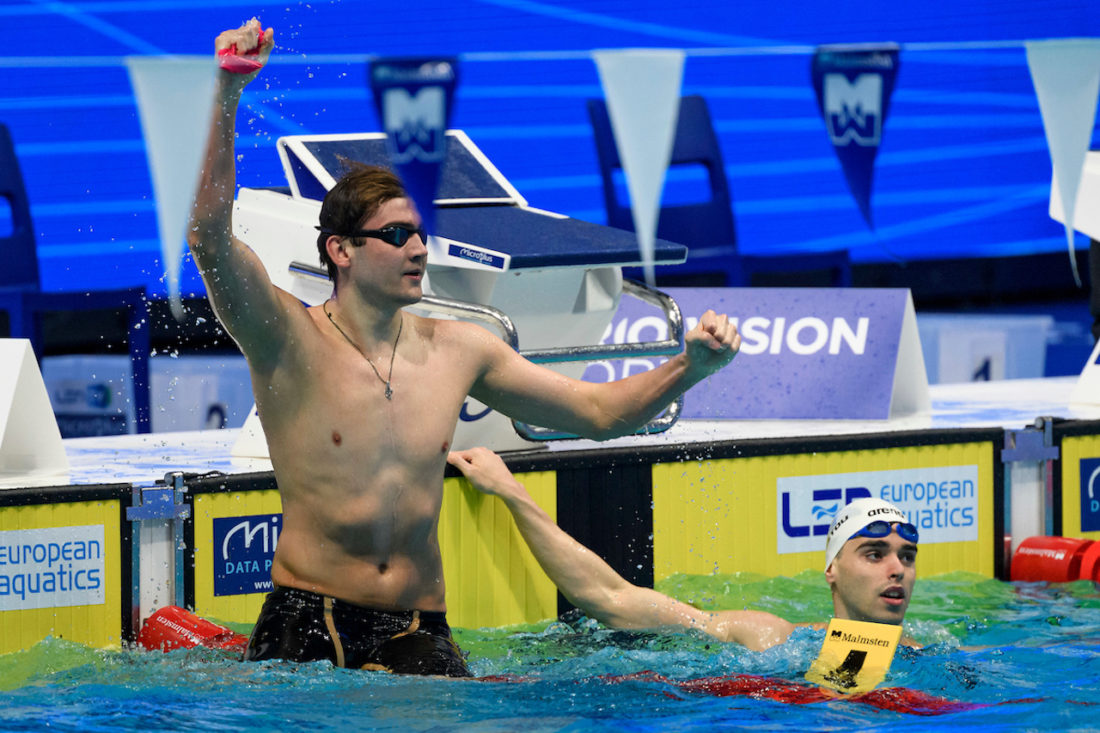 Kliment Kolesnikov took the pace of 50m backstroke up a gear to keep the European 50m backstroke crown with a 23.80 World record that rocketed the Russian inside the pioneering pace of Jonty Skinner on freestyle back in 1976.
Two world records in 24 hours, then, the 23.80 preceded by a 23.93 in semis yesterday. At that pace, Kolesnikov, 20, had no company, the silver to Romania's Robert Glinta in 24.42, the bronze to Spain's Hugo Gonzalez in 24.47.
Kolesnikov had rattled the door to the 23s back in 2018 when he claimed the continental crown for the first time, in 24.00. His 2019 troubles are yet to be fully understood but a year after the pandemic began the 20-year-old Russian is firing on all cylinders, his latest speed in the dash following qualification for the final of the 100m freestyle with efforts of 47.5 in heats and 47.8 in the semis.
Back in 1976, when the world was young and the 50m freestyle was a decade shy of joining the World-Championship program ahead of its Olympic debut in 1988, Jonty Skinner, the U.S.-based South African sprinter denied a golden shot at the 1976 Games by the wretchedness of apartheid laws back home, took down Jim Montgomery's famous Montreal-gold-winning 49.99 100m World record in a stunning 49.44.
Skinner's split was 23.86, which at the time was the fastest one-length of a long-course pool in history. Today, he would have picked up silver behind Kolesnikov in a virtual time-warp game.
The 50m backstroke is not an Olympic event. There has been an attempt to make it so but the International Olympic Committee would want FINA to suggest what might be cut from the program if the stroke dash events are ever to make it. Kolesnikov emerged from his pace-setting dash to say:
"I don't know what to say. I swam 100m free fifteen minutes ago so I was a bit tired. At the same time, I was full of energy, mental energy and just tried fire myself up. That's all, I have nothing more to say."

Kliment Kolesnikov
Two golds in the bag (he anchored the winning Russian 4×100 free relay in 47.10 on day 1), Kolesnikov has a shot at a few more medals before the week is up. In the semis of the 100m freestyle less than an hour before the backstroke final, he watched Italian Alessandro Miressi thump out a 47.53 Italian record (22.73; 24.80) before racing stroke for stroke with teammate Andrei Minakov, on 47.82 to his 47.85. Hungarian Nandor Nemeth was the first outside the 48sec door, at 48.02.
At Russian Trials last month, Kolesnikov scorched a 47.31 in the 100m free to top the Russian rockets. A moment worth recalling my first meeting with a teenage Kolesnikov at training-race camp in Italy with Energy Standard.
P
L
Nation
Swimmer/Dob
R
Time
Gap
 
1
4
RUS
KOLESNIKOV Kliment
(09 JUL 2000)
0.69
23.80 WR-ER-CR
2
3
ROU
GLINTA Robert-Andrei
(18 APR 1997)
0.57
24.42
0.62
 
3
6
ESP
GONZALEZ DE OLIVEIRA H.
(19 FEB 1999)
0.53
24.47
0.67
 
4
5
GRE
CHRISTOU Apostolos
(01 NOV 1996)
0.57
24.59
0.79
  
5
2
RUS
TARASEVICH Grigory
(01 AUG 1995)
0.55
24.72
0.92
6
1
BLR
STASELOVICH Viktar
(28 MAY 1994)
0.53
24.89
1.09
 
7
7
IRL
FERGUSON Conor
(11 OCT 1999)
0.47
24.92
1.12
 
7
8
ITA
SABBIONI Simone
(03 OCT 1996)
0.62
24.92
1.12
 
Semis-finals …
Women's 50m backstroke
Kathleen Dawson, of Britain, set a national and championship record of 27.19, 0.02sec inside the standard set by Georgia Davies when she lifted the British Record, Championship Record. The dash title in her sights, the greater significance of Dawson's turn of new speed is what it may mean for her 100m ambitions after a sizzling 58.2 at British Olympic Trials last month. Dawson is also lining up for Britain medley relay action, women and mixed, with medal chances in both. She said:
"I couldn't have asked for anything better than that. To be swimming so well at this point in the season, it bodes well for the Olympics. The Olympics are all I've wanted since I was a kid, so to be able to go into the Olympics in a position to possibly go for a medal, it's more than I could've asked for. I'm looking forward to the final. I know people will be looking out for me, but this is just prep for the 100m for me, so I'll just go out and enjoy it. Everything that I'm applying in training is finally paying off for me."

Kathleen Dawson – photo by Georgie Kerr, courtesy of British Swimming
Dawson had watched D Dutch c challenger Kira Toussaint just miss Davies' mark in 27.22 in the first semi. A tight tussle of a final ahead.
In the men's 200m butterfly semis, Hungarian pair Tamas Kenderesi, 1:54.37, and Kristóf Milák, the World champion and record holder, on 1:54.72, took lanes 4 and 5 for the showdown tomorrow.
Qualifiers:
Women's 50m backstroke
P
S
L
Nation
Swimmer
DoB
R
Time
Gap
Q
1
2
4
GBR
DAWSON Kathleen
03 OCT 1997
0.55
27.19 CR
Q
2
1
4
NED
TOUSSAINT Kira
22 MAY 1994
0.49
27.22
0.03
Q
3
2
5
NED
DE WAARD Maaike
11 OCT 1996
0.60
27.69
0.50
Q
3
1
5
RUS
FESIKOVA Anastasia
08 MAY 1990
0.65
27.69
0.50
Q
5
1
3
AUT
PILHATSCH Caroline
01 MAR 1999
0.58
27.81
0.62
q
6
2
3
FIN
JALLOW Mimosa
17 JUN 1994
0.57
27.93
0.74
q
7
2
2
GBR
WILD Cassie
12 JUN 2000
0.58
27.98
0.79
q
After both went 28.01 in semis, the swimmer-off decided:
P
LANE
Nation
Swimmer/DoB
R
Time
Gap
1
4
DEN
JENSEN Julie Kepp
(03 JAN 2000)
0.59
28.01
  
q
2
5
POL
TCHORZ Alicja
(13 AUG 1992)
0.59
28.20
0.19
 
Men's 200m Butterfly:
P
S
L
Nation
Swimmer
DoB
R
Time
Gap
Q
1
2
2
HUN
KENDERESI Tamas
13 DEC 1996
0.75
1:54.37
Q
2
2
4
HUN
MILAK Kristof
20 FEB 2000
0.67
1:54.72
0.35
Q
3
2
3
ITA
BURDISSO Federico
20 SEP 2001
0.71
1:55.03
0.66
q
4
1
4
BUL
IVANOV Antani
17 JUL 1999
0.70
1:55.45
1.08
Q
5
1
5
SUI
PONTI Noe
01 JUN 2001
0.70
1:55.81
1.44
Q
6
1
6
ITA
CARINI Giacomo
02 JUL 1997
0.64
1:55.87
1.50
q
7
2
7
BEL
CROENEN Louis
03 JAN 1994
0.67
1:55.96
1.59
q
8
1
2
RUS
KUDASHEV Alexander
05 DEC 1995
0.75
1:56.43
2.06
q