Kira Toussaint Makes It Four Dutch Backstroke Records In Two Days With 58.65 Blast Over 100m At Eindhoven Finale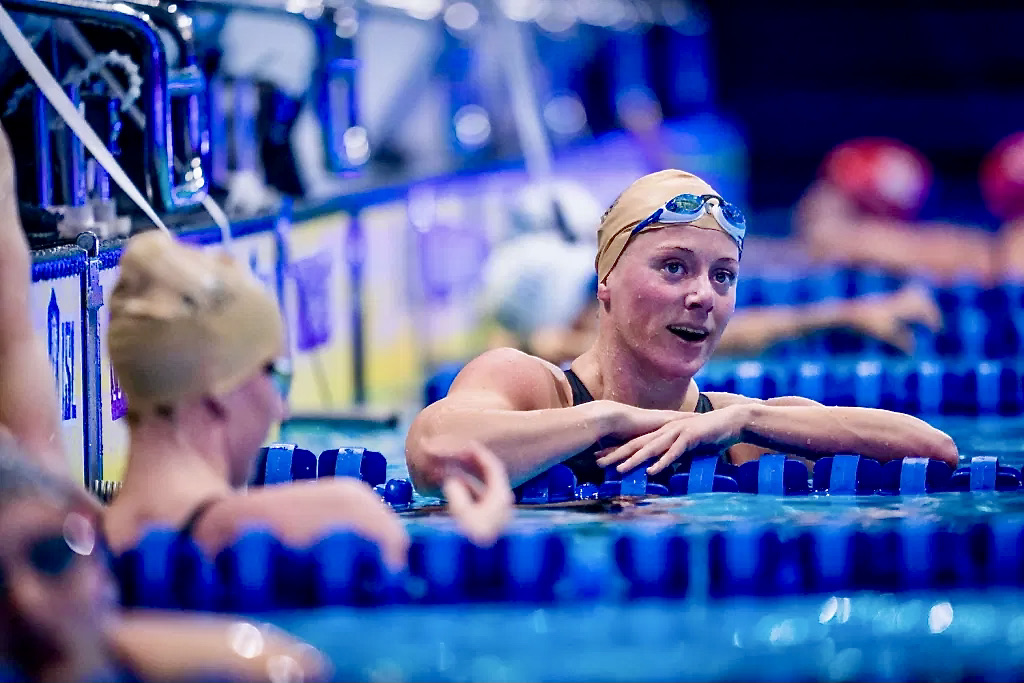 And another one bites the dust courtesy of Kira Toussaint and her bull run on Dutch backstroke records, the latest a 58.65 in the 100m final at the Eindhoven Qualification Meet this afternoon.
Two 50m standards yesterday were followed by a Dutch record of 58.74 in the 100m heats this morning, for four new Netherlands high bars in two days.
Out in 28.16, Kira Toussaint was 0.7sec up on Maaike de Waard at the turn. But the close of business, the gap was 1.3sec, de Waard on 59.95, third place to Germany's Laura Riedemann, of Halle, in 1:00.04.
Toussaint was one of two Dutch record breakers in heats and finals on the closing day of action in Eindhoven. The other heats standard fell to Nyls Korstanje, on 23.19 in the 50m butterfly. He backed up by rattling the 23sec mark for a new Netherlands high bar of 23.02 in the final ahead of Thom de Boer and Thomas Verhoeven, on 23.58 and 23.67 respectively.
Kira Toussaint started her days with a 58.74 in the 100m backstroke heats. The De Dolfijn sprinter cracked the European 50m record twice yesterday but it's the 100m time that counts on the way to the Covid-delayed Tokyo 2020 Olympic Games.
Out in 28.51 and almost a second clear of the next swiftest half-way in heats, Toussaint, 27 this year, rippled home to a time that grants her the best 28 100m times ever in the Dutch backstroke ranks.
Inside her 58.91 Dutch record from the Rotterdam Qualification Meet last December, Toussaint has swum all but two of her 28 Dutch bests in 2019, 2020 and so far in 2021. The two swim were back in 2018, when she became the first Dutch woman inside the minute, her pioneering times that year 59.88 and 59.94.
Practice makes perfect and Toussaint has raced fast 100m efforts on a consistent basis in the past three years, even notching up several of them in Covid-season 2020.
Today's effort leaves her shy of the top 15 all-time, while the stunning 57.57 World record set by American Regan Smith for the 2019 World title is the pace those gunning to join her in the sub-58 club are aiming for come Tokyo.
In other action, Arno Kamminga, after a 2:08 in heats, too the 200m breaststroke in 2:09.30 ahead of Maximilian Pilger and Arjan Knipping, on respective times of 2:11.49 and 2:14.22.
Ranomi Kromowidjojo trounced everyone else in the 50 'fly with a 25.36 blast, Femke Heemskerk and Kim Busch rounding out the top three with respective efforts of 26.34 and 26.36.
The 200m freestyle went to Annika Bruhn in 1:57.37 ahead of efforts of 1:58.74 and 1:59.56 from Marie Pietruschka, Leipzig, and Olympic Marathon champion for the Netherlands at Rio 2016, Sharon van Rouwendaal.
There were also wins for Tes Schouten, on 2:27.14 in the 200m breaststroke, and Bernhard Reitshammer, of Austria, on 55.01 in the 100m backstroke.
In the last race of the meet Henning Mühlleitner, of Germany's Neckarsulmer Sport-Union, led five on 1:48s in the 200m freestyle. The in took a 1:48.08 ahead of Poul Zellmann, SG Essen, on 1:48.28, and PSV home-pool contender Maarten Brzoskowski, on 1:48.50.