Kazan Stripped Of World Championships As FINA Responds To Ukraine Invasion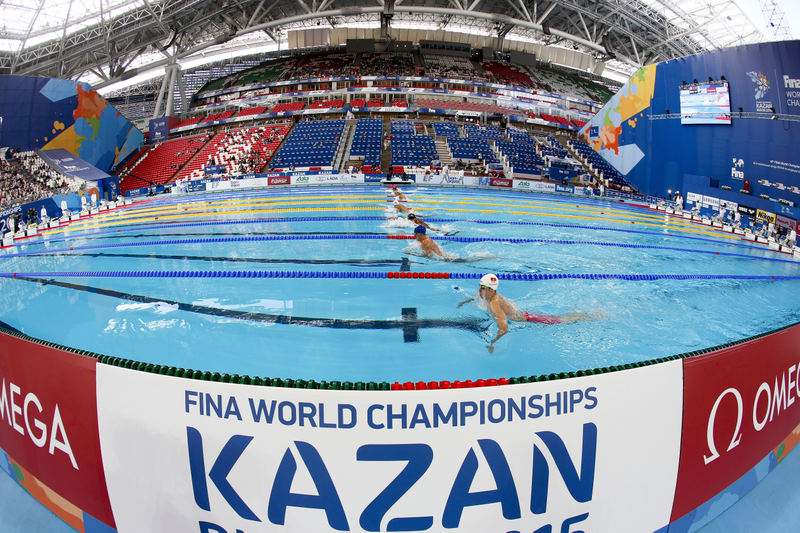 FINA has confirmed that it had stripped Kazan of the World Junior Championships scheduled for August in response to the Russian attack on Ukraine and is now seeking an alternative host.
Initial bets are on Brazil to host the relocated event though FINA sources say that the decision has not yet been made. The global regulator also confirmed that " FINA will not be holding any future events in Russia if this grave crisis continues", putting in doubt Kazan's scheduled December hosting of the World short-course Championships.
In a statement that updates the SOS story posted here two hours ago (see blow), FINA issued the following statement a moment ago:
LAUSANNE (Switzerland) – FINA remains extremely concerned with the continuing war in Ukraine and following ongoing consultation with athletes and stakeholders from the aquatics family, FINA can now confirm that the 8th FINA World Junior Swimming Championships (23 – 28 August) is cancelled and FINA will not be holding any future events in Russia if this grave crisis continues.
FINA reiterates its pledge to provide whatever practical support it can to members of the Aquatics family who are impacted by this situation and expresses its deepest sympathies and support to the people of Ukraine.
The statement appeared to trigger a catch-up statement from Swimming Australia, which noted: "Swimming Australia strongly condemns the actions of the Russian Government and is appalled by the developments in Ukraine. Swimming Australia CEO, Eugenie Buckley, said athlete safety was the top priority of any sport, while taking a leadership position on appropriate issues was also important."
It also put a 'wait-and-see' stamp on Budapest World titles in 2022 and noted that it is planning an alternative Pan Pacs junior event, though was not clear whether that would take place if FINA's junior event goes ahead at another venue: "Given the importance of the pathway to Swimming Australia, an alternate international event is being planned for the Juniors swim team with our Pan Pacific partners."
The SOS story posted two hours before the statement:
FINA will announce early this week the cancellation and relocation of at least one of the two World Championships due to have been staged in Kazan, Russia this year according to sources close to a global regulator under pressure to strengthen its response to the invasion of Ukraine.
SOS understands that at least 20 leading swimming nations, led by the Nordic nations, with the notable silence of some key players, have now called on FINA to cut ties with Russia and Belarus since forces following orders from Vladimir Putin broke international law and began an attack on the sovereign country of Ukraine last Thursday.
That, events and pressure from media reports travelling at the pace of developments have contributed to FINA's latest clarification and update.
Today, Putin placed Russia's nuclear forces on high alert in response to pressure from the west to step back from the brink. Delegations from Ukraine and Russia are also due to meet for talks close to the Belarus border.
Meanwhile, the response from sports organisations gathers pace in one direction: on Friday, FINA cancelled water polo and synchronised swimming events due to be staged in Russia in March and April but left two World titles in place in Kazan.
Now, as the International Judo Federation suspended Putin as its honorary president and ambassador, sources close to FINA's top table say that a statement early this week will confirm that Kazan has been stripped of the World Junior Championships in August and that an alternative host is being sought.
The World Short-Course Swimming Championships in December remains in the balance but would not include athletes from Ukraine and those who stand with it, Ukraine has confirmed in an open letter to FINA and the worldwide Aquatics community.
The host of the 2015 World Championships is still down on the 2025 FINA calendar to stage the showcase World Aquatics Championships, including long-course swimming.
The Nordic swimming federations were the first domestic swim leaders to call on FINA to follow an International Olympic Committee recommendation to cancel all events scheduled to be held in Russia and Belarus. The Nordic statement remains the strongest in so far as it calls for the suspension of all bureaucrats in international governance, including the likes of FINA (world) and LEN (European Swimming League) Bureau member Vladimir Salnikov.
That Nordic nudge to FINA was followed swiftly by a statement from the Ukraine Swimming Federation, while LEN was the first continental organisation to do what the IOC has urged and cut the cord with Russia and Belarus.
SOS understands that several leading swimming nations have now informed FINA that it must suspend Russia and Belarus and remove all aquatics events that the aggressors are scheduled to host this year. The global regulator will announce in a statement early this week that it is seeking a new host and venue for the World Juniors in August.
It is also under pressure to go beyond its current position of delaying a decision on the World short-course in case there is a cessation of Russian attacks in the Ukraine and, perhaps, peace talks can begin.
Even then, it is hard to see how sports organisations can go straight back to 'business as usual' given the potential for legal action against Russia or settlement that includes recognition from Russia that it must make reparations for breaking international law in a way that caused the death of a large number of civilians.
On those grounds and with a nod to the two whole-nation doping penalties served on Russia since 2014 and the fact that autonomy is granted to sport only on the basis of political neutrality, SOS on Saturday called for FINA to strip Putin of the FINA Order it granted him in 2014.
All action so far has been relative: it is focussed on suspension of Russia as a nation and cancellation of competitions scheduled to take place in Russia and Belarus. What is yet to be worked out is whether, and in what circumstances, there will be allowance for Russian athletes to continue to compete; whether officials and bureaucrats will also be asked to take time out; and whether there will be any kind of timeframe attached to the action.
The issue of allowing Russian athletes to continue to compete despite a whole-nation suspension on their country is a thorny one. Despite the worst systematic doping scandal since the end of the GDR and the start of the China crisis in the early 1990s, Russian athletes have not been prevented from competing unless they have a doping case on their records.
That approach, in sympathy with clean athletes, marks a break from the biggest whole-nation precedent in sports history: the banning of South Africa for decades because of apartheid.
Criticised for not taking swifter action, FINA can only act on what is before it. While moving the two World titles due this year was a "no-brainer", said one senior source, 2025 was something that would have to wait at a time when the invasion of Ukraine and breaking of international law may render the deaths of civilians acts of war and lead to murder charges at the International Criminal Court in The Hague. The prosecutor there has already out Russia on notice.
The plight of and pressure on Ukraine moves in time to the advance and attacks of Russian troops following Putin's orders, none of which can be predicted by sports federations. Even so, while the 2025 calendar is a world away, Putin has already made himself a pariah and persona non-grata around there world and the thought of doing business in sport with him in the years ahead, if he remains in power, is one that federations leaders will have to factor in to their planning, senior sources in swimming suggest.
FINA is waiting to see how the Russian war on Ukraine plays out before deciding whether it may have to reconsider plans to host a World Championships in Budapest this June: Hungary neighbours the Ukraine and as things stand some nations and airline carriers have suspended visas, travel to and from the region around Ukraine, action extending to closures of air space.
It is understood that Australia, the United States, Canada and other nations have been in touch with FINA to express their opposition to sending any teams to Russia but are happy to keep any decision on Budapest open in the near future to see how feasible Budapest in June will be.
The news that FINA will cut more ties with Russia this week prompted reminders in Australian media of the sports background to a much bigger crisis. As reported Julian Linden at the Daily Telegraph Down Under puts it in Monday morning's edition:
FINA's desertion of Russia is more significant than most others because it has long been accused of sucking up to the sports-mad Russian dictator.

FINA's incestuous relationship with Russia has been an open secret for years with human rights groups accusing FINA of helping legitimise Putin's authoritarian leadership through 'sportswashing.

In 2014, after Russia annexed Crimea and Russia was busted for state-sponsored doping that had links to the Kremlin, FINA awarded Putin its highest individual honour.
It was FINA's way of thanking him for footing the bill for the 2015 world championships but it didn't end there, with Russia subsequently handed a stream of world championships in the years since.

Swimming insiders now expect that traditional swimming countries, including Australia, will now be awarded major events they deserve to host with Russia likely to be blackbanned for years.