Kaylee McKeown 2:03.14 WR In NSW 200m Backstroke – 1st Aussie To Hold The Mark & 1st To Hold Both 100 & 200 Marks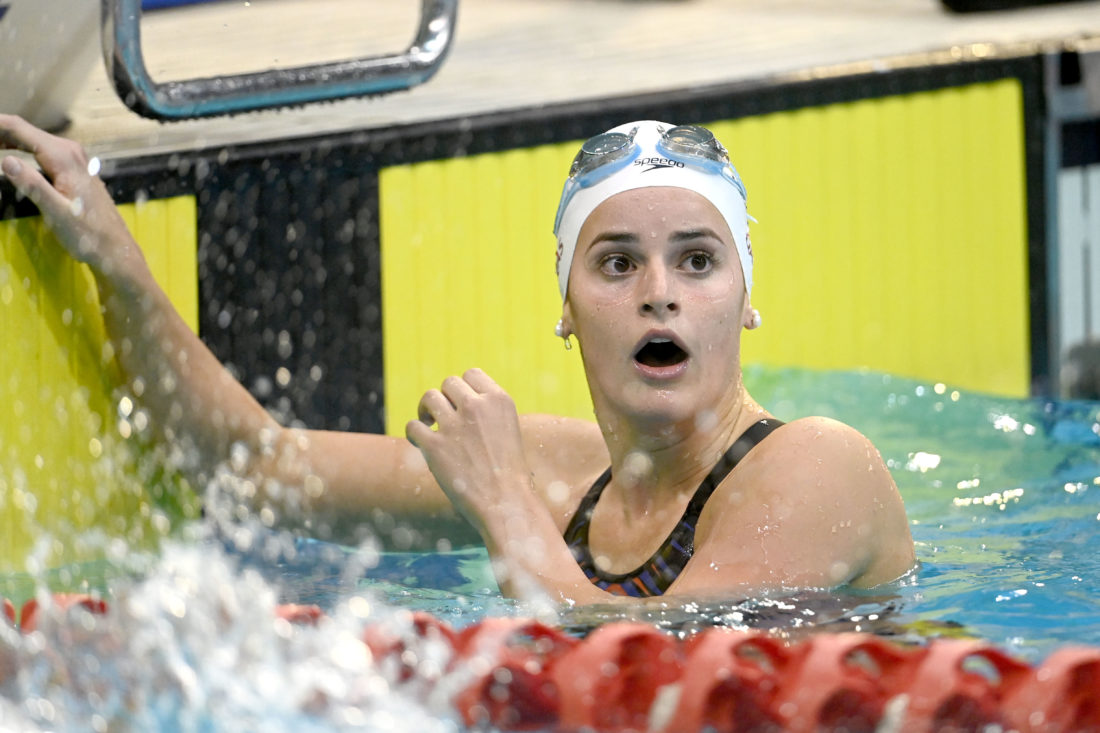 Kaylee McKeown, the double Olympic backstroke champion, has taken down the World 200m record with a stunning 2mins 03.14sec effort at the NSW State Championships this evening in Australia.
She split 1:00.73 halfway in the race at Sydney Olympic Park, before turning for home in 1:31.84 on her way to a history making feat. 
McKeown is the first Australia woman to hold the 200m World record and the first ever to hold both the 100 and 200m. Her effort toppled the 2:03.35 global mark set by American Regan Smith in the semi-finals at 2019 World Championships in Gwangju.
The Australian holds both the 100 and 200m world records on backstroke simultaneously, having clocked 57.45 over two lengths at the Australian Olympic Trials in June 2021 on her way to three golds at the Tokyo Olympic Games that year, the third claimed as a member of the 4x100m medley relay.
Coached by Michael Bohl at the Griffith University club, McKeown is only the second Australian ever to hold the 100 World mark on backstroke, Bonnie Mealing having held the standard at 1min 20.6 between February 1930 and May 1932.
McKeown At The Double In Tokyo
Smith did not make the cut for the 200m backstroke at U.S. Olympic Trials and in Tokyo at the Covid-delayed 2020 Games in 2021, it was gold for McKeown and bronze for Emily Seebohm: only the second and third medals for Australia in this event since American Pokey Watson became the first champion when the 200m was added to the program in 1968.
All three Australian medallists were in the building that day, two in the water – McKeown on 2:04.68, Seebohm on 2:06.17 – and the other, Nicole Livingstone, who claimed bronze at Barcelona 1992, was up in the stands in a commentary box broadcasting news that her club had just tripled in size.
Canadian Kylie Masse divided the Australians to add a second silver to Canada's tally in 2:05.42 after second place in the 100m behind the same opponent.
In a stroke-for-stroke scramble for the wall, Americans Rhyan White and Phoebe Bacon got locked out, on 2:06.39 and 2:06.40, the USA beyond the medals for the first time since 2004.
More on McKeown's NSW championships swim and the journey to World titles in Japan this July in the fullness…