Kaylee McKeown Mangles 50 Back WR In Thumping 26.86 To Go With 100 & 200 Marks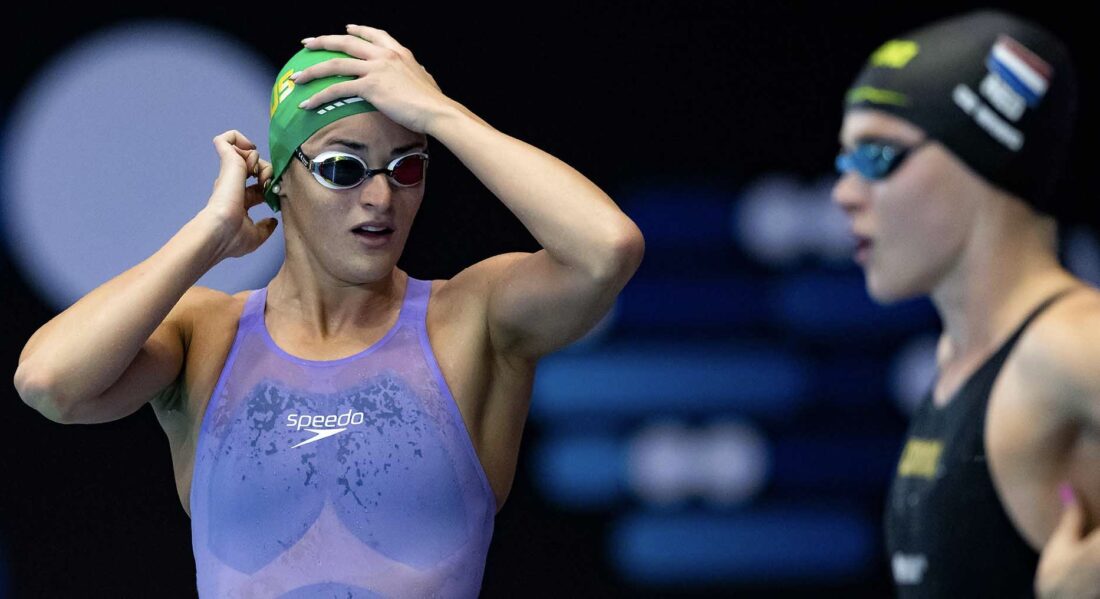 Kaylee McKeown crept ever close to the World 50m backstroke record throughout the World Cup series, the building over today in Budapest with a whacking 26.86 thump that knocked Liu Xiang's 2018 standard into the long grass of history.
The Chinese sprinter had held the mark at 26.98 since the Asian Games in Jakarta five years ago. In Berlin as the Cup opened, McKeown showed fine form at the start of a campaign to get swifter with each passing round, Liu's standard living on borrowed time.
McKeown – A Pioneer Of Backstroke World Record Triple
The first in history to hold the 50, 100 and 200m backstroke records simultaneously, McKeown is the third Australian to hold the dash mark after Emily Seebohm and Sophie Edington. McKeown is also the first since Penny Heyns, of South Africa in 1999, to hold a triple of stroke records, 50 to 200m simultaneously – and they are the only two women in history to have achieved that triple feat with official World records.
As the Cup series draws to a close in Budapest, after Berlin and Athens over the part fortnight, McKeown struck the first of three shots at the triple triple with the swiftest backstroke sprint down one 50m length ever seen.
How McKeown waged a war of attrition on the record:
Berlin: 27.55; 27.24 World Cup record
Athens: 27.65; 27.02 World Cup Record
Budapest: 27:47; 26.86 World & WC Record
McKeown – Faster Than Ender On Freestyle
McKeown's time, which is, of course, an Oceania, Commonwealth and Australian mark, is not only swifter than Liu's best but took the Australian inside the fastest 50m freestyle ever by the first two women to hold a dash world-best in the days before the standard became a World record: Kornelia Ender, of the GDR, and Johanna Maloy, of Canada, in 1975-77.
McKeown was a fingernail shy of the best 50m pace of American Sippy Woodhead on freestyle when she held the world best for half a day in 1980 before boycott meant that we never saw her at her Olympic best. Could McKeown ever match Woodhead at her best over 200m freestyle (1:58.23, 1979) ? No, but anything within four seconds would be phenomenal.
The Budapest battle:

Qin Haiyang Edges Closer To Triple Triple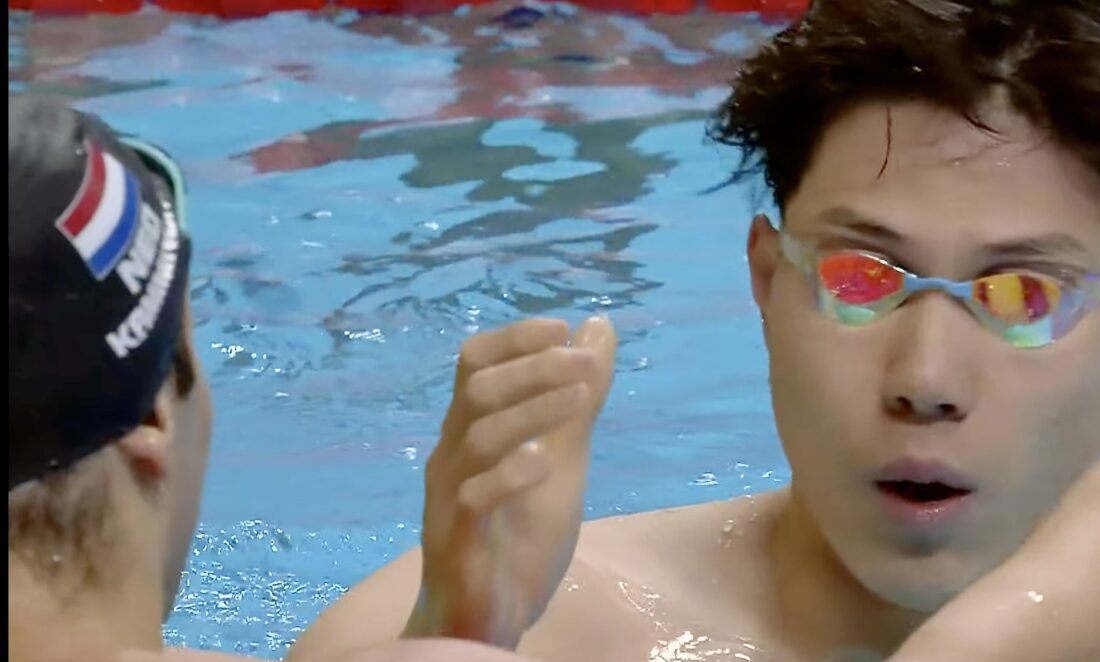 Like McKeown on backstroke, China's Qin Haiyang is heading closer to a clean sweep of all breaststroke finals on the 2023 World Cup tour. Today, he made it three in three over 100m with a 57.82sec win after having matched his 57.69 Asian record in Berlin off the back of his Asian Games taper and a second triumphant triple of titles two months after becoming the first to achieve the feat in World-Championship waters.
His closest rivals have mostly been on 59s the whole time but today double Olympic silver medallist Arno Kamminga got closer, on 58.68, with American Nic Fink on 59.21 and Britain's double Olympic champion of 2016 and 2020ne Adam Peaty making significant improvement for his best finish and race of the tour over two lengths: fourth in 59.25, his homecoming lap of 32.00 his swiftest of the whole series.
The information from Peaty's comeback to racing will now be taken back and analysed for 'Project Re-contracting': the World record holder's third Olympic campaign will now move to the next level.
The Budapest Battle: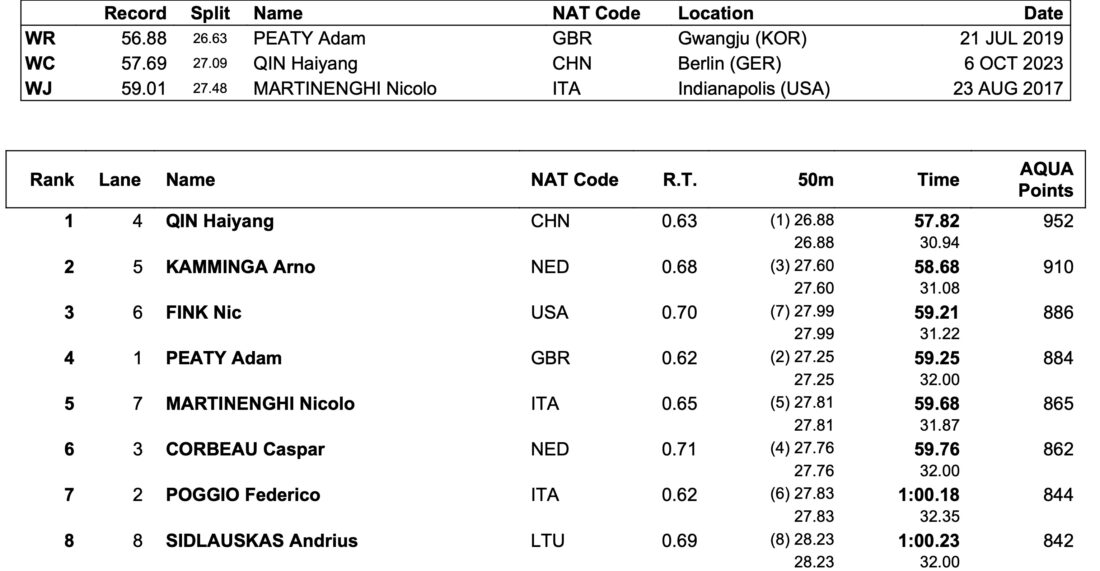 Proud Pops In For A 21.77 Win Down Budapest Memory Lane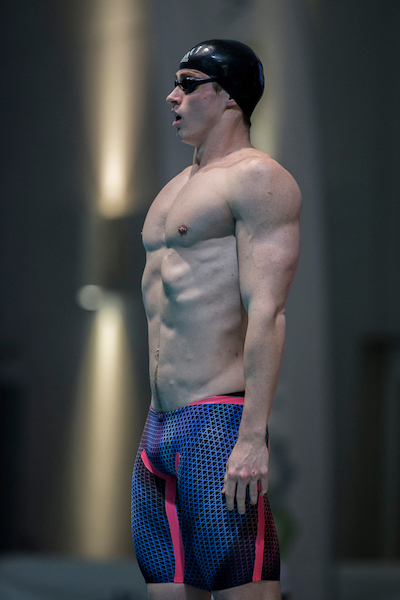 Ben Proud looks back to Budapest 2017 and 2022 World Championships with golden memories of global dash titles: in 2017 it was 50m butterfly, last year the 50m freestyle crown at the start of an impressive run of three major victories, World, Commonwealth and Europeans in just six weeks.
The British sprinter had not taken part in the Cup until this point but had watched from his training base and thought 'that looks fun' and couldn't resist a trip down memory lane in Budapest. It was a worth a postcard: 21.77 for the win ahead of a 21.85 from American Michael Andrew, who took silver in the same pool behind Proud last year. Isaac Cooper, the Australian who took the first free dah win of the series back in Berlin, was the third man home and inside 22, on 21.92.
The Budapest Battle: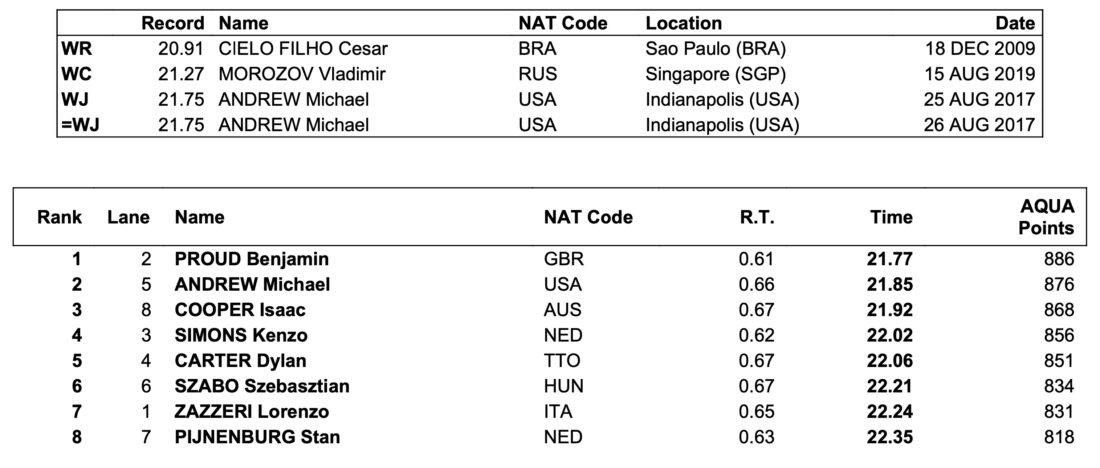 Sjostrom Maintains Dash Supremacy

Sarah Sjostrom continued to practice her race skills like all the rest on this tour – its just that in dash races on butterfly and freestyle, like McKeown on backstroke and Qin on breaststroke, her mid-season norm is on a whole different level to the rest this season. Her third 50m free victory for three out of three today was delivered in 23.97, 0.33sec ahed of the national record of 24.30 established by another sprinter having a fine tour, Hong Kong's Siobhan Haughey.
Haugehy's new pace bodes well for a last attack on the World Cup 100m record on Sunday after she thundered home in 52.02 in Berlin. Third place in the dash went to an Australian sorority sprint force, Cate and Bronte Campbell on 24.42. Snap!

McKeown Teammate Short Joins 400 Crew To Remind Them He's Captain
Before McKeown had broken. the World dash record, Australia teammate World champion Sam Short missed the meets in Berlin and Athens but in Budapest, he tested his race pace with a 3:44.51 best-of-tour effort. Taking the lead after the first turn, he build a lead of a second over the man to beat in Berlin and Athens Danas Rapsys, by the 200m mark and edged further away from the chasers on the way to a win over Kieran Smith, 3:46.80 after he moved upon to second by the 300m mark, and Rapsys, on 3:47.00.
The Budapest Battle: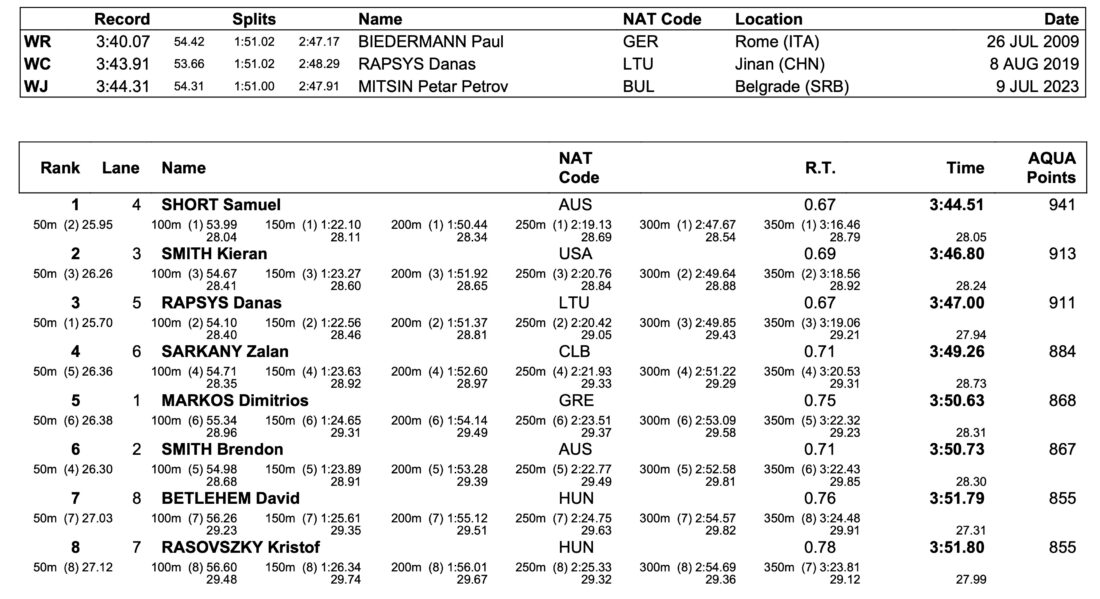 Zhang Takes World Cup 200 Fly Mark Below 2:06
Zhang Yufei's pantheon will need a new wing after this 2023 season of plenty, with honours galore World, Universiade and Asian on the way to a Cup tour on which she has been unassailable in the 100 and 200m butterfly. Today, a 2:05.65 from the Olympic champion took down the 2:06.33 Cup mark set by American Camille Adams back in 2015.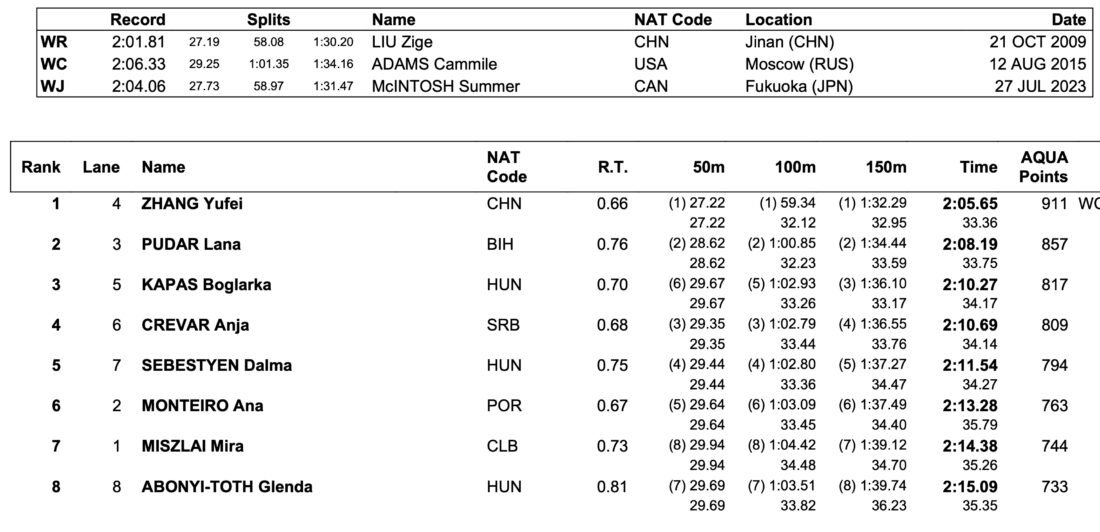 Schouten Takes Another Slice Of The Cup Mark in 2:21
Like McKeown, Qin, Sjostrom, Zhang and others, Dutch ace Tes Schouten was another to make it three in three victories in her best event, a 2:21.52 the best of tour and best-ever in the Cup series when held long-course, in side the 2:22.13 mark she set at the start of the tour two weeks ago in Berlin. Australian Jenna Strauch, following a similar better-better-best pattern modelled by teammate Kaylee McKeown, gave close chase yet again: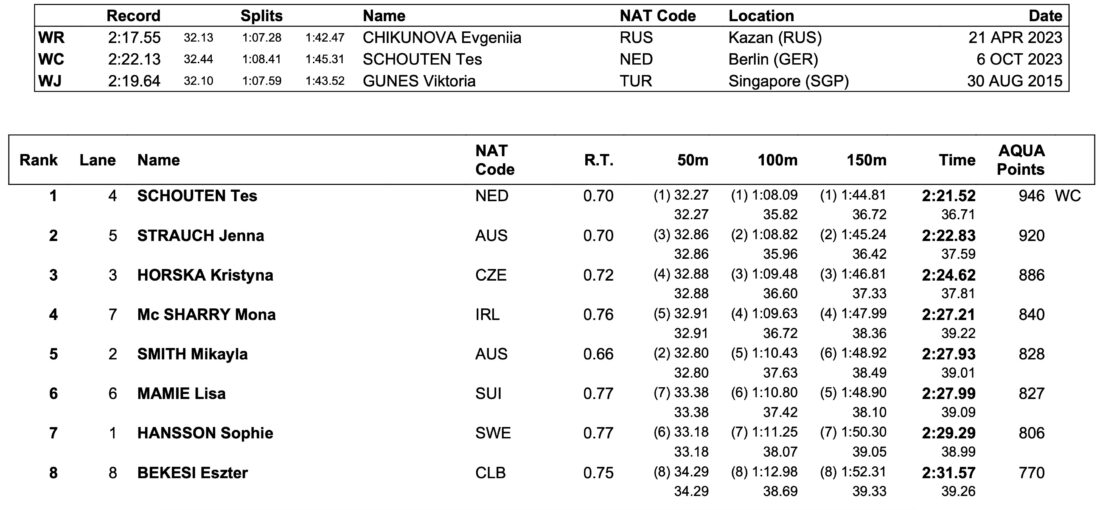 Fairweather Makes It A Triple of 400 Victories
Erika Fairweather was at her sharpest in Berlin with a Cup record of 4:01.09 but at 4:02.35, the Worlds bronze medallist from New Zealand completed a fine run of three 400m wins at a speed well into the 900-point range in pre-Olympic season northern autumn.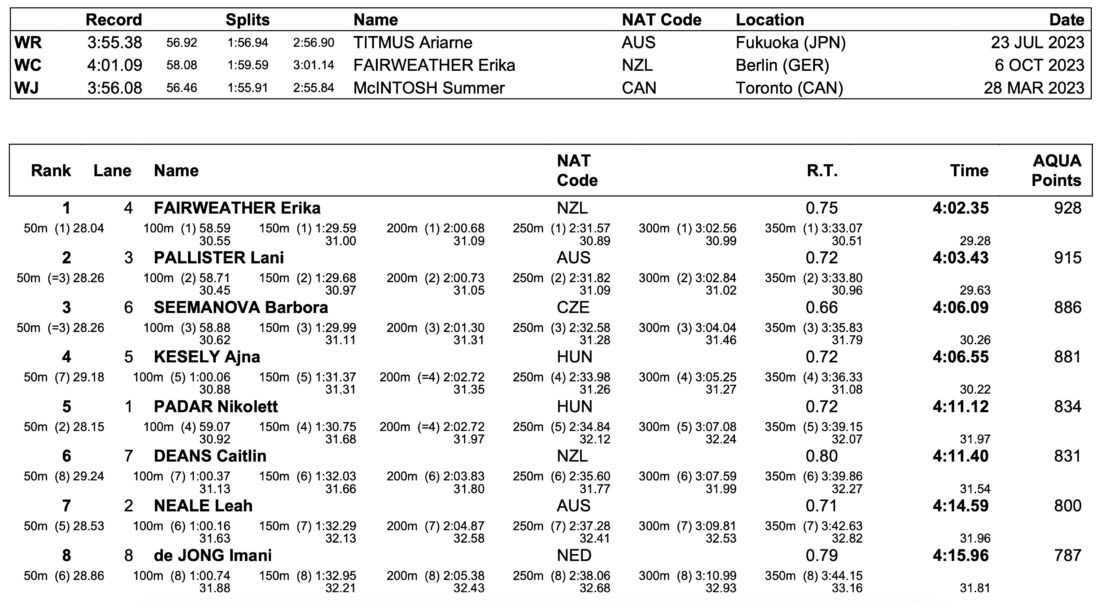 Swiss Double
Mityukov By 0.01 Over Ceccon
It's a shame Thomas Ceccon wasn't born in Rome (though Thiene in the north is lovely) because I would then have been able to write a headline noting that Roman beats Roman. Even so, it was all good news for Roman Mityukov, of Switzerland, and Italy's World champion sprinter Ceccon as they came home in that order with 0.01 between them: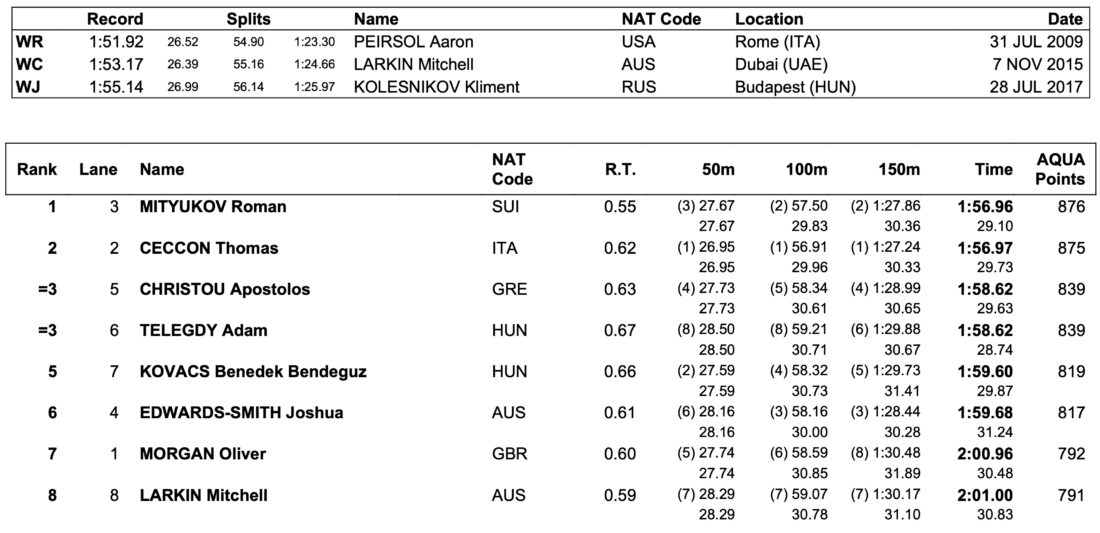 Ponti From 7th To 1st On The Home Length
In the next men's final, Switzerland celebrated again: Noe Ponti, as one of two men in the race (with Chad Le Clos) to have made global podiums in the 100m 'fly, swam at the pace he knew would work for him: out in 24.54 in seventh, home in 26.84 as the sole sub-27-second man in a hunt that saw him pass five men in plenty of time and then Matt Sates in the nick of time: