Kaylee McKeown & Lani Pallister Double Down On Winning Form At Aussie Trials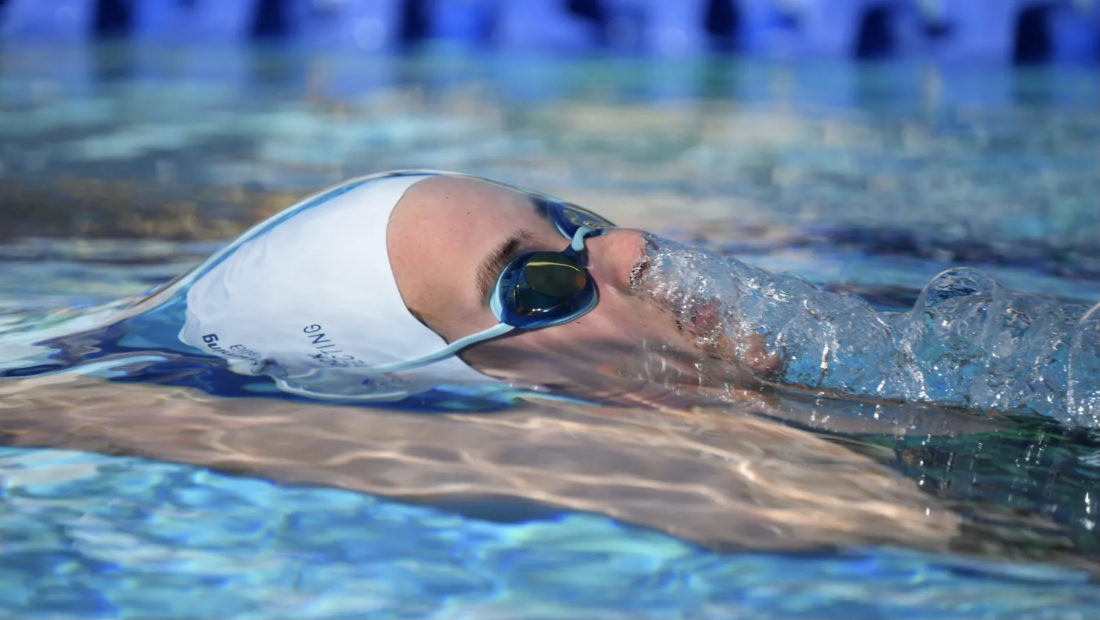 Griffith teammates Kaylee McKeown and Lani Pallister doubled down on their winning form at Australian Swimming Championships and trials in Adelaide with solid victories of 2:05 over 200m backstroke for the triple Olympic gold medallist and 15:55 over 30 lengths for the growing distance-freestyle force.
There was no need for McKeown, double Olympic champion to be tapered for best-of-best form in Adelaide this week and so a 2:05.31, a dream for just about all others over 200m backstroke, will go down as her 6th fastest performance ever, her 10th time inside 2:06, and her latest comfortable win Down Under. Nine women in textile have raced inside 2:06, and 10 in shiny suits, adding in Kirsty Coventry's 2008 and 2009 efforts.
More significant that today's time for McKeown is the potential in the pressure building on the clock come the hour of the Australian's sequel to an Olympic crown claimed in Tokyo in 2:04.68, now the fifth fastest of her five entries in the global all-time top 10, the swiftest of them her 2:04.28 from Olympic trials in 2021.
Now coached by Michael Bohl at the Griffith University squad following a move by her mentor up to Tokyo Chris Mooney to the head-coach job at Bond University, McKeown's next drop on the clock may leap over Missy Franklin and her 2:04.06 World record that was good for gold at London 2021.
The Australian, on 2:04 at state championships earlier this year, looks set to join the 2:03 club founded by American Regan Smith in 2019 before fate took a different turn to the predictions for the 2020, then 2021 Olympic Games. Smith was blocked from Tokyo action by a third place at Olympic trials in the U.S.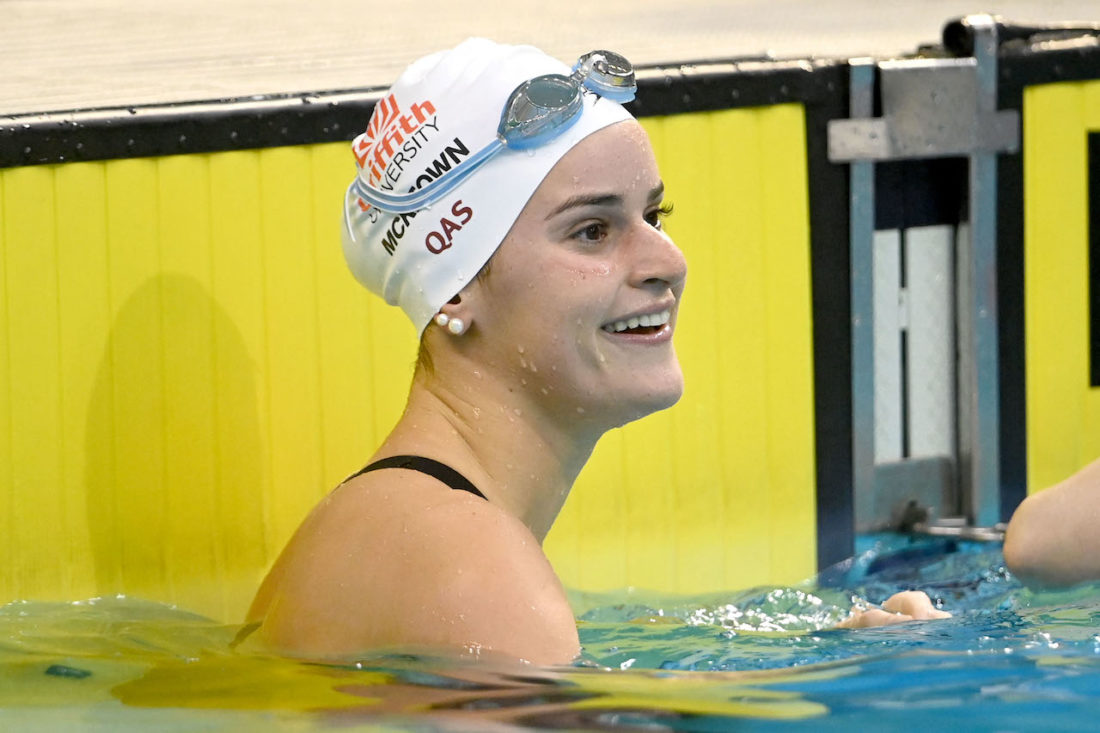 This year, that history repeated itself – Phoebe Bacon, 2:05.08, and Rhyan White, 2:05.13, ahead of Smith's 2:05.65 at U.S. trials and the World record holder will not defend the 200m World crown she claimed in a stunning 2:03.35 in Gwangju when the world gathers once more for the FINA long-course in Budapest next month. Add in Kylie Masse, Canadian double Olympic silver medallist from Tokyo, and another epic 200 back battle is looming.
All three podium placers today in Adelaide got inside the qualifying standard for Budapest, McKeown and Mollie O'Callaghan, on 2:08.48, the two stamping tickets to Worlds, Minna Atherton, on 2:10.20 third with a ticket to Commonwealth Games in Birmingham from late July.
The title was not retained by McKeown: it had been held by Emily Seebohm, who added Olympic bronze behind McKeown's second gold in Tokyo to a prize-stacked pantheon as a Dolphin for well over a decade. The Adelaide trials marks the first major global trials event Down Under to go without Seebohm present as a contender on backstroke. Mckeown had company to half-way today before racing ahead of O'Callaghan down the third length:
30.17 1:02.29 (32.12) 1:34.14 (31.85) 2:05.31 (31.17) McKeown
30.08 1:02.83 (32.75) 1:35.69 (32.86) 2:08.48 (32.79) O'Callaghan
Both McKeown, winners of the 400m medley, the 100 and the 200m backstroke at trials at in line for relay action, and O'Callaghan, winner of the 100m free and second home in the 100 and 200m backstroke, with at least two relays on the cards, will be among the busiest Dolphins in Budapest.
Lani Pallister Makes It A Distance Double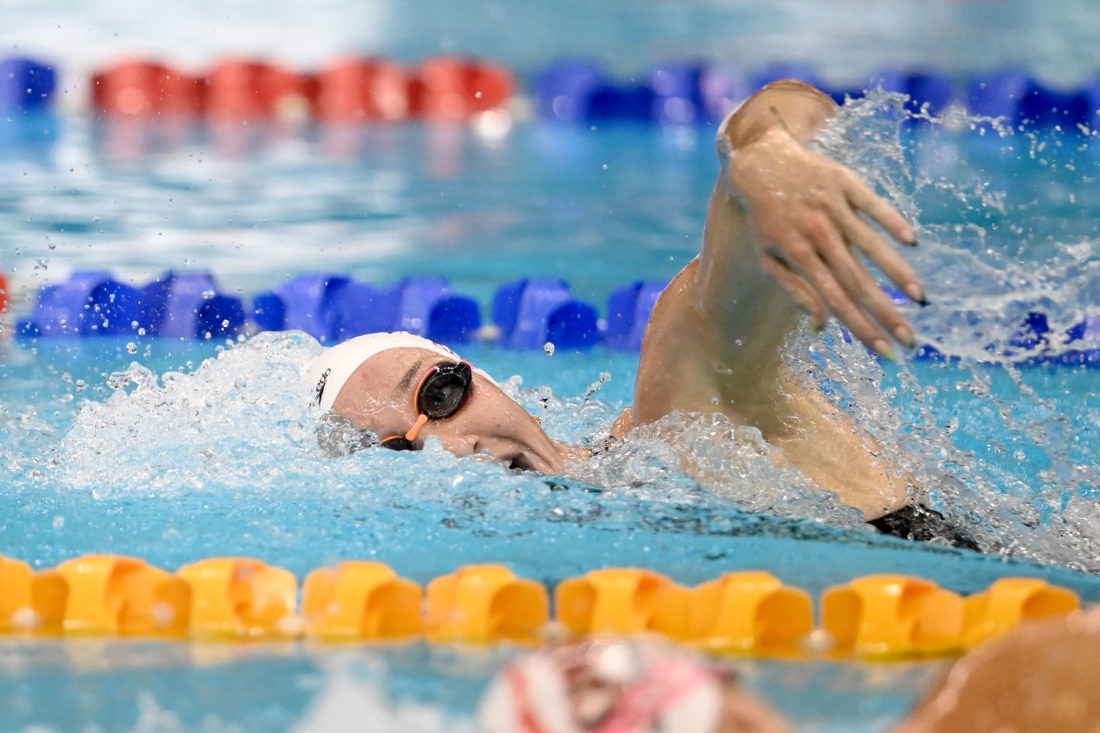 On a lifetime best of 8:17in the 800m freestyle two days ago, Lani Pallister, coached at GUSC by her mother and former international Janelle Pallister (nee Elford), doubled down over 30 lengths with a 15:55.40 career-high victory ahead of Moesha Johnston, on 16:00.74, Olympian and open water ace Madeleine Gough on 16:08.31 for third place and in line for Commonwealth selection.
Dolphin men's 100m Free Strength A Work In Progress
The ebb and flow of standards, some dictated by swimmer and coaches choices brought on by calendar chaos, was nowhere more obvious in Adelaide than the men's 100m freestyle final. Yes, there were three 48s but the might of former 4×100 Dolphins quartets remains only as an aspiration and work in progress as far as Budapest World titles go. That picture may change a touch if Kyle Chalmers opts in on butterfly and gets the relay call once in Hungary.
In the absence of the 2016 Olympic champion and 202one silver medallist, William Yang, LNSC, took the title in 48.55, with 200m champion Zac Incerti and Flynn Southam, just 16, also insight the FINA cut, on 48.65 and 48.76 respectively, Southam in line for Commonwealth selection, the Worlds line drawn at top 2.
In other action: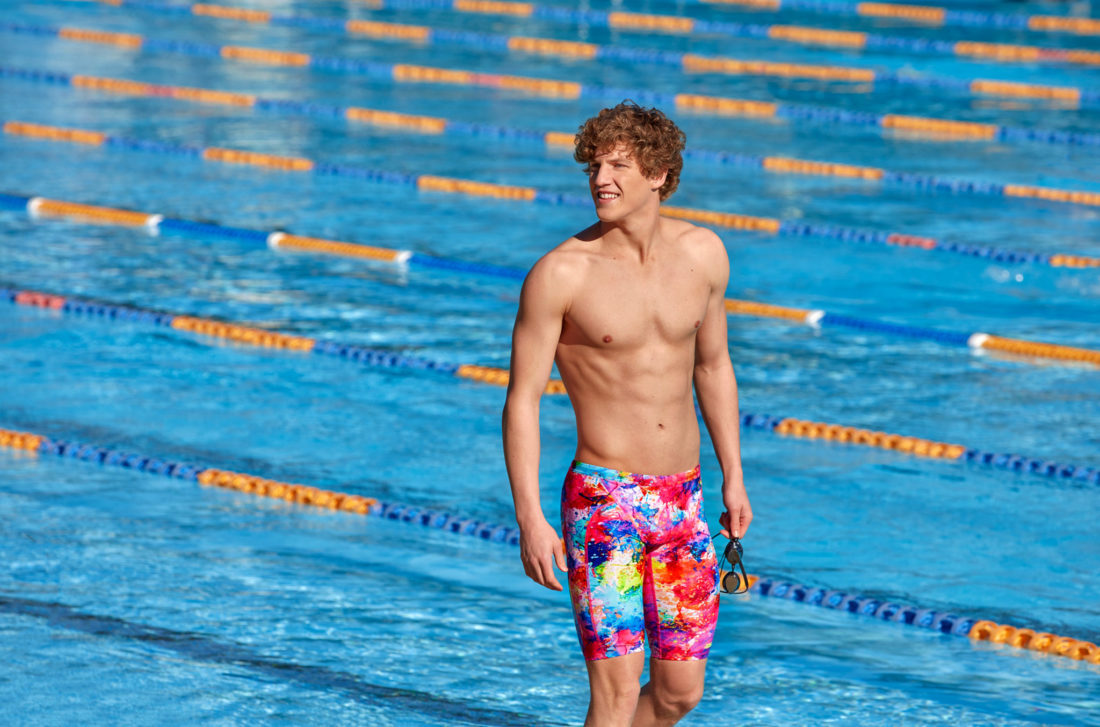 McKeown's GUSC teammate Brendon Smith, Olympic bronze medallist, clocked 4:15.48 for the national 400m medley crown a year ago (the event was not a trials moment) on his way to a sub-4:10 effort and then the podium in Tokyo. Today, in trials conditions, Smith laid down a 4:11.88 marker via splits of 56.58, 2:00.87 and 3:14.27. The tussle for the second berth in Budapest was won by just 0.01sec, Se-Bom Lee on 4:14.77 ahead of Kieren Pollard.
On 1:57.08 for the 200m butterfly title a year ago, Gough Bowen, Nunawading, nominated this year's battler to retain the crown in 1:56.49 ahead of Charlie Hawke, 19, on 1:58.00, and David Morgan, on 1:58.39.
Holly Barrett, ROC, clocked 26.02 to retain the 50m backstroke title (25.75 a year ago) ahead of Alexandria Perkins, 26.18, and Abigail Schoorl, 26.45.