Kaylee McKeown At The Double As Pallister, Haughey (52.02 Asian Record), Meilutyte & Qin Join The Rush On World Cup Records In Berlin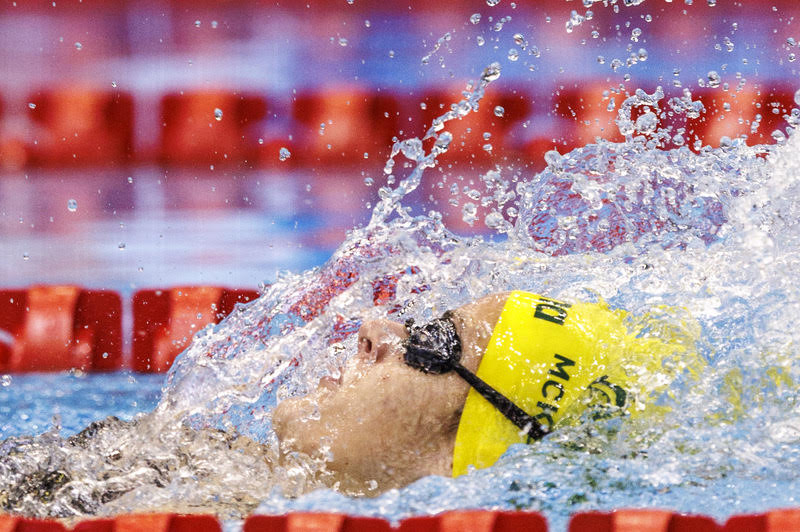 Kaylee McKeown claimed two wins on the last day of racing at the opening round of the 2023 World Cup in Berlin, the 200m backstroke producing a World Cup record of 2:06, the 200m medley a 2:10 victory a touch ahead of Canadian Sydney Pickrem.
Australian Lani Pallister, on 8:16 in the 800m freestyle, led the last-day rush on Cup marks, which included a sizzling 52.02 Asian record (third-swiftest all-time) from Hong Kong's Siobhan Haughey in the 100m freestyle, a 29.56 from Ruta Meilutye in the 50m breaststroke and a 2:07 from Qin Haiyang in the 200m breaststroke.
Haughey's blast was the swim of the meet, a credit to swimmer and coach Tom Rushton.
Top Points Prizes For McKeown & Qin
Kaylee McKeown and Qin Haiyang took the women and men's top-points prizes of $12,000, McKeown the biggest winner of the meet after she added the 200m backstroke and 200m medley top her golden score on the last day. Zhang Yufei and Thomas Ceccon took the second prizes $12,000 apiece, while Danas Rapsys and Siobhan Haughey finished third on points for an 8,000 prize apiece.
The meet now moves on to Athens next Friday to Sunday before concluding in Budapest the weekend after that. Potted Reports from Day 3:
W800m Free: Pallister On Career Best 8:16, Up From 19th to 13th All-Time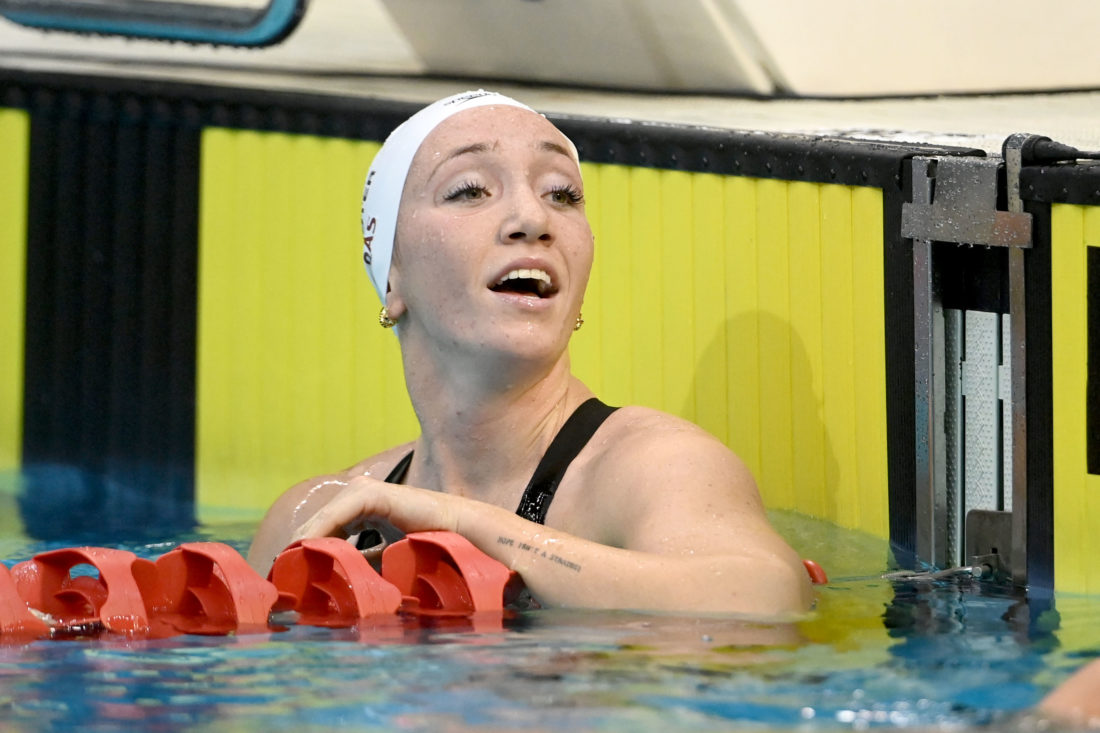 In an Oceania battle, Australian Lani Pallister took the win ahead of New Zealand's Erika Fairweather in a World Cup record and personal best time of 8:16.62 over a fine 8:21.23.
Pallister started to move away from Fairweather from the 400m mark, at which point the gap between the top 2 was 0.1, the Dolphin on 4:07.90 and heading for a victory inside her own career high of 8:17.77 and the 8:22.24 Cup mark set by fellow Australian Kiah Melverton in 2019. palmister's new high moves her up from 19th to 13th on the all-time rankings, leap-frogging Melverton for the No2 Dolphin sot behind Ariarne Titmus.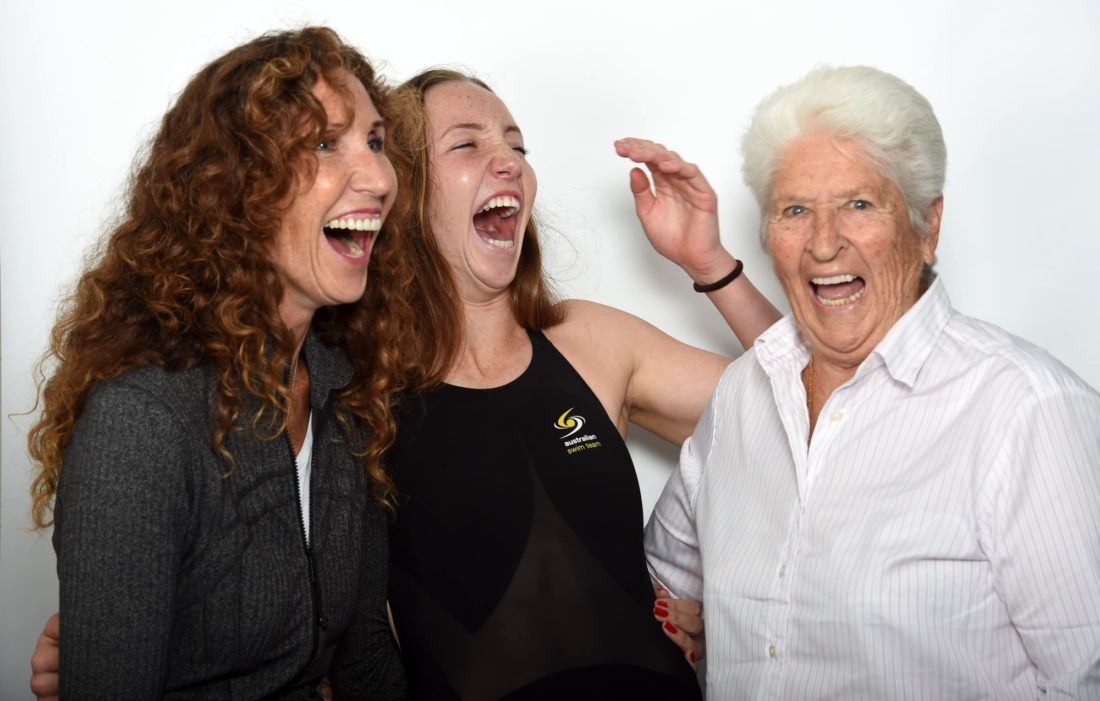 Pallister is the daughter of her coach and another Dolphin of her era, Janelle Elford.
More to come from Pallister, who noted the training exercise underway for bigger moments after racing in 100m heats this morning beyond racing in the finals of the 200 and 400m in the first two days in Berlin: "It [the 100m heat] was about racing and racing and more racing and putting yourself in an uncomfortable place.
"I was just trying to fatigue myself a bit before tonight."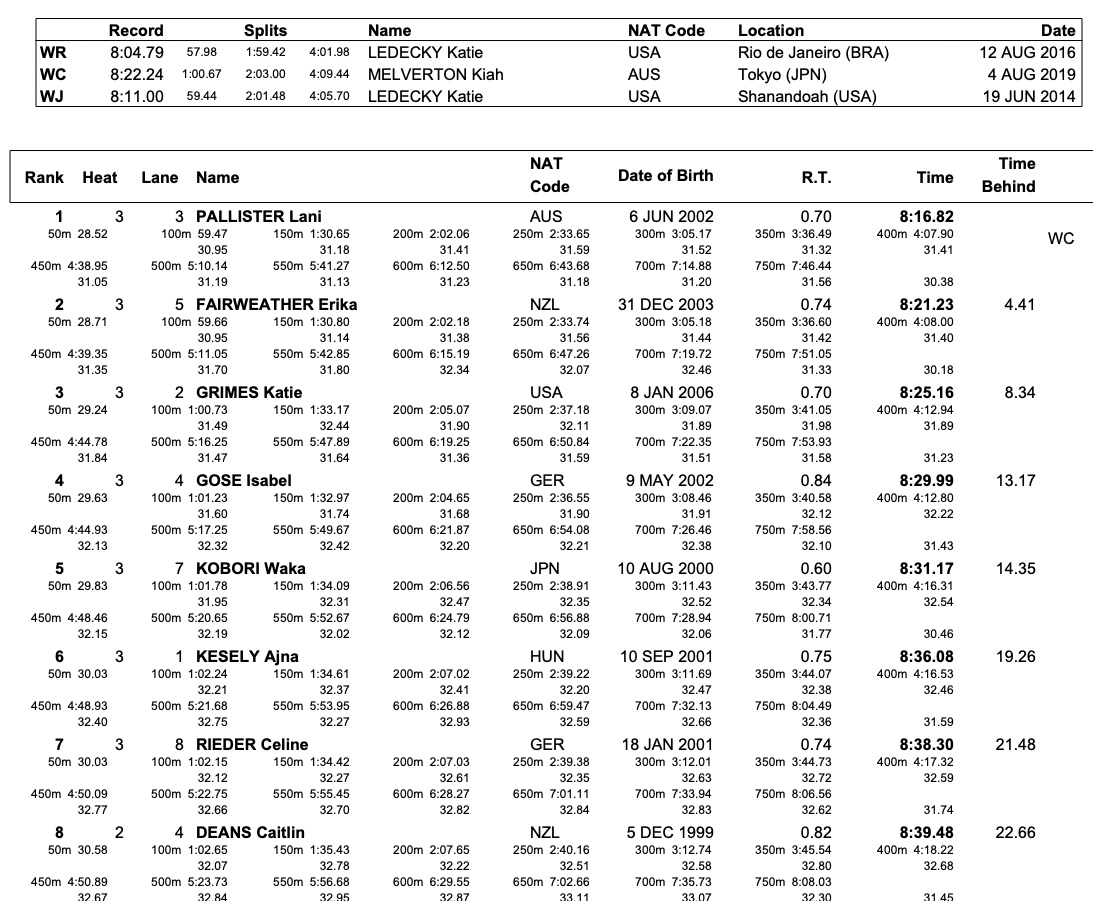 W100Fr: Siobhan Haughey Takes 52.02 Win Ahead Of Campbell & Sjostrom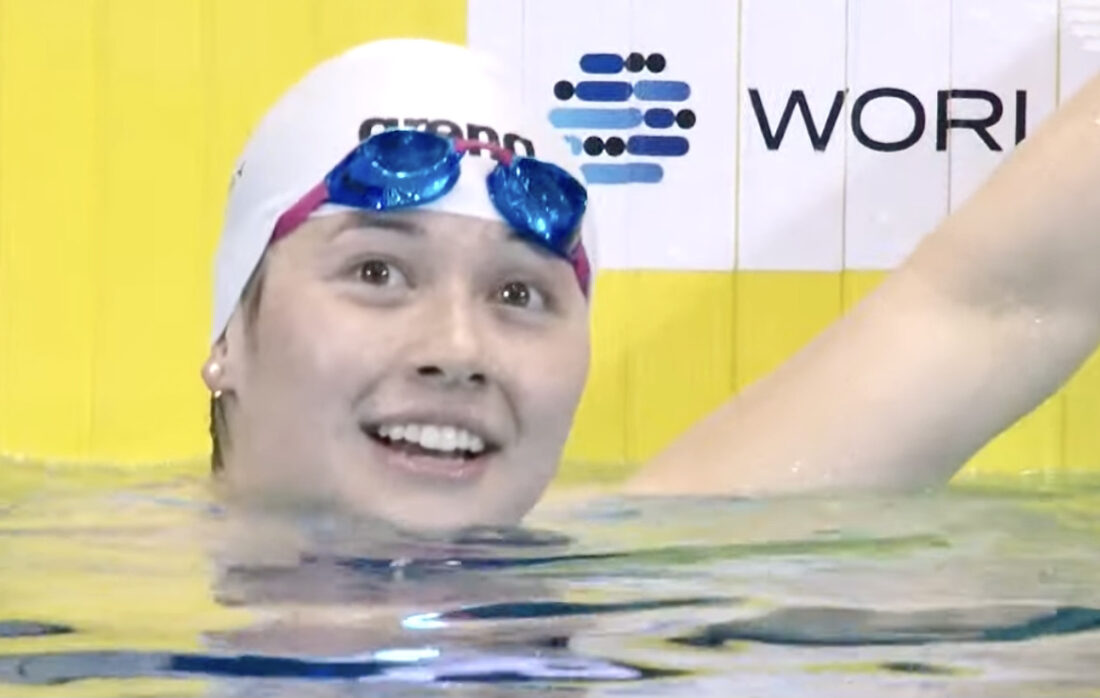 Hong Kong's double Olympic silver medallist Siobhan Haughey, left, added the 100m to her 200m win win day 1 in a storming 52.02 ahead of Australia Cate Campbell and Sweden's Sarah Sjostrom. Out in 25.08, Haughey was home in 26.94: swiftest test out, swiftest back.
That shifted Haughey up from 8th all-time to third behind Sjostrom (51.71) and Olympic champion Emma McKeon (51.96). Haughey had held the Asian record at 52.27 since claiming Olympic silver behind McKeon in Tokyo two years ago.
Haughey said: "I was really surprise about that swim; that was a lot faster than I thought I'd be."
Campbell, second in 53.26, admitted it hurt but said: "It hurt even more cos I could see Siobhan absolutely killing it. There's nothing worse for your ego than when someone is putting it out there like that out front. That's the fastest I've been in a long time so very happy." World record holder Sjostrom was third in 53.39.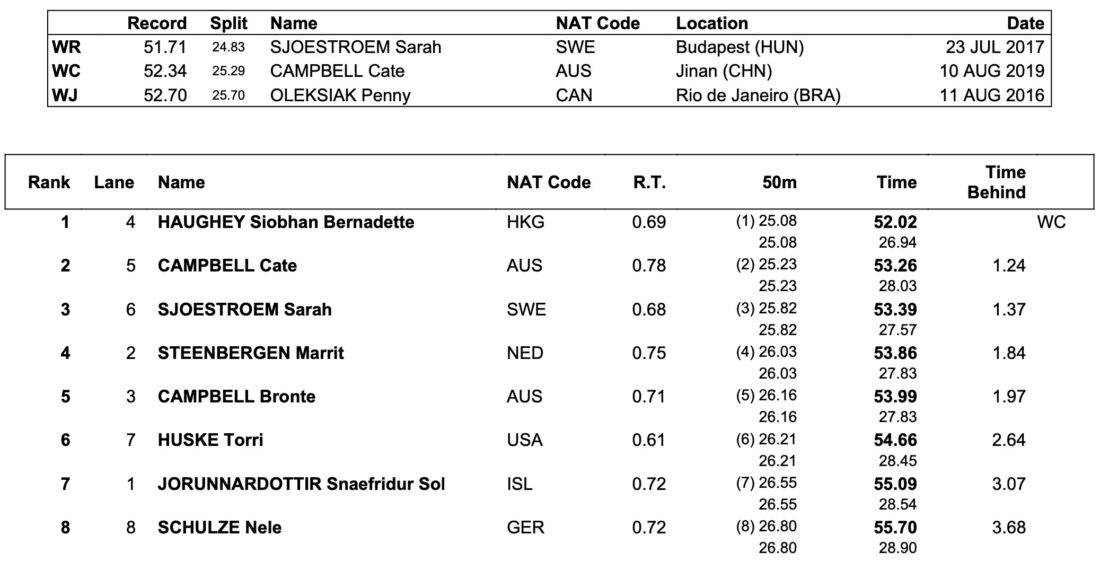 W200 Back: Kaylee McKeown – Win No1 Last Day in Berlin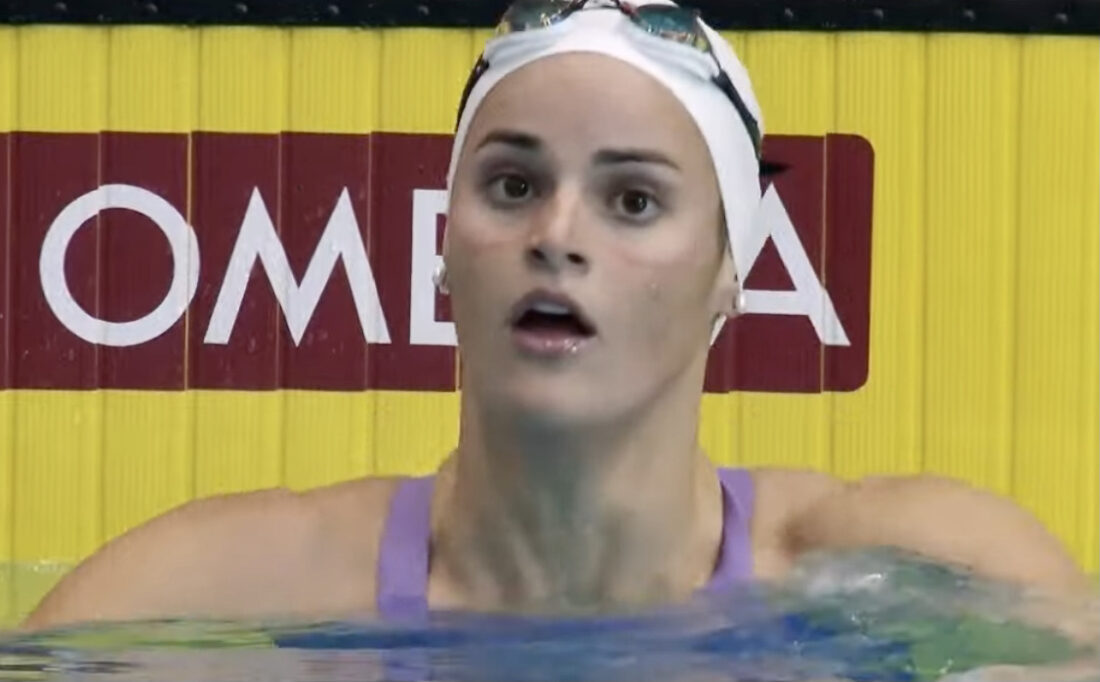 Triple Olympic gold medallist and World-titles triple gold backstroke champion this year, Kaylee McKeown completed a backstroke triple in a World Cup record of 2:06.47 on the way to a shot at adding the 200m medley top her score of victories in Berlin over the past three days at the opening round of the 2023 World Cup.
The Australian World record holder was a class apart as she turned in 1:01.73, maintained lead pace down the third length and came home in 32.24 for the Cup mark. American teen Katie Grimes, third in 8:25.16 in the 800m free final already in the bag on her way to the backstroke final, produced the fastest last length for second place in 2:08.08, Canadian Kylie Masse third in 2:10.32.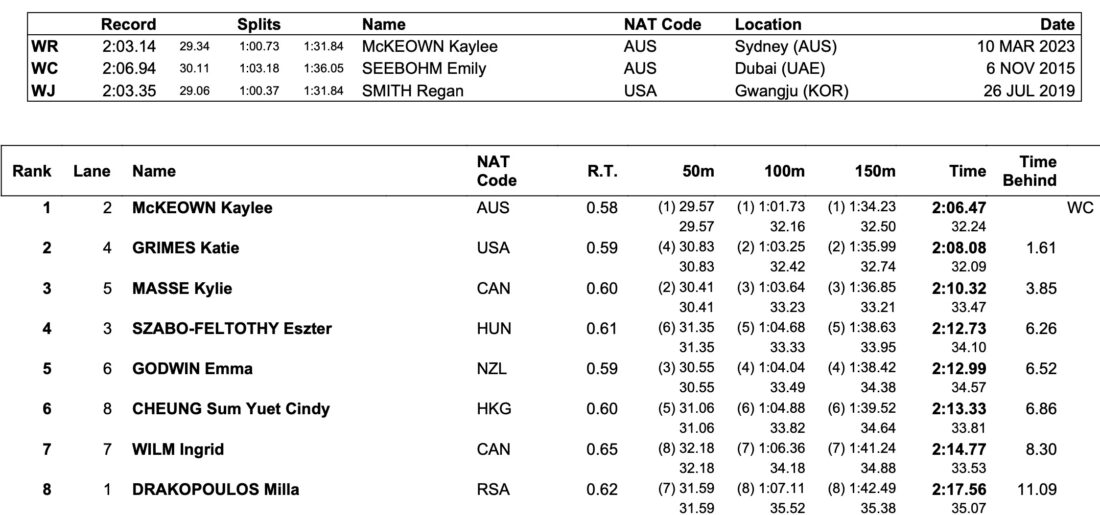 W200 IM: Kaylee McKeown – Win No2 For Top Swimmer Of Meet
Kaylee McKeown was not done yet: she moved from third to second in the first half of the race, took control ion breaststroke and held off a fast-0finishing Sydney Pickrem for the win, third place to Israel's Anastasia Gorbenko: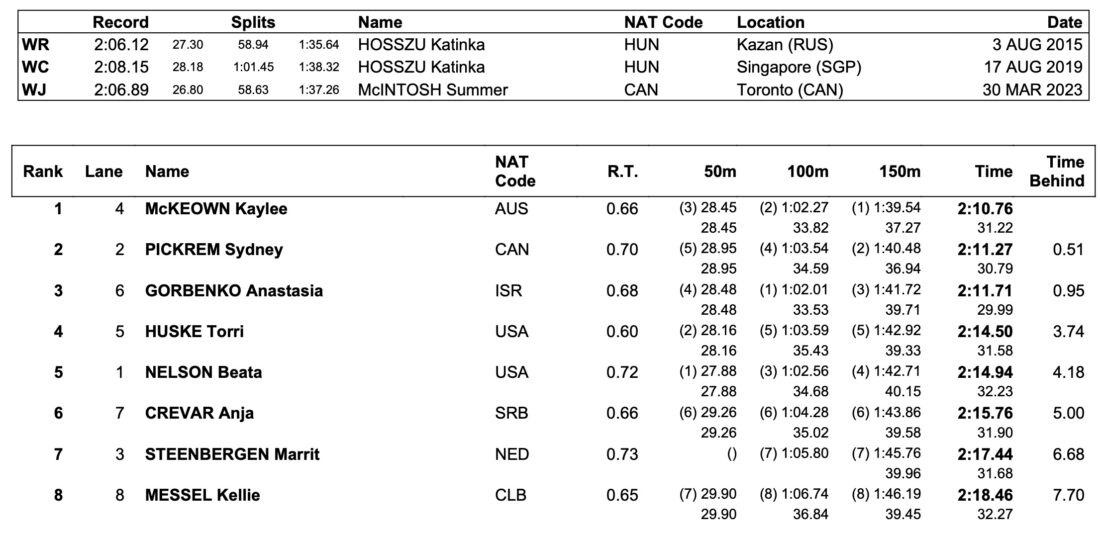 W50m Breast: Meilutyte Takes Down Cup Mark in 29.5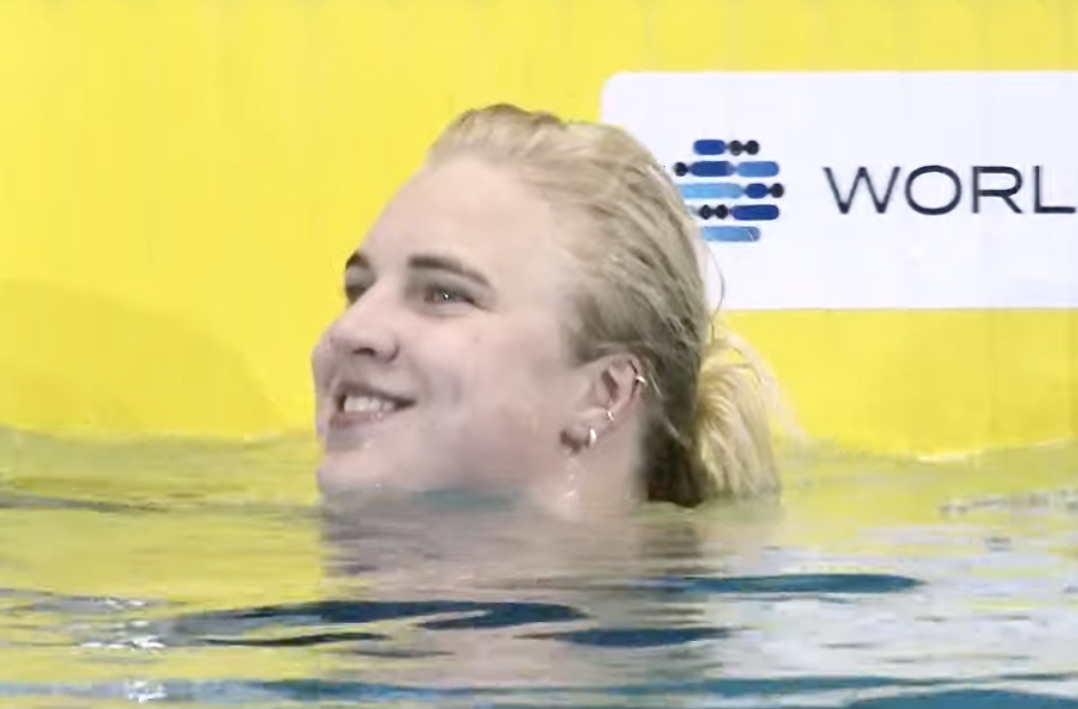 Ruta Meilutyte, right, annihilated the World Cup record in 29.56, taking the standard below 30sec for the first time.
In July, the Lithuanian World-record holder took the World dash title 10 years after she first lifted the same crown.

M200 Breast: Qin 2:07 Claims His Fourth W Cup Record
Through splits of 28.91; 1:00.62 (inside World-record pace); 1:34.66, Qin Haiyang set yet another World Cup record, a 2:07.45. He thanked the crowd for their passion and said he'd had a wonderful time in Berlin. Like McKeown, he claimed a stroke triple at the World Championships in July but then he went on two excel with another spree of times aheads of the curve of global rivals in 2023 at the Asian Games. Like Zhang Yufei, he is racing at his third tapered international of the year.
China took a 1-2 when Dong Zhihao came home in 2:08.60, Dutch improver Caspar Corbeau third in 2:08.82 a touch ahead of Olympic silver medallist and teammate Arno Kamminga.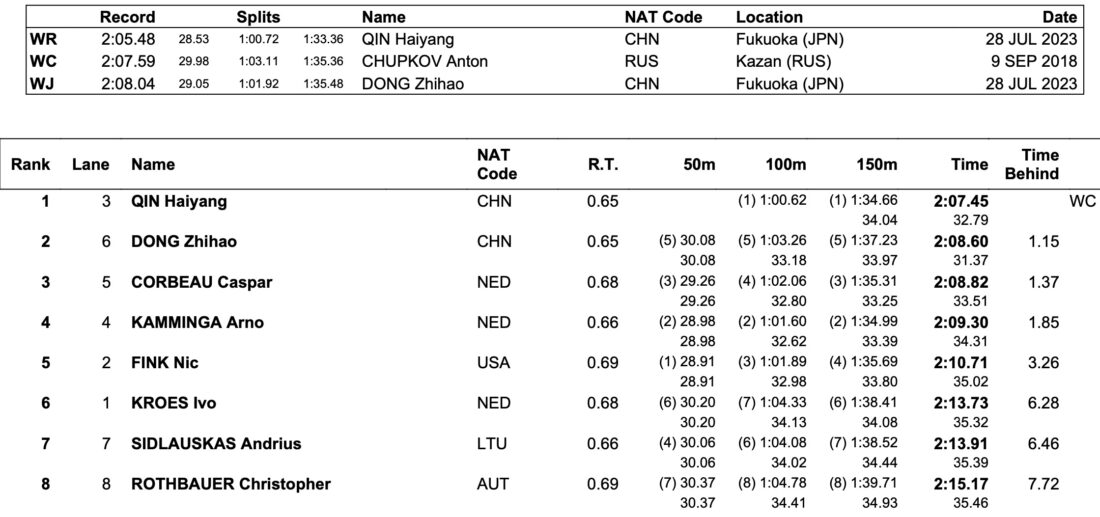 M100 Back: Ceccon Dominates With Swift 52.27
Out in 25.19, home in 27.08 for a dominant 52.,27 win, Thomas Ceccon was swiftest out, swiftest and fastest home. Second went to Japan's Ryosuke Irie, aiming for his fifth Olympic Games in Paris next year, and the podium was completed by Poland's Ksawery Masiuk, for whom Irie was a childhood hero. A fine moment to be in the top three then with one of the most technically aesthetic backstroke swimmers all-time.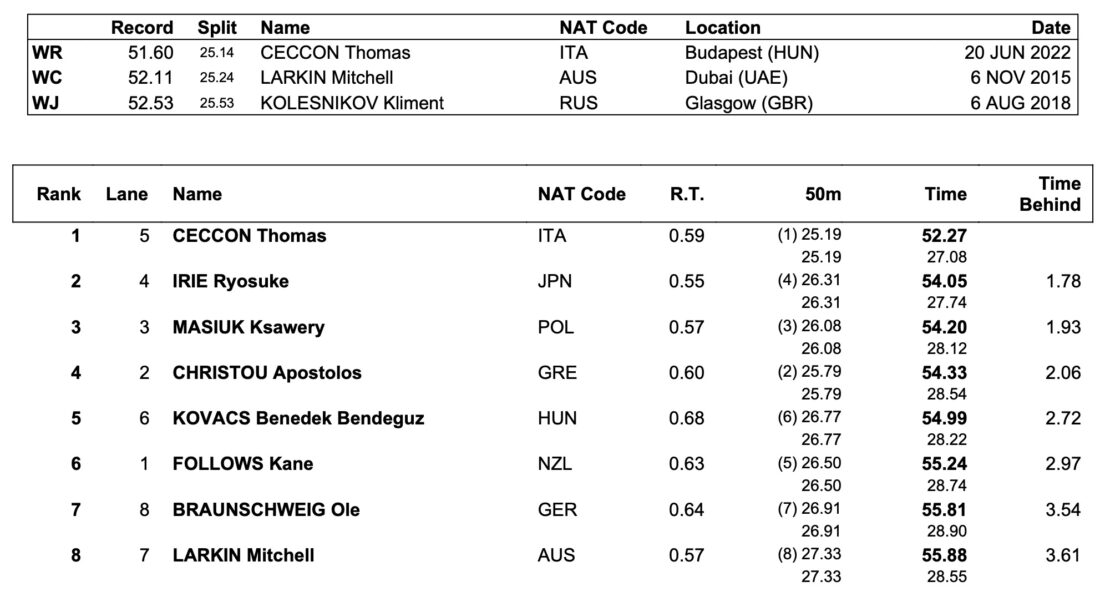 W100 'Fly: Zhang Turns Inside WR Pace, Fades But Holds On For The Win
Zhang Yufei, of China, took the race in 56.74, off a dominant 25.96 half-way split that left her inside world-record pace (26.01 and 55.48, Sarah Sjostrom), the World Cup her third tapered international of the year after podium-placing efforts at World titles and Asian Games just over a week ago. Sjostrom's World Cup mark of 56.46 from 2018 lived to fight another day.
Angelina Kohler gave the home crowd something to cheer about with a 57.18 for second, Torri Huske, of the USA, third in 57.32.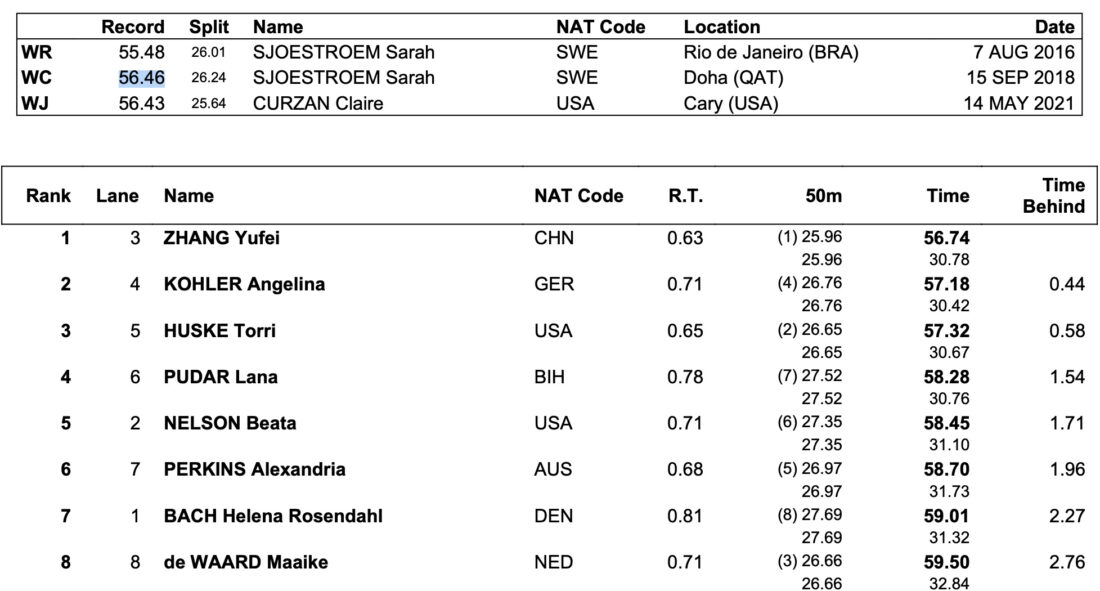 M400IM: Smith Hunts Down Sates For Last-Lap Victory By 0.02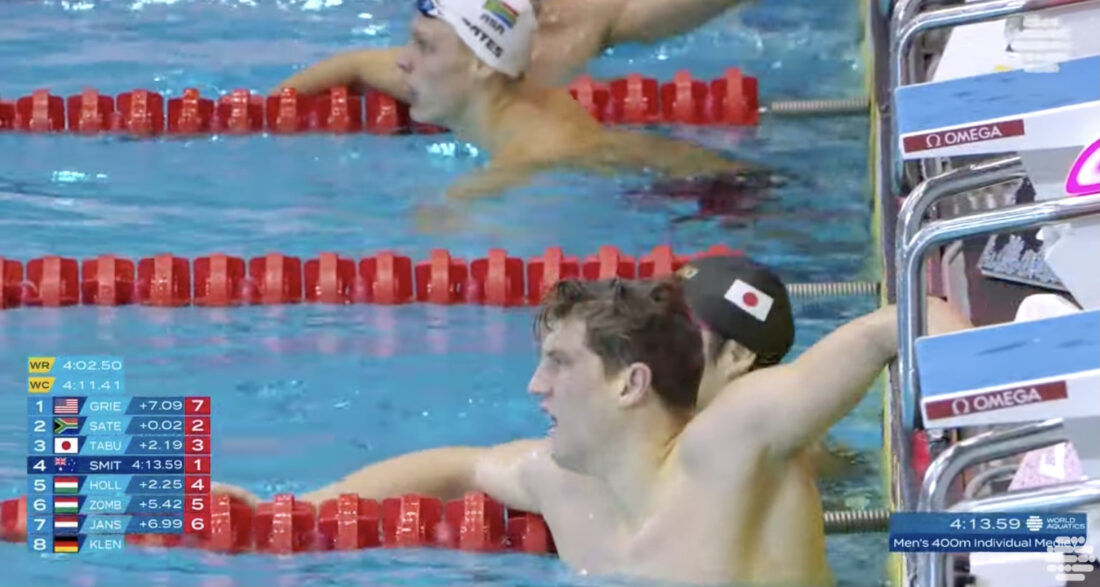 Brandon Smith, right, hunted Matt Sates down every stroke of the way from last turn to home to turn a 0.75sec deficit into an Australian win by 0.02sec, 4:13.59 to the South African's 4:13.61.
Third home was Japan's Kaito Tabuchi in 4:15.78, a slither ahead of Hungarian Balazs Hollo.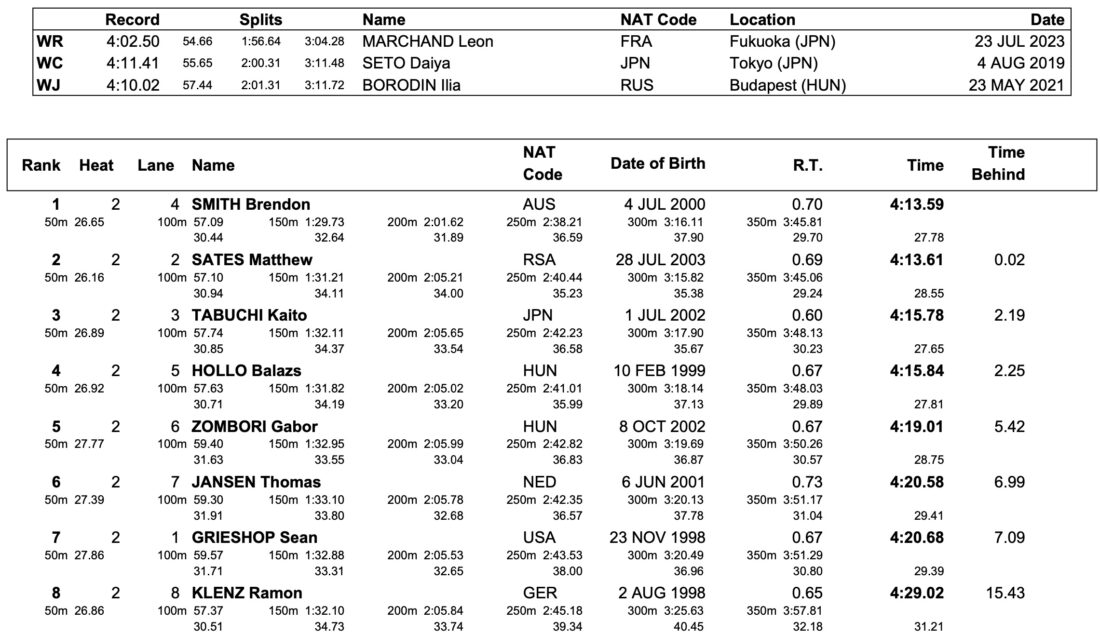 M200 Free: Danas Rapsys Wraps Up With 200-400 Double
With an effort that contributed to him taking the third prize in the points race ion Berlin, Danas Rapsys wrapped up the first round of the meet by adding the 200m victory to his 400m win on the first day of racing.
Rapsys led from go to gold in 1:45.75, shadowed all the way by Australian Max Giuliani, on 1:46.18 after a 27.05 last length, the swiftest in the race. American Kieran Smith took third in 1:48.15, the meet an ebb and flow of folk at different phases of preparation, making comparison less worthwhile that taking each swim for what it is in the context of the various plans of individuals on the way to trials season for Paris 2024. Americans have the toughest call when it comest go making their team, followed by Australians, while many nations have no trials at all.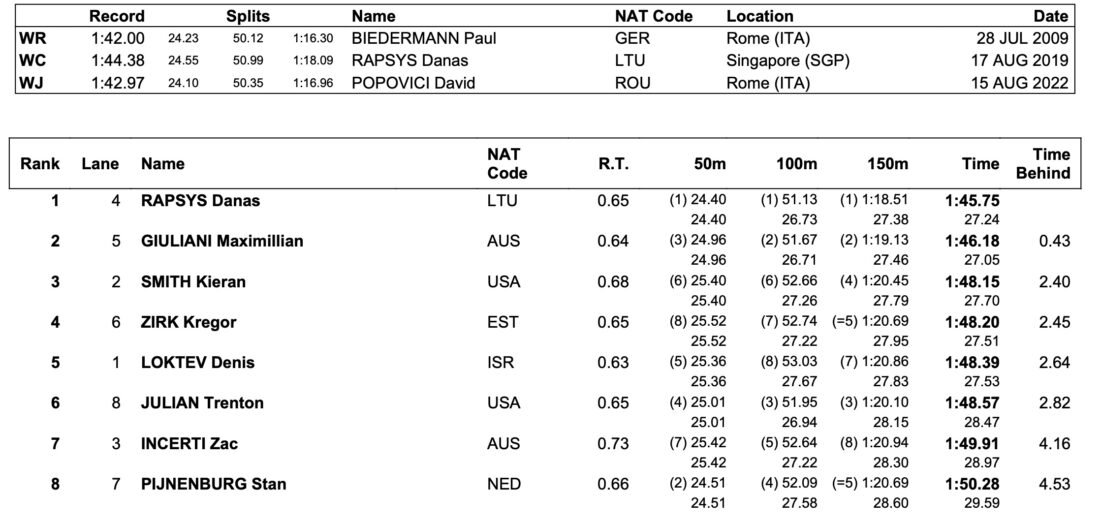 Berlin Results In Full at Omega
Day 1:
Sarah Sjostrom Opens World Cup Campaign With 23.9 In Berlin Battled Rejoined With Cate Campbell
Bug Strikes Coach Berkhan's Distance Crew, Wellbrock Over It, Martens Out On Cusp Of Altitude Camp
Day 2:
World Cup Records For Sjostrom, McKeown & Qin, Candidates For Swimmer Of The Year
Haughey Makes It A World Cup High Inside Hosszu Standard On 1:55.1 200 Free