Katie Ledecky Makes The Memory That Will Fuel Her To Tokyo 2020 In Epic 800m With Simona Quadarella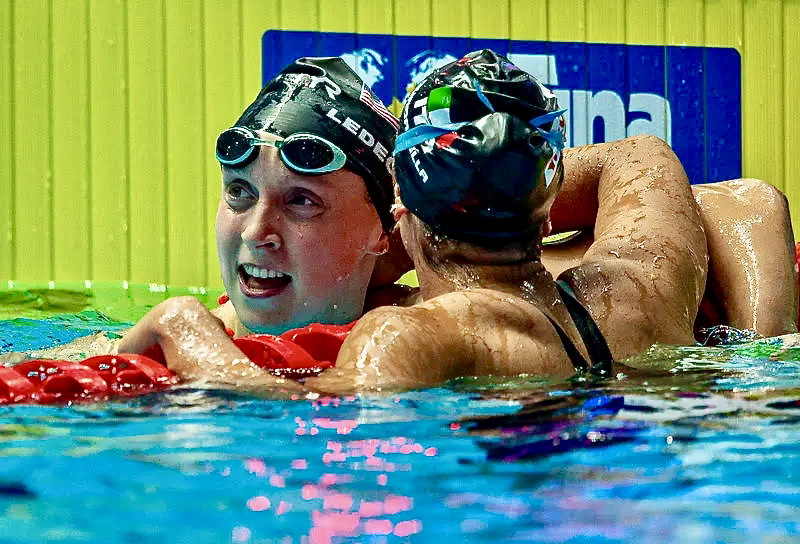 We have never seen Katie Ledecky like this: out ahead and pace-setting; then caught; then seemingly defeated but… no, wait; fighting back but struggling with Simona Quadarella, an opponent in the form of her life and refusing to yield; and yet, yield she was forced to do, the greatest distance freestyle swimmer in history reaching, digging, lifting, wielding every tool in her armoury with a scream of "you shall not pass!"
In all the years of watching 800m racing, hard to think of another that produced a raced like this one. Battle ended on day 7 at the World Championships in Gwangju this day with Ledecky in her usual place, gold claimed in 8:13.58, Quadarella on 8:14.99, the bronzed to the Australian who got to Ledecky over 400m last Sunday, Ariarne Titmus, on 8:15.70.
If there is one memory among so many soaring, searing snapshots of her stellar career that Ledecky will take with her to Tokyo 2020 to use for fuel, it will surely be this day, this hour, the moment she drew five other women, all sensing their chance, perhaps the only chance they will ever have, below 8:20: Germany's Sarah Kohler, 8:16.43, national record ; American Leah Smith, 8:17.10; and China's Wang Jianjiahe, on 8:18.57.
That national record of Kohler's took down the last GDR record on the books: it was 1987 in Strasbourg when and where Anke Mohring clocked 8:19.53 for the European title a year after a best of 8:36.48, at a time of Oral Turinabol, abusive coaches and doctors, some of whom still have their FINA honours in place, long after the health of victims was lost to State Plan 14:25.
"I didn't expect to go an 8:16. It was a PB by four seconds," Kohler said. "I changed my coach last year so actually we didn't expect to go that fast in the whole competition."
The sport had never seen such a feast of 16-lap speed among women before.
Up to 400m, it looked like business as usual, Ledecky up front, some clear blue between her and next best, on 4:04.90. The clue to what happened next was in the last four 50m splits from. 200 to half-way: Quadarella had edged Ledecky's pace on each of those laps.
The Italian 20-year-old leapt off the wall and started her face afresh, a 30.95 lap drawing her level with a stunned Ledecky and her 31.52. Was it over? Last the 500m mark, Quadarella led 5:07.88 to 5:08.17. Two laps on it was 6:10.15 to 6:10.99.
Was it to be silver again, perhaps worse? Had illness taken the stuffing out of the dominant distance force of this and any age? The two laps to 700m suggested not: neck and neck, stroke for stroke to 7:13.35 for Quadarella, 7:13.47 for Ledecky.
The difference on any other day: Katie Ledecky would now usually mow Simona Quadarella – or anyone else – down in the final sprint for home. This was not any other day, Ledecky having been ill. But not too ill, clearly: almost level by 700m, the American could not break Quadarella.
It turned out to be would not, sharp mind and a reserve tank of experience brimming: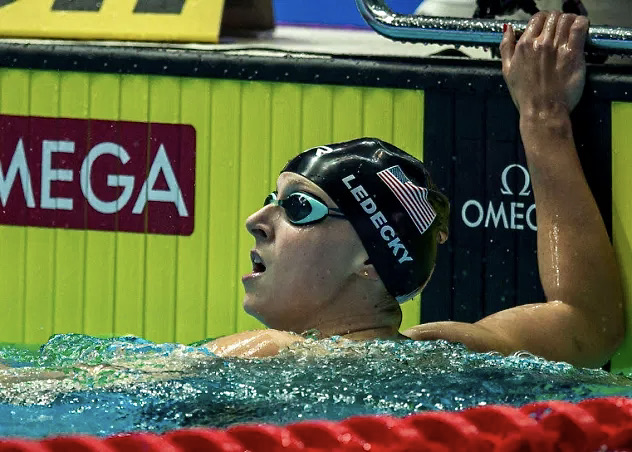 "I took it out like I usually do and just kind of relied on my training to bring me home. Simona was having a great race and pulled up right next to me and when she did that I kind of felt like I could stick with her and rely on my speed. I just tried to stay calm, relaxed from the 500 to the 750 really, and kind of decided when I got to the last 100 when I was going to make the move. If it was going to be the last 100 or the last 50. Turned out to be the last 50. I put my legs into it and got my hands to the wall."

Katie Ledecky – by Patrick B. Kraemer
The last turn: like the snap of bullet from gun, Ledecky ricocheted of wall and water, streamlined, kicked and broke into stroke at a level of excellence beyond her challenger. From there, a head and shoulders lead would not be relinquished.
Katie Ledecky had landed her fourth 800m world title. Straight. Another pioneering achievement for a pantheon with more prizes and pioneering moments in it than most nations muster in decades from the count of whole teams in international waters.
The World-Title Wins Of Katie Ledecky
2013-2019: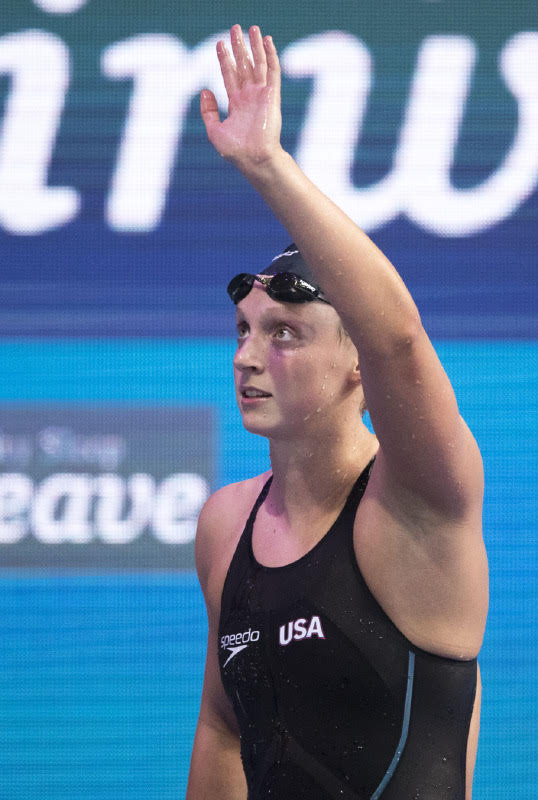 2013: 8:13.86 WR
2015: 8:07.39 WR
2017: 8:12.68
2019: 8:13.58
Women's 800 Free Results:
8:13.58, Katie Ledecky, USA
8:14.99, Simona Quadarella, ITA
8:15.70, Ariarne Titmus, AUS (OC)
8:16.43, Sarah Kohler, GER
8:17.10, Leah Smith, USA
8:18.57, Wang Jianjiahe, CHN
8:25.07, Kiah Melverton, AUS
8:25.51, Mireia Belmonte, ESP
It took two tango and Ledecky was grateful for the challenge Quadarella brought. The American's suggestion that she knew she could stick with her challenger and then make a move when she needed no slight to the Italian. It was just a statement of fact from an athlete with the most solid foundation under her feet of just about any in history:
Today's effort was the 22nd of the 25 swims that lead the all-time performances list in the exclusive ownership of Ledecky – the next best tally of such dominance is Adam Peaty's 17 swims atop the 100m breaststroke performances list.
Ledecky has 31 of the best 800m swims ever: 62%
Ledecky has 40 of the best 100 swims ever: 40%
You shall not pass!
It was not Ledecky's greatest swim; it was one of her greatest races. It was Quadarella's greatest race; and one of her greatest swims, the 1500m victory without Ledecky this week a fine sub-15:40 that evoked memories, on clock not in race terms, of the 2013 tussle between Ledecky and Friis, a Danish warrior for any viking to be proud of that day.
On the pool deck, Ledecky acknowledged her emotion, talked of how special the moment was – and how she had done it for Team USA and was "proud of that". She had reason to be.
So compelling was the Ledecky-Quadarella roller-coaster that the closeness of the battle behind them got a little lost: if the Italian became the first European inside 8:15 in textile not far shy of the 8:14.10 then world record established by Britain's Becky Adlington for her second gold and distance double at Beijing 2008, Titmus cracked the Oceania and Australian records on 8:15.70.
The all-time top 12 list was roughed up by the race: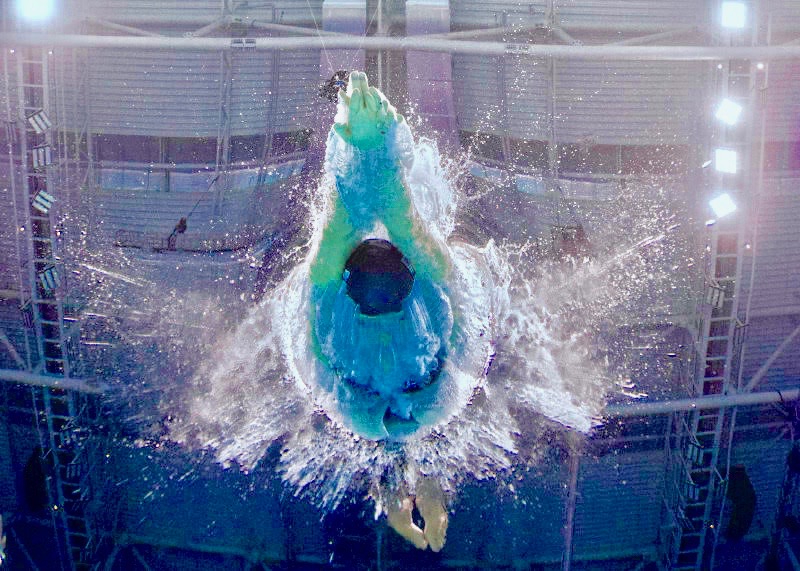 8:04.79 Katie Ledecky, USA 2016
8:14.10 Rebecca Adlington GBR 2008
8:14.64 Wang Jianjiahe CHN 2019
8:14.99 Simone Quadarella ITA Gwangju 2019
8:15.46 LI Bingjie CHN 2017
8:15.54 Jazmin Carlin GBR 2014
8:15.70 Ariarne Titmus AUS Gwangju 2019
8:15.92 Lotte Friis DEN 2009
8:16.22 Janet Evans USA 1989
8:16.33 Leah Smith USA 2019
8:16.37 Boglarka Kapas, HUN 2016
8:16.43 Sarah Kohler GER Gwangju 2019
Fellow USA teammate Caeleb Dressel had plenty of positives to say about Ledecky's swim.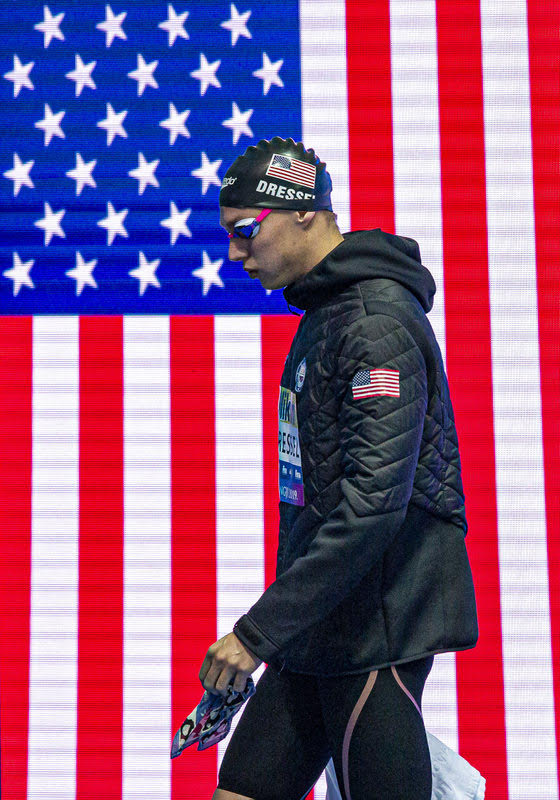 "That was phenomenal. I couldn't imagine what she went through," Dressel said after his three races on Saturday night. "I didn't see her for a couple days and knowing Katie if she says she is feeling a little under the weather it probably means something is very very wrong. That is what she said but my goodness that girl is tough as nails. Having to swim an 800 after being sick for however many days she was and the way she did it, the fashion that she did it on the last 50, just coming home so strong. I was really proud of her. I got to see it after one of my events tonight just that last 50. She is just tough as nails and she is incredible. She is the world's best and she showed it tonight. Being sick and just swimming her own race and winning World Championships, it's just incredible. I can't speak highly enough of Katie."

Caeleb Dressel – photo by Patrick B. Kraemer
Questions and Answers: Katie Ledecky
Late into the night after doping control and more, Ledecky returned to speak to the media. Here's what unfolded:
Asked where she ranked the swim, given that it was her No22, Ledecky said: "It's hard to rank it. Each swim … is unique and has its own story. This one definitely has one that I'll be telling for a while and I have a lot of stories from this week, stories that I didn't want to have.
It's special to be able to pull out a swim like that – and just trust that I could do it.
The 36 hours or so between heats and final had "been very up and down". She explained: "Yesterday the 800 prelims were pretty tough. It just didn't come as easily as it normally would. That time (8:17) is pretty good fo a prelim swim for me but it just didn't come easy."
There were lingering effects from that swim in the final, said Ledecky, explaining later that Greg Meehan, her coach at Stanford, had said to her from back home in the United States that one of her greatest assets as an athlete was that she gave 100% every time. Said Ledecky: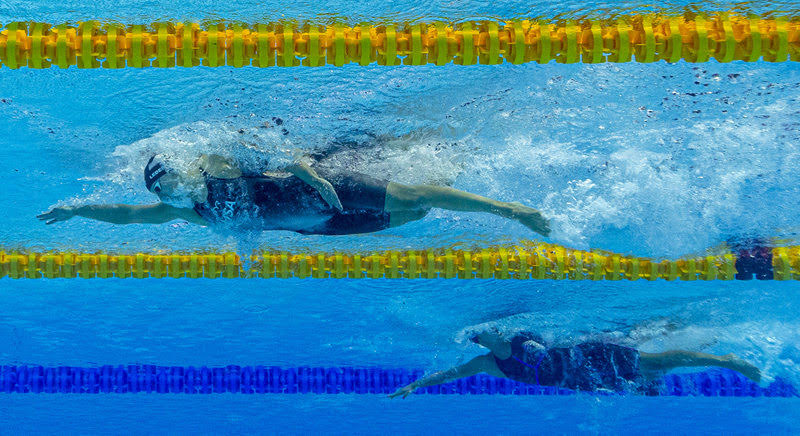 "The thing that Greg told me yesterday was that one of your greatest attributes as an athlete is also one of the toughest things about you, n kind of a weakness too, is that I'll give 100% every time. So if I'm at 80%, I'll give 100% of that 80% and that kind of what killed me a little bit in the prelims: I was trying to give it my all and have a good spot for finals. But I was running at a lower percentage than I normally am."

Katie Ledecky – Photo – Ledecky pulls away from Simona Quadarella once more in the Gwangju 2019 800m final – by Patrick B. Kraemer
She added: "I felt I needed to buy myself some time by making the finals knowing that I had 36 hours to rest, the goal to get as much sleep as I could and put myself in a position to fight for a medal."
I asked if the race, as opposed to the time, make her 'greatest' races list and would the memory of it be useful for Tokyo 2020.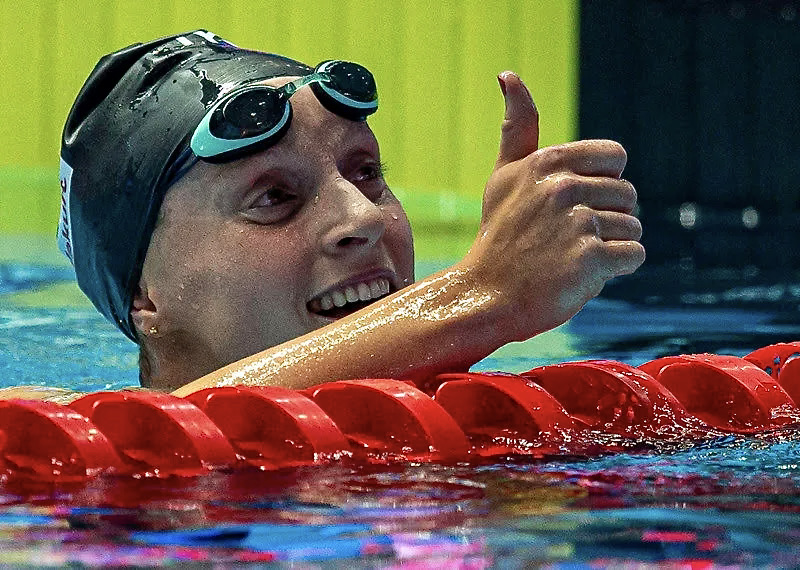 "Yeah for sure. All my races – all three of my races [gentle laughter] – this week were all crazy races and great races and gave me a lot of experience in that kind of a race and this is good and challenging for me to have to think on the fly, especially tonight. Just kind of seeing where I was at – taking confidence in my training and knowing that I can pull out a last 50 like that. I kind of knew that I had a little more speed than Simona and just kind of trusted that I could go win at the end."

Katie Ledecky – Photo by Patrick B. Kraemer
The flow of race questions was interrupted by a Chinese journalist asked about Shayna Jack and the Australia's doping positive.
Ledecky noted that she couldn't comment on the specifics of the case because she had only just heard about the story before finals and had no idea what the substance nor the circumstance was. She thought it right to allow due process to take place e for a swimmer who was sent home from the meet and did not get to compete.
Ledecky then opted in and gave voiced to all those who stood up for clean sport this week in Gwangju when she said: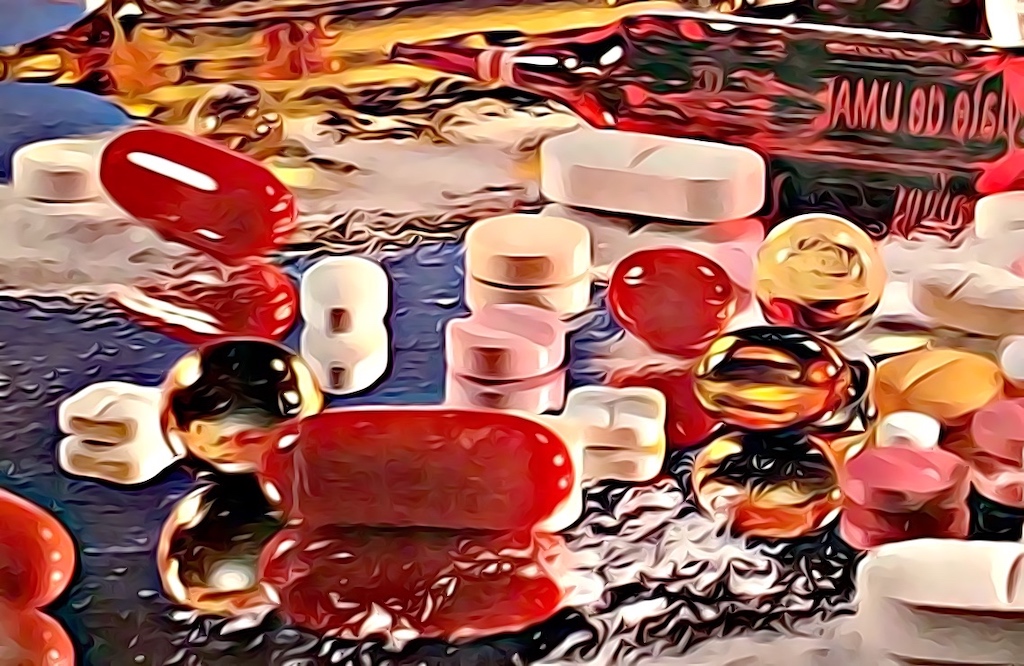 "It's been really great this week to see athletes standing up for what they believe in and making a stance and making it loud and clear than doping can't be tolerated … and I'll join the voices in saying that."
Meehan had called Gwangju a "checkpoint meet" coming into competition. Given all that had happened, asked Karen Crouse of the New York Times, could anything be gleaned from the meet in checkpoint terms? Ledecky said:
"It wasn't the checkpoint we wanted and wasn't a full indication fo where I am right now but I think at the end of the day we didn't really need this meet as a checkpoint. Greg and I know that I've put in. The best training since I've been at Stanford … this has been by far the best year. And it's not like that training goes away. The results didn't show this week but I can still take a lot from the training I've done this year. It doesn't go away and I can take some confidence from that and move forward, take a short break and get back to training and get after it."
Leaving with a gold not two silvers: how positive was that? "Yeah. It's a good feeling. I don't know if I would feel differently if it had gone the other way. Hard to know. I went into the race tonight not knowing how it was going to go until I dove in. But just again wanted to end on the best note possible.
"Yesterday I texted Greg in evening and said 'I so, so badly want to have a good swim tomorrow'. Just watching those records tumble last night really fired me up but it was also hard knowing that I have swims in me that are of that level but I couldn't contribute those to our team effort here."
Ledecky then suffered a momentary lapse and setback in warm-up this morning: she felt hot and nauseous once more but the "coolness of the water helped" after "a brief moment of doubt" that cause her to think for a fleeting "minute" that she might have to pull out off the 800 final.
There is, as yet, no "exact diagnosis", said Ledecky, adding:
"They're pretty sure it was some kind of viral thing or other illness. I have a lot of different symptoms. Headaches, irregular pulse and elevated heart beat, abnormal rate heart, for me. Stomach bug, lack of sleep and insomnia. We spent seven hours in the hospital on Tuesday. Dr [Jim Lynch] was great. He stayed there with me the whole time at the hospital and went through a battery of tests."
Ledecky said she will be checking with doctors back home in Stanford and home-home in Washington to make sure I'm ready to be healthy this coming year and I'll be able to get back to training knowing I'm healthy and ready to give 100% this year."
I asked about the obvious emotion she showed after the race. It meant much, did it not?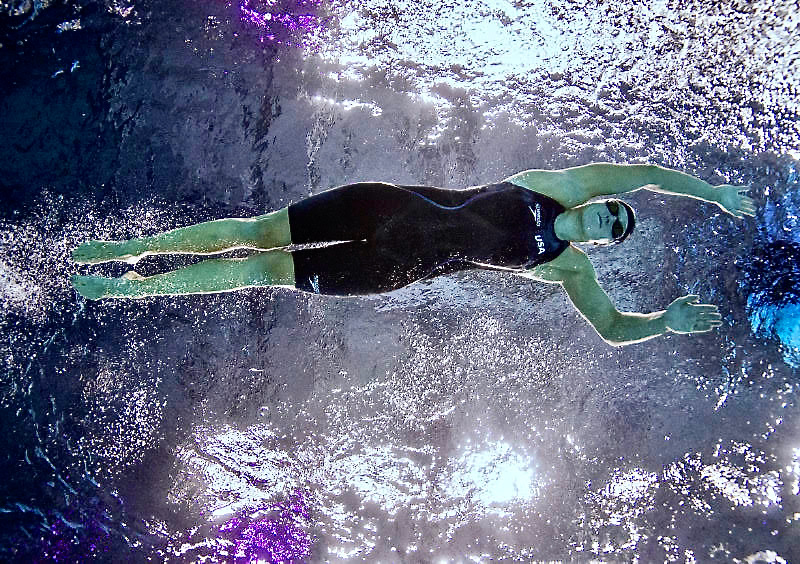 "Yeah. There was a lot of emotion there. A lot of that case from a sense of gratefulness from my family, my coaches, my teammates, my friends that helped me through this week with all of their support and helped me manage all of this. … it reminded me of that toughness inside of me and be able to pull that out for them meant a lot."

Katie Ledecky – by Patrick B. Kraemer
Asked if she was worried the health problems would linger, she said: "I'm really confident that we'll figure this out. The tests cam back well from earlier this week and I trusted the medical staff. Again, they were incredible and really helped me out. They cleared me and it was kind of a gradual thing to get to that point where I felt I wasn't putting myself in danger or putting myself in a hole by competing in these last two events. We've been in touch with some people back home and set some things up, so I'm pretty confident that we'll figure it out.
"I know now that I can tough it out if something like this comes up. I'm really confident in the things I've learned this week and the things and will continue to learn about this and know we can adjust some things."