Katie Ledecky Makes It A High-Five Splash of 1500 World Titles In A Decade Of Dominance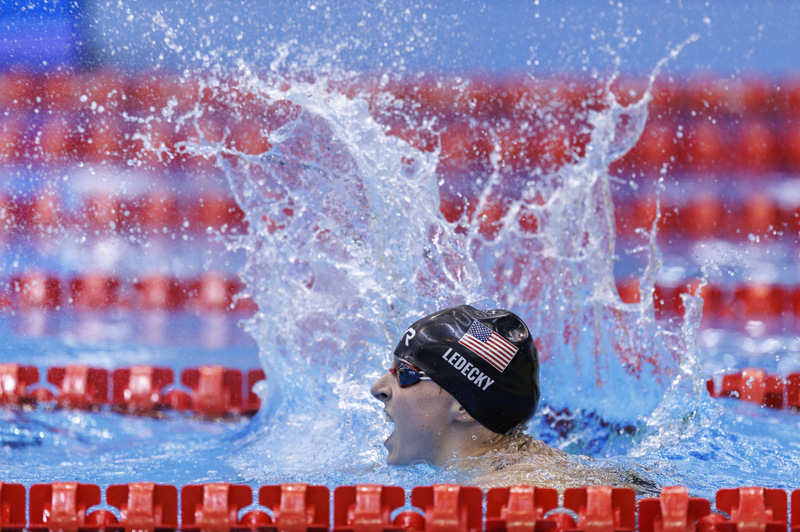 Katie Ledecky made it a high five of 1500 golds at World Championships this evening in Fukuoka, the American distance ace claiming the crown by an overwhelming 17.04 seconds ahead of Simona Quadarella of Italy and China's Li Bingjie.
That's just over a second per 100m, an ahead-of-generational-curve we've become accustomed to. Ledecky's dominance and the impression of ease she graces the water with reminds me of an editor who suggested Michael Phelps' latest gold medal sometime back was "boring" because it was "inevitable". What, says I, like the birth of a child, a stunning sunset, the Migration, death and other stuff like that.
Nothing, of course, is inevitable in sport, as the men's 200m freestyle final reminded us today, and Ledecky's latest 30-length epic was a metronomic delight that delivered victory in the and her third-best time ever some 6sec shy of the World record she established in 2018.
We're a decade on from her debut World title (in the 400, 800 and 1500) at 16 years of age, the only miss in the sequence of 2013, 2015, 2017, 2022 and 2023 was 2019, when illness was confirmed after she felt under par and finished second to Ariarne Titmus in the 400m freestyle. Ledecky missed the 200 and 1500m but was back for the 800m, which she won ahead of Quadarella with one of the most impressive and grit-revealing swims of her career.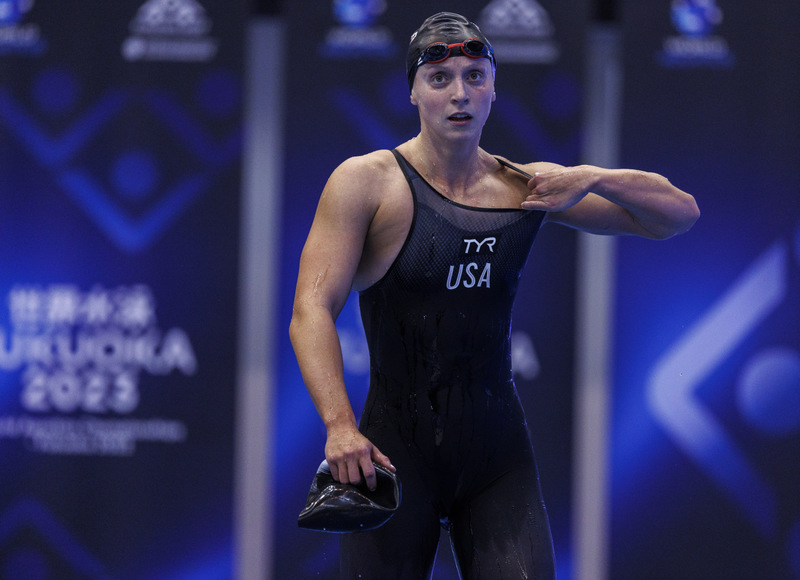 In victory today, Ledecky tied Michael Phelps' record of 15 career solo world swimming titles, for a tally, in her case, of 24 medals, 20 of them gold counting relays.
Her days of winning the big 200 and 400m titles on the wane, Ledecky remains the force to beat in the 800 and 1500m. Her heats time of 15:41, which served as a leg-rest set in which her kick halted into a glide each arm cycle, was faster than the 15:43.31 in which the 2019 champion Quadarella claimed silver, Le's bronze secured in 15:45.71.
Two others – France's Anastasiia Kirpichnikova, no longer racing for her native Russia, and Lani Pallister of Australia – were home inside 15:50, and a third – Germany's Isabel Gose – inside 16mins.
Ledecky & A Stellar Career About to Out-Phelps Phelps
Ledecky's effort was her best since that 2018 trailblazer 15:20 and confirmed, if such were needed, that her post-college switch from Stanford to the University of Florida and coach Anthony Nesty, the 1988 Olympic 100m butterfly champion from Surinam, was as good a move as they get.
Undefeated over 800 and 1500 since her senior career began with Olympic 800 gold at London 2012, Ledecky emerged from writing another line in her book of swim greatness to say: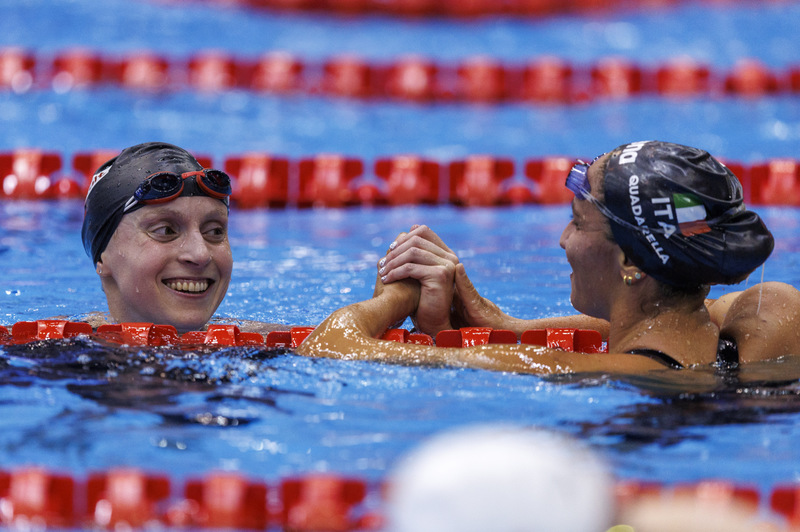 "I'm just really enjoying swimming right now, especially my distance events, I've just been feeling great. I feel like I'm getting better each time I swim them. That's what you love to see. You love to see improvement, and that's been my biggest goal over the last couple of years."

Katie Ledecky – photo – Katie Ledecky and Simona Quadarella celebrate gold and silver in the 1500m Freestyle in Fukuoka (Photo by Patrick B. Kraemer / MAGICPBK)
She said she'd sent a pre-meet goal of 15:30. Job done. Ledecky will be 27 when she races for a shot at more Olympic glory via U.S. trials. If she gets gold in Paris, she'll be the oldest female Olympic solo swimming champion in history – and that in events only the brave and built for purpose to last tend to excel in.
Today's effort extended to 16 the number of Ledecky swims at the top of the 1500 all-time performance list before we get to No 2, Denmark's Lotte Friis, on 15:36 from their epic tussle back in 2013. Ledecky now also has five 800 World crowns, five 1500 crowns, four 400m crowns and one in the 200m.
Yes, there have been more World Championships in the past 20 years than the 20 years before that, courtesy of a switch to titles every two years and every years for the past two and the two to come courtesy of contracts blown by Covid and honoured in speedy yet untimely fashion when it comes to demands on athletes, coaches, budgets and planning.
Still, phenomenal she is. Arguably the greatest, as vogue would have us describe such things even when there are reasons to define and describe more clearly what it all means.
Come Saturday, for example, gold in the 800m would take her beyond the golden tally of The G.O.A.T. at Worlds – but not beyond his GOATiness.
Gallery – Live in Fukuoka, Patrick B. Kraemer / MAGICPBK