Katie Ledecky Joins Michael Phelps In The High-Five Club Of Aces With Fifth 800m Free World Title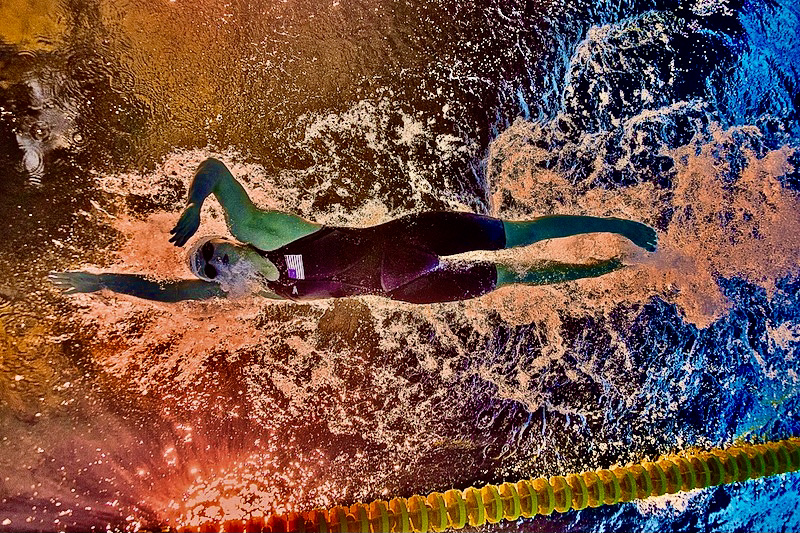 There's a lot to unpack in the World-titles bull run of Katie Ledecky over 800m freestyle after her latest victory, in 8:08.04, at the Duna Arena in Budapest , such as:
the record five crowns in a row, a match of Michael Phelps' high five over 200m butterfly (and then not in a row because he bypassed the race in 2005);
the fifth of the 800m golds leave her with a tally of 14 gold and 2 silvers in solo events and 22 medals in all at World Championships, the solo medals tally of 16 topped only by Sarah Sjostrom's record 18 medals in solo events among women
Ledecky's 14 solo golds is a record among women (Phelps holds the several standard at 15)
Ledecky has 19 world championships gold medals including relays, second only to Phelps (26)
Ledecky has 22 world championships medals of any colour, including relays, adrift Phelps (33) and Ryan Lochte (27)
the 2022 triumph produced the biggest winning margin in the history of 800m World-title battles;
the fastest four wins are all swifter than the best of the second-swiftest 800m swimmer in history; 8:13.58 (2013); 8:12.68 (2015); 8:07.39 WR (2017); 8:13.86 (2019); 8:08.04 (2022)
the most special race of them all (opinion) was the slowest, and then only 0.03sec outside that best-of-the-rest-of-'em swim from Ariarne Titmus), courtesy of the circumstances and the way the race with Italian Simona Quadarella panned out in 2019 when Ledecky returned to the pool after missing the 200 and 1500m through illness
So, where to place an 8:08.04 victory nine years after it all got started with an 8:13.58 at Barcelona 2013? Let's settle for sensational, all of them, skirt the unnecessary ranking and consider what it means to go unbeaten over 800m freestyle at any level, including the Olympic Games (gold in 2012, 2016 and 202one in the mix) for nine years.
Eras, like 800m swims within one career, are not directly comparable, the circumstances of each moment different in simple and complex ways. Even so, fair to note that few swimmers in history have managed to retain such dominance in one event over almost a decade.
Among those who soaring to mind: Dawn Fraser (who had no World titles to go at), Krisztina Egerszegi, Mary T. Meagher, Janet Evans and, of course, Sarah Sjostrom, whose world-title wins on butterfly stretch from 2009 to 2022.
In Budapest, Ledecky has not had to face Titmus, "The Terminator" who claimed the Olympic 200 and 400m titles, the latter ahead of Ledecky, and took down the American's 400m World record last month. In Tokyo last year, Titmus took silver a couple of strokes behind Ledecky in 8:13.83, an effort that made her the second fastest woman ever over 800m freestyle.
Second fastest performer, that is, the top 28 slots on the all-time performances list occupied by Katie Ledecky and topped by the 8:04.79 world record she claimed for the 2016 Olympic crown.
Ledecky's 8:08.04 is the fifth best of her career and kept the best of the rest at bay today by 10.73 seconds, beating the previous record biggest margin – her 2015 win – by 0.47sec.
The 2022 silver went to Australian Kiah Melverton in 8:18.77, the bronze to Simona Quadarella, the Italian Ledecky pipped for her gutsiest win of the five golds, in 8:19.00.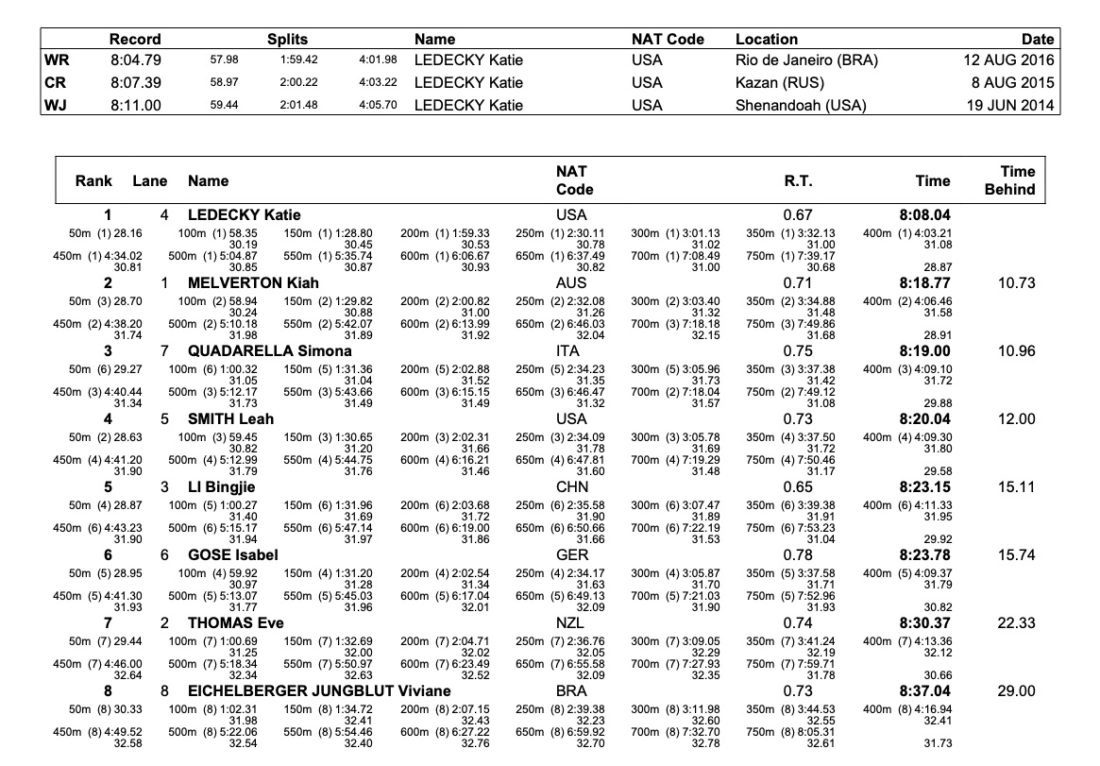 Ledecky – 'I made it a goal to not be a one-hit wonder and here we are ten years later so I'm really proud'
All of them and all of those who finished behind them and those world-claass acts absent, not least of all Lani Pallister, the Australian champion and medal contender who is confined to her room with Covid here in Budapest, work hard, work smart, work with dedication, discipline and determination, our "the Three Ds" as Debbie Meyer, the first Olympic 200, 400 and 800m champion in history and the last until Ledecky matched the feat in 2016, has long referred to when talking about 'what it takes'.
So what does Ledecky have to say about the work that goes in, the time on the clock, the having to race against the clock because of her dominance over opponents?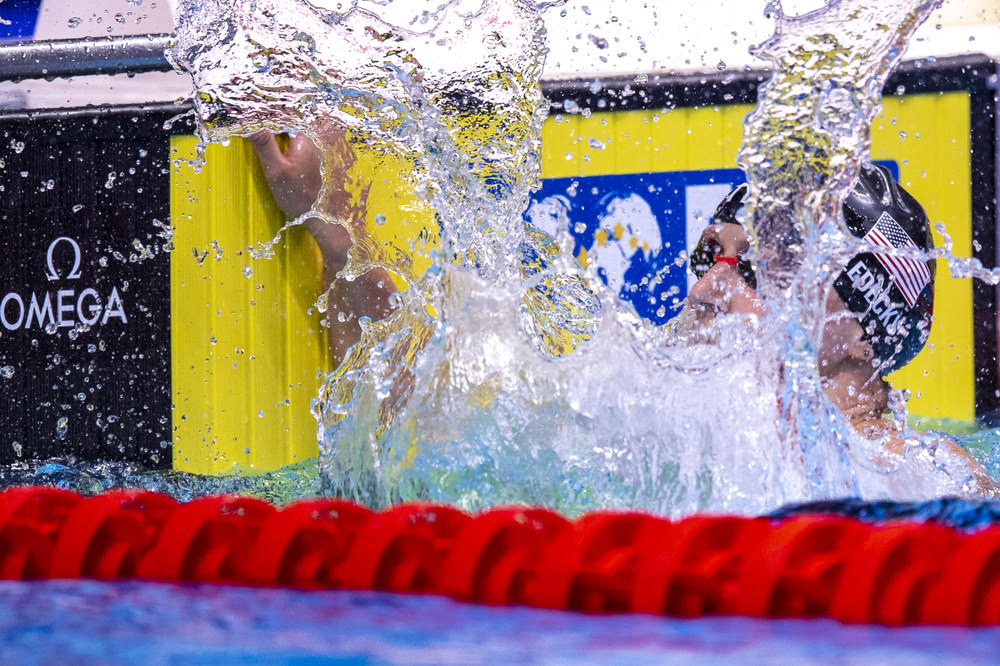 "Yeah it's just year after year of hard work and I think back to London. I made it a goal to not be a one-hit wonder and here we are ten years later so I'm really proud of that and still excited for the future as well. I'm happy with it [the time]. I can't complain. Honestly, I thought I was a little faster than that, but I mean that's the fastest I've been in a while, so I am really thrilled with that and really excited about the future as well.

"I guess it's a balance because I don't underestimate anyone (racing clock/racing humans). You just never know what's going to happen in a race. I do try to stay focused on my race plan and execute it well. I'm even happier about my swim after seeing my splits."

Katie Ledecky – photo – big splash in Budapest (Photo by Patrick B. Kraemer / MAGICPBK)
Here in Budapest, Ledecky celebrated her best-ever 4x200m free relay split, the 400m championship record and a 1500m victory time more than 7secs faster than that in which she became the inaugural Olympic 1500m freestyle champion.
Titmus will have something to say about what happen next, in all likelihood but shaver happens next, the legendary legacy of Katie Ledecky is well and truly in place on the way to Paris and what will be a fourth Olympics for the American assuming she makes it.
Let's hope she does and gets there in shape to make the best of the rest over 800m, regardless of the dynamics of any other event, have to fight like hell to stop Katie Ledecky go boldly where no other woman swimmer went before: as founder member of the female section of the quadruple crown club with just one member – Michael Phelps.
If all of that should come to pass, it will do so just three years after the first moment in Olympic swimming history where male and female athletes have absolute parity on the program, a state of swimming now more assured after FINA's decision on inclusion and fair play last week.