Katie Ledecky Claims The Fourth & Fastest 400m Free Crown Of Her Illustrious Career + The Best Of The Rest Of Day 1 In Budapest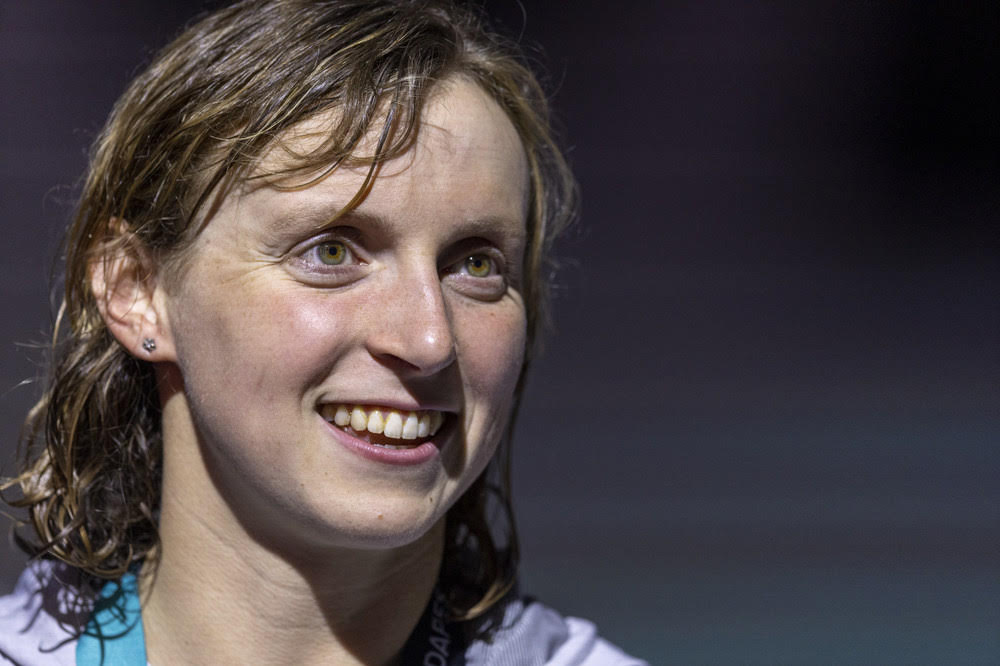 Women's 400m freestyle final – Katie Ledecky did not have Ariarne Titmus by her side this time round, the Australian Olympic champion who broke the American's World 400m record last month having opted to bypass Budapest, but she did have other younger rivals to fend off and four is now the new record of most global crowns won by one swimmer over eight lengths freestyle.
Ledecky, who raced inside 4mins in heats today, claimed the title in 3:58.15, the fastest of her four victories and a championship record a few strokes shy of her own best and the 3:56.40 at which Titmus left the global standard at Aussie nationals.
Summer McIntosh, the Canadian teenager, took a big stroker towards providing keen competition to both Ledecky and Titmus on the way to the Paris Olympic Games in 2024: the Canadian record now sits inside the discomfort zone of the big two, below 4 mins at 3:59.39. McIntosh is 16 this year, will still be in a teenage challenger in 2024. Her progress today augurs well for the 400m medley later in the week inn a season that has seen McIntosh race below 4:30. Big prospects.
The bronze was a hard-fought affair that went to American Leah Smith 4:02.08 to 4:02.16 over Australian Lani Pallister, whose bigger events are yet to come, the 800m and 1500m alongside Ledecky.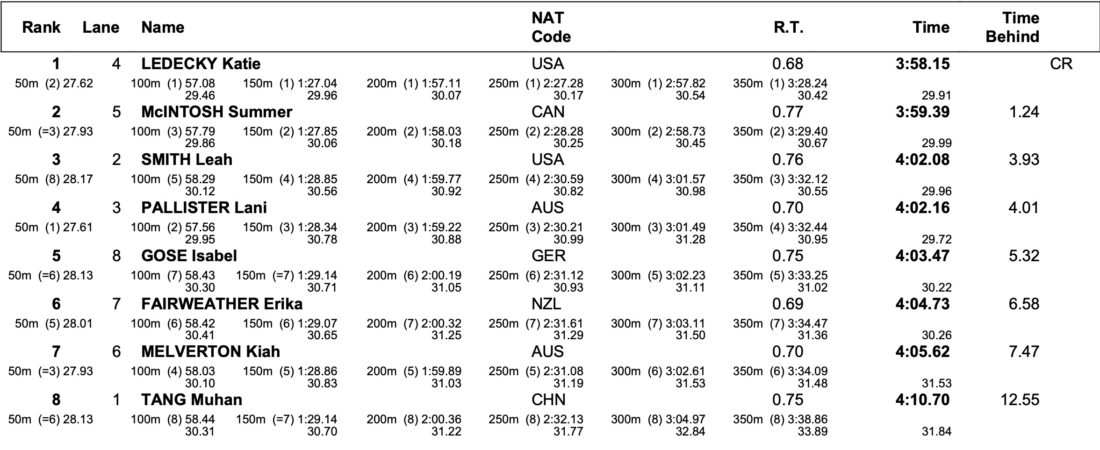 On a day when France's Leon Marchand stole the show with a 4:04.28 victory in the 400m medley and Australia's Elijah Winnington exorcise the ghosts of challenge in Tokyo last year with a rippling 3:41.22 stunner of smart racing in the 400m freestyle, there were victories for the United States in the 4x100m freestyle and Australia in the women's 4x100m freestyle.
Men's 4x100m freestyle
There was no getting to the United States but Australia got closer than paper suggested it was possible, Italy took bronze, Britain and Hungary set national records that included splits of 46.95 from Tom Dean and 46.89 from Kristof Milak, times that raised the prospect of fast 200m battles ahead.
Caeleb Dressel led the way for the United States on 47.67, ahead of Canada's Josh Liendo (47.87). From there it came down to the Americans setting the pace all the way to gold:
Women's 4x100m freestyle
The might of the Dolphin 4×100 was highlighted in an Australian win that unfolded without three quarters of the Olympic golden quartet of Tokyo last year. Best not available? No worries – get the B team in.
And here's what unfolded on the way to the podium:
Australia: Mollie O'Callaghan 52.70 – Madison Wilson 52.60 – Meg Harris 53.00 – Shayna Jack 52.65
Canada: Kayla Sanchez 53.45 – Taylor Ruck 52.92 – Maggie MacNeil 53.27 – Penny Oleksiak 51.51
USA: Torri Huske 52.96 – Erika Brown 53.30 – Kate Douglass 53.61 – Claire Curzan 52.71