Katie Ledecky At The Double With 200 and 1500 Victories 70 Minutes Apart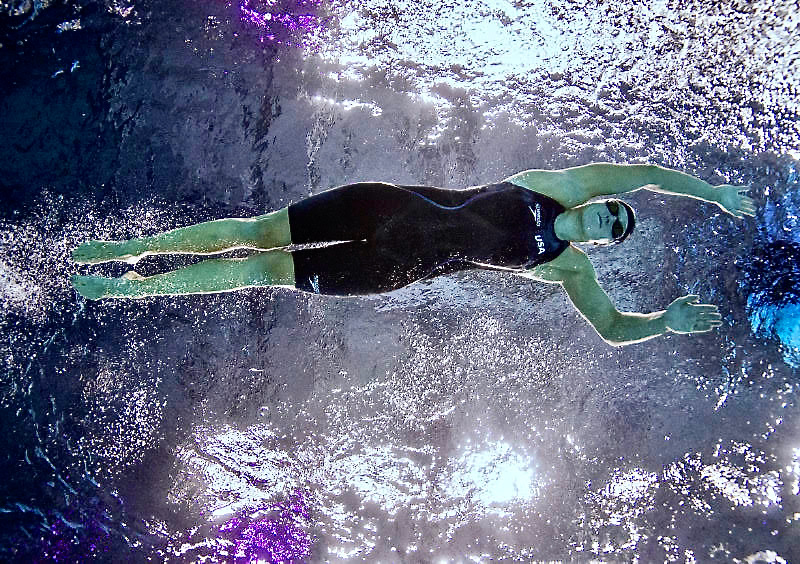 The upsets piled up on the way to the mid-way stage off the U.S. Olympic Trials in Omaha, much of it wiping out years of pointless predictions, forecasts and ahead-of-time analysis, a reminder to take a double win by Katie Ledecky, on 1:55. in the 200m freestyle and, about 70 minutes later, a 15:40.50 for what it is: not an indicator of future speed come the hour.
The five times Olympic gold medal winner, four of her victories at Rio 2016, had an obvious job to do in Omaha: qualify. That, she has done, with more to come.
---
Comment: The gap between the shortest and longest races for Ledecky this week was written up at 27 minutes but was not so. That 27-minute mention evokes memories of that happening in Olympic waters: Kornelia Ender, the first 'Wundermadchen' of the GDR, claimed the 100m butterfly crown, then the 200m free title 27 minutes later at Montreal 1976, both in World-record times that raised doubts band would come to reflect the truth of the matter: she was doped by her guardians and swimming governors have never dealt with the fallout, never even considered reconciliation efforts, the trail of tears flowing to this day, one of the perpetrators with a criminal record for abuse of minors, Dr. Lothar Kipke, a FINA honouree yet for his 'services to swimming'. And not a word of insistence from major federations whose women swimmers were thumped into submission by androgenised teenage girls for two decades.
What has that got to do with U.S. Olympic Trials? Everything: some of those at the top table of FINA governance in the GDR era are there yet, with no protest from the major nations and at the nod of representatives from the United States, Australia and other leading swim nations who appear not to care about what happened to women swimmers over a period of almost 20 years of systematic doping first revealed in gory detail 30 years ago, complete with Stasi records, coercion, bulling, brutality, the details of dosages and much else.
A bit pointless spending time, effort and money on 'The Last Gold' if you're not actually going to press for change in the culture that facilitated then swept the crime under the carpet – and leaders who have never acknowledged the harm caused. Their mantra of letting sleeping dogs lie has contributed significantly to athlete abuse, including mental health issues and lifetimes of having a sense of being robbed and so on and so forth. Of course, that's not something that afflicts the blazeratti that gets enjoy a luxury lifestyle for four decades of subsidised globetrotting on the back of the work of athletes and coaches, the cost and sacrifice of parents, the generosity of taxpayers and local sponsors that have no chance of a mention on the big day at the Games.
---
Back to Omaha and a fourth evening of finals, at which 2012 Olympic champion and Rio 2016 silver medallist Nathan Adrian missed the final of the 100m free; Luca Urlando, long tipped as a swimmer who might take on Krístof Mílak in the 200m butterfly in the lead at the last turn but third and out come the end of a battle of 1:55s; Madison Cox* and Melanie Margalis missing top 2 in a 200m medley final that was won in 2:09 and went without a third swimmer with a 2:08, Kathleen Baker, out in semis yesterday; Reece Whitley and Cody Miller among those locked out of the 200m breaststroke final.
These are trials. Cries of 'woe is the USA' are pointless, history tells us, even if there were more spills than thrills in terms of who missed out and the pace of the race compared to best timex and what else has unfolded in the world so far this season in the midst of a pandemic that has surely had an impact on some more than others and is not done yet.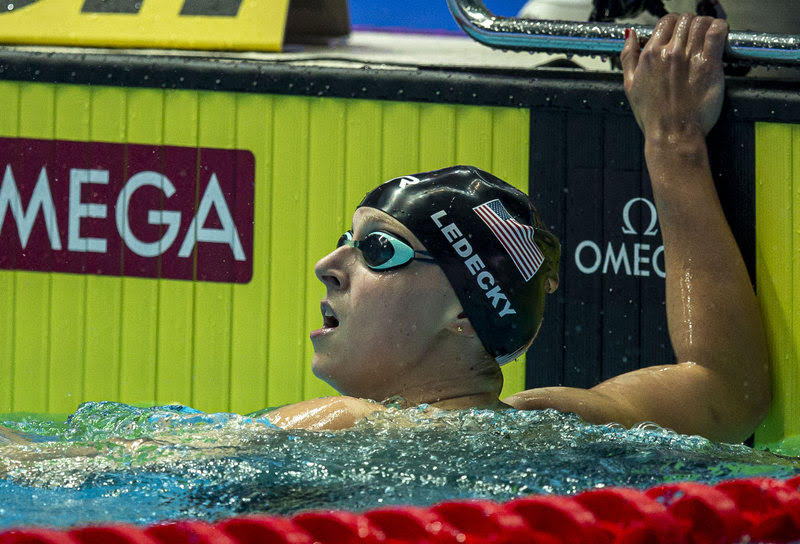 Ledecky was the star turn …
On 1:55.11, she dominated the 200m freestyle well down on her best pace, while a 1:56.79 from Allison Schmitt grabbed the second U.S. solo 200 berth for the 2012 Olympic champion and until this week holder of the fastest time in textile ever with her London 2012 effort of 1:53.6. Over in Adelaide, Ariarne Titmus blasted a world-record rattling 1:53.09 at Australian trials and will enter the Tokyo 200 as favourite for the crown, while the Australian quartet is significantly swifter on paper than the first four how in Omaha tally up to. Again, it will not come down to paper exercises but what unfolds come the hour.
Schmitt will race at her fourth Olympic in Tokyo and got to the solo race by 0.01sec Paige Madden, on the team in the 400m, booked her relay berth for the 4×200 in 1:56.80, Katy McLaughlin on 1:57.16, with 16-year-old Bella Sims racing home as a first potential reserve in 1:57.53 ahead of a 1:57.61 from Brooke Forde.
A delighted Schmitt was treated to a hug from her former teammate and friend Michael Phelps, who raced down from the stands to congratulate a swimmer who, like him, has spoken out on a struggle with depression that struck even at the height of their success in the pool.
Schmitt, like Phelps coached by Bob Bowman, now at the Sun Devils in Arizona, told reporters in Omaha: "I knew it was going to be close. I didn't know how close it was until I got out of the water and saw one-hundredth on the board. I don't even know how to put it into words. He's been a brother inside the pool and outside the pool. It helped me so much. Even now, when he's not swimming, he's a huge part of it."
Schmitt's presence in Tokyo adds up to this: the 2008 (La Divina Federica Pellegrini), 2012 and 2016 Olympic champions will be in the hunt alongside Titmus.
Within half an hour, meanwhile, Ledecky was back for a 15:40.50 meet-mark win in the 1500m at a place about 1sec a 100m slower than her metronomic world-record. The second Beth went to Erica Sullivan in 15:51.18,m locking out 15-year-old Katy Grimes, on 15:52.12, open water aces Haley Anderson and Ashley Twichell next home.
Ledecky will enter the inaugural Olympic 1500m for women as favourite for the crown. Said the triple World champion (2013, 2015, 2017): "The men have had the mile in the Olympics since 1908. It's 2021, and we finally got one."
Men's 200m butterfly
Zach Harting, 23 and from Huntsville, Alabama, took the win in 1:55.06, Gunnar Bentz, who, as AP noted, was among the swimmers involved in Ryan Lochte's infamous night in Rio five years ago, was next home in 1:55.34, both qualifiers having past Luca Urlando, on 1:55.43, in a tight battle down the last length.
Women's 200m medley
Alex Walsh topped a final in which just 0.04sec split the top three. Walsh came home in 2:09.30, ahead of Kate Douglass, on 2:09.32, locking out Madisyn Cox in 2:09.34. Another 2:08 swimmer, Melanie Margalis, clocked 2:11 for sixth place.
In semis…
Caeleb Dressel led the way to the final of the 100m free in 47.77, 0.01sec ahead of Zach Apple. They were the only two inside 48 heading into the showdown. The 2012 Olympic champion Nathan Adrian locked out of the final on 48.92 for 13th.
Adrian was out in a swift 22.81 but home in 26.11, the slowest split of the 16 swimmers, for sixth in his semi. He deserves to take a bow plus a few curtain calls, having served Team USA very well with gold in the 100m at London 2012, silver four years later in Rio and a bunch of relay podiums, most of the gold, too. On the way to Tokyo, he fought and beat testicular cancer, became a father and joined the Pro-Swim era as a member of LA Current. Here's his story as told through the ISL:
Hali Flickinger posted a 2:06.73 ticket to lane 4 for the final of the 200m butterfly, lane 5 to Regan Smith in 2:07.89.
Matt Fallon set the pace heading into the final of the 200m breaststroke with a 2:08.91, ahead of five 2:09s, a thriller ahead.
– * – Cox was banned from competition for six months after a urine sample taken in February 2018 tested positive for trimetazidine. FINA initially reduced her suspension from four years to two years because of Cox's testimony that she did not knowingly ingest the performance-enhancing drug, but would not reduce it further without evidence of the source of the trimetazidine. Upon analysis of both opened and sealed bottles of Cooper Complete Elite Athletic multivitamins, the Court of Arbitration for Sport determined that the multivitamins were the source, and reduced Cox's suspension to six months. The suspension expired on September 3, 2018