Katie Ledecky 8:09 Shows Gritty Intent To Make It A High Five Of World Titles In 800m Free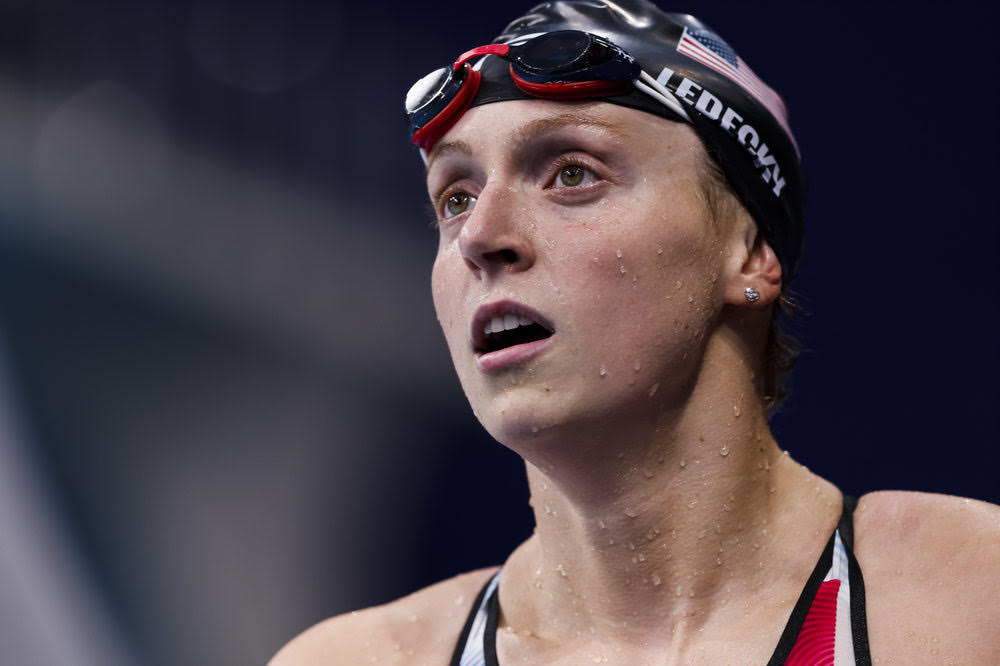 The 10-year anniversary of the arrival of Katie Ledecky in the big time of the big pool with 800m free victory at the London 2012 Olympic Games is nigh and on 8:09.27 in Greenboro on the opening day at American trials for the World Championships USA trials, the superstar American showed no signs of taking her foot off the gas.
The time, off a pace at half-way that was inside her own World-record split, is the sixth fastest all-time and the sixth time Ledecky has raced inside 8:10. It granted Ledecky a ticket to the fourth defence of the 800m World title, a record high five of crowns on the cards nine years after the American first claimed gold at the summer showcase at Barcelona in 2013.
When it comes to Ledecky and the 800m, that also means her sixth best time ever and her fastest since 2018, faster than the 8:12.57 in which she claimed Olympic gold ahead of an 8:13 from Australian nemesis Ariarne Titmus for a record third time in Tokyo last year and No 6 on an all-time performances list topped by the swiftest 27 career efforts of Kathleen Genevieve Ledecky, who turned 25 last month.
On 8:11.83 at sectionals in Florida back in February, it was clear that Ledecky had not let the weeds grow under her feed after Tokyo. At the Greensboro Aquatic Center, Ledecky raced inside her World-record pace for the first half of battle:
57.98; 1:59.42; 3:00.76; 4:01.98; 5:02.94; 6:04.30; 7:05.44; 8:04.79 WR 2016 Olympic gold
57.89; 1:58.58; 3:00.04; 4:01.59; 5:03.36; 6:05.48; 7:08.37; 8:09.27 Greensboro 2022
Worth reminding ourselves of The Ledecky Timewarp In that 8:04.79
At 100m: faster than the first two of Kornelia Ender's world records over 100m in 1973
At 200m: faster than Don Schollander's first world record over 200m free among men in 1962
At 400m: faster than every woman in history over 400m barring 5 – the 2012 400m crown went to Camille Muffat in 4:01.13 and the Olympic silver medallist of 2016, Jazz Carlin, on 4:01.23.
At 500m: faster than the first seven of 8 world records that stood to Ragnhild Hveger (DEN) in 1937-40 over 400m – at this point Ledecky is 100m ahead
At 800m: faster than the 800m world records held in 1975 and 1976 by Australian Stephen Holland and American Tim Shaw.
Speaking to media in Greensboro, Ledecky said: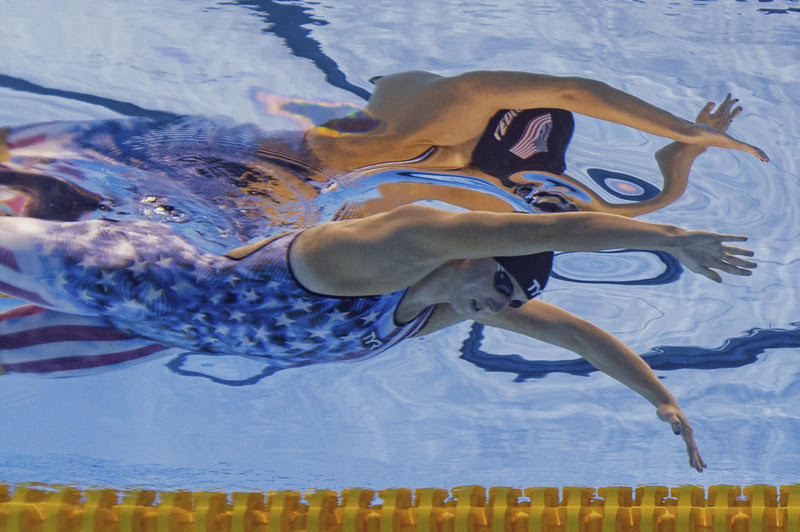 "I'm really happy with that. I felt like coming in that I could possibly go under 8:10, so to see that on the scoreboard is really exciting. It's the fastest I've been in a couple years, so I can't complain. I know what I'm capable of, and I know that I have that in me. Just to put that together and see that was a lot of fun."

Katie Ledecky – by Patrick B. Kraemer
Ledecky, the 65th victory of her career over 800m since 2010 in the bag, will now defend the 800m crown she claimed at the end of a troubled week of illness in Gwangju in 2019, when last the swiftest swimmers gathered for world long-course titles. The 8:13 to 8:14 battle she endured with Simona Quadarella, of Italy, was one of the finest swims of her career. Not fastest but finest, because the terms of engagement, the circumstances of the challenge presented a rare moment in which the clock was not the bigger rival among rivals.
Ledecky will not face Titmus in Budapest in June, the Australia who claimed the 200 and 400m free Olympic crowns from the American having opted to bypass the global gathering at a time when FINA has scheduled a World long-course showcase every year for the next four in a big to catch up with events thrown off course by the Covid pandemic. The move has served to water down the quality of clashes in certain events. Even so, it will be intriguing to see what Ledecky can produce in Budapest after this stunning sequence of World-title victories: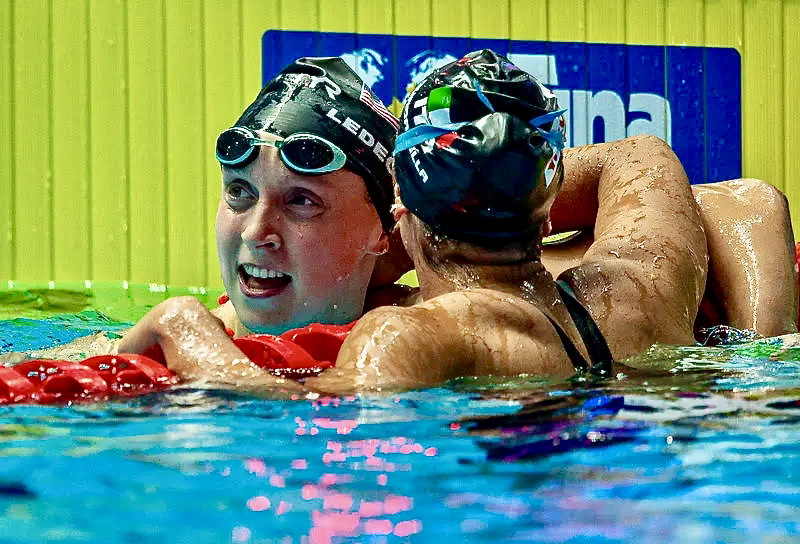 8:07.39 WR 2015 (8:13.58CR heats)
8:12.68 2017
8:13.36 WR 2013
8:13.58 2019
In Greensboro, the second ticket to Worlds went to Leah Smith, the bronze medallist in the 2016 Olympic 400m free and 2017 World titles 800m fight. The 27-year-old missed the Olympics last year when teenager Katie Grimes rose up the ranks ahead of her. Smith clocked 8:17.52, a little down on her best of 8:16.33 but good for keeping challengers at bay in the realm closer to Earth than Ledecky's.
This day, Smith sent a couple of rising hopes back to the training pool motivated for the longer term work on the way to a crack at Paris 2024. Bella Sims, a member of the USA 4x200m free silver medallist in Tokyo last year, clocked 8:22.36 for third, her training partner Grimes, 16 and fourth in the Olympic final last year, fourth in 8:22.73. Grimes is already selected for Budapest 2022, in the marathon.
Ledecky, meanwhile, is training in a new place this season, after having been guided by coach Bruce Gemmell at Nations Capitol to Rio 2016 and coach Greg Meehan at Stanford to Tokyo 2020ne. She's now at the University of Florida program under the watchful eye of history man Anthony Nesty, who in 1988 became the first black swimmer to claim Olympic gold when he pipped Matt Biondi in the 100m butterfly to grant self and Surinam a place in the swimming pantheon.
NB: Enith Brigitha, of The Netherlands, was denied the accolade that is Nesty's when she finished third in the 100m freestyle behind two East Germans enhanced by Oral Turinabol topped the final at Montreal 1976.
Nesty has long been a coach and pupil of Greg Troy at the Gators, the thread of champions and world-class swimmers at the program too many to mention here. Ledecky, on words of wisdom exchanged with Nesty on the way to trials, said: "We talk a lot about improvement, and that's the goal always. Of course, improvement looks a little different for me than some other people given that my times are really hard to improve."
Ledecky now swims the 200m free Wednesday in Greenboro, before the 400 and 1500m later in the week.