Katie Ledecky 15:40 Tells 1500m Sorority 'Anything You Can Do At World Titles I Can Do Better Restless In Race Practice'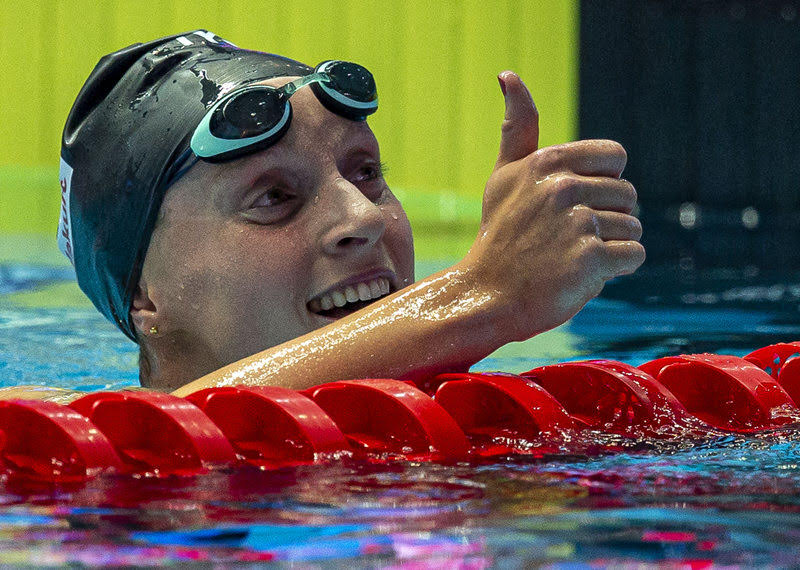 On an April morning in Mission Viejo, is was as if Katie Ledecky wanted to send a message to World champion Simona Quadarella, among others: anything you can do to make the Big Championship podium, any colour, I can do better in mid-season race practice.
The women's 1500m freestyle will make its Olympic debut in Tokyo and as clear as any other take out from the Mission Viejo round of the U.S. Pro Swim series, very fine form of Katie Ledecky catches the gaze once more: 1:54.40 in the 200m free; 3:59.25 in the 400m; and this morning a world-ranks topper 15:40.55 in 1500m freestyle waters only she and two others have ever swum in.
The prospect of Ledecky becoming the winningest woman in Olympic waters this July in Tokyo is very real indeed. A 2016 triple-gold-medal match of Debbie Meyer's 200-400-800 sweep of 1968, Katie Ledecky may well be on course for a shot at the first 200-400-800-1500 sweep, with a couple of relays with American mates that could also result in gold.
Add Ledecky's soaring debut with 800m gold at 15 years of age in London back in 2012 and the best possible outcome would add up to a unique eight solo golds across three Games. Add relays and the tally jumps to 12 medals, at least one gold, one silver so far, with the prospect of two more in Tokyo.
Ledecky practised for that relay reach, too, today, with a 54.22 finish behind Abbey Weitzeil's 53.68 in the 100m free. Worth noting the stiff competition building for those American relays: in Cary, North Carlina, at the TAC Titans Premier Invitational Torri Huske, 18, clocked 53.46 in the 100m free, with Claire Curzan, 16, on 54.40. And look at the 'fly: Curzan, 56.20 (26.21, 29.99), Huske on 56.69 (26.21, 30.48).
The new wave. Meanwhile, Katie Ledecky just turned 24. What a decade she's had.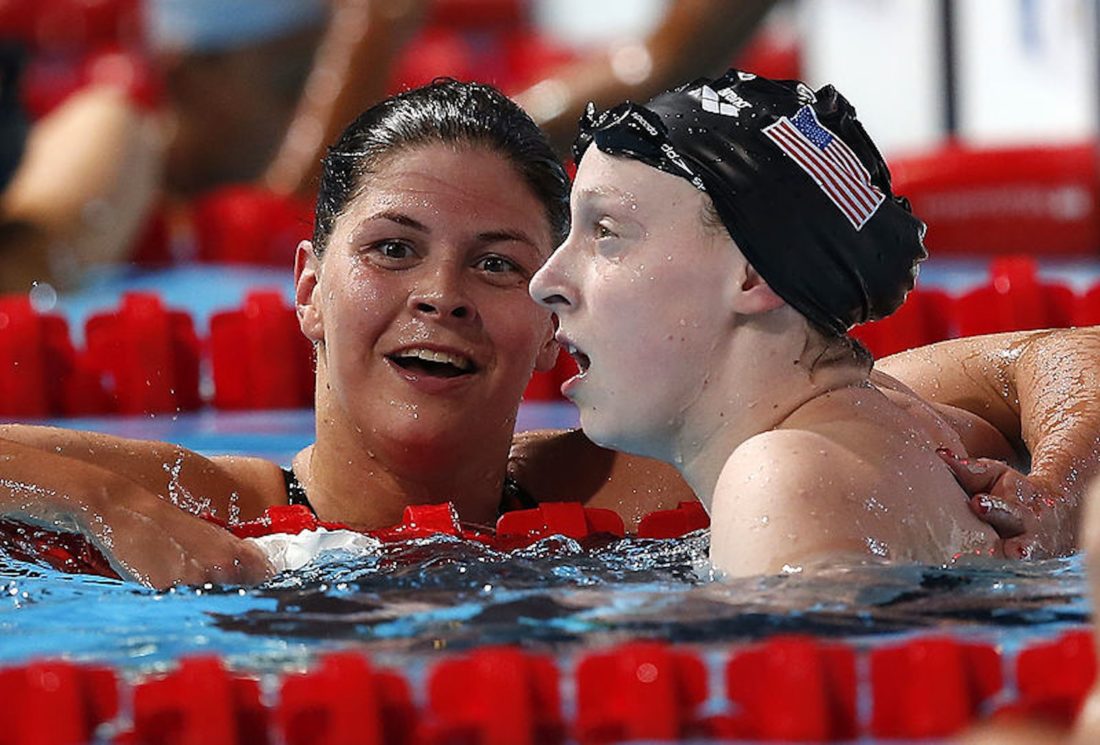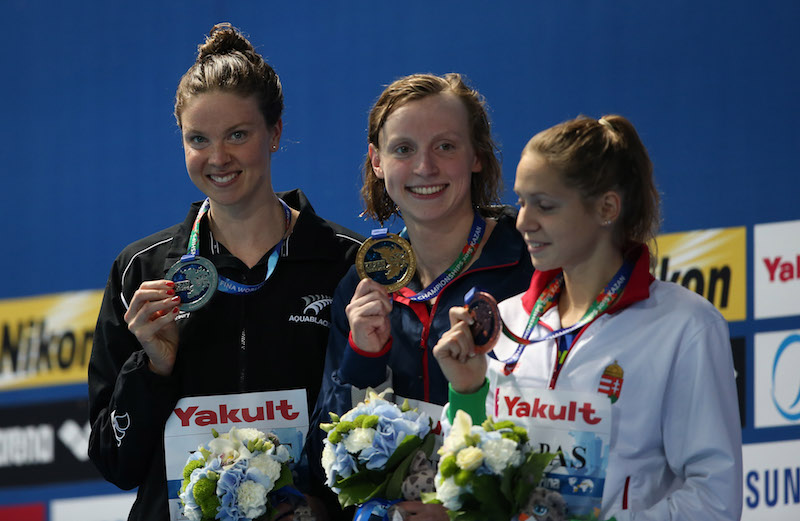 Holder of the world record at a stunning 15:20.48 – the pace of Tim Shaw, 1975 – Ledecky's latest metronomic effort was not far shy of the 15:38.88 clocked by Denmark's Lotte Friis in a terrific battle that ended in the 2013 World title and record on 15:36.53 for the American a year after her golden Olympic debut and triumph in the 800m at London 2012.
Since then, New Zealand's Lauren Boyle is the only other to have swum inside the pace Ledecky mustered today, her 15:40.14 good for silver behind Ledecky's 15:25.48 – after 15:28.36 – victory, both her efforts World records.
Katie Ledecky withdrew from the 1500m at 2019 World titles feeling under the weather, watched Italian Simona Quadarella take her crown in 15:40.89 before returning to the fray by the end of the meet in Gwangju, digging deep and emerging with gold in one of the most impressive – not fastest – performances of her career.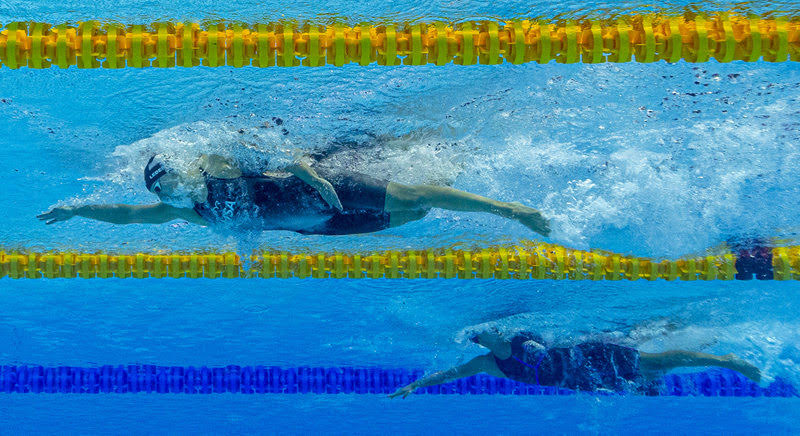 Quadarella was just inside 16mins restless in Riccione at Italian trials two weeks back.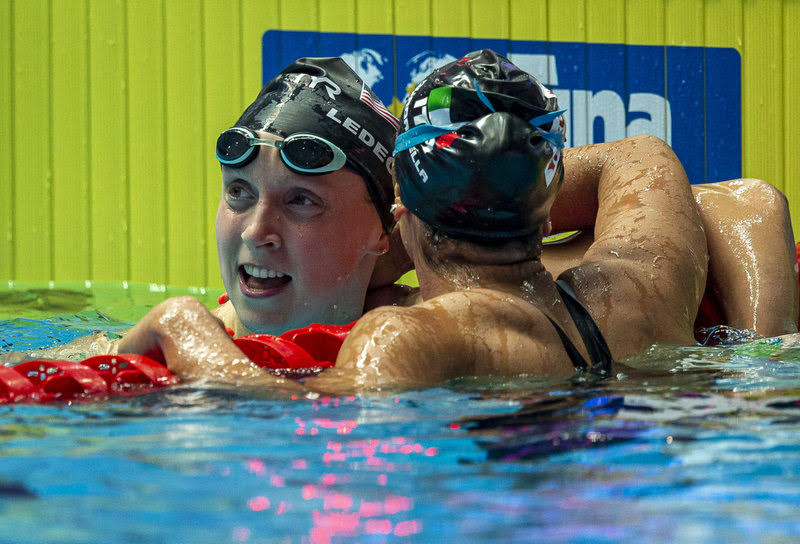 Here was Ledecky's restless in race practice response:
29.00 1:00.08 (31.08)
1:31.72 (31.64) 2:03.43 (31.71)
2:35.13 (31.70) 3:06.81 (31.68)
3:38.27 (31.46) 4:09.65 (31.38)
4:41.17 (31.52) 5:12.61 (31.44)
5:43.97 (31.36) 6:15.33 (31.36)
6:46.87 (31.54) 7:18.22 (31.35)
7:49.69 (31.47) 8:21.01 (31.32)
8:52.26 (31.25) 9:23.42 (31.16)
9:54.81 (31.39) 10:26.28 (31.47)
10:58.08 (31.80) 11:29.75 (31.67)
12:01.64 (31.89) 12:33.19 (31.55)
13:05.09 (31.90) 13:36.67 (31.58)
14:08.19 (31.52) 14:39.41 (31.22)
15:10.97 (31.56) 15:40.55 (29.58)
Next home was Open Water ace Ashley Twichell, on 16:06.68, third place to Emma Nordin, on 16:11.23.
Open water ace Jordan Wilimovsky took the men's 1500m free in 15:10.44, the top three rounded out by Will Gallant, in a time slower than Ledecky's world record, 15:21.15, and Mikey Calvillo, whose 15:42.38 was slower than Ledecky today.
Solid Wins For Murphy, Cox, Andrew + Big Leap For Ryan White
Olympic champion Ryan Murphy put in a 1:56.27 for the win over Spain's Hugo Gonzalez, already selected for Covid-delayed Tokyo 2020 Olympic Games and on 1:57.51 today. Third place went to Bryce Mefford in 1:59.61, 0.06sec ahead of Daniel Carr, with Olympic 400m medley silver medallist Chase Kalisz practising the part of a sum on 2:00.36.
The women';s 200m medley ended with Madisyn Cox at the helm on 2:10.00, followed by Melanie Margalis, 2:11.03, and Kathleen Baker, 2:11.95.
Michael Andrew laid down two solid 200 medleys, his heats time of 1:58.23 topped by a 1:57.98 the morning after, through splits of 24.07, 53.85 (29.78) 1:27.57 (33.72) and a closing 30.41. Next home were Andrew Seliskar, 2:00.16, Jay Litherland, 2:00.20, and Abrahm DeVine, 2:00.74.
Ryan White is inching ever closer to the canopy of American backstroke event but the tree tops may seem an Everestian climb away given the quality at the summit.
Even so, a 2:07.24 in the 200m today marked the latest steep progress for White and came off splits of 30.10, 1:02.27 (32.17) 1:34.98 (32.71) and a closing 32.26. The top three was rounded out by Isabelle Stadde, 2:08.12, and Lisa Bratton, 2:10.08.
Abbey Weitzeil took the 100m free in 53.68 ahead of Katie Ledecky, on 54.22 after 54.26 in heats, third place to backstroke World dash champion Olivia Smoliga, in 54.61.
The meet came to a close with the men's 100m free. London 2012 Olympic champion and 2016 silver medalist Nathan Adrian is gunning for a third crack at it in Tokyo. He topped the two-length sprint today in 48.74, World champion Caeleb Dressel having clocked 48.82 and left it there. The top three in the final was completed by Germany's Eric Friese, 49.05, and Singapore's Zheng Quah, 49.30.