Kathleen Dawson Perseverance Pays Off: Back-To-Back 100m Bests End On 58.65 As First Brit Inside 59 In Textile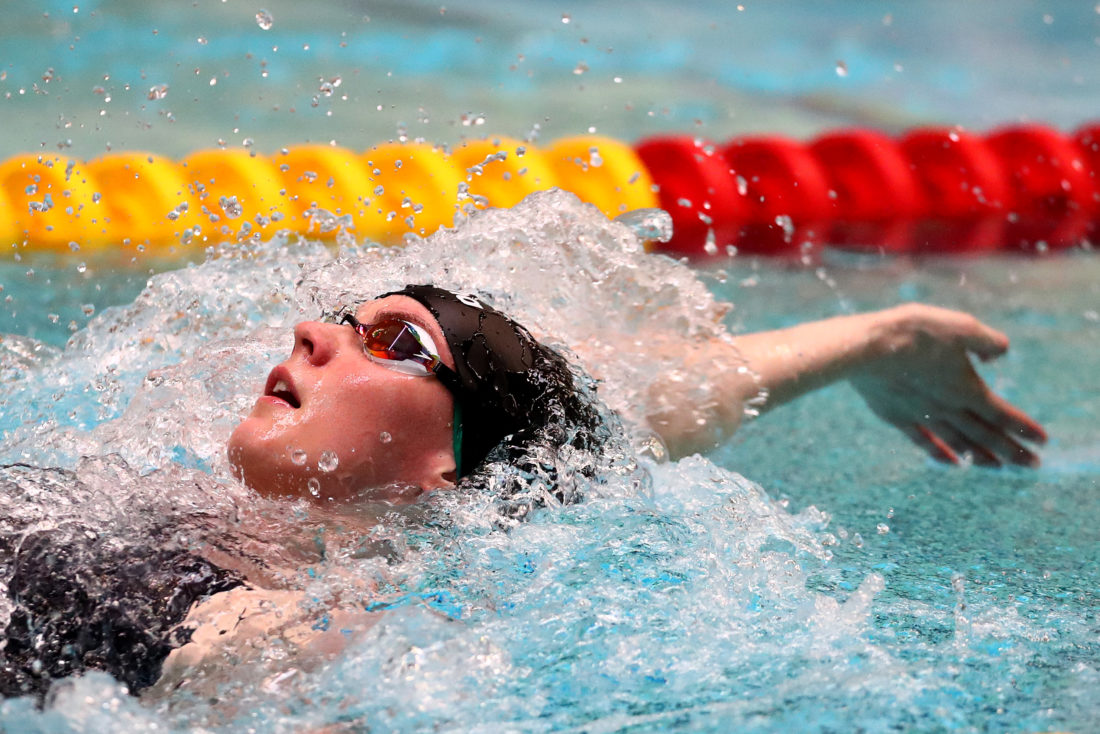 Kathleen Dawson became the first British woman to race inside 59sec over 100m backstroke in a textile suit and the second to go that way in any apparel when she scorched a 58.65sec victory at the at the British Invitation Meet (Manchester International) this evening.
The good news was not done for Coach Steven Tigg and Coach Bradley Hay at University of Stirling: second home was Dawson's training partner, Cassie Wild, on 59.56 for a debut sub-minute moment in the race after their teammate Duncan Scott had topped the 200m medley final in 1:59.36.
Dawson had confined to history her own 2016 personal best of 59.68 in morning heats. More to come or had she been practising swimming at peak-of-the-moment at a time of day when finals will be held at the delayed Tokyo 2020 Olympic Games? Answer: more to come.
In the final, she was out in 28.24. Dawson was not hanging about, nor was she about to fade, her 58.65 victory confirming her as the first Brit ever to go inside 59sec in a textile suit and the second to travel that way after Gemma Spofforth, the 2009 World Champion and record holder whose global standard of 58.12 remains the British record to this day. Wild entered the all-time top 5 among Brits with a 59.56, off 29.09 at the turn.
It is 15 years since Aussie Brooke Hanson spoke eloquently about the plateau teenage girl to women swimmers often endure on their way to maturity. Patience, perseverance and ploughing on with the work were among the things the six-times gold-medallist at 2004 World short-course titles spoke about eloquently. She was 25 at the time and podium success at the 2004 Olympic Games the same year reflected her emergence from the struggle so often seen in the transition to womanhood.
Hanson told me as her golden campaign came to an end at the 2004 short-course showcase that perseverance through teenage years of physical development and into womanhood was an essential ingredient in her success story. She said: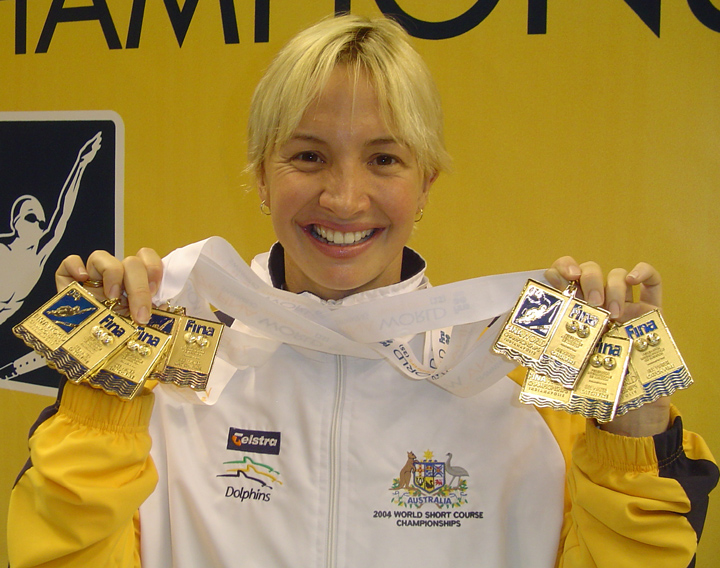 It was only after a few years of those changes that I started to get stronger again as my body got used to the new, adult me. We have a different development cycle to the men and a lot of girls just quit when they couldn't improve around the age of 19 to 22–23 but I'm here to tell them to stick with it, persevere. You'll come through it and you'll be stronger for it. Your best years are in your mid-twenties upwards. That plateau is just a part of who you are as a woman.

Brooke Hanson. Photo: Brooke with her record six-gold-medal haul from 2004 World s/c Championships in Indianapolis, courtesy of Swimming Australia
Her previous best time saver 100m dating back to 2016, Dawson, 24 this year, celebrated the persistence and tenacity it takes to see it through and retain the faith in potential shown in youth on the way to senior success.
At 58.6, Kathleen Dawson is only half a second away from clear shot at the Tokyo podium and while observers in Manchester made much of "world No1 ranking" in 2021, March of Covid year 2 with the Olympics due in July is fairly irrelevant in terms of being an indicator of where not might all end up. The 58.6 is enough of an indicator of fine hope and cheer.
Dawson said: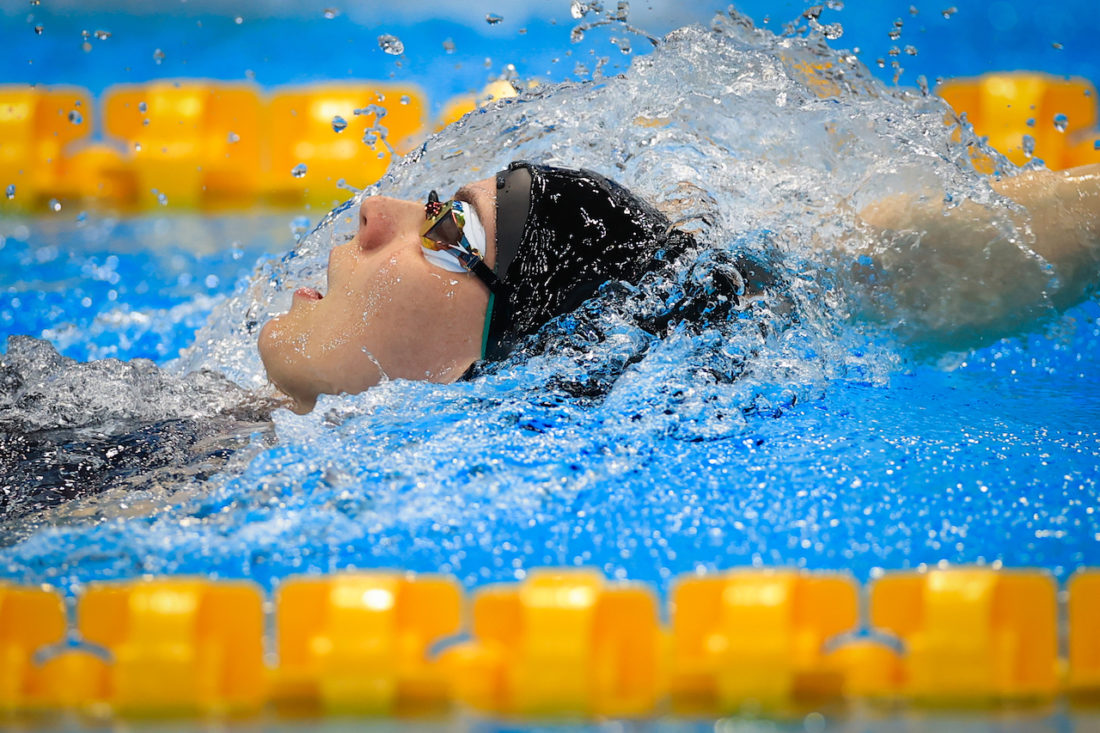 "I'm over the moon with that! I mean I don't want to toot my own horn, but I kind of expected to go a 58 because I've been swimming so well at these time trials we've been doing in Stirling, so it was expected, but I'm still buzzing with it.

"This morning I had kind of relaxed the first fifty so I knew I had more to give in the first fifty tonight, and then I just wanted to repeat the second fifty like I did this morning so it all just came together."
Dawson also paid plaudits to Wild, saying: "We've been training so well together and I'm really proud of her – we've both been swimming class and looking at that opportunity to make the Olympics."
There were plenty of other strong efforts on the second day of action in Manchester.
For Adam Peaty, it's now a case of just three more sub-27sec swim over 50m breastroke and he will have gone that way no fewer than 50 times in his career. If you're wondering why that's impressive, given that his world record stands at 25.95, consider this: only 20 other men have ever got inside 27sec in a textile suit. Boom-on-rocket-boosters territory.
At 26.80, Peaty was a second ahead of next home, fellow 100m World-titles podium placer and Loughborough-based squadster James Wilby on 27.77, ahead of a 27.84 from David Murphy.
Peaty's Loughborough teammate Sarah Vasey, also City of Derby, took the 100m breaststroke in 1:07.09, off a swift 31.37 at the turn. She was chased down by Molly Renshaw, the 200m winner yesterday, but had done enough, Renshaw on 1:07.42, Imogen Clark third in 1:08.29.
As expected, the 200m freestyle produced a close finish. After Lucy Hope, of Edinburgh, suit the first-half pace at 57.03, Abbie Wood, Buxton and Loughborough, took the lead by the last turn, Freya Anderson, Bath, on her shoulder.
Anderson inched level with Wood in the hunt for home, momentum with her in the closing metres, the clock favouring Anderson 1.58.23 to Wood's 1:58.42.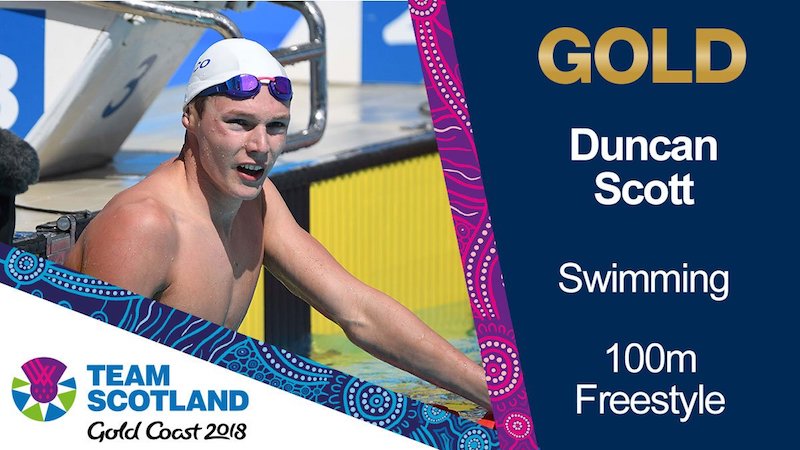 Duncan Scott kept Loughborough Uni brothers Joe and Max Litchfield at bay 1:59.36 to 1:59.71 and 2:00.96 respectively, the star of Friday's show, Luke Greenbank, on 2:02.59 after setting the pace by the backstroke turn into breaststroke. Watching Scott race without rest is to get a glimpse of the potential power of the man's 200m medley, especially in a domestic field that suggests a lack of particular weakness on any stroke and a freestyle finish that means he is unlikely mot be beaten. A few finals on and the Commonwealth champion for Scotland in 2018 was to be found at the helm of the 100m free on 49.09. Said Scott: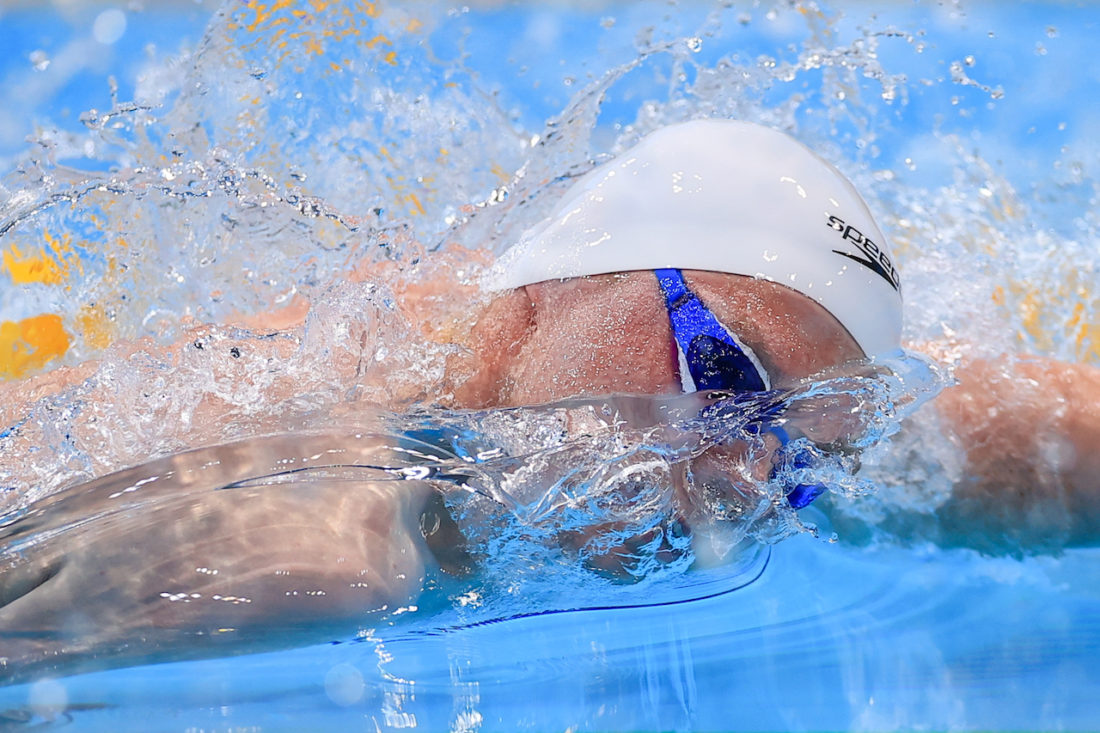 "It was good. I train to do doubles like that and it was good I was able to execute the races the way that I wanted to. They were hard races and there are some boys in there who are really quick and it was good to go against some of those 200 IM boys.

"It's a year since I raced the Edinburgh International so it was good to get back out there with some long course racing and I really enjoyed it, especially the 100 Free. It was really tight and it was good to see a couple of the boys with PBs in there, which is really good for British Swimming and with the trials coming up."

Duncan Scott. Photo – Duncan Scott by Georgie Kerr, courtesy of British Swimming
Another Commonwealth champion, though for England, Aimee Willmott, of the University of Stirling, dominated the 400m medley, her 4:39.11 coming off splits of 1:03.92, 2:14.79, and 3:33.02.
Daniel Jervis, of Swansea University, was another racing way out ahead towards victory, his 1500m freestyle done in 15:02.43, via an 8:00.04 split at 800m.
Another freestyle ace, James Guy, the 2015 World 200m freestyle champion, raced his peak distance but on butterfly. For the second time this year, Guy clocked a 1:56. His lead this time round was getting on for four seconds as he stopped the clock on 1:56.79.
In other action, there were wins for Nicholas Pyle, University of Stirling, on 26.48 in the 50m backstroke; and and Harriet Jones, of the City of Cardiff, on 26.51 in the 50m butterfly.