Kathleen Dawson Doubly Awesome On 58.18 (Then 58.49) For Euro Gold (Twice) In Len Decision That Dealt Unfair Blow To Kira Toussaint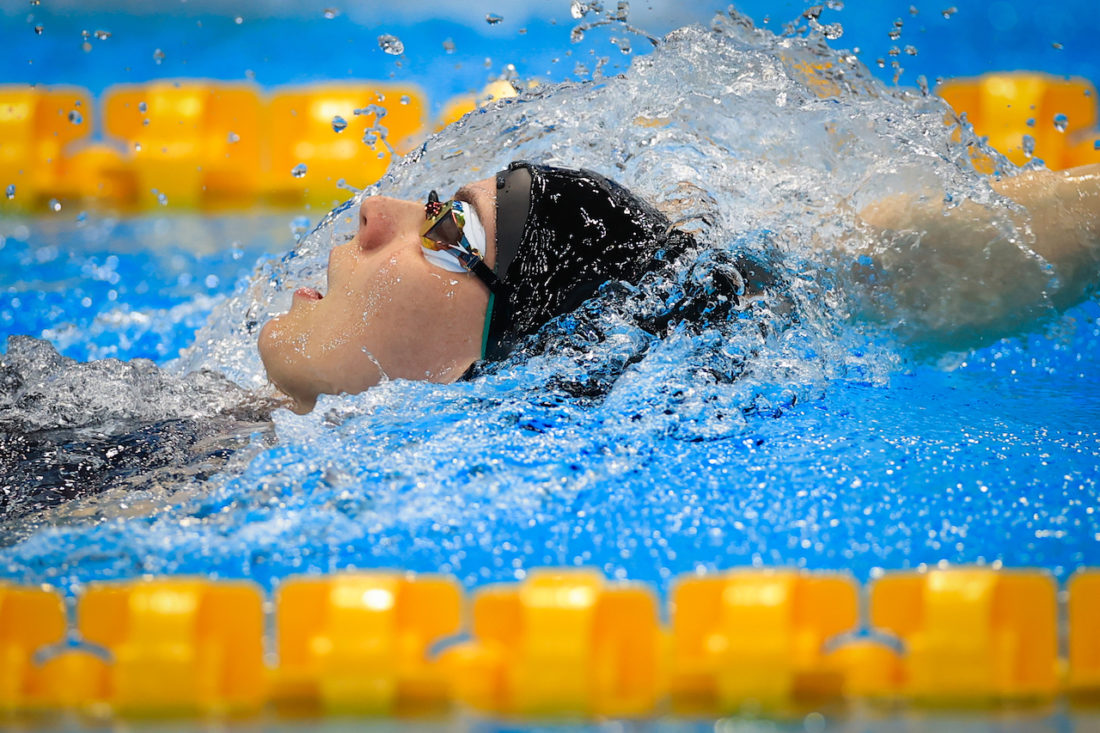 Kathleen Dawson was already awesome, on 58.24 at British Olympic Trials last month but this evening in Budapest on the fifth day of finals at the European Championships, she grabbed a maiden international title in a 58.18 championship record. And then went 'back-to-back' titles in bizarre circumstances.
That 58.18 was the first final. It all had to re-swum because lane 8 couldn't hear the starting signal properly. An hour passed and then Dawson leapt back in and clocked 58.49 for a second dominant win. Two finals, two golds alchemised into one – two Union Flags up the pole and two "God Save Our Queen"s. How many European champions have lived through that? Just Kathleen Dawson, doubly awesome.
The saga started when Louise Hansson, of Sweden, who, with no disrespect intended, had no chance of a medal but was placed at a disadvantage from go because the starting sound did not reach her ear at full tilt. The video clearly shows that she did not react because she did not thing the starting signal had sounded in her lane. Here's what it looked like for time round, when Hansson stalled as her sound signal failed (lane 8):
Hansson was first reserve for the final and stepped in when a slot came free. She has never swim inside the minute. In then second final, she came close, on 1:00.04 in sixth. It was never going to change the medals but the decision to reswim did.
In the first final, Dawson's time left her just 0.06sec shy of the British record set as a global record back in 2009 by Gemma Spofforth for the World title in Rome. The rest of this report reads as if the first final, entirely legitimate swum for at leats 7 swimmers, counted (we'll reword after the second final has been swum…):
The silver today went to Kira Toussaint, the 50m champion yesterday for The Netherlands, in 59.02, the bronze to Russia's Maria Kameneva in 59.13.
Then came the protest and the call to reswim. In the first final, Italian Margherita Panziera, a strong 200m swimmer compared to Toussaint, a pure sprinter and 50m champion, clocked 59.65 for fourth. In the second final, she clocked 59.01 and was granted silver, Kameneva in third once more on 59.22, with Toussaint paying the price for her sprinter's metabolism. The rules are clear but in such circumstances they have the feel of a computer overriding human common sense.
Nothing in the rules allows the best result of each swimmer to be taken from either final, for example. That, too, of course, would feel unfair to Kameneva. The outcome is yet another example of athletes paying the price for failings beyond their control.
In the fist final, once Dawson had reached the half-way at the helm in 27.99, the race was effectively over, Toussaint the sprinter with a best half a second and more adrift the fast finishing Scot and the rest just too far off the pace to have a chance of having any shout for gold.
At British trials, Dawson spoke eloquently after her breakthrough on two key aspects of her new status: it followed injury and a period of perseverance that delivered perspective and added motivation when Covid came along ("I'd endured it all, so when the pandemic came along, I knew I could handle it"); and, a revelation that she'd be very happy to be "the Peaty of British women's backstroke" and get into the 57s … in fact, she intends to do just that come Tokyo 2020 (having seen the world record sail below 58 in 2019, on the road to recovery and the Tokyo Olympics, she said, "I just thought, why not me!").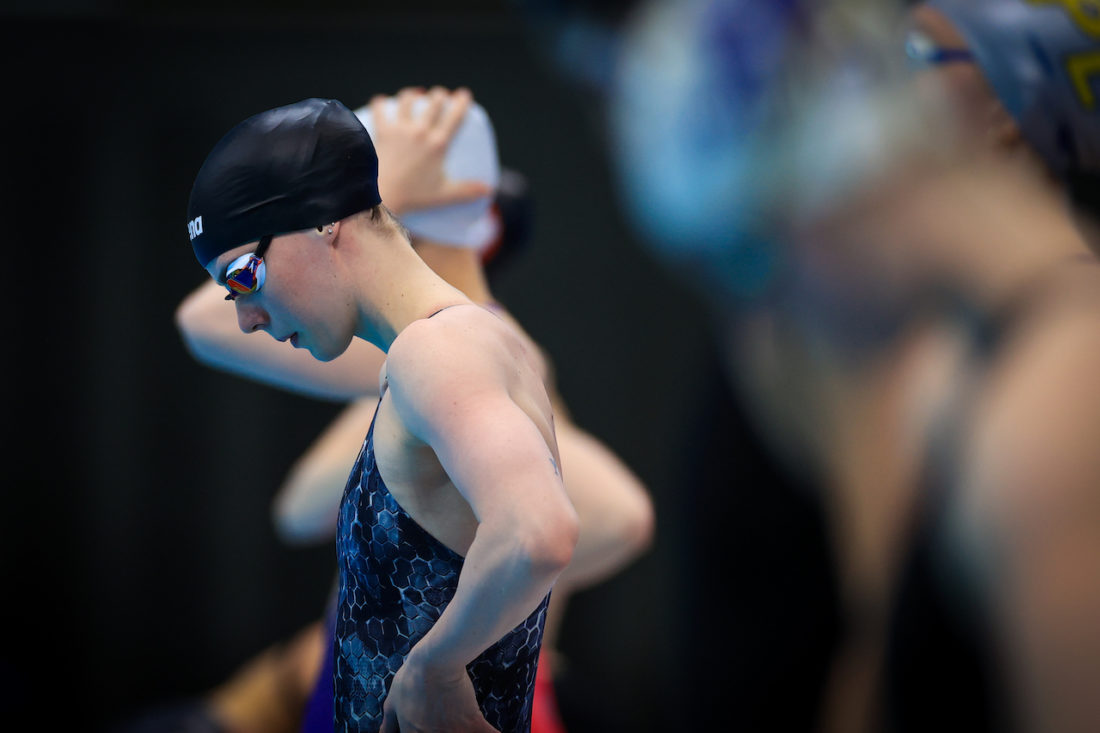 The times in the first final should count: the race was legitimate and so were all the times. The championship result does not necessarily need to negate the clock but that depends on whether LERN want history to show what happened or whether it wants to remove the faulty timing from the history book. In Glasgow three years ago, entire finals were adjusted by 0.1sec after the timing system was said to have been mis-set. It should not, then be hard to count a race in which there was no issue with the timing system. Up from 8th to =6th on the all-time rankings, Dawson is also No 5 all-time in textile:
100 METRES BACKSTROKE
1 57.57 Smith, Regan E, USA LCM2019
2 57.63 McKeown, Kaylee, AUS LCM2021
3 58.00 Baker, Kathleen, USA LCM2018
4 58.10 Masse, Kylie, CAN LCM2017
5 58.18 Dawson, Kathleen, GBR LCM2021
The women's 100m backstroke final 2:
P
L
Nation
Swimmer / DoB
R.
50m
Time / last
50 split
Gap
1
4
GBR
DAWSON Kathleen
(03 OCT 1997)
0.56
28.47
58.49
30.02
2
6
ITA
PANZIERA Margherita
(12 AUG 1995)
0.58
28.91
59.01
30.10
0.52
3
3
RUS
KAMENEVA Maria
(27 MAY 1999)
0.61
28.98
59.22
30.24
0.73
4
5
NED
TOUSSAINT Kira
(22 MAY 1994)
0.52
28.56
59.32
30.76
0.83
5
2
GBR
WILD Cassie
(12 JUN 2000)
0.58
28.91
59.68
30.77
1.19
6
8
SWE
HANSSON Louise
(24 NOV 1996)
0.66
28.74
1:00.04
31.30
1.55
7
1
RUS
FESIKOVA Anastasia
(08 MAY 1990)
0.67
29.28
1:00.33
31.05
1.84
8
7
NED
DE WAARD Maaike
(11 OCT 1996)
0.60
29.16
1:00.64
31.48
2.15
The women's 100m backstroke final:
L
Nation
Swimming / DoB
R
50m
Time/ last
50m split
Gap
1
4
GBR
DAWSON Kathleen
(03 OCT 1997)
0.56
27.99
58.18CR
30.19
2
5
NED
TOUSSAINT Kira
(22 MAY 1994)
0.59
28.34
59.02
30.68
0.84
3
3
RUS
KAMENEVA Maria
(27 MAY 1999)
0.63
28.77
59.13
30.36
0.95
4
6
ITA
PANZIERA Margherita
(12 AUG 1995)
0.60
28.88
59.65
30.77
1.47
5
2
GBR
WILD Cassie
(12 JUN 2000)
0.63
28.87
59.82
30.95
1.64
6
7
NED
DE WAARD Maaike
(11 OCT 1996)
0.73
29.06
1:00.33
31.27
2.15
6
1
RUS
FESIKOVA Anastasia
(08 MAY 1990)
0.73
29.01
1:00.33
31.32
2.15
8
8
SWE
HANSSON Louise
(24 NOV 1996)
30.59
1:02.29
31.70
4.11
Our coverage will be limited for the rest of the championships, as a result of the passing of my father, who would not have wanted to see all coverage disappear as we mourn him 🙂
For the time being, here is a reminder of Dawson's Trials breakthrough and what she had to say about it all after a 2:08 in the 200m followed by a footnote saying 'not doing that what in Tokyo':
From April 17:
In 2:08.14, Kathleen Dawson had the job done in the 200m backstroke on the penultimate night of action at the British Swimming Olympic Trials in London: another Scottish record in a pantheon growing in promise and potential with every passing stroke and a second Tokyo Olympics ticket …
Stop the tape. What's that? "My 100 was always the focus … I'm not doing the 200 in Tokyo."
It makes sense. Consider those boiling 2:03 waters charted only by Regan Smith of the USA in 2019 and the pressure building on 2:05s among the best of the rest; take into account the addition of a Mixed Medley relay with huge potential for Britain; and add the cherry on the cake this week, that 58.24 blast in the 100m on Thursday.
All of that adds up to pure logic: the 100 is where it's at in Tokyo. Today was all about "having fun, if fun can be had in a 200 backstroke, said Kathleen Dawson with a chortle when expressing how delighted she was to have gone better than she'd ever been before over 200m
Coached by Steve Tigg and Brad Hay at the University of Stirling performance centre in Scotland, Dawson led from go to gold, the target time of 2:08.44 in the bag, even if it won't be used, her Stirling training partner Cassie Wild second but too far shy this day, third place to the next wave, Honey Osrin, 17.
The flow in the fight:
| | | | | | | | | | | | | |
| --- | --- | --- | --- | --- | --- | --- | --- | --- | --- | --- | --- | --- |
| Place | Name | YoB | Club | | Time | | | Pt | | 50 | 100 | 150 |
| 1. | Kathleen Dawson | (97) | UniOfStirl | | 2:08.14 | | | 891 | | 30.23 | 1:02.96 | 1:35.72 |
| 2. | Cassie Wild | (00) | UniOfStirl | | 2:10.94 | | | 835 | | 30.35 | 1:03.14 | 1:37.04 |
| 3. | Honey Osrin | (03) | Plymouth Lea | | 2:11.76 | | | 820 | | 30.53 | 1:03.99 | 1:37.46 |
Kathleen Dawson – 'why not – why can't it be me'
After her 100m victory on Thursday, Kathleen Dawson was asked if her disappointment at missing a tough cut for Rio 2016 had driven her this time round. Not really because at the very moment of bad news, the good news rang loud and clear in her heart and soul.
Said Dawson: "I wouldn't say that I've used it as fuel. I've said before that it was the right decision: I didn't make the time so it's absolutely fair enough but I knew that the next time the Olympics came around that I would be on the team. I knew in myself that that was happening."
Had that 58.24 been 'on the cards' in her mind? "Well given that in Manchester [the Manchester International in February] I hadn't been rested at all but I managed a 58.6, I knew that by the time that British Trials came around and we were able to swim rested and tapered and we'd be in full swing, I knew that I could do something decent. I never quite expected to go as fast as 58.2 but I knew that I could get blow that 58.6 I'd put up in Manchester."
On 58.65 in Manchester she became the first British woman inside 59sec in a textile suit. Something had shifted in the trajectory of a swimmer long on the radar but knocked by circumstance and setback, recovery from which, when the Covid pandemic and its lockdowns struck, reminded her that she could cope with anything. She noted: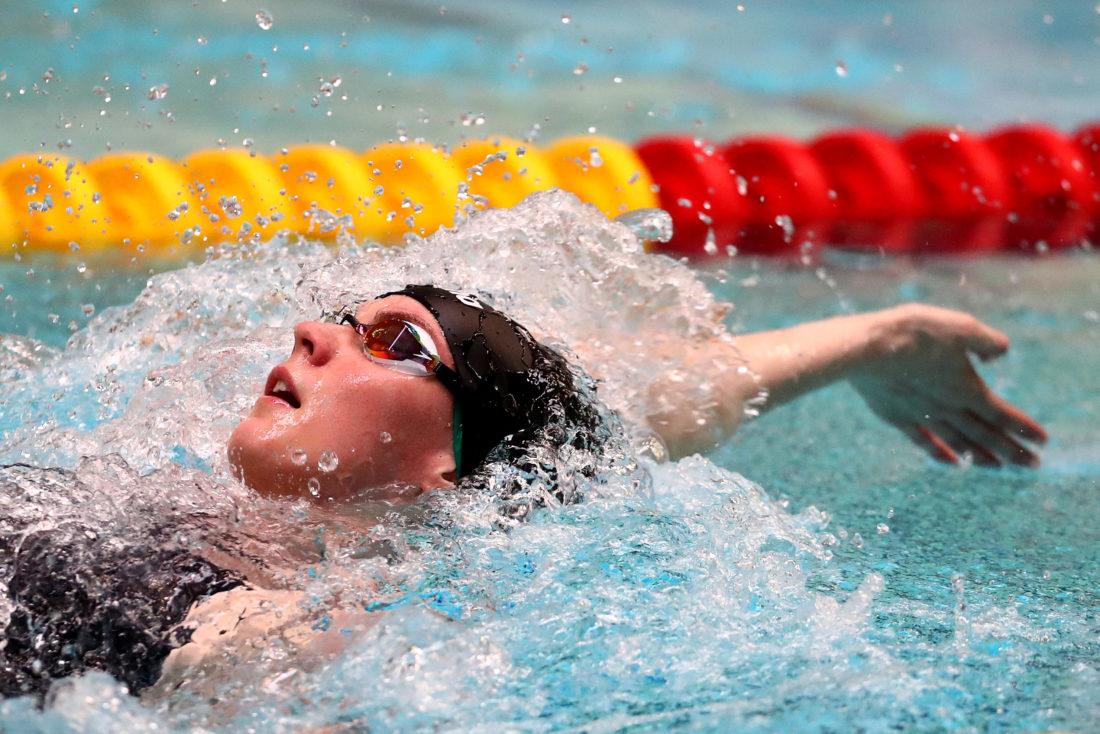 "Over the last couple of seasons I've had to deal with quite a lot in terms of Covid – everyone's been in the same boat with that. But before that, I just had an ACL injury, I'd ruptured my ACL so I'd had to to recover from that and I feel like that gave me an edge above everybody else, and with Covid, in that I'd kind of already dealt with it. I had had those three months out of the pool and I'd come back and I'd gone a 60 point and then 59-point the following year at Edinburgh International and then Covid happened and then everybody was out for another three months. So I feel like that had given me the edge above everyone else knowing that I can come back from this; I've already done it."

Kathleen Dawson – photo by Georgie Kerr, courtesy of British Swimming
This includes that ACL injury: a tear in anterior cruciate ligament is painful and can leave the knee joint significantly unstable and susceptible to swelling. Kathleen Dawson has been in good hands, surrounded as she is by coaches, medical experts and federations Scottish and British with access to the best of the best when not comes to the sports-science support that is an integral and essential part of professional Olympic performance pathways and goals.
Back from that and down to making 58 the new standard, unrested or rested, Dawson adds: "But I honestly couldn't tell you how I've managed to go 58: I think it's all just come together for me. All the hard work I've put in … the stars are aligned at the minute."
Or under it. Well under it. 1.76sec under it at 58.24 in fact. In the 100m, Dawson is now the textile-suit all-time best, just 0.12sec shy of the European record held by Britain's Gemma Spofforth since 2009.
I ask Dawson about her high-riding, flowing technique. She's a swimmer now showing the benefits of an angle buoyancy that suits her build, the balance of a number of factors finely tuned in the Kirkcaldy backstroke ace. What did it feel like to be to be travelling at the best you've ever been to the edge of the club of Olympic medal shots? Dawson answers in a way that provides clarity on my previous question, the one about the kind of work that's gone in to producing the aesthetic progress unfolding this season: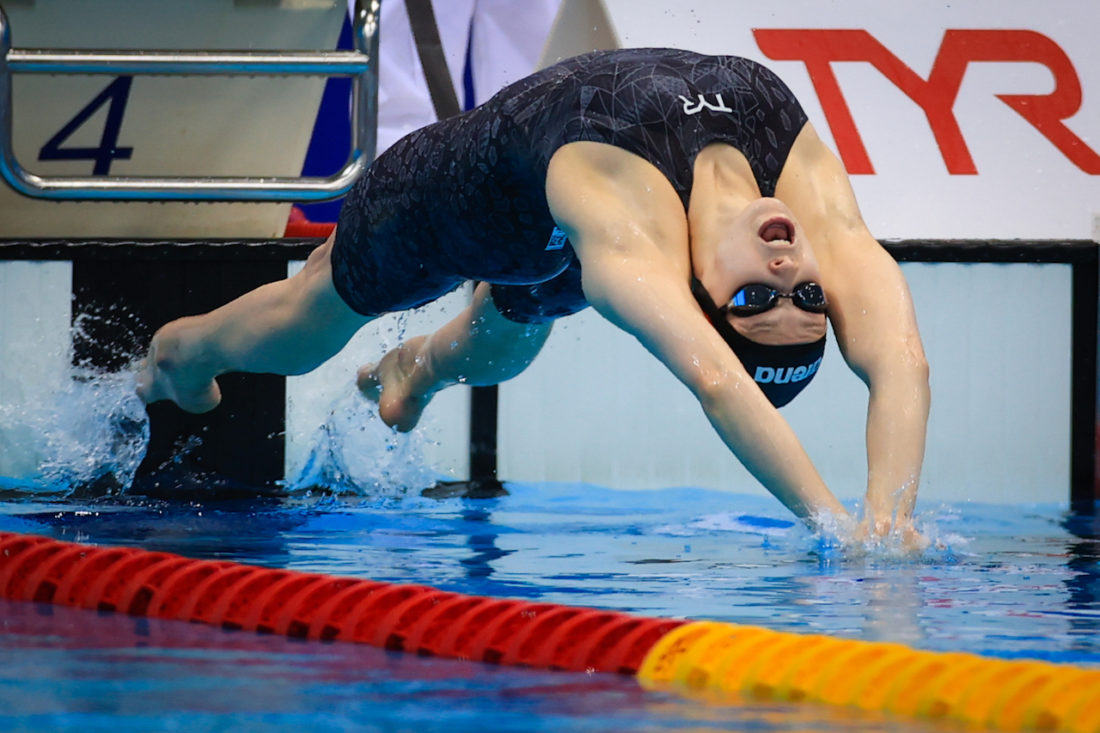 "I think there's definitely a difference and the feeling in the water between the heats and the finals. Like, in the heats, I know what you mean: I definitely felt like I was lower in the water compared to the finals, where I felt higher. I think it's all to do with your pull. I feel like I've got just really strong arms at the minute. I think that's all to do my ACL [injury] as well: there's a silver lining in that I just did so much pull in recovering from that. So, I think that there's a big strength there to be."

Kathleen Dawson – photo by Georgie Kerr, courtesy of British Swimming
Delighted with the European textile best status, Kathleen Dawson also noted that her focus was not continental but global. She wanted much more:
"A year ago, I would never have thought that I'd be down at [58.2]. I'm not looking at in terms of Europe; I'm looking at in terms of the world and I know that other people are going faster than this at the minute, so if I can just keep my head on and focus on what I'm doing and continue the work that I'm doing, I could well be down at that 58 or 57 by the time that summer comes around. It's it's encouraging to hear that that is the fastest swim in the textile era in Europe."

Kathleen Dawson
American Regan Smith having blasted a hole in 58sec with a 57.57 World record for the 2019 world title and Australia Kaylee Mckeown having followed her inside the 58 late last year, there's a depth of speed building in the backstroke ranks, with Olympic silver and bronze medallist of 2016, American Kathleen Baker and Canadian Kylie Masse on the 58 mark. A few others, like Dutch challenger Kira Toussaint, are pressing down that way, too.
Says Dawson: "I didn't expect to be a part of that depth, well, not as up there as I am now. I didn't expect to be as much of a contender as I am now. I've definitely taken great encouragement from everything that I've been doing and, 'why not – why can't it be me'. So, I'm very happy with myself."
Her Very Own Project Peaty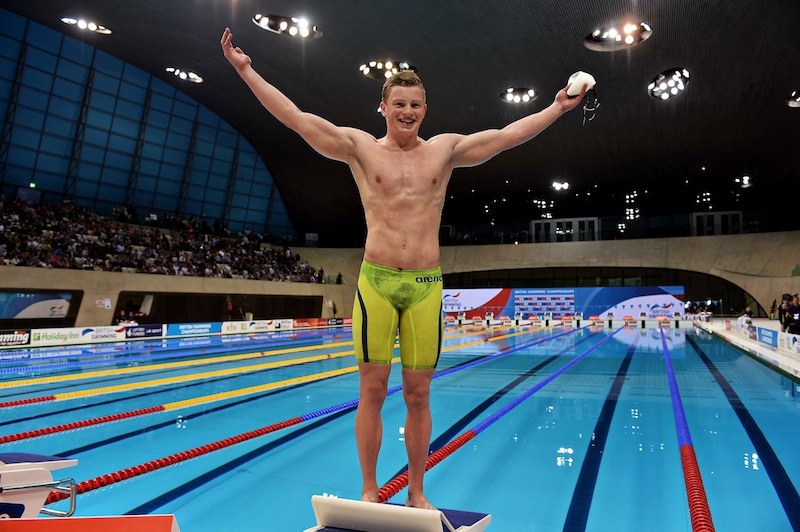 Asked if she intended to "turn all Peaty own us and target a 57", Kathleen Dawson replied:
"I was actually thinking today that I want to be the Adam Peaty of British backstroke. He's a great inspiration. Looking at how I want to swim my race … I have often in the past raced Ross [Murdoch] and raced Benson because we go very similar times over 100 breaststroke and backstroke so why not?"

Kathleen Dawson – image, Adam Peaty, the sub-58 (and 57) pioneer … by Georgie Kerr, courtesy of British Swimming
She chuckles at the thought – but she means it, too.
She's having fun but there's nothing frivolous about Dawson. When she's asked whether her Peaty reply represents a toughening mindset of late, she says: "I don't feel like my mindset has really changed too much. I don't I don't really want it to change. I know where I'm at and I just want to focus on what I'm doing. I don't want to lose myself in too much of like all this attention that's coming with swimming so well."
But did she allow herself to have "a little bit of a dream about an Olympic podium", she's asked. Dawson says:
"I definitely know that it's a potential in terms of the 4×100 mixed medley, anyway, but at this rate it could be an individual prospect as well. It's exciting."
Kathleen Dawson is a pleasure to speak with. Her nature belies a steelier soul within. So what was her nature?
"I'd say I'm very introverted. I'm quite a shy person I think at first No, I've always been competitive low, especially swimming because I've always I've always had a talent for it. So I've always wanted to be the best and I think that's definitely helped me through to today."

Kathleen Dawson – phot by Georgie Kerr, courtesy of British Swimming