Kathleen Dawson Awesome With 58.2 Euro Textile Best, Peatyesque Ambitions & Stirling Mate Cassie Wild About Tokyo Ticket, Too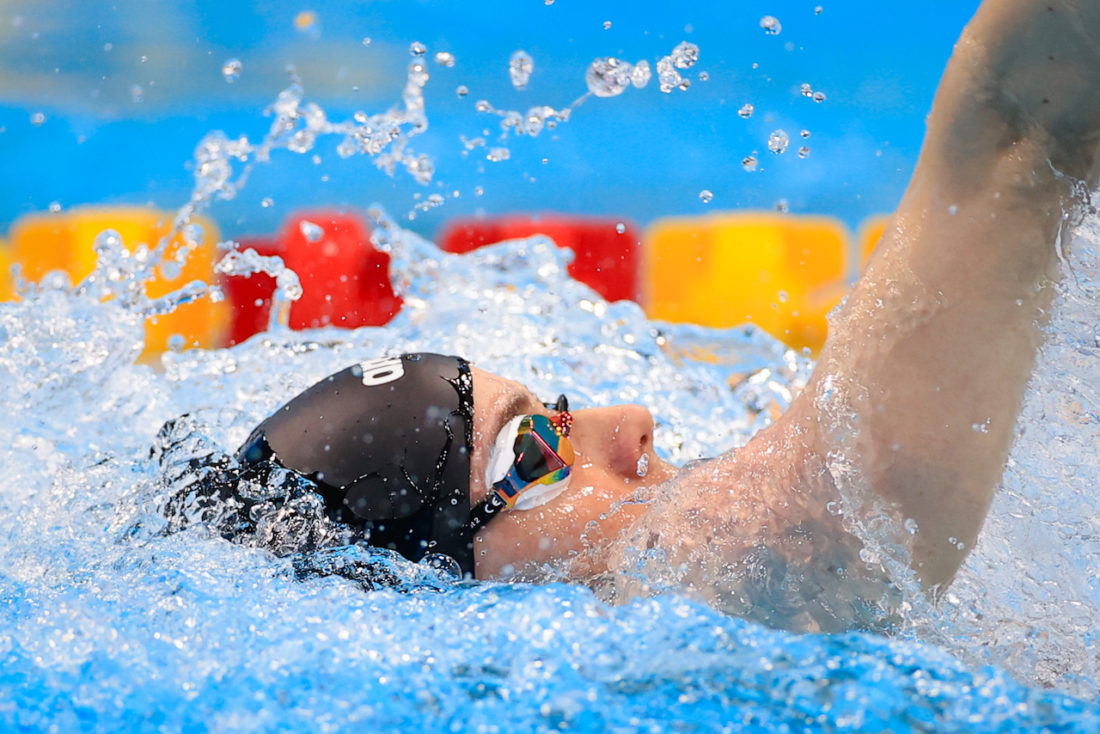 Kathleen Dawson was awesome on her way to a blistering 58.24 triumph in the 100m backstroke at British Swimming Olympic Trials in London this evening. She then dried down, returned to her billet in a bubble and declared that she wanted to be the "Adam Peaty of backstroke", her eye on further improvements and the Olympic podium that just got closer.
Dawson's first nod post race was not to all of where she'd got to but to her training partner Cassie Wild, second on a lifetime best of 59.51 and also inside target time for the Covid-delayed Tokyo 2020 Olympics. What a celebration for the University of Stirling program led by coaches Steve Tigg and Brad Hay. Asked how she felt about her progress and Tokyo ticket, Dawson, 23 and from Kirkcaldy, replied: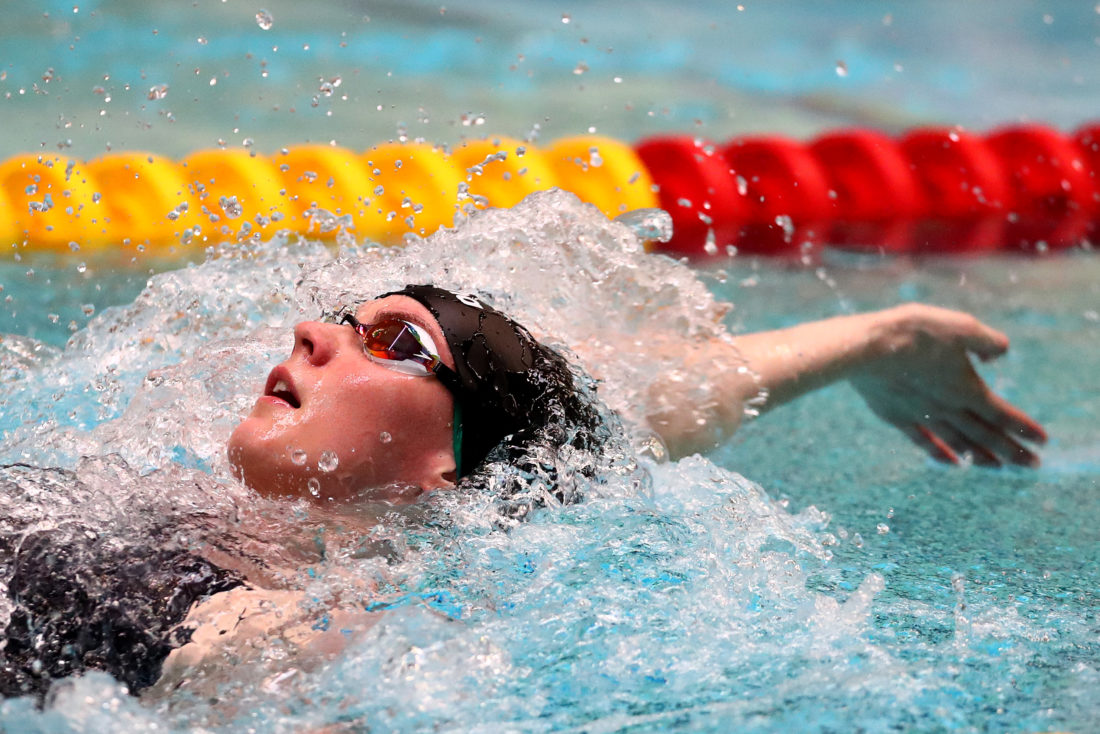 "I am absolutely delighted with it and its great to be going to the Olympics … to have all that hard work that I have put in over the last few years to have paid off is great. I didn't quite expect to go as fast as that. I'm over the moon – and to do the consideration time with Cassie makes it even better."

Kathleen Dawson – photo by Georgie Kerr, courtesy of British Swimming
Dawson's nod to Peaty is obvious: Project 58 and then 57. Never say never. She's used to tagging on to breaststroke blokes as pace-setters for her burgeoning backstroke speed, Craig Benson and Ross Murdoch having provided competition in workout when there's no-one else so closely in line with her pace. At 58.2, of course, she's left Benson and Murdoch well behind, her next target to follow Peaty – and more to the point American Regan Smith – below 58sec for a shot at the Olympic podium come July.
There are many ways to measure the dimension of Dawson's drop on the clock. Here's a high-five of 'em: she's now faster than Missy Franklin ever swam; she's the swiftest European ever in textile; she's No6 all-time globally in textile. she leapfrogged over Katinka Hosszu and her 58.45 for Rio 2016 gold; and her proximity to the podium race raises the prospect of Britain's first Olympic medallist isn the 100m backstroke since Natalie Steward lifted silver in 1960 four years after gold for Judy Grinham.
Other measures of where Dawson and her drop fit are less useful. Much was made of the Scot's world ranking so far in 2021. So far might well be 'so what', quite apart from the fact that those citing a 57.93 from Kaylee McKeown in Australia are mixing seasons in a way that ought never to be for several reasons including keeping a meaningful record of the thread of history over the past half century.
The world swims as one in long-course waters, not according to a nominal season or the geography of a hemisphere. Go back to 2009 and we find world records being set in shiny suits in December. Would they could they, should they have spilled into 2010 rankings, with all the nonsense inherent in that scenario.
McKeown's swim belongs to calendar year 2020, making Dawson's effort No 1 in 2021.
So far, so what, Kat Dawson indicated herself, what with so many other guns yet to fire.
The bigger point is where she's come from, where she intends to be by summer and where her effort fits in history. Back in 2009, Gemma Spofforth sent the Union Flag up the highest pole with a then World record of 58.12. That remains the European record. It may not survive much longer, given the trajectory Dawson is on.
Spofforth was the only sub-59 Brit (with her five best times) until Dawson joined her last month with a 58.6 as the founder member of the British textile-suit sub-59 club. She swam that unrested and knew then that trials would deliver an even sharper time, though she had not expected to go as low as 58.2.
The flow of the fight:
| | | | | | | | | | | |
| --- | --- | --- | --- | --- | --- | --- | --- | --- | --- | --- |
| Place | Name | YoB | Club | | Time | | | Pts | | 50 |
| 1. | Kathleen Dawson | (97) | UniOfStirl | | 58.24 | | | 965 | | 28.25 |
| 2. | Cassie Wild | (00) | UniOfStirl | | 59.51 | | | 905 | | 28.96 |
| 3. | Georgia Davies | (90) | Swansea Uni | | 1:00.01 | | | 882 | | 29.01 |
All of which left Dawson in the place where outcome and prospect shake hands, including a No1 all-time European textile ranking and a place in the top 5 global all-time list: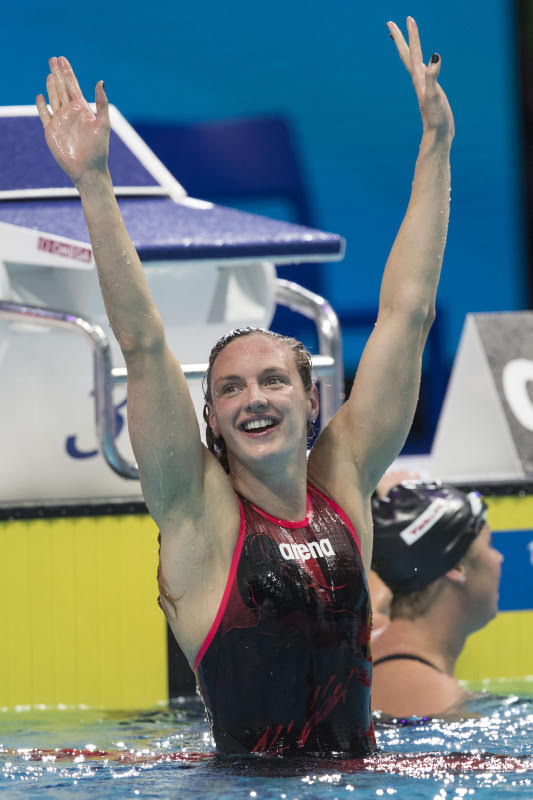 European all-time ranks (italic = shiny suit)
58.12 Spofforth, Gemma, GBR LCM2009
58.18 Fesikova (nee Zueva), Anastasia, RUS LCM2009
58.24 Dawson, Kathleen, GBR LCM2021
58.45 Hosszu, Katinka, HUN LCM2016
58.48 Fesikova (nee Zueva), Anastasia, RUS LCM2009
58.73 Nielsen, Mie, DEN LCM2016
World textile
57.57 Smith, Regan, USA LCM2019
57.93 McKeown, Kaylee, AUS LCM2020
58.00 Baker, Kathleen, USA LCM2018
58.10 Masse, Kylie, CAN LCM2017
58.23 Seebohm, Emily, AUS LCM2012
58.24 Dawson, Kathleen, GBR LCM2021
58.33 Franklin, Melissa, USA LCM2012
All of which Kathleen Dawson was very thankful for and wished to thank those who'd helped get her there:
"I can't thank our coaches Bradley Hay and Steve Tigg enough, and my coach Darren Ashley from back at Warriors of Warrington, I wouldn't be here without him. There are too many people I need to thank for this! "I can't thank the coaches and support staff enough across British Swimming and Scottish Swimming. They put in the hours as well and I'm genuinely grateful for all that they do. Looking ahead I will continue with the hard work, continue to enjoy my sport and apply myself to training. It really will be just business as usual."

Kathleen Dawson
Wild, meanwhile, was just as thrilled as her teammate, saying: "I'm absolutely over the moon with that. Like Kat said, it's nice for us to do it together. Prep has been going well, I was hoping to go under the consideration time. Seeing everyone from Stirling do so well yesterday, I was looking forward to racing tonight."
Kathleen Dawson – Pathway To The Games
Kathleen Dawson made her first international team in 2013: she claimed silver at the European Junior Championships. A year later, she raced for Scotland at a home Glasgow 2014 Commonwealth Games and finished fifth in the 100m final.
Four years on at the 2018 Gold Coast Commonwealth Games, it was 6th in the 50 and 100m finals in 2018, wo years after bronze in the 100m at European Championships and a year after finishing seventh at the 2017 World Championships in Budapest.
Time Out
Kathleen Dawson was reduced to hobbling about back in 2018 after a severe knee injury confirmed her to dry land for several months. She was just coming good when Covid lockdowns began. Now, she views such developments as having been helpful to her in that she was given more time to recuperate, recover and get back on track five years after she missed the target time for Rio 2016 by a small margin and was not thrown a lifeline of discretion.
This evening she noted that she had not seen this day as one on which she would "make amends", "find closure" or any such thing. What had happened in 2016 was "fair enough … I missed the time".
Recalling her roots in swimming, she said: "I learned to swim at the Great Sankey Swimming Baths in Warrington and my first club was Warriors of Warrington Swimming Club. I joined when I moved on from council lessons, which went on in the same pool. My earliest memory believe it or not is not being able to read the clock!"
She read it well enough today in London.
More from Kathleen Dawson in the days ahead….