Josh Liendo Likes The Swagger Of A Record 50.8 & Olympic Champ Maggie Mac Neil To Bypass Defence Of World 100 'Fly Crown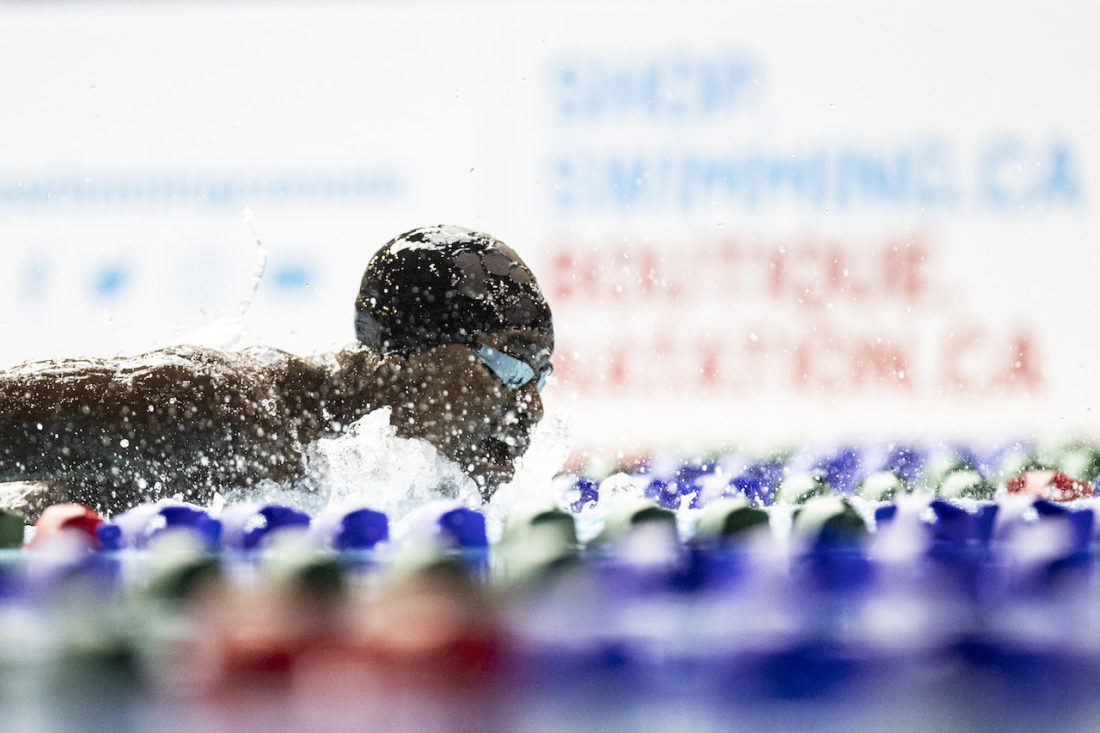 Josh Liendo admits that he likes "to have a little swagger" on the way to a bout in the pool after he stamped a 50.88sec national-record ticket to the World-title fight over 100m butterfly at Canadian Trials in Victoria.
Day 2 at trials also witnessed a 57.1 victory for Olympic champion Maggie Mac Neil in the women's final, followed by confirmation that she will not defend the World crown she claimed at Gwangju 2019 but will race relays while taking " a mental break" and nursing an elbow injury back to best.
Liendo was joined on the roster of day 2 record breakers by Olympic silver medallist Kylie Masse, whose 27.18 win in the 50m backstroke shaved 0.37 seconds off her national mark.
Liendo – "I like to do things my way … I have the ability to fight & win races"
Based at the High Performance Centre – Ontario, Liendo downed his previous Canadian record by 0.5sec with his 50.88 victory. The Markham, Ont., native who finished 11th i at the Tokyo 2020ne Olympics, emerged to say of his new high bar: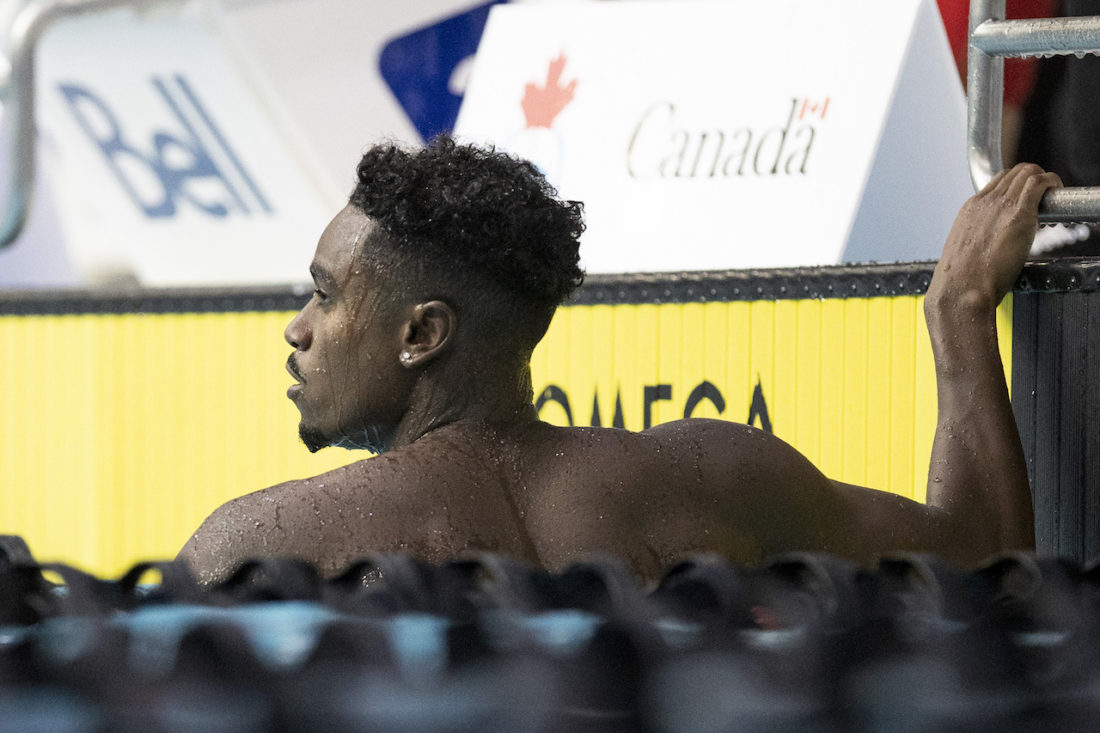 "It was definitely the plan. I want to move forward in the future. I like to have a little swagger, I like to do things my way. I know I have the ability to fight and win races. I want to get some medals on the international level, that's my goal."

Josh Liendo. Photo Courtesy Swimming Canada/Kevin Light
Last December at World short-course titles, Liendo became the first Black Canadian swimmer to win a medal in international waters.
Finlay Knox, winner of the 200m medley in a Canadian record on day 1, was second in a personal best of 51.86, also inside the Budapest 2022 World titles cut.
Mac Neil Takes The Pressure Off
Mac Neil, of London, Ont., also based trains at the HPC – Ontario, took the 100m butterfly win in 57.13 ahead of Katerine Savard, 58.01, both under the Budapest cut.
Mac Neil then confirmed that she is not planning to defend the 100m World title in Budapest in June. Speaking through Swimming Canada, she said: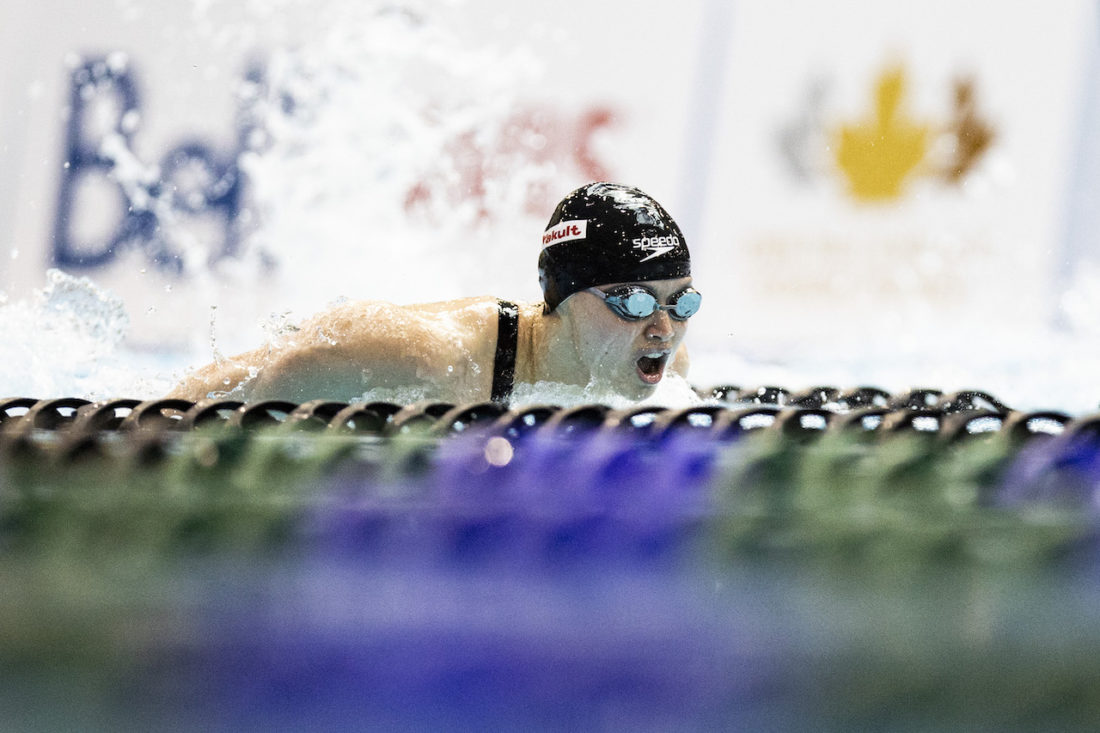 "It's not a best time but I just wanted to win and get under that standard. It's nice to have the pressure off now."

Maggie Mac Neil – Photo Courtesy Swimming Canada/Kevin Light
She will focus on relays "to take a mental break and help rest an elbow she fractured last month", Swimming Canada noted, evoking memories of Sarah Sjostrom's slip on the snow around the same time a year earlier on the way to an Olympic-title defence that proved a challenge too far on 'fly even though she claimed a stunning silver behind Emma Mckeon in the 50m free in Tokyo.
On her record-breaking dash, Masse, the LaSalle, Ont., native who trains at the HPC – Ontario, said: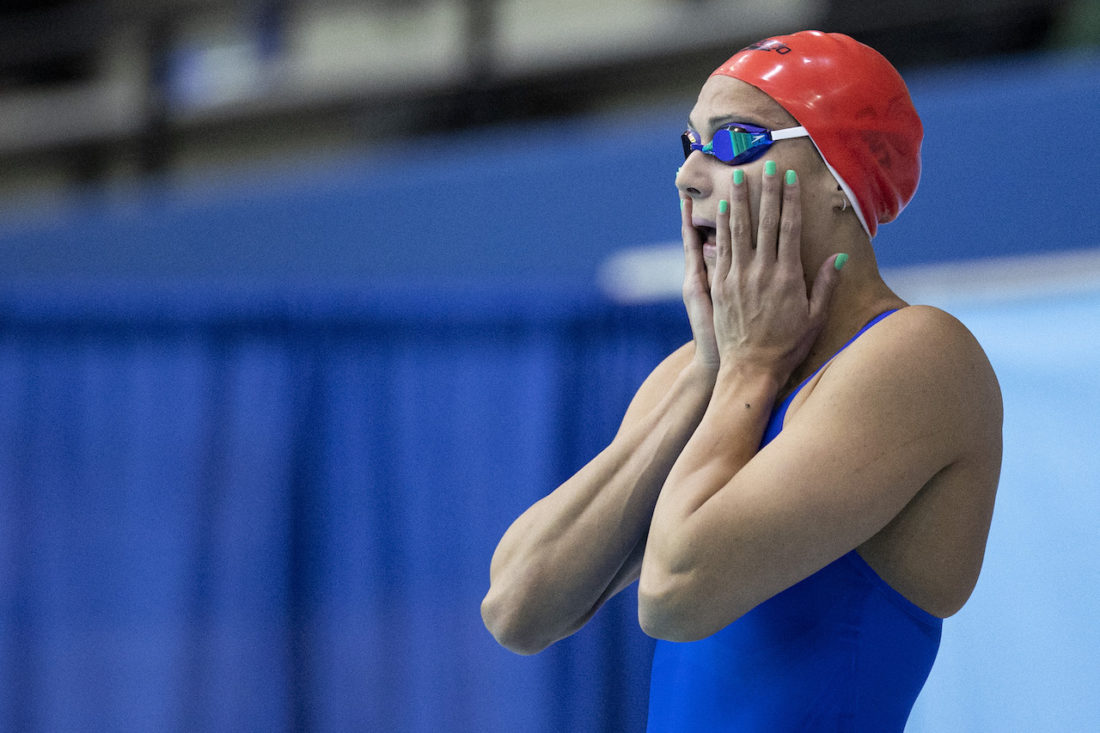 "The 50 is something I feel I have struggled a little bit with. It's a constant battle for me with the tempo. I've put in a lot of hard work. It was all about getting the best out of myself and being able to put it all together. I wasn't expecting it but at the same time I was hoping for it."

Kylie Masse. Photo Courtesy Swimming Canada/Kevin Light
Abby Dunford, a 16-year-old from Regina who now attends high school in Las Vegas, also qualified for Canada's world-championship team by improving 18sec over 1500m freestyle for a 16:20.26 victory. The Grade 10 student said: ""It means everything for me. I have been training the last eight months. I wasn't expecting this at all. I just wanted to go a best time and have fun racing."
In men's distance, Eric Brown of Pointe-Claire Swim Club won the men's 800-m freestyle in a personal time of 7:59.68 but outside the cut door Budapest.