Josh Liendo 21.63 Takes Down Brent Hayden's Canadian Dash Standard From A Time Of Shiny Suits As Canada Selects 32 For World Titles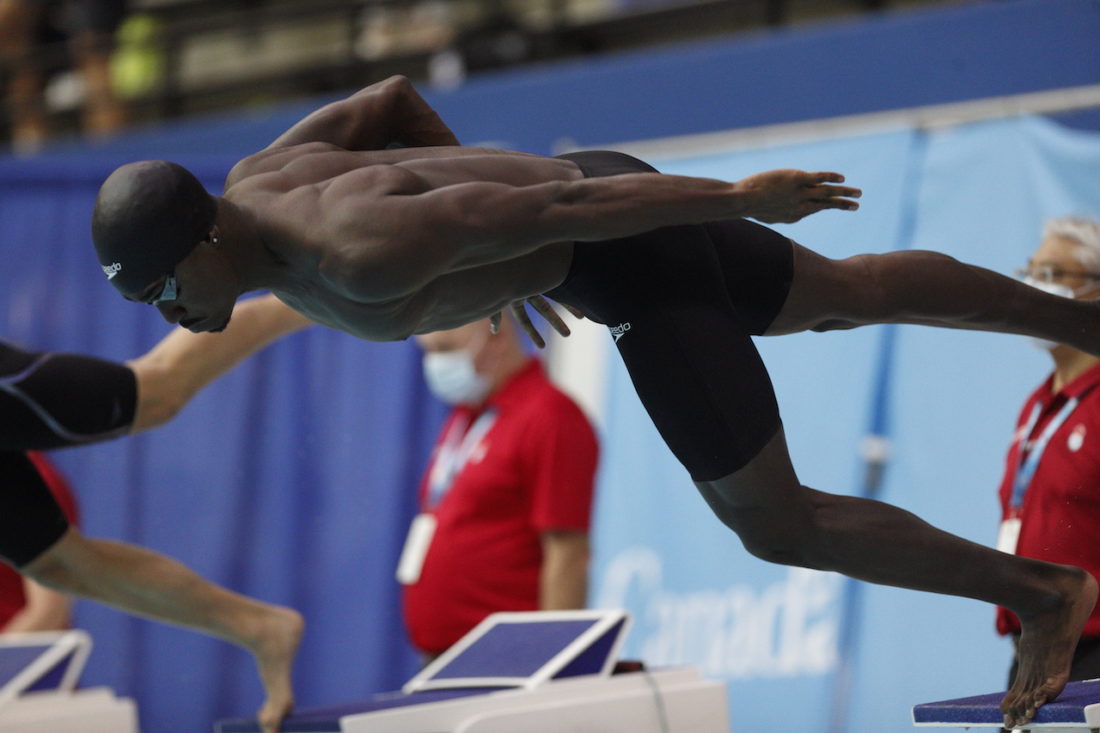 It took 13 years to crack the Canadian shiny suit standard of 21.73sec but Brent Hayden would have been the first to give Joshua Liendo a high five for a new high bar of 21.63 in the 50m freestyle to bring Canadian Swimming Trials to a dashing denouement in. Victoria.
Hayden set the standard 13 years ago in the rush of polyurethane and the like banned from January 1, 2010 after almost two years in which swimming became a game of skew and slew, a time when the likes of Hayden, World 100m champion in 2007 was among those who a year later found their textile speed old hat.
Hayden didn't even qualify for the 100m at the Beijing Olympic Games, though he led off the 4x100m free relay in a Canadian record of 47.56, bettered on by Hayden when he clocked 47.27 at the Rome 2009 circus of shiny suits, for fourth place kin a time good enough for bronze at the Tokyo 2020ne Games, just not in the same conditions.
Hayden's dash standard from 2009 has now passed to Liendo, who got to know Hayden after the 2012 Olympic 100m bronze medalist, post-shiny, came out of retirement to make the Tokyo 2020ne Olympic team. "We always joked and talked about the [dash] record," said Liendo. "It was cool to get it."
When sharing this article on social media, Hayden showed the fine leadership qualities that made his a great captain of the Canadian team. He wrote: "Last night Josh Liendo broke my 50m Free LC Canadian Record which had stood for 13 years. He's now wiped 2 of my Canadian records off the books. And I couldn't be happier. Knowing that Canada is going to be just fine without me is the perfect retirement gift. So proud to have been your teammate Josh. Can't wait to see how much faster you can go."
When he re-retired on the last day of March this year, his news was published far and wide on April Fool's but he was not jesting. He told the Coast Reporter from his home in New Westminster, B.C: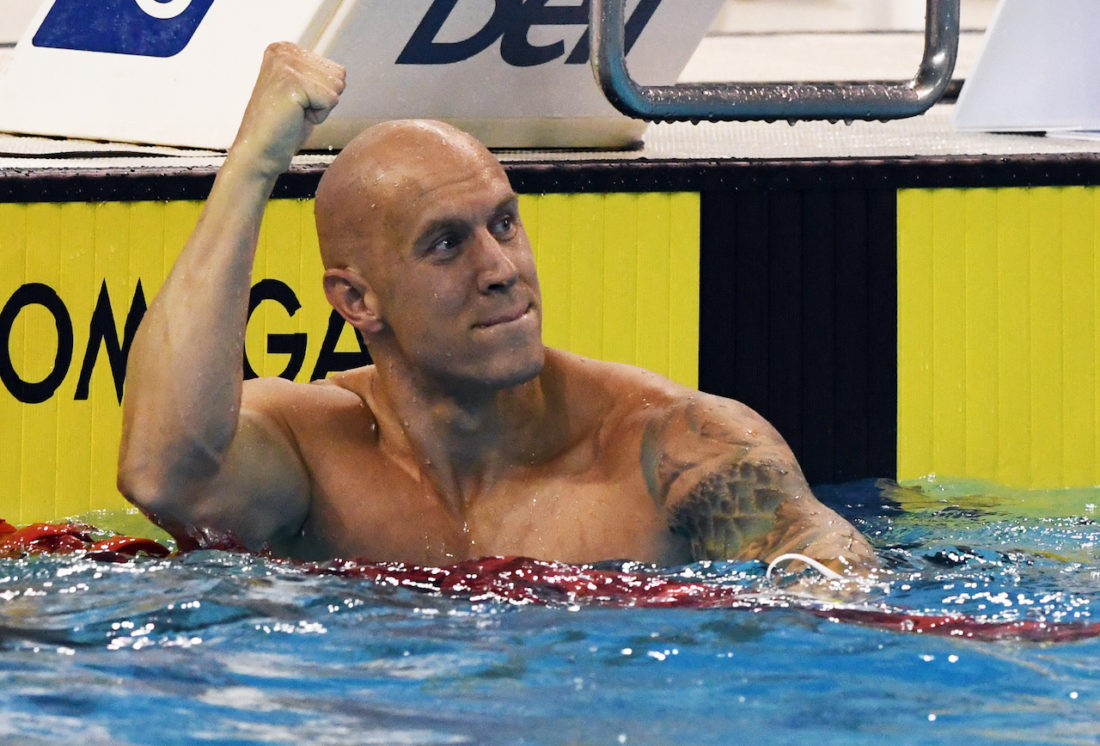 "I think I'm at that age where it's it's a good time for me to go. There are just so many more things that I want to do in life, like my entire life. I don't want my entire life to be swimming."

Brent Hayden – Photo: Brent Hayden – back for a fourth Olympic Games for Canada in 2020ne – by Scott Grant, courtesy of Swimming Canada
Again, much mention of "fastest in the world this year', understandable in a realm that needs ton talk up to attract attention and sponsorship but it's early season and these past few days have seen Lewis Burras go 21.77 in Britain, Rafael Rafael Miroslaw go 21.92 for the German record in Berlin and now Liendo set the 2022 pace at 21.63. Speedy stuff but then Caeleb Dressel, Florent Manaudou, Bruno Fratus and the man Burras pipped, Ben Proud, are among those yet to rest for the pounce when most hungry.
Liendo, of course, is right to celebrate his fine achievement and new high-bar of speed. He said: "I felt good in the morning swim so I was ready to come and do something special tonight."
Yuri Kisil, who trains with Liendo at the High Performance Centre – Ontario, was second in 22.17, leaving him .01 under the qualifying time needed for the world championships.
Kelsi Wog, who trains with the University of Manitoba Bisons, was the other to make the Budapest beat for World titles, her 2:24.87 in the 200m breaststroke more than a second clear on the right side of the clock.
"I had to be patient and wait my turn until the very last day to do it," said the 23-year-old Winnipeg native who competed at last summer's Tokyo Olympics. "It's been a tough (meet) and a tough y
ear in general. I'm really proud to be able to step up on the blocks and qualify."
There was also a ticket to Budapest for Katrina Bellio, of Etobicoke Swimming, as winner of the the 800m free in 8:38.90.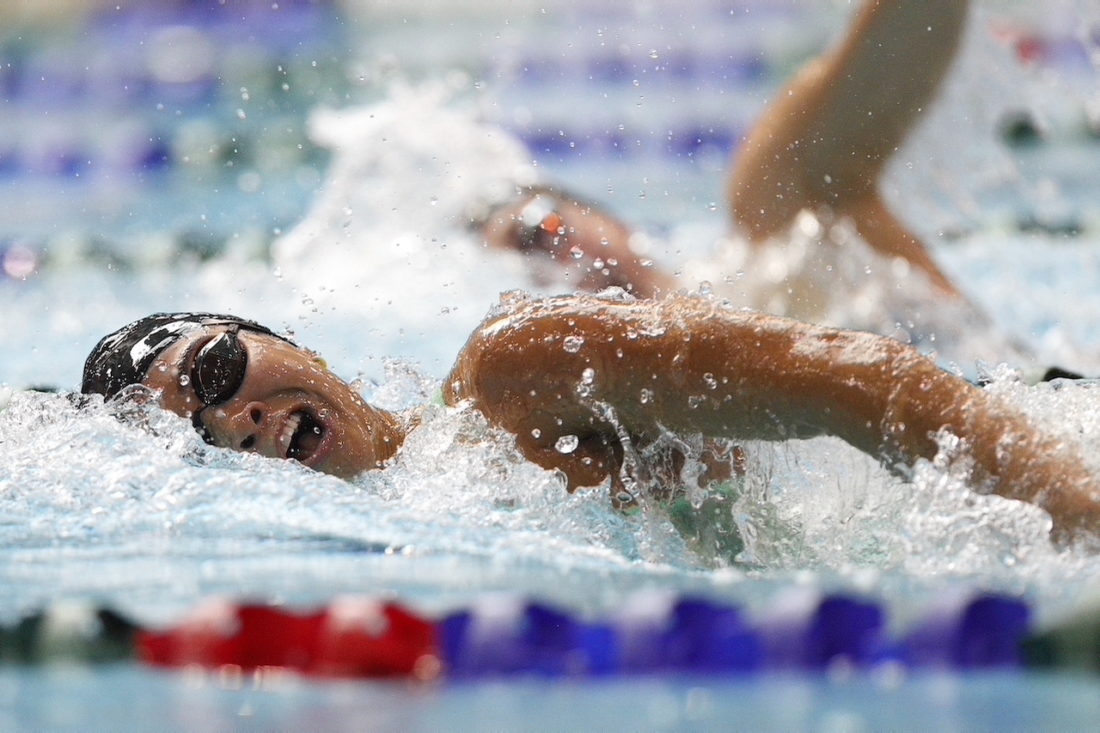 In other action, Kayla Sanchez added the 50m free win to her 100m victory at Trials, and followed her 24.93 with these words: "The 50 free isn't a huge focus of mine but I love to race it because it helps me get my speed. I'm always trying to be faster. I got another win under my belt."
Eric Brown, of the Point-Claire Swim Club, topped the 1,500 metres in 15:17.46 and may yet race for Canada at the Commonwealth Games.
Canada Selects 32 For World Championships:
Strong Women's Team & Liendo Leads The Men's Squad Building
From Swimming Canada:
FINA World Championships team announced
VICTORIA – Swimming Canada has announced Canada's swimming team selected to compete at the FINA World Championships in Budapest, Hungary.
A total of 32 swimmers will represent the country in the Hungarian capital, including 18 female and 14 male athletes.
The pool and open water athletes qualified for Team Canada based on their performances at the Bell Canadian Swimming Trials at Saanich Commonwealth Place this week in Victoria.
"I'm really looking forward to the summer," said Kylie Masse of the High Performance Centre – Ontario, who won all three backstroke events and the 50-m butterfly at Trials.
The world championships are scheduled for June 18-July 3, with pool swimming running the first eight days, followed by open water competition. Masse, the two-time defending world champion in the 100-m backstroke, is also among those nominated to the Commonwealth Games team later this month. She also holds the Commonwealth titles in the 100 and 200 back.
"It will be a challenge with two big international meets but regardless I'm always excited to race and really looking forward to getting the national team together and seeing what we can do," Masse said.
Masse is one of 17 team members with previous long-course world championships experience. That includes medallists Javier Acevedo, Eric Hedlin, Yuri Kisil, Maggie Mac Neil, Penny Oleksiak, Sydney Pickrem, Taylor Ruck, Kayla Sanchez and Rebecca Smith. The 14 rookies include Olympians Katrina Bellio, Tessa Cieplucha, Ruslan Gaziev, Finlay Knox, and Summer McIntosh, who looks to be a force to be reckoned with after winning four events at Trials (200 and 400-m freestyle, 200-m butterfly and 400-m individual medley.)
"I think it will be awesome, that's the beauty of sport," Masse said. "Having fresh new faces mixed with people that have years of experience is so powerful for learning in both directions. I'm really looking forward to welcoming fresh faces and also getting to know my current teammates even more."Swimming Canada High Performance Director and National Coach John Atkinson was pleased with the performances he saw at Trials, which included multiple Canadian records.

"Trials are always exciting and seeing the performances through the week shows the athletes are in a great position leading into the summer championships, to work with their coaches to build and improve at the World Championships and Commonwealth Games," said Atkinson.

A total of 23 swimmers have been nominated to the Commonwealth Games team due to the different selection criteria for the two events. The full Commonwealth Games team will be ratified later this month in partnership with Commonwealth Sport Canada, after the Paralympic program nominees for the team are confirmed.

"With our athletes we have a great blend of experience and new additions to both our World Championships teams for the pool and open water, and this with the Commonwealth Games will now provide a great racing opportunity this summer when improvement and progression can follow," Atkinson said.

Swimming Canada Senior Coach and HPC-Vancouver Interim Head Coach Martyn Wilby will be head coach of both teams, joined by HPC-Ontario Interim Head Coach Ryan Mallette, Linda Kiefer of University of Toronto Varsity Blues and Greg Arkhurst, head coach of Montreal's CAMO club, at both events. Rounding out the pool team coaching staff for the FINA World Championships will be Abderrahmane Tissira of Simon Fraser Aquatics and Vlastimil Cerny of University of Manitoba Bisons. The Open Water Head Coach at worlds will be Swimming Canada Distance/Open Water Coach Mark Perry, joined by Paul Birmingham of Edmonton Keyano Swim Club and HPC-Vancouver Assistant Coach Mandy Bell. Rob Novak of Etobicoke Swimming will round out the coaching staff at Commonwealth Games, while UBC Thunderbirds Assistant Coach Sierra Moores will attend staging camp as an assistant through the Commonwealth Games Canada Internship.

"In all we will be appointing 11 different coaches to our senior national teams this summer. This is great recognition to the coaches appointed and to their clubs, as well as providing great opportunities for our coaches to develop. This is a key strategy for Swimming Canada and it will continue," Atkinson said.

While most of the coaches are veterans of one or more senior international events, Atkinson also highlighted senior national team newcomers Novak and Tissira. Both completed the UBC one year Graduate Certificate in High Performance Coaching and Technical Leadership aimed at helping coaches to provide the highest quality of athlete programming. The graduate certificate ladders into a Masters degree at UBC assisting coaches in their professional credentials. As part of this project they undertook mentoring with Swimming Canada. Both have also participated in Swimming Canada's Select Coaches Group, and Tissira was part of the staff at the 2018 Pan Pacific Championships as an apprentice coach.

"It is really pleasing to see them develop in their coaching and making the FINA World Championships senior team this year in a coaching capacity with their athletes," Atkinson said.
Full team lists:
FINA WORLD CHAMPIONSHIPS – POOL
| | | | |
| --- | --- | --- | --- |
| Club | Coach | Last Name/ | First Name/ |
| | | Nom de famille | Prénom |
| MAC | Miller, Andrew | Acevedo | Javier |
| UNCAN | Robinson, Katie | Angus | Sophie |
| ISC | Szaranek, John | Bagshaw | Jeremy |
| ESWIM | Novak, Rob | Bellio | Katrina |
| MAC | Kredich, Matt | Cieplucha | Tessa |
| UL | Paradis, Patrick | Dergousoff | James |
| UNCAN | Aitken, Ron | Dunford | Abby |
| SFA | Tissira, Abderrahamane | Gagne | Collyn |
| ESWIM | Bowe, Matt | Gaziev | Ruslan |
| CAMO | Arkhurst, Greg | Harvey | Mary-Sophie |
| PCSC | Gangloff, Mark | Hussey | Patrick |
| WS | Mallette, Ryan | Kisil | Yuri |
| SCAR | Mallette, Ryan | Knox | Finlay |
| NYAC | Mallette, Ryan | Liendo | Joshua |
| LAC | Bottom, Mike | MacNeil | Maggie |
| TSC | Mallette, Ryan | Masse | Kylie |
| ESWIM | Mallette, Ryan | McIntosh | Summer |
| UCSC | Blondal, Mike | Nicol | Rachel |
| TSC | Mallette, Ryan | Oleksiak | Penny |
| TSC | Mallette, Ryan | Pickrem | Sydney |
| SCAR | Meehan, Greg | Ruck | Taylor |
| AAC | Mallette, Ryan | Sanchez | Kayla |
| CAMO | Arkhurst, Greg | Savard | Katerine |
| UCSC | Blondal, Mike | Smith | Rebecca |
| UCSC | Blondal. Mike | Stokes | Richie |
| CASC | Johnson, Dave | Wilm | Ingrid |
| UM | Cerny, Vlastimil | Wog | Kelsey |
STAFF
John Atkinson – Team Leader
Iain McDonald – Asst Team Leader & IST Lead
Jan Hanan – Team Manager
Martyn Wilby – Head Coach
Ryan Mallette – Team Coach
Greg Arkhurst – Team Coach
Abderrahamane Tissira – Team Coach
Vlastimil Cerny – Team Coach
Linda Kiefer – Team Coach
Tom Vandenbogaerde – Performance Scientist
Johnny Fuller – Physical Performance
Rick Pelletier – Massage Therapy
Suzanne Maroney – Massage Therapy
Ron Mattison – Physiotherapy
Graham Olson – Video Analysis
Dr Steve Keeler – Physician
Nathan White – Media Attache
FINA WORLD CHAMPIONSHIPS – OPEN WATER
| | | | |
| --- | --- | --- | --- |
| Club | Coach | Last Name/ | First Name/ |
| | | Nom de famille | Prénom |
| MAC | Baker, Sean | Axon | Alex |
| ESWIM | Novak, Rob | Bellio | Katrina |
| PCSC | Gingras, Martin | Brown | Eric |
| UNCAN | Aitken, Ron | Dunford | Abby |
| UBCT | Wilby, Martyn | Fan | Hau Li |
| EKSC | Birmingham, Paul | Finlin | Emma |
| UVPCS | Clousten, Ryan | Hedlin | Eric |
STAFF
John Atkinson – Team Leader
Iain McDonald – Asst Team Leader & IST Lead
Cynthia Pincott – Team Manager
Jan Hanan – Team Manager
Mark Perry – Head Coach
Paul Birmingham- Team Coach
Mandy Bell – Team Coach
Tom Vandenbogaerde – Performance Scientist
Nathan Skirrow – Massage Therapy
Graham Olson – Video Analysis
Dr Rob Brunelle – Physician
Nathan White – Media Attache
COMMONWEALTH GAMES NOMINEES – OLYMPIC PROGRAM*
| | | | |
| --- | --- | --- | --- |
| Club | Coach | Last Name/ | First Name/ |
| | | Nom de famille | Prénom |
| MAC | Miller, Andrew | Acevedo | Javier |
| UNCAN | Robinson, Katie | Angus | Sophie |
| ISC | Szaranek, John | Bagshaw | Jeremy |
| ESWIM | Novak, Rob | Bellio | Katrina |
| PCSC | Gingras, Martin | Brown | Eric |
| MAC | Kredich, Matt | Cieplucha | Tessa |
| UL | Paradis, Patrick | Dergousoff | James |
| SFA | Tissira, Abderrahamane | Gagne | Collyn |
| ESWIM | Bowe, Matt | Gaziev | Ruslan |
| CAMO | Arkhurst, Greg | Harvey | Mary-Sophie |
| PCSC | Gangloff, Mark | Hussey | Patrick |
| ESWIM | Novak, Rob | Jansen | Ella |
| WS | Mallette, Ryan | Kisil | Yuri |
| SCAR | Mallette, Ryan | Knox | Finlay |
| NYAC | Mallette, Ryan | Liendo | Joshua |
| LAC | Bottom, Mike | MacNeil | Maggie |
| TSC | Mallette, Ryan | Masse | Kylie |
| ESWIM | Mallette, Ryan | McIntosh | Summer |
| TSC | Mallette, Ryan | Oleksiak | Penny |
| TSC | Mallette, Ryan | Pickrem | Sydney |
| AAC | Mallette, Ryan | Sanchez | Kayla |
| CAMO | Arkhurst, Greg | Savard | Katerine |
| UCSC | Blondal, Mike | Smith | Rebecca |
STAFF
John Atkinson – Team Leader
Iain McDonald – Asst Team Leader & IST Lead
Cynthia Pincott – Team Manager
Martyn Wilby – Head Coach
Ryan Mallette – Team Coach
Greg Arkhurst – Team Coach
Rob Novak – Team Coach
Linda Kiefer – Team Coach
Sierra Moores – Assistant Coach – Staging – Commonwealth Games Canada Internship Coach
Tom Vandenbogaerde – Performance Scientist
Johnny Fuller – Physical Performance
Remo Bucci – Massage Therapy
Ron Castro – Massage Therapy
Meghan Buttle – Physiotherapy
Graham Olson – Video Analysis
Dr Sara Forsyth (staging only) – Physician
*Full team announcement is expected later this month when Paralympic program nominees are ratified