Japanese Opposition Leader Says 'Safe Tokyo Olympics Impossible' Despite Suga & IOC Assurances
The leader of Japan's main opposition party said today that there is no way to safely hold the Tokyo Olympic Games this summer, questioning assurances given by Prime Minister Yoshihide Suga, organisers and the International Olympic Committee that sufficient COVID-19 measures will be in place.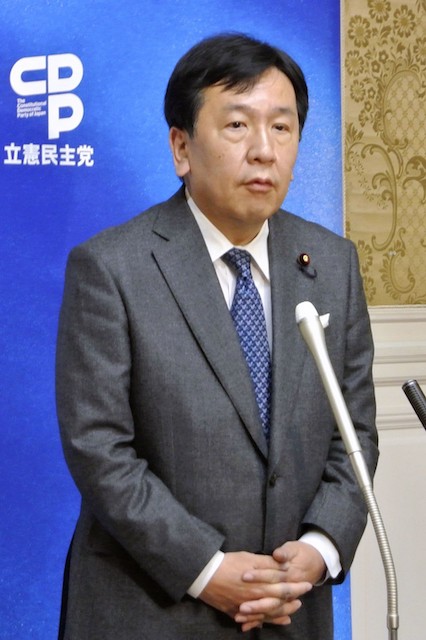 "Unfortunately, we have to say it is impossible to protect the lives, health and livelihoods of the Japanese people while holding the Olympics and Paralympics," Yukio Edano, head of the Constitutional Democratic Party of Japan, said in a parliamentary session.
Politics is never far away from the Olympic Movement and the governance of Games, regardless of what the Olympic Charter might say on the subject, and Edano's intervention reflects the view of significant number of people in Japan as signs of tension grow in the midst of a pandemic and polls consistently show a majority in favour of further postponement or cancellation of the Tokyo Games.
Infections have surged in Japan in recent weeks, prompting the government to extend a state of emergency covering Tokyo and other prefectures to the end of May.
Groups campaigning to have the Games cancelled last week urged Japanese butterfly ace Rikako Ikee to back them. She responded with an appeal for calm and understanding in the wake of an online petition calling for the International Olympic Committee and Japanese government to cancel the Games.
The petition was launched last Tuesday by Kenji Utsunomiya, a lawyer who has run for governor of Tokyo as an independent multiple times. The petition past its first target of 300,000 at the weekend.
An accompanying statement asserts that it is "highly possible" the Olympic Games will become a "superspreader" event that will "cause danger and fear to healthcare workers, citizens and participants."
"We demand cancellation" of the games to "protect our lives and well-being," the petitioners declare, contending that Japan's resources should be directed toward struggling citizens impacted by the pandemic, as opposed to an athletic competition. Utsunomiya told reporters:
"Government policies are being set with the Olympics in mind, and measures to curb the coronavirus pandemic are being neglected. Hospitals are stretched thin, and some people are dying at home."
Set to get underway on July 23, the Olympics and Paralympics will bring tens of thousands of athletes, coaching staff, support, officials and administrators to Japan. No spectators are allowed into the country from overseas, while the issue of whether home supporters can enter venues, and if so in what numbers, hangs in the air.
Edano told reporters in Tokyo: "It would be unacceptable if going ahead with the games leads to insufficient measures that allow new variants of the coronavirus to be brought in from abroad."
Allowing the numbers involved in an Olympics to arrive from all corners of the globe in Tokyo and elsewhere in Japan during a pandemic would be tantamount to an "exhibition" of highly contagious variants of the coronavirus. He believed that none should be exempt from a quarantine period on arrival in Japan, a measure that would simply be unworkable for many of those involved, athletes included.
Suga said in the Japanese parliament today that Olympic visitors would be required to follow strict COVID-19 guidelines including daily testing and segregation from the public. Any breaches of those conditions would result in exclusion form the Games and country.
"It is my responsibility to implement such measures to safeguard the lives and health of the Japanese people and do everything I can for a safe and secure games," he said.