James Guy Guts & Adam Peaty Power On Show Despite Test Of Tank Half Empty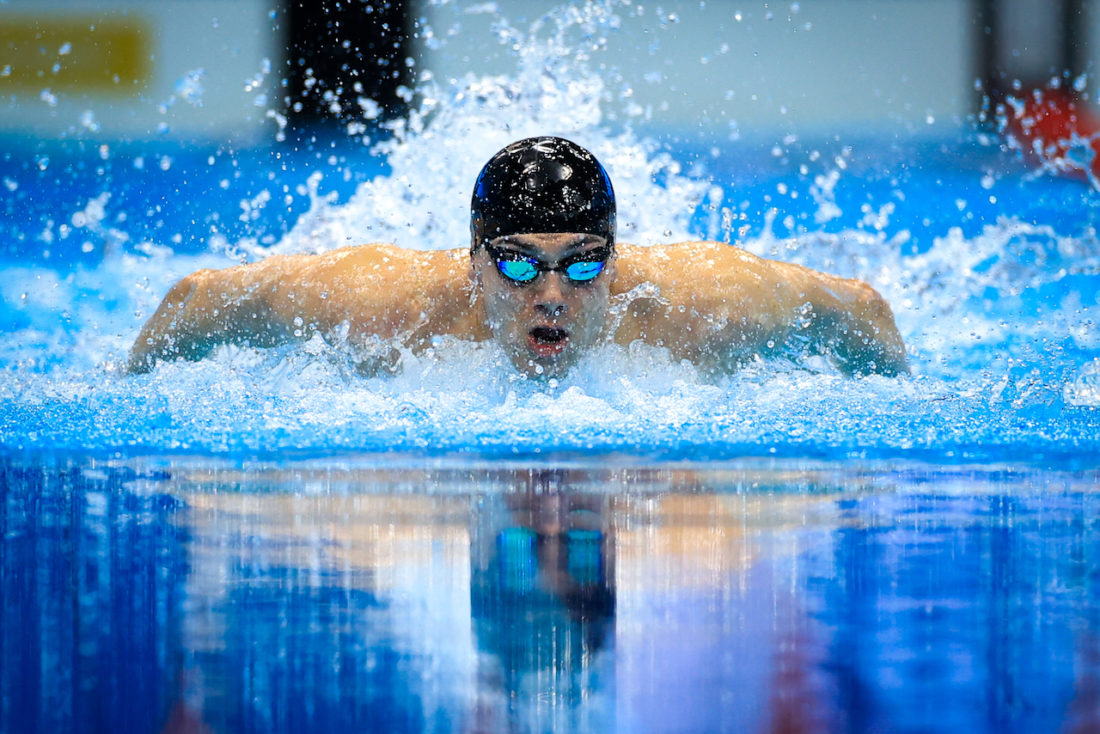 In a day 2 finals session at British Swimming Championships in Sheffield that produced no qualifiers for World titles, the highlights came from James Guy and Adam Peaty, two men who came home from the Tokyo Olympic Games last year with two golds and a silver apiece.
From Guy there was guts, eight weeks of work in the tank after a Covid infection that followed a long post-Games rest from the black line; from Peaty there was a glimpse of raw power building in another Brit who only got back to the grind around the turn of the year following his own break from job routine.
Peaty, on 26.91 at the helm of the 50m breaststroke, is among the named pre-selected for Budapest 2022 World Championships in June, a privilege granted to those who finished top 6 in Tokyo in individual events. Guy is on the list of those pre-selected on the basis of their relay results in Tokyo but in need of confirming form worthy of solo races in Budapest.
On guts alone, Guy, a stalwart of Britain's medal-winning bull run in relays for the past eight years in international waters, appeared to have proven himself with a dominant show of force and courage in a 200m butterfly final in which he stopped the clock at 1:56.31, 0.98sec shy of the British Swimming selection cut.
Guy, who took a lengthy break from training at Bath after his achievements in Tokyo, set out intent on showing selectors he is well on the way to getting back to top form. Out in 25.19, he turned 2sec clear of the chasing pack on 54.50, reached the last turn on 1:24.50 and then held off the weight of work in arms and legs until the closing 15m of battle. Mason Wilby, of Loughborough, took second in 1:57.31, Jay Lelliot, of City of Sheffield, on 1:57.77.
Emerging from the fray and looking lean and in good shape for the challenges ahead, Guy said he was happy with where he'd got to given that his post-Games break had been followed by COVID infection back in January. Only eight weeks of work in the tank, Guy noted: "For where I am right now after a big break after Tokyo, this cycle from January to April has been condensed a bit. I got COVID in January so wasn't really back until mid-January. Time was running out for trials. So to go that time there after eight weeks work, that's pretty impressive, it's really good and hopefully we can move it on in the summer.
"You have to know where you're at at times and be realistic. We all know Olympic year was a massive year and that we had a bit of time off after the Games. There's no point putting too much pressure on yourself. Considering I came back mid-Jan, that wasn't bad going tonight, it's not a bad start."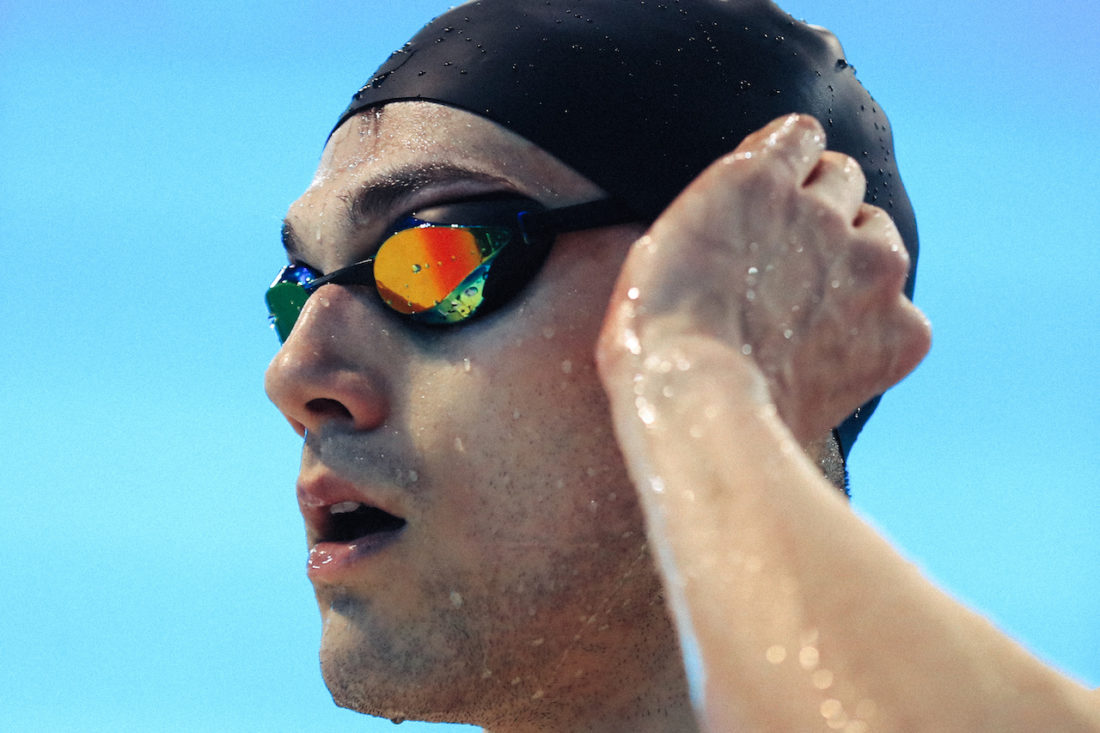 "The way I swam things there was really, really good. Having a crowd again, my mum and dad seeing me swim again, my brother is coming to coach tomorrow – having my younger bro on poolside will be quite cool – times have changed, it's great."

"What I've realised is that for every swimmer, Olympic year is always the biggest year, and it's all about Paris in two years time. Adam Peaty will say the same thing. With what I've achieved now, I could quite happily walk away from the sport with all that – but I want more than that. Going to Paris will be really exciting and it's one more push to achieve that.

James Guy – photo by Georgie Kerr, courtesy of British Swimming
Just as James noted how good it was to have family back in venues to watch and cheer, his dad Andrew Guy noted the knock of a pandemic when he tweeted the following on the eve of action:
Adam Peaty Flanked By The Guy Who Inspired Him To Get Stuck In & The Guy Who Kept Him Keen
The 50m breaststroke, like all stroke dashes barring freestyle, is not on the list of time cuts, selection made own the basis of the 100m. Peaty, Olympic champion, is already on the blocks in Budapest, as defending World champion in both the 50 and 100m.
Today, he had fellow Loughborough ace James Wilby closest to him once more, on 27.16, as the man who provided keen domestic challenge for Peaty in the past Olympic cycle and shared the 2019 World titles podium and the 2018 European podium with Peaty along the way.
In third was another significant Brit inn Peaty's story: Craig Benson, on 27.55, today, was the man whose result in the 100m at the London 2012 Olympics the teenager who would become 2016 Olympic champion had been watching for when he was kicking around on a piece of ground in his home town with mates, a bottle of beer in his hand.
Peaty took in the standard unfolding at London and without insulting any of those who had made it to the Games when he had not, the champion to be resolved not to waste a day longer on "being average", on "not pulling my weight". The beer was his last for a while and the work with coach Mel Marshall took on new meaning at Derby SC.
Asked about his speed this evening, Peaty said: "It's a funny one, because I thought it was going to be faster, it felt like a 26.7. I can count on one hand the amount of times I've done a 50m so far this season, so I don't want to be too harsh on myself. The speed is always going to be the thing that suffers (from taking a break and then racing while in heavy training), you'll see that for many people who come off the Olympics, the speed is just a little bit harder to get to."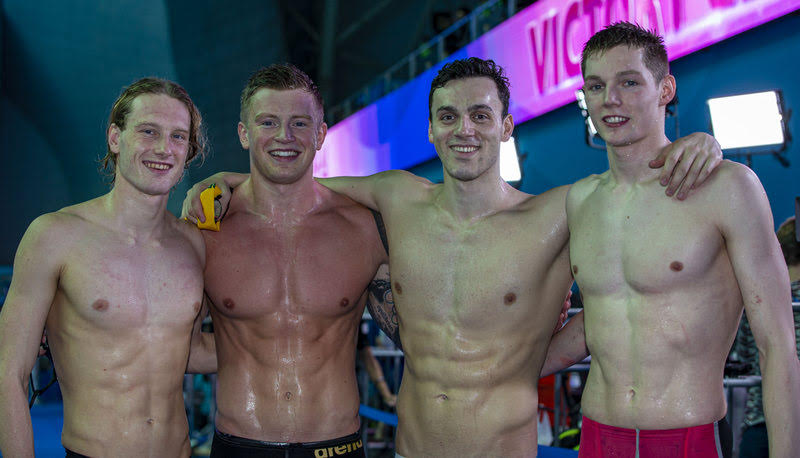 "This meet is more of a marker for me, trying to adapt my training now to what I need to do in June, July, August, that's what it's all about. It's a 26.9, it's all right – but at the same time, I've got the value in knowing what I need to do now, I know how it feels. You can do as much as you want in training, but that's not really where it is all at.

"From those last two races today, I've got a marker now, I know where I am. The scoreboard never lies, it's the truth, it doesn't matter whether you are rested, tapered, it doesn't matter – I know where I am at now.

"Mel and I have some good data, what we are off the start, what my stroke is like, the last 20m. That's invaluable to us because we haven't raced much this season, we haven't got the usual data so it's good for us to see where we need to push, where we need to get more from that area. But it's looking good.

Adam Peaty. Photo: Brits in for the long haul to Paris 2024: (L-R) Luke Greenbank, Adam Peaty, James Guy and Duncan Scott of Great Britain – the 4x100m medley quartet that took down the USA for gold at 2019 World titles – by Patrick B. Kraemer
Luke Greenbank – Outside Smoker …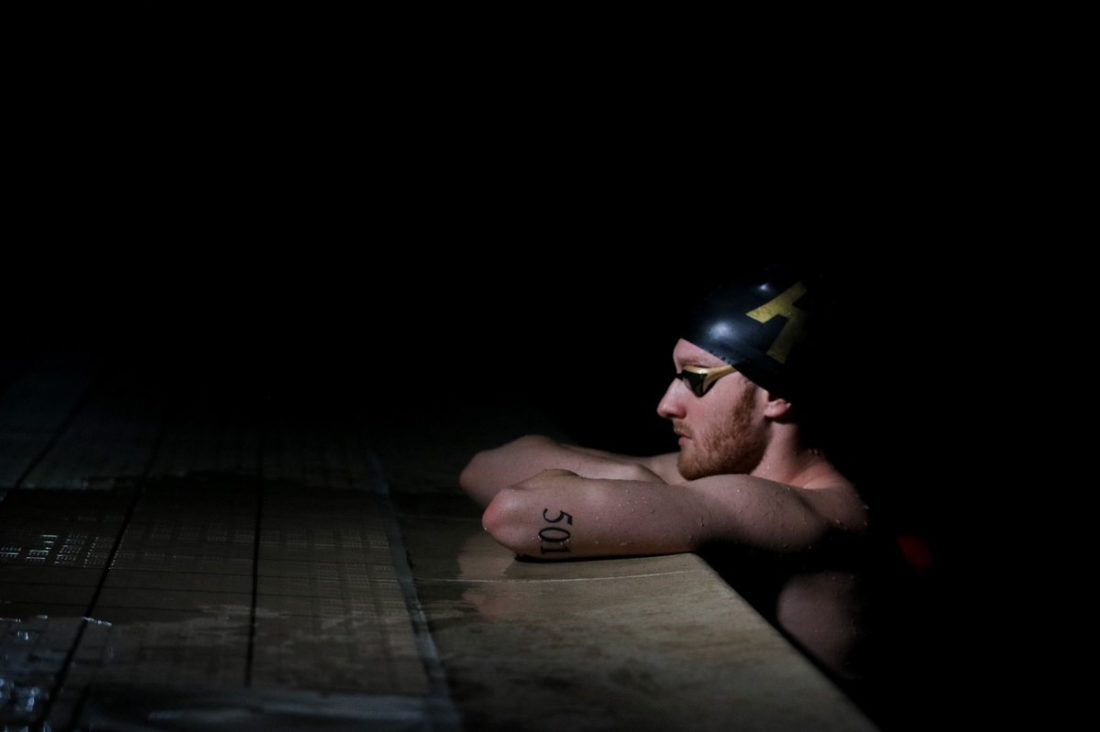 Peaty's AP Race Clinics ambassador Luke Greenbank, the Olympic 200m back medallist for Britain in Tokyo last year, almost missed the final of the 100m in Sheffield. To be fair, he's preselected and he misjudged a touch in heats. While he is not in Sheffield to produce peak form, nothing was left to chance in the final, block number 8 doubtless serving as a reminder that the job can de done from any lane.
A 54.56 got Greenbank, of Loughborough, the win, Olympic teammate Brodie Williams and his Bath training partner Jonathon Adams on to the podium close behind him, on 54.68 and 54.75 respectively.
Maiden Title For Medi Harris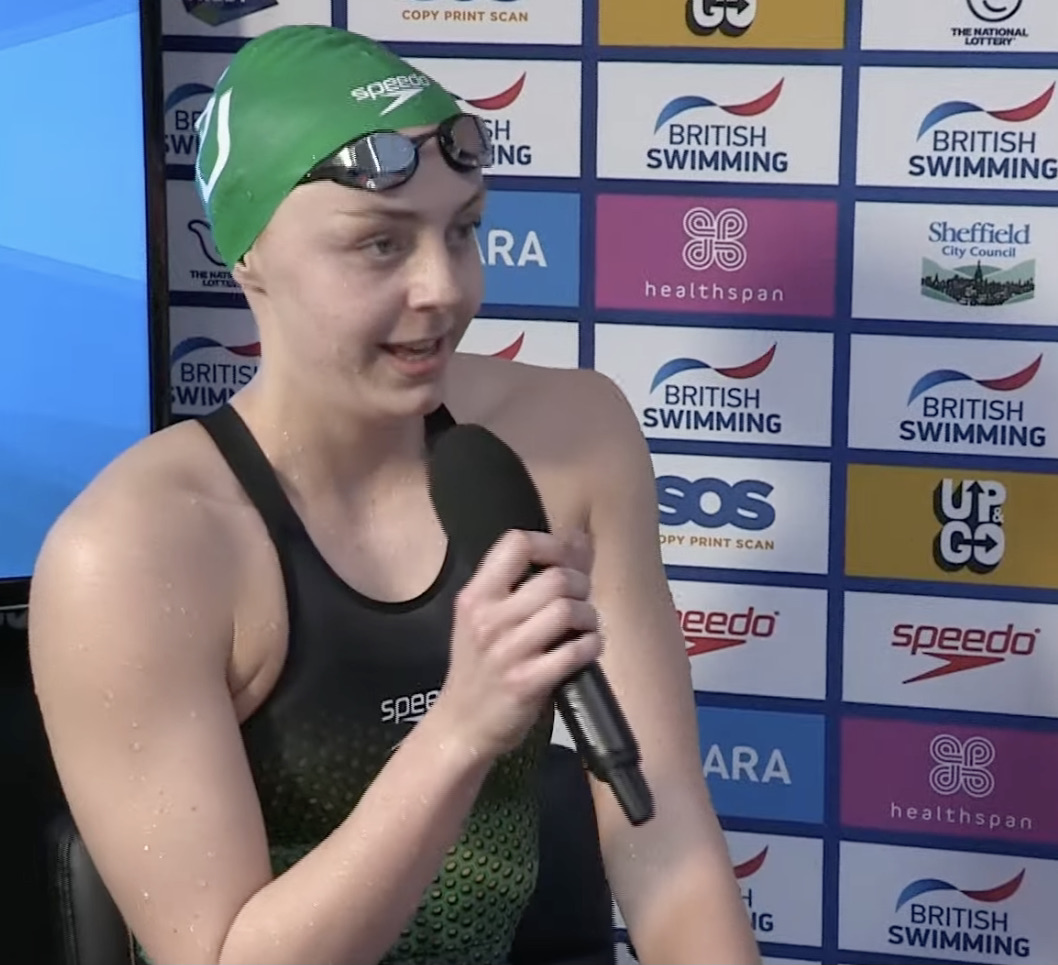 With European Kathleen Dawson pre-selected and far from her sharpest in Sheffield, there being no need to rest up right now, Medi Harris, of Swansea Uni, made hay. Out in 28.90, she was home for a maiden national title in 59.95, shy of the mark she needed for Budapest but a swim as fine as it was valuable in terms of what Harris takes with her through a year in which she leaves her teens behind.
Lauren Cox, of Loughborough, and Dawson, of University of Stirling, followed Harris home on 1:00.84 and 1:01.05 respectively.
With no Molly Renshaw to battle with, Abbie Wood, preselected for Budapest in the 200m medley, was a class apart in the 200m breaststroke. On 2:24.28, she was shy of the cut but that's a formality on the way to head coach Bill Furniss placing his team on the blocks best suited for the occasion come Budapest in June.
Joining Wood on the podium were her Loughborough teammate Lily Booker and Edinburgh Uni's Kara Hanlon, on 2:27.34 and 2:27.61 respectively.
In other action, Harriet Jones, of Co Cardiff, took the 50m butterfly in 26.48, and Leah Crisp, of Bath, the 800m free in 8:45.98.