James Guy Courage Win 1:55.20 Ticket To Tokyo Olympics As First Brit Swifter Than The Pride Of Steve Parry 2004
Courage was never absent in James Guy but even so, few – perhaps only Guy the man himself, his Bath coach Dave McNulty and a few others, expected him to get to the first turn in the 200m butterfly ahead of world-record pace. Yet that's what he did at British Swimming Olympic Trials in London today.
The blistering global standard of Kristóf Mílak, the Hungarian who in 2019 claimed Michael Phelps' 10-year-old record, was not the goal, it was just that the 2015 World 200m freestyle champion knew he had to race faster than he ever had over four lengths butterfly just to get a ticket to the Tokyo Olympic Games.
The 25-year-old, who has helped Britain and England to 16 major intern national podiums in relays since 2014, flew from his blocks and broke clear of the rest of the final in the first 15-20 metres on his way to a 24.52 first wall. By the second, at half-way and without two major factors significant to cutting-edge competitiveness – a rival and a crowd – James Guy was only a touch down on the pace off Milák.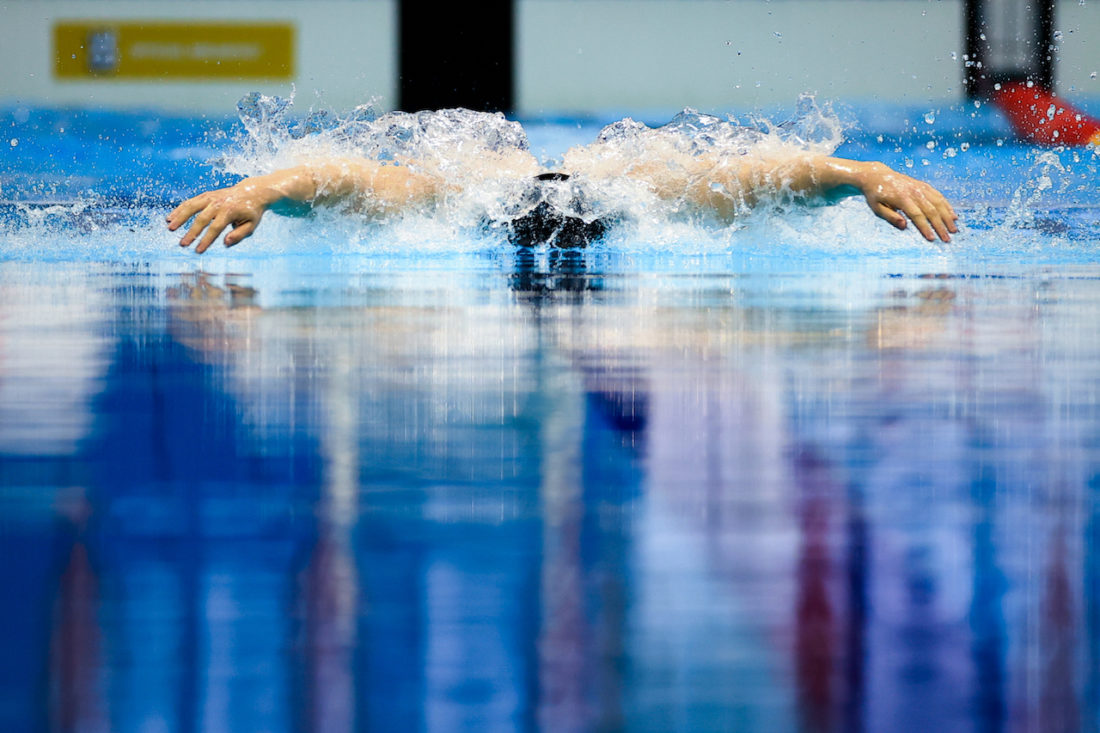 There was no way the freestyle ace was going to be able to match the might of Magyar all the way home and come the last turn, he was 1.5sec behind a shadow he wasn't chasing anyway. Guy's target was 1:55.45, half a second better than his lifetime best of 1:55.91 as third-best Brit in history.
The closing 15 metres were wearying to watch, let alone endure, as James Guy felt the drain and pain of his fast start but it all proved worth it when the clock stopped at 1:55.20, the fastest textile-suit performance ever over 200 'fly by a British swimmer.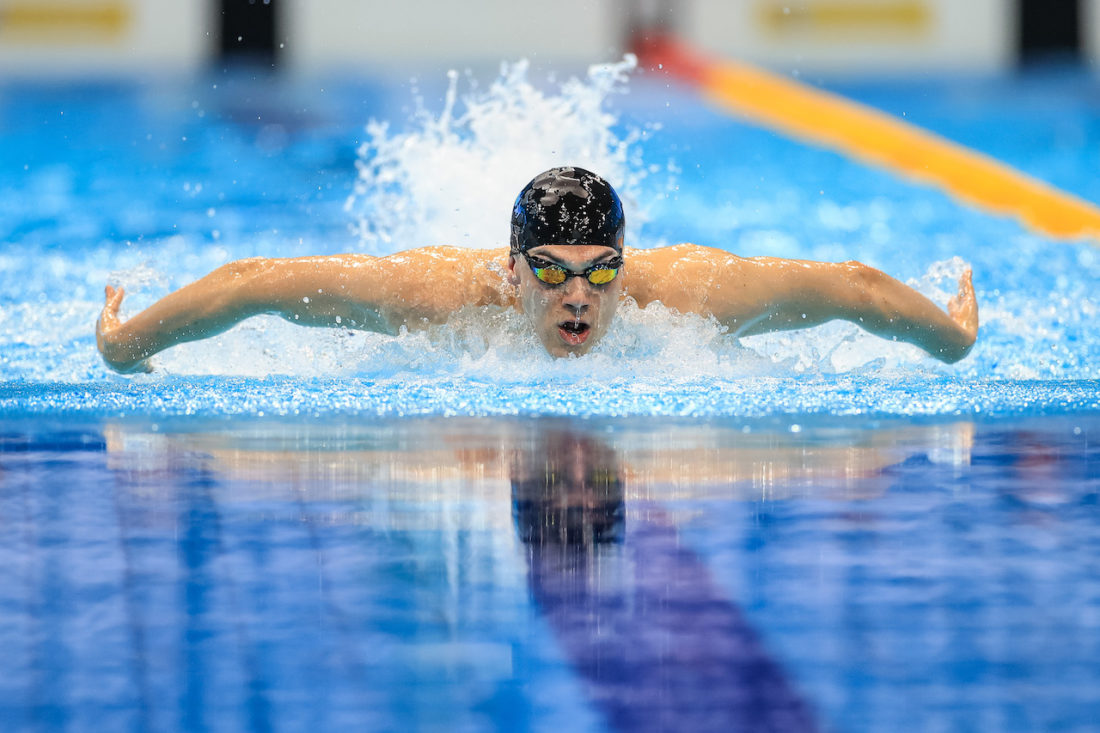 Comparison was instantly made with Michael Rock, who in 2009 set the British record of 1:54.58. No slight intended to the Rock but the rub was his shiny suit, the non-textile number behind the 43 World records set in eight days at the Rome World Championships that year. The suits were banned from the start of 2010 and swimming was restored to swimmers and their angles of buoyancy and other factors that reflect their relationship with and speed through water.
To get a better feel for how good Guy's swim was, go back to Athens 2004, when Phelps won the first of his three golds in Olympic 200 'fly battles and Britain's Stephen Parry took bronze in 1:55.52. There's at least a 1:54 in Guy, though his world-record pace opener would have to be cooled to avoid a 32.36 back end, swim with the proverbial piano on his back.
The London Podium today:
| | | | | | | | | | | | | |
| --- | --- | --- | --- | --- | --- | --- | --- | --- | --- | --- | --- | --- |
| Place | Name | YoB | Club | | Time | | | Pts | | 50 | 100 | 150 |
| 1. | James Guy | (95) | Bath NC | | 1:55.20 | | | 888 | | 24.52 | 53.02 | 1:22.84 |
| 2. | Jay Lelliott | (95) | Co Sheffield | | 1:56.76 | | | 852 | | 26.37 | 56.59 | 1:26.30 |
| 3. | Edward Mildred | (03) | Northampton | | 1:58.04 | | | 825 | | 27.04 | 57.47 | 1:27.61 |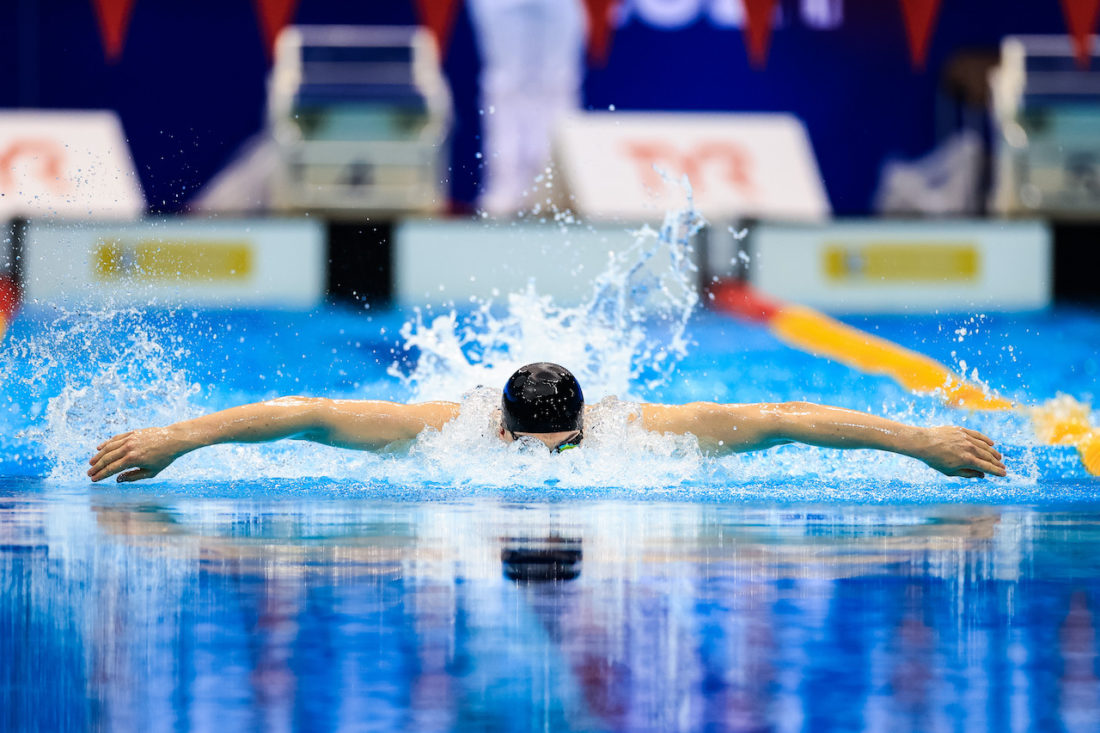 Closest to Guy, Jay Lelliott and Ed Mildred both rippled well inside their previous best times, Mildred a great prospect at 17 and one to watch. This day, it was Guy who stole the show. He said:
"It's nice to come here and do the 200m Butterfly, I haven't done one like this for a long time. The time wasn't really in my head because it's not my main event – but to go the qualifying time is a great start to the week. I was talking to Dave [coach David McNulty] before, the target was 54.0 for the first 100m, so a 53 shows the speed is there, so hopefully it'll be a good 100m as well."

James Guy – photo by Georgie Kerr, courtesy of British Swimming
For the solo – and the medley relay that delivered world gold in 2019.
Live results / Start Lists / Selection Policy – More reports to follow from Day 2 finals
The History Cycle…
For the first time in 17 years, a British man has raced inside the pride of Parry and Britain: James Guy, who also happens to be the last swimmer ever to race alongside Michael Phelps in Olympic waters, both battling for their countries on butterfly in the closing 4x100m medley relay at Rio 2016.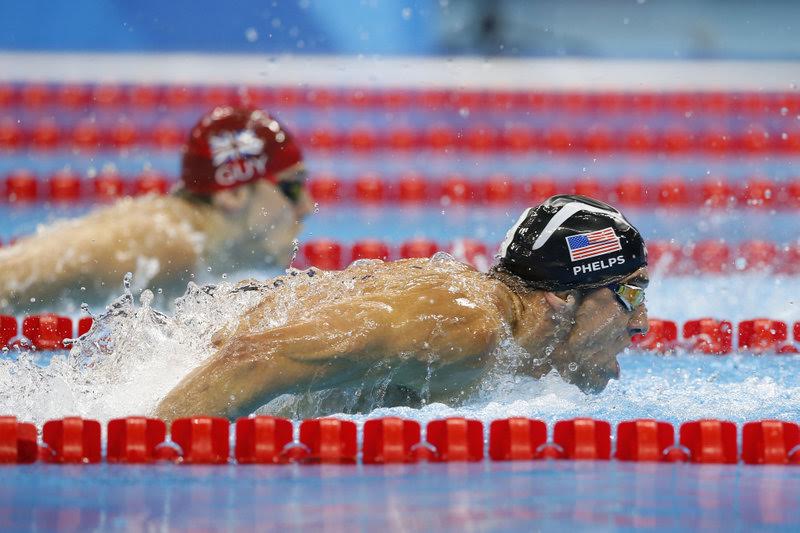 That was Phelps' swan song, four years after he raced the 200m butterfly in the very same lane 4 in London but found himself pipped in his signature event by a young South African called Chad Le Clos. Defeat sparked the comeback that led to Rio and another heap of medals as the most decorated man in the pool for a fourth straight Games, his tally sealed at 23 golds atop 28 medals. Not in my lifetime.
Guy's dad, Andrew, has a snap of the historic moment, shown in the image to the left, shown here, imprinted on the cover of his mobile phone case.
Since James Guy made the England team for the 2014 Commonwealth Games and Britain for World short-course Championships the same year, he's brought home 26 medals in international competition, topped by the World 200m freestyle title in 2015 as one of 9 golds atop 10 silvers and 7 bronzes.
Consider his worth to Britain and England: Guy has contributed to three World-title relays, including two 4x200m free quartets and the 4x100m medley foursome that toppled the USA in 2019, and four other winning British relays at World and Continental level.
Out all his relay duties together and the two Olympic silvers of Rio 2016 are the tip of a small iceberg of 16 major podiums with Britain and England mates since 2014.
The events of Rio 2016, in which Guy was denied a place on the 200m freestyle podium by Sun Yang*, the Chinese swimmer towing a doping record and attracting unprecedented booing and jeering from the stands every time he walked out to race, knocked Guy's confidence.
There was no sign of that today. Guy's view on it all later.
From The Craig Lord Archive – World Championships, 2015
James Guy Jabs Back, Sinking Sun's 4-Gold Aim To End Britain's 40-Year Drought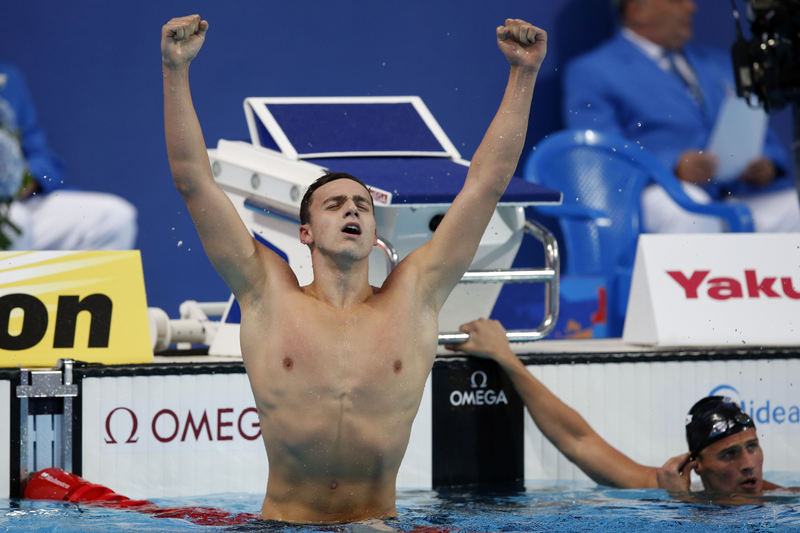 Walking out, one man looked like he could have run across the water, chest pumped out, jaw squared and clenched. James Guy meant business. Bristling after silver behind Sun Yang over 400m, the 19-year-old was not going to let it happen again. He turned the tables on the Chinese champion looking for an historic four gold in solo free events in a rip-roar of a race that ended in a 1:45.14 British-record victory.
Sun* took silver in 1:45.20, the bronze to world record holder and the 2009 champion Paul Biedermann (GER) in 1:45.38. Ryan Lochte, who helped Guy with the pace, was locked out in 1:45.83. Guy's triumph made him the first British swimmer to make the podium since Brian Brinkley and bronze in 1975 – and the first champion from his country ever.
The Union Flags still flying, Adam Peaty joined the party with a 26.42 world record in the first semi-final of the 50m breaststroke soon after.
Guy, the boy from Bury turned man, took the sway he brought to the blocks all the way to the swell. Third at the first turn in lane 5 on 24.53, he kept his nerve as Chad Le Clos (RSA) set the pace at 24.34 in the next lane, Ryan Lochte (USA) on the other side on 24.43. Next lap, it was guy at the edge of the wave, on 50.99 as first man through, Sun now up to second in 51.12, and looking like the distance threat to what these days is a sprint title. Lochte on 51.03 in second, Cameron McEvoy (AUS) still in the race on 51.14 in fourth.
The third lap was a hard slog that sorted those who could keep up with the pace of Sun and those whose hopes had already set. Sun flipped in 1:18.06, Guy, cracked on the last lap in the 400m by the Olympic champion, on 1:18.33, Lochte on 1:18.19. Surely the moment was with the 1500m world record holder and Olympic champion to bring it home.
No way, said Guy, coached at Millfield by Jol Finck and a staff that includes former international Euan Dale. Digging deep as though his life depended on it, he battled stroke for stroke across three lanes, cracking Lochte's pace to get just enough to catch a glimpse of Sun on the horizon in lane 2 just as Paul Biedermann, always a danger on the last lap, was muscling his way through from 8th after 1 lap, 6th after 2 and 5th after 3.
Biedermann put in a 26.67 homecomer to get back on the podium six years after gold in Rome, and all that, and four years after Shanghai 2011 and bronze. Next swiftest home was the champion, a 26.81 spoiling Sun's target of four golds from 200 to 1500m, a 27.14 good for silver.
Guy, who thinks of his grandad George when he gets set to fight, gave the waters in which he'd floated to a maiden world title a slap on the back, sending a wave up and over the lane rope in celebration of a moment that also came with an emotion that washed over the teenager's face for a moment before the yell of victory: relief.
"I never thought I'd race Ryan Lochte head to head like that, he is one of my heroes.," said Guy after the race. "So to race him head to head like that was amazing and to touch my hand on the wall first and be world champion hasn't sunk in quite yet, I am so happy."
"I pushed myself really hard and it's just so nice to come out of that … Chad, Paul Biedermann, Sun, Ryan. … and me on top! It's just great."
Biedermann was happy with his effort and paid plaudits to the new champion: "He's nearly 10 years younger than me. A big future ahead of him. He's really great."
In his wake came Dutchman Sebastiaan Verschuren, on 1:45.91, and then a 1:46.53 from Chad Le Clos, the South African Guy had watched on the telly as a 16-year-old when Michael Phelps got beaten in the 200m butterfly at the London Olympics. Le Clos went off to get set for a fine qualification into the 200 'fly final, the two men behind him on freestyle Aleksandr Krasnykh, of Russia, on 1:46.88, and Cameron McEvoy, on 1:47.26 after turning for home 4th but tightening in the dying stages of the race, his last lap 28.68.
On the podium, Guy swallowed hard, contained himself, looked up at teammates and simply nodded. Feet on ground, next job the 4x200m freestyle relay.