IWD: The Swimming Voice – When Cate Campbell Labelled FINA Leaders "Strange & A Bit Arrogant" For Placing Money Ahead Of Athlete Interest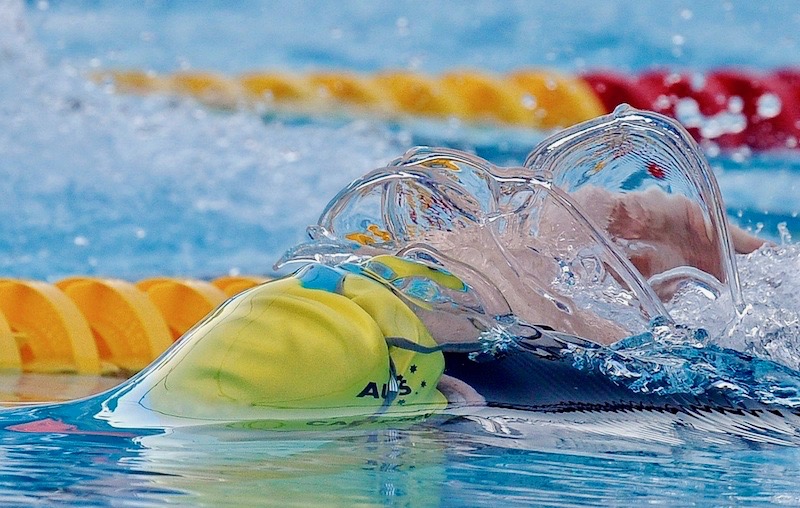 International Women's Day (IWD): a fine moment to highlight the achievements and work of women pioneers and pathfinders in swimming, including Cate Campbell, the Australia sprinter who spoke truth to power in decisive fashion in 2017. To mark the occasion, SOS rolled out a package of features on legends, high achievers and others in women's swimming who spoke and speak the Swimming Voice in one way or another. Some of the issues speak to the challenges rooted in the failed governance of swimming and the patriarchal leadership at the helm of the sport's regulator.
Our SOS International Women's Day coverage so far today:
Back in 2017, Cate Campbell met the media at the Casa Arena in Budapest. The atmosphere was relaxed and the circumstances were very different to those of athlete meets media at World Championships: Cate Campbell was taking a break from high-level racing and, free from the binds of an athlete's team contract, she was free to speak her swimming voice on the issue swimming rules and federation contracts instruct athletes and members of the "FINA Family" (its officials, officers , committee and commission members) not to talk about without say so from the 'executive'. Here is what came of that moment when it was possible for a world-class athlete to express the frustration of many, her words later helping to fuel the drive for a new start in swimming through the creation of the International Swimming League and confirmation that the power of FINA leaders is a paper tiger on the prowl for one reason: the acquiescence and complicity, by design or default, of the national federations that make up the membership of FINA.
From the Archive – July 2017 – by Craig Lord
When Cate Campbell Spoke Truth To The Power Of A Paper Tiger
Cate Campbell barely hesitates when asked what singular issue concerns her in the campaign for athletes to have a far greater say in the leadership and directipon of their sport: "I think the fact that they haven't ever requested an athlete's opinion on anything [laughter rumbles through the journalists listening]."
At a media briefing for her kit at the Casa Arena on the banks of the Danube in Budapest, Campbell adds: "We are essentially FINA's assets. Without us there is no FINA and I think sometimes that can be forgotten."
The Australian sprinter with Olympic and World titles to her name is in Budapest with broadcaster as she takles time out of top-flight racing this northern summer.
Among leading swimmers who have backed calls for reform of FINA and moves to make the international federation athlete-focussed, Campbell lambasted the global leadership of aquatics as "strange and a bit arrogant" when it came to dealing with the prime assets of the pool: athletes.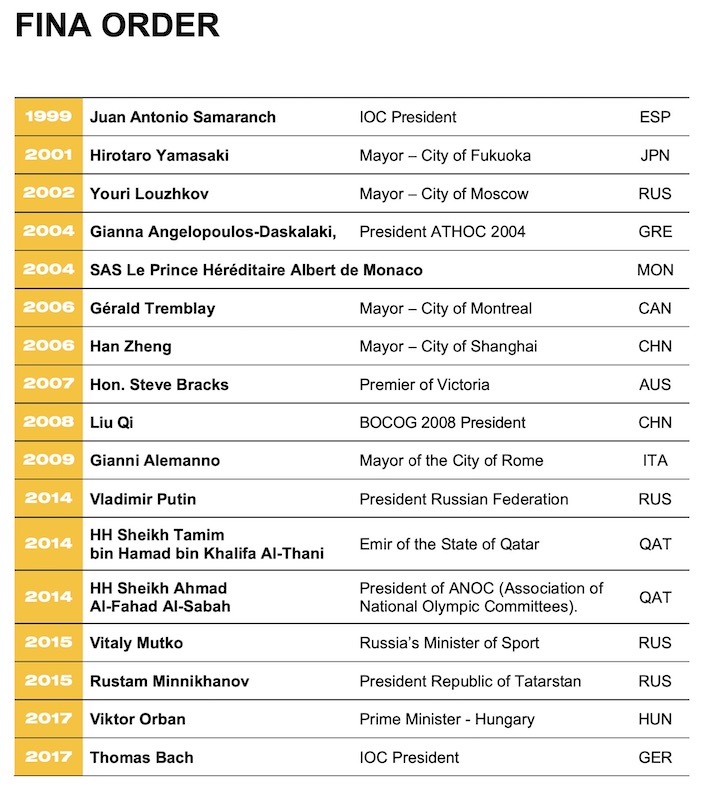 Last weekend, the political circus of FINA's General Congress delivered the woeful spectacle of an in-house wheeler-dealer culture calling itsself a democracy.
After Julio Maglione, the 81-year-pold from Uruguay at the FINA top table since 1984 and in charge for the past eight years, was returned to the presidency, as the votes from nations without any world-class swimming programs stacked up alongside those from the likes of mighty USA, the Olympic rings that bind them all were ever present.
There at the FINA dinner after the vote was Sheikh Ahmad Al Fahad Al Sabah, FINA 'first vice-president' Husain Al Musallam's Olympic Council of Asia boss. The two Kuwaitis were cited as "co-conspirators in the Richard Lai bribery case brought by the U.S. Department of Justice.
The Sheikh has stepped down from all FIFA roles pending inquiries but continues to operate in Olympic circles, circles that include the end of the chain: IOC president Thomas Bach, of Germany. There with the Sheikh at the FINA dinner was … Bach.
Asked if she was aware of all of that side of her sport – a sport in which there are rules that oblige athletes to leave their politics at home, where governors have been caught plotting $150,000 campaigns to discredit critics, including smearing journalists, coaches and others – and whether she thought it problematic, Campbell hit the nail on the head:
"I know, I know. Absolutely. We are linked to FINA; we are part of FINA and FINA can use us to promote things, so I feel like we should be able to have a say in how they are governing and who governs it and which issues are being raised and which issues are being dealt with."

Cate Campbell
A member of the Athletes' Commission of the Australian Olympic Committee, Campbell explains: "It's why I was on the athlete leadership group on teams for so long … now I do understand how big it is: there are so many cogs spinning and people pulling in different directions that athletes do just get lost because it does become about making money as opposed to swimming. I feel like that's a fundamental part of their constitution that they've forgotten."
A Professional Swimmers' Association, which may in that or similar name, end up as the body that represents athletes, and a grouping called GAPS, the "G" for global, pulled together by Hungarian swimmer Katinka Hosszu, are about to take their case to the FINA top table. Just when that chance will arise, under what circumstances, remains to be seen but a whisper of a professional swimmers circuit is on the wrong once more, just as it had been in Ian Thorpe's day before FINA intervened.
Hosszu's main arguments have been criticised by athletes and coaches, however, for being too narrow, too much focussed on chages from one poor FINA world cup format that helped make Hosszu a very rare case of earning a million dollars from her sport, to another poor world-cup format that seeks to restrict her participation and potential earning power.
Asked if she felt that Hosszu's issue with the world cup were too narrow in terms of the wider demands of athletes to have their voices not only heard but responded too – with dialogue and action – Cate Campbell said:
"Absolutely. There is a lot more to flesh out in terms of what we would like but for me I joined because athletes should have a say in organisations. Too often they are run by people who are out of touch with the sport or have their own side games to be made from it. For me it was about supporting athletes having a voice and we can work out the details after the championships."
On the world cup changes that restrict a swimmer to four events per round of the cup, as opposed to the open format that saw Hosszu swim everything and win most of it across all strokes and distance, Cate Campbell, heading on the short-course world-cup tour next month said: "I don't agree with the changes to the World Cup scheduling.
"I don't make a lot of money; I only swim two events so its not like a big deal for me but just to decide that and to cut it down was a little bit strange, a bit arrogant."
But that wasn't the half of it. Said Cate Campbell:
"They've made lots of changes, which we've all just got used to: they added kicker blocks, they added wedges, all these things: where was the consultation with the athletes and coaches over that? Things that impact us, you know, but we haven't had a say in it. It's about athletes having a say in it and an opportunity to have a say and them being willing to have feedback, to and from FINA: its's two-way communication."
The latter is the key challenge to FINA's leadership. The fact is that the ruling Bureau does indeed include an athlete representative. He is Australian's Matt Dunn. However, a senior FINA source said that Dunn's main role appeared to be 'drawing up the lists of those who hand out flowers at medal ceremonies'.
Dunn acts as the liaison between the Bureau and the 'FINA Athletes' Commission' but that body has failed to take the athlete voice to the top table with a demand that feedback is obligatory. Is Dunn speaking up for athletes on substantive matters that count – or is he carving a career inside the FINA machine? That remains to be seen.
A common complaint among those who have resigned from FINA commissions (this author from the press body in 2014 included) is that answers to questions and requests to the FINA leadership never come back if the issues raised are not issues the FINA leadership eithers wants to engage on or does not agree on.
Campbell believes that cannot go on. Athletes are about to demand change. She says:
"There has to be a lot more direction: clear things we want to ask from FINA but all those things can be worked out later. It was just really showing my support for the view that athletes need a say in the way big organisations like FINA run their business."
That includes deals done on Olympic scheduling – be that midnight finals or additions to the program – without any cionsultation with athletes.
In Rio, finals did not get underway until very late at night, with athletes often kept from their beds yet at 2 and 3am to suit the U.S. TV schedules of NBC. Athletes were simply not consulted on the issue, while media arcgives show clearly that a great many world-class athletes and their coaches did not agree with the cosy arrangements of the IOC, FINA and a single broadcaster, regardless of how much money that outfit was paying for rights.
Of late, the 800m free for men and 1500m free for women have been added to the Olympic swimming program for Tokyo 2020.
"Yes, this is another thing. I don't agree with the fact that they are Olympic events," says Campbell. "Obviously I support the athletes who are in them 100% but you're putting a huge burden on the distance swimmers. That is a huge mileage they're having to swim. They will be swimming kilometres at race pace."
Cate Campbell turns to her own team for example: "We're got the Australian Mack Horton doing the 200, the 400, the 800, the 1500 PLUS the relays. That is a huge burden to put on him. Swimming one 1500 is bad enough why do you have to burden him with an 800 as well. Then, are you forcing athlets to choose from events?"
The IOC, FINA et al have also missed a trick with spectators and viewing audiences, she believes, with a nod to more distance events being added to the program in favour of keeping the 50m stroke events (butterfly, backstroke and breaststroke) out:
"In terms of spectators, 50s are fun. They are races people can relate to. Pretty much everyone has swum 50 metres at some stage in their lives and can say 'oh, look, they swam 10sec faster than me …'. Most people will never have time to swim a 1500 in their lives. From a viewing spectatorship I don't think it was a clever move.
"Most people only enjoy watching the shorter events," she adds. "They have a short attention span these days, so that's another example of a decision made without consulting athketes. If you're looking to add events why not ask athlete and coaches which ones they would have preferred as opposed to 'oh, we'll just add in these'."
Similar, then, to how the name synchronised swimming (often reduced to a snappy 'synchro' in headlines' has officially been changed to "artistic swimming" without consultation with athletes, coaches and other major stakeholders? Says Cate Campbell:
"Yes, absolutely. It's like why are we rewriting history for no apparent reason."
Across the world, FINA's decision could cause federations and other organisations to spend time, energy and a good sum of money changing brands and even the names of their organisations, the word synchro so deeply embedded in the sport – yet now wiped from the lexicon by FINA (still used in the folklore of the sport and that likely to be the case for years to come).
An embedded 'journalist' who warmly congratulated Maglione and Al-Musallam on their election this week, wrote a column on the need to quash European protest in FINA because it was a threat to the very structure of the IOC/Olympic movement.
That, say critics – including many athletes – is precisely what is needed. FINA is a 'non-profit' organisation with around $100m in reserves and other funds that are not currently being put to any athlete purpose.
FINA pays its bosses per diems of $500 and more for each day they are on "FINA business". That often amounts to sums well over national average living-wage levels in the wealthiest of countries. It is not deemed a wage, however, because the recipients call themselves "volunteers", even "executive volunteers".
As one senior figure put it when asked about change: "This has to happen. What is there is serving those in charge, not the athletes. Change and improvement must come via independent review with a view to reform of a meaningful nature, one in which swimming, for example, ends its days under governance that pays more to [blazers] than athletes to one in which the athlete's role as prime asset is recognised, served and rewarded."
This day also brings the following rallying cry for coaches to join their athletes in demanding wholse-scale reform of FINA. Here is a memo circulating among members of the World Swimming Coaches Association (WSCA) and the American Swimming Coaches Association (ASCA) today:
Laugh or Cry?
After a year of utter disturbance within the Bureau and office of FINA, where the corruption and stink of internal rot and decay burst onto the worldwide scene of sport political news like the worst "rotten fish" of the world, and a display of "no-care for athletes and all care for suits" unprecedented even in Olympic Sport, the epicenter of hypocrisy, topped by REWARDING the corrupt Russian sports federation with yet another FINA Championship despite the Russian Doping scandal, the worst since the crimes of the DDR was revealed in 1988…..well, absolutely nothing changed at the FINA Congress in Budapest.
The President who has now, three times, lied about his intentions and changed FINA rules to allow him to continue on beyond when even the IOC says he should assume a ceremonial role, was re-elected. His chosen successor, guaranteed to keep the secrets in the vault, will now automatically follow him to the Thrones they all so love, despite coming from an IOC suspended nation and not even supported by his own suspended Federation (an existing FINA rule). And by the way, the man in question is part of a FIFA corruption case indicted by the USA Federal Government and exposed in their case. He was elected too. Absolutely nothing changed.
USA Swimming supported the President and his Kuwaiti accomplice. Of course they did. Apparently, they can't trust the FBI to properly investigate anything right? Right? Olympic Dollars and the Circus rolling on cannot be interfered with.
It does make one wonder whether to laugh or cry?
And it reminded me of this, yesterday:
"While working in Europe with USA Olympic Head Coach Peter Daland, he once told me that the power of the coach is that we are the ones who care about, nurture and help the athlete throughout their career. Everyone else in the sport is just part time hangers-on on the periphery of sport.
Read that again.
He asked me not to forget that. Sometimes I do. Today I don't.
If we (we being ATHLETES AND COACHES) are not being well served by those who find places on the periphery, it's time to focus on the CORE and take care of that and cut off the periphery.
We have allowed them a place in the picture. Sometimes they find themselves at the top of the mountain with the absurd idea that they climbed up there.
They didn't. We allowed them to take the helicopter. Usually because coaches didn't want to make the time and take the energy to do the backroom work of running swim meets, and related really necessary tasks.
Once they became "useful", we allowed them to become powerful. What a mistake. Our mistake. Our Mistake. OUR MISTAKE.
We need to simply do what's best for our athletes and refuse places at the table to those who do not do what's best for our athletes.
That's what we did in the USA in 1977-78 when we left behind the former thieving lying scum who ran the previous organization.
We can always do it again.
Coaches, please circulate as you see fit (or not). It's time for change in a lot of places. FINA, the IOC, USOC, USA-Swimming: Who is serving our athletes? Who do we need to cut loose?
John Leonard, director of WSCA and ASCA