IWD: Mel Marshall On Why Great Coaches Bring Female & Male Strengths To The Party, Including An Ability To Shed A Tear & Be Proud Of It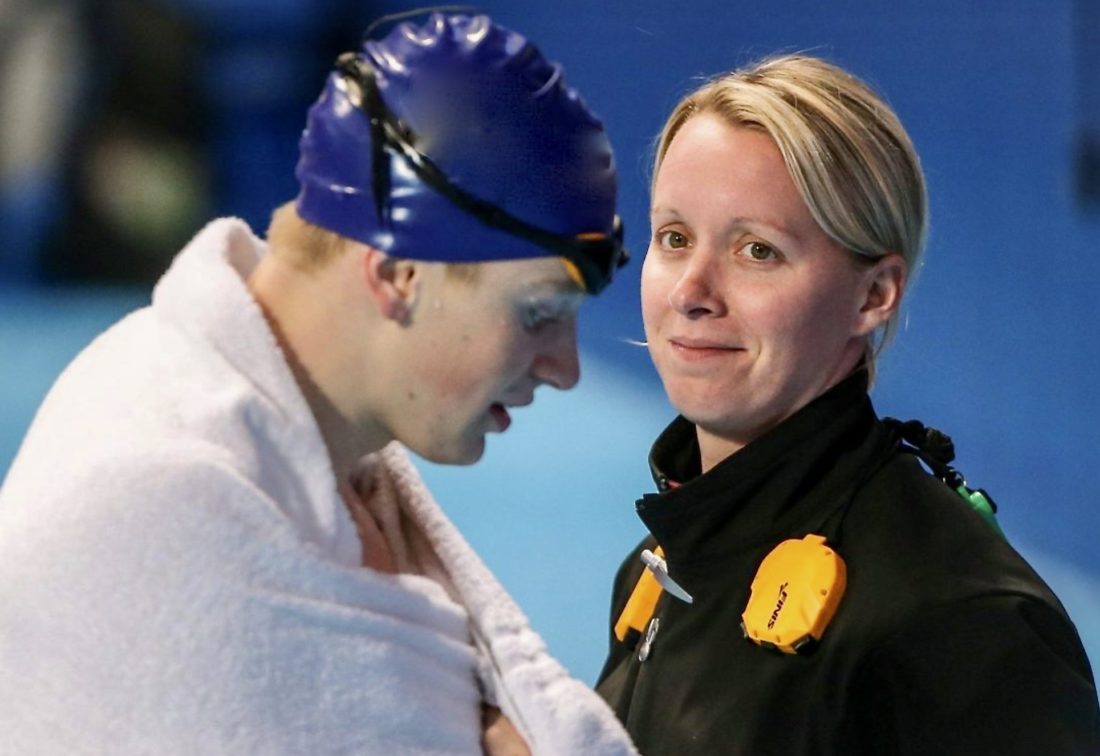 International Women's Day (IWD): a fine moment to highlight the achievements and work of women pioneers and pathfinders in swimming, including coach Mel Marshall, who says the great coaches are those who can bring both female and male qualities to the job. One of her strengths as coach to Adam Peaty and others is shed a tear when her charges succeed. She asks: "Can a male coach do that and see it as a strength?" Over the course of the day, SOS will be rolling out a package of features on legends and high achievers in women's swimming and how and why they spoke and speak the Swimming Voice. Some of the issues speak to the challenges rooted in the failed governance of swimming and the patriarchal leadership at the helm of the sport's regulator.
Our SOS International Women's Day coverage so far today:
When Mel Marshall was asked this morning on the BBC Radio 4 Today show whether she really believed that there could be women's parity in world-class coaching in Olympic sport by 2026, she noted the disbelief of some when she suggested that from the 36 kids she had started to coach at City of Derby S.C. a tiny short-course pool, Olympians would be born. And then she added:
"They built the Pyramids thousands of years ago without spread sheets and machines," a silent "so don't give me all that about the size of the mountain to climb".
It was the moment in an interview about her role as one of six leaders at the helm of a plan to double UK women's coach representation by the time Paris hosts the 2024 Olympic Games that shone a blinding light on the magic of Mel Marshall and the skills and spirit she coupled soaring goals to when coaching Adam Peaty to gold at the Rio 2016 Olympic Games and a record six World titles over 50 and 100m breaststroke at the past three global showcases in swimming, 2015, 2017 and 2019.
This year would have marked another crack at those crowns but instead, the Tokyo 2020 Olympic Games will be held in 2021, Covid pandemic allowing (official decision and announcement pending). With a short burst of resigned laughter, Marshall told Today that the challenges of coronavirus season had made for "the most intensive and crazy 18 months of my career".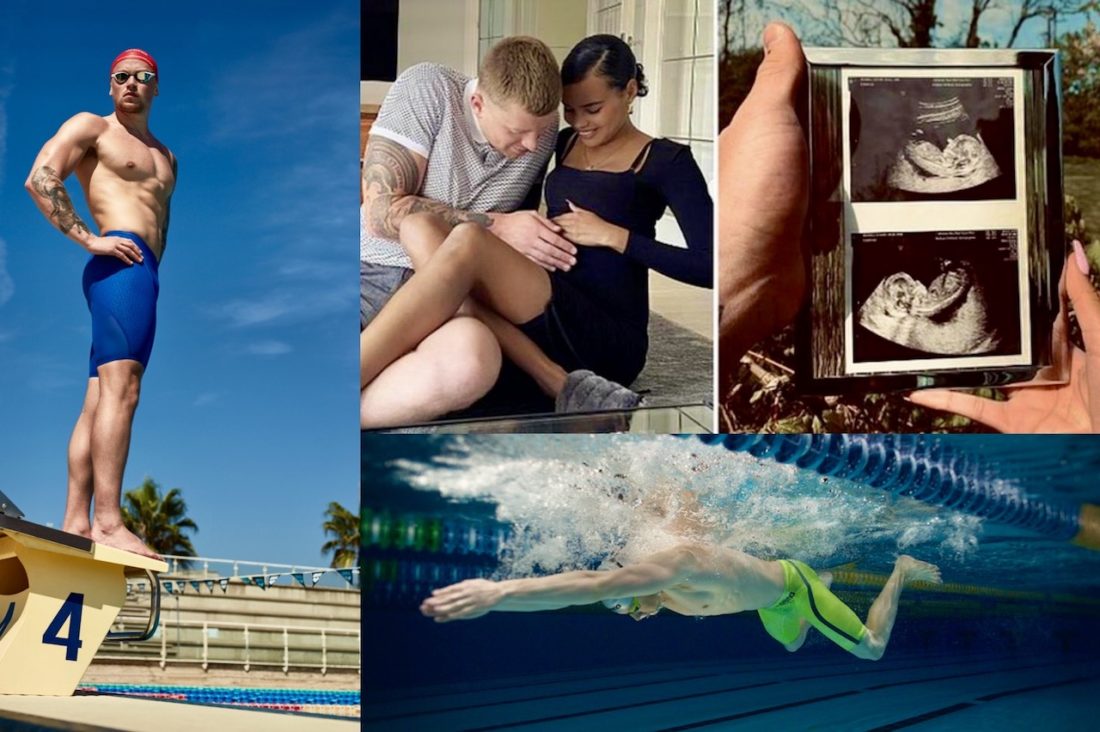 Her focus had been on "aways finding solutions" for Peaty, whether that meant being there when he needed guidance to come to decisions; being their with an empathetic shoulder to lean on; being there when he "jest needed a friend" to go for a walk with at a time when the only people he saw on a regular basis were his partner Eiri Munro and, since last autumn, their baby, George-Anderson Adetola Peaty.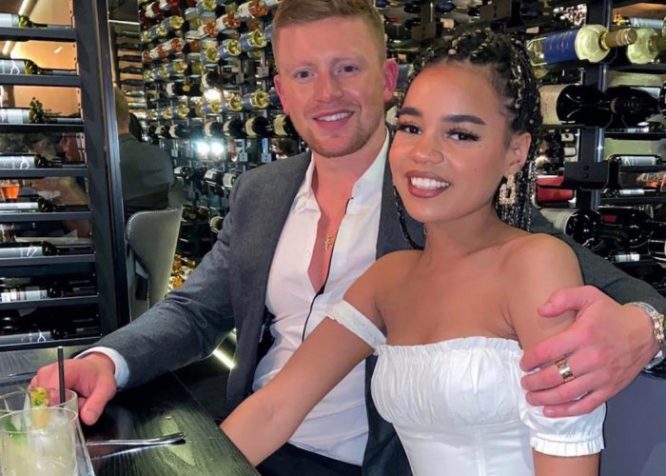 The approach Marshall took to the news that the couple were expecting happy news on the way to what would have been Peaty's defence of the Olympic crown last year before COVID intervened was "build a Home Team", one that would look after mother, baby – and swimmer won a mission of excellence that would be compromised by the 'delightful disruptions' inherent in the arrival of a child, including sleepless nights those with Olympic gold in mind should steer well clear of.
That instant honing in on "solution" was typical of Marshall and speaks to some of the key qualities described by Bill Sweetenham and Dr Bruce Lawrie in their recent paper on "The Athlete-Coach Partnership from a Coach and Psychologist Perspective".
Marshall has been big on going well beyond developing a swimmer. Peaty has grown and matured from a boy who wasn't sure what he wanted into a boy who did and the boy to man to father we all came to know through the pioneering standards he sets in the pool as the swimming voice he never shies from, doping, governance and rights in the mix.
Courage and Learning run deep in Marshall's philosophy and experience, her feet-on-the-ground nature a gift granted to the athlete she coaches if they care to listen. She once told me:
"Life's about experiences and we grow through experiences and my job as a coach is to help him mature in a rounded way. If I don't help him [Peaty] in his life and help him to grow as a person, that's not what I do coaching for… my job is to produce results but also to help to develop rounded people. That's very, very important to me."

Mel Marshall
When Peaty returned home from the 2017 World Championships in Budapest, it wasn't long before he was packing his case for another trip: he was off to Zambia for a charity challenge that raised £50,000 by undertaking 50 hours of sport over five days.
The journey was planned and led by Mel Marshall, who set off for the Zambian capital Lusaka just a fortnight after the conclusion of the world titles in Hungary. The party of 12 took part in 10 hours a day of basketball, football, netball and volleyball finishing off with a triathlon on the final day.
Funds went to The Perfect Day Foundation, of which Mel Marshall is a patron. The foundation works with young people in communities in and around Lusaka, where poverty is acute and where HIV, homelessness, teenage pregnancies and domestic and gender-based violence are all significant problems. After Tokyo 2020 in 2021 is done and post-pandemic travel allows, Marshall and Peaty will return, not for the first time, to take part in the work of the foundation.
Marshall told my colleague at SwimVortex, Liz Byrnes, in an interview about the Zambia trip: " … so sport gives them that and having these youth centres alongside where they play sport will allow a guidance and the parent of sport to teach them life skills and values in terms of what is appropriate behaviour and what's not appropriate behaviour. Women aren't treated very well or regarded with high respect.
"Where sport comes in is that sport teaches them to respect one another, to be kind to one another, to compete but collaborate, to play fair and abide by the rules – all those life skills."
Perspective On Women's Coaching From Mel Marshall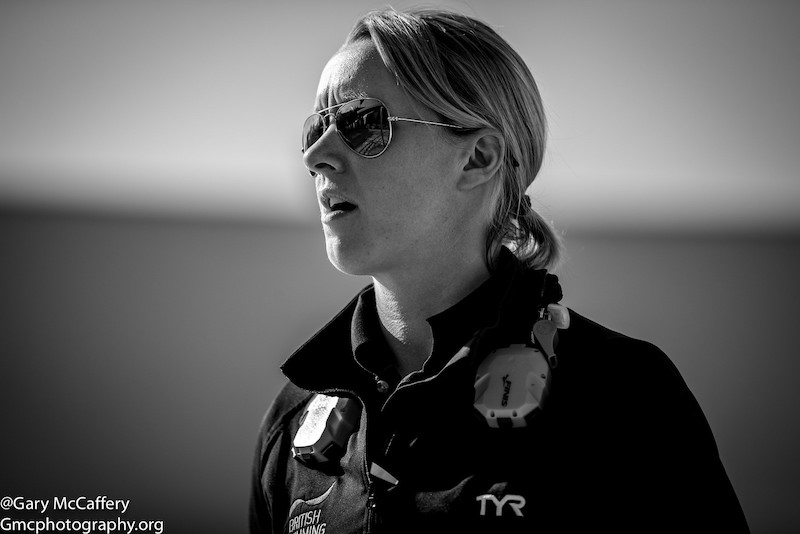 Asked by the BBC this morning about the UK women's coach project, Mel Marshall, said that the mission as "heading in the right direction … and is a healthy thing to invest in". She cited three things that the project hopes to achieve: to create a platform with more opportunities for female coaches; to let those coaches know that they are capable of being world-class leaders not just followers; to celebrate role models as a signpost for all.
Where had the confidence and drive come from? Says Marshall, a former international swimmer for Britain and multi-medallist for England at the Commonwealth Games and now 39:
"I remember my mum telling me 'we've got two arms, two legs, energy and enthusiasm; get stuck in".
When a question included the notion of top coaching roles being "elusive" to women, she said: "I never say anything is elusive to anyone. She then proceeded to explain why the best coaches are those who can bring both feminine and masculine qualities to the job whether they were women or men.
"Both need to do both," she said, adding that one of her strengths was "the ability to cry" when one of her swimmers succeeds. Marshall asks:
"Can a male coach do that and see it as a strength? The great coach can do all of it."
Further insight – From the Archive – December 2016
Mel Marshall Reflects On A Stellar Olympic Year
SwimVortex talks to coach Mel Marshall in her first interview since being made lead coach at the Loughborough National Centre in Britain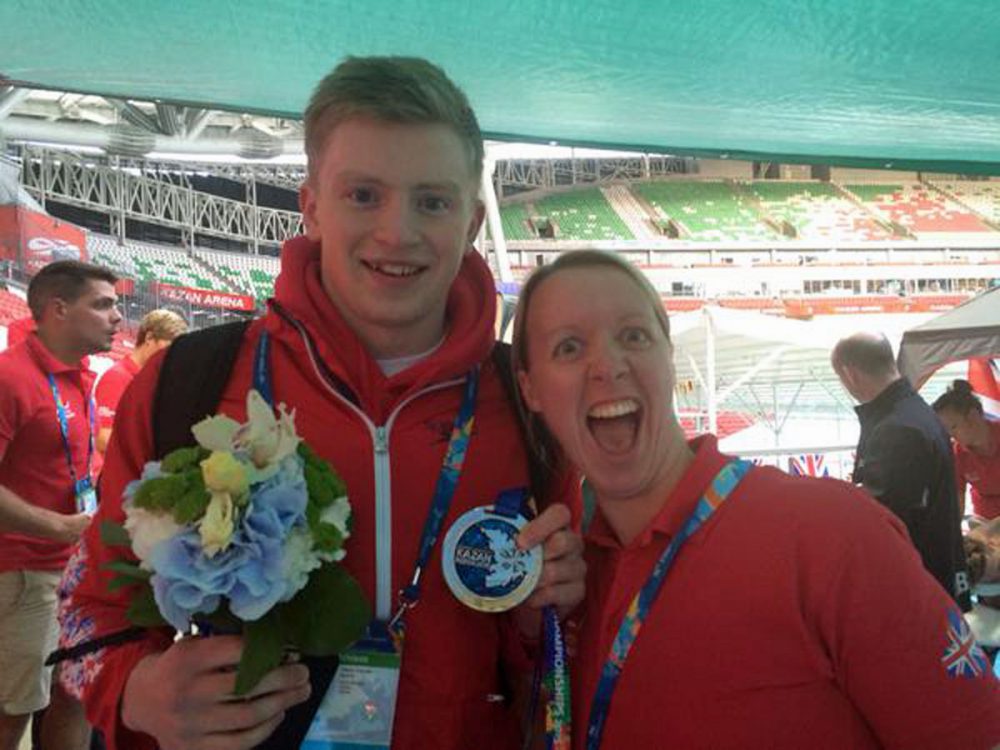 When Melanie Marshall takes to the deck at Loughborough University as head coach come January 1, swimmers will see a former international, a coach – the coach to Adam Peaty – and all the things we know of that led to her landing the job as their mentor.
What she wants them to see is a coach for all skills and personalities, a coach who wants to know from the get go what the person standing in front of them is all about: what drives them to the water; what gets them up each morning; what makes them tick; and what strengths can help to make them the best they can be; what weaknesses need to be ironed out. Marshall will have a one-on-one relationship with each of her charges. She will insist on it.
Not so much towing as buoyed by her own experiences as a swimmer, her journey as a coach these past two Olympic cycles and the lessons learned at City of Derby with Peaty and mates, Marshall not only intends to work with the individual in the team but is thinking well beyond the box of her own pool.
Loughborough is to be a hub, a swap shop of excellence open to swimmers and coaches from around the country not only the talents in residence. To some extent, it has already been that. Peaty, for example, is no stranger to the place, the centre a temporary, long-course home from his Derby home during the years of preparation for Rio 2016.
Marshall intends to take things to the next level, for the individual(s) and the hub.
Asked by SwimVortex to outline some first key tasks on the job in Loughborough, Mel Marshall says:
"I've always believed that every individual who walks through door is unique. Yes, there are general things that apply but it is that individual formula and code that you need to crack. We cracked it with Adam: it is a case of understanding the individual and what works for them and finding the best development path that completely suits suits that individual."
How had that worked out in a club program with the demands of a program stretching from the minnow, the swim-along and along the spectrum to Olympic gold prospect?
"At Derby, we created our own sectionalised elite group. I had six swimmers in that group for the past three years. It is just about changing your dynamic within that bored club situation. You kind of have to mould yourself as a coach. How I am for Adam is not how I am with or for others. There is the wider picture and the specific picture and within that the individual performer and performance."
Just how the dynamic will work at Loughborough will remain in-house. British Swimming made its agenda clear on the day it announced Marshall's appointment but what the coach is prepared to say nails the overall goal:
"We are going to harness the things that have made us great over the past 4 years and evolve that program."

Image: Britain's Coach of the Year Melanie Marshall, with her top charge, Adam Peaty [images, BOA (Marshall), Patrick B. Kraemer, top, and Gian Mattia D'Alberto]
All eyes on Peaty, of course. He's no longer a prospect and promise. He's the real deal: an Olympic champion who converted to the next level with a series of stunning world records before and after a brace of world titles. His victory over 100m breaststroke in Rio marked the performance in the Olympic pool (and any other pool) of the year.
Peaty – not to mention his mum, Caroline – will no longer struggle with a 45-min one-way pool run. He lives an eight-minute drive from the Loughborough pool. There's be other changes, too, Marshall acknowledges.
"Yes, there'll be a shift in dynamic. He's excited about the change. For the past eight years we've had an incredibly good run. Now it will be "full-time" and we will work out just how that change will look. It will involve having more people to work off and fresh people to work off. Adam's very much looking forward to that."
Indeed, Peaty is already enjoying it. Marshall had a smile on her face when looking across the lanes of late to see Peaty and developing backstroke ace Luke Greenbank "bouncing off each other, having a good time … he's got adults around him and working alongside him and he can have a banter with them". How significant is that? Says Marshall:
"I wouldn't want anyone to take this the wrong way but the fact is, swimming involves a really boring preparation. It's five hours a day in water and then gym; six and a half hours of preparation a day. A lot of that is 'go up and there and come back' and we have to be innovative in the ay we deliver what we do. You have to think how do we engage the individuals and liven up that process."
A process that will not stop at Peaty and Loughborough. "We are going to be a hub for this country to get better," says Mel Marshall. " We will deliver the best practice and only the best will do."
Skills, work ethic, fast swimming but also happy rounded folk?
"Absolutely: it is my belief that we want to be better people through sport, not worse. My philosophy is that through what we do and the work at the hubs like Loughborough, as well as out there in the clubs beyond, we can help swimmers be better equipped for life, better able to cope, become better people and role models. I have some ideas about how we can bring that to life."

Image: Adam Peaty and coach Mel Marshall
The work is not only 'there and back' nor even confined to the water or gym. "If when standing in the arena on the big occasion all you are is a swimmer in a frightening place, it isn't going to go the best. We're also responsible for placing confidence in the human and that involves working with the human not just the swimmer."
Tomorrow, as some arrive at world s/c titles in Canada at the end of Olympic year, Marshall, Peaty and others from Britain, will arrive in Dubai for a two-week pre-Christmas camp, the next long-course journey well underway.
The group will be hosted once more by Hamilton Aquatics, where coach Chris Tidy and his team have played a part in the progress of Peaty, Marshall and others from Britain. Says Marshall: "Throughout the journey they've been really supportive of the fact that we come from a place where we haven't got pools." [those 50m long, where the water is 'owned' by those on a performance pathway]
Plaudits For the City of Derby Swimming Club, the Source of Success
They have such a pool now, Loughborough a fine facility to call home, notes Marshall before she grants a careful and heartfelt thanks to the source of success.
"For me, I'm really excited about what we can do and what we can contribute to performance in Britain going forward but I'd like to say a very big thanks to my club [City of Derby SC]; all the experiences at that program bolstered my security and my confidence. They say you never get over our first love and that is the case: I will always cherish and be thankful for everything they did for me and for that moment eight years ago when they took a chance on me [by appointing her head coach]."

Images – left – Adam Peaty – 57.13 – something to smile about – by Patrick B. Kraemer; right – Adam Peaty by D'alberto-Pirroke LaPresse for arena
Could she recall what it felt like to walk out as coach on that first day in a new life?
There's a slight pause, a tiny window of reflection, a small gulp, perhaps.
"That first day I remember thinking that the role, the job ahead excited me from the very start – and it still does, so I think it must be the right job for me. I can't think of anything better than to get the chance to enthuse people … and show them that they are capable of much greater things that they might have imagined possible."
Such notions have their roots in the swimmer that was and remains Mel Marshall, coached at Loughborough by Ben Titley, now in Canada and steering the likes of Penny Oleksiak to Olympic gold, at a time when Bill Sweetenham was turning the Britain ship around, not without a wave of challenge in the mix?
"Absolutely. I spoke at the World-class Coaches Conference on Monday; it was the keynote speech. I chose to speak about the highs and lows of being a swimmer myself. My experience has been really valuable and that journey as an athlete has really helped me to navigate my way in the world-class arena. I know what it is to have heavy legs you can't move, when you're arms just won't work and I know what kind of mechanism to put around you to get you through that. The athlete still stays in me and helps me to remember what it was like.
"You have to put people before performance. If you put people first, performance takes care of itself. We are dealing with human beings and we must never forget that."
From The Archive
The School Of Learning – Olympic Memories, 2004, 2016
Asked in Rio about the pressures of the big occasion and how Peaty and his coach got through the mill so well, Marshall said:
"All this stuff in terms of arena training, I felt we did years ago."

Image – Anna Zair, Caroline Peaty, with son Adam and his dad Mark in Rio – by Craig Lord
Meaning: Marshall had passed on the lessons of her own experience and those had fed into the nature and nurture of Peaty and contributed to producing a swimmer who firmly believes that pressure is there to be harnessed not feared. Indeed, 'pressure', he suggests, too often serves as an excuse for not performing. It might, he once said, not even exist at all: all in the mind.
Marshall understood better what to tell her charge because she'd lived through challenging times and tests of character that now stand her in good stead.
She arrived in Athens as the world No 1 on the clock in 2004 over 200m freestyle. Princess Anne turned up for semis but it was not to be Marshall's day. That would come 12 years later on a sensational night in Rio, the experience of loss and letdown fuel for another journey.
Said Marshall: "It was 12 years ago and if I look back now, I'd say that was my defining moment as a coach. I would never have been able to guide him to this if I had not had that experience myself. I feel like this, for me, was my Olympic gold. I went through that and that's just how it is, but now I get to help the guys hopefully realise their dreams year on year."
"Little did I know that that moment there was my defining moment as a coach. I feel like I know now that it's about balance, in terms of making sure you're not pushing too hard and you're not pushing not hard enough, particularly in that last year. That's why I'm here, because of that I can help guide people through this process. It is a very challenging process.

"The first thing you say if you go to number one in the world and don't win is so-and-so has failed to win a gold medal, when they may have got silver. The odds of winning the Olympics are 22 million to one. The odds of being an Olympian are 628,000 to one. You pick up one of those medals and it's an amazing achievement. It's often criticism from people sitting on couches not doing that much with their lives."
Something that could not be said of Peaty. "There are not many like him," said Marshall back in Rio. "I did a montage for him before we left in terms of the work that he has done and the journey he has been on. He is always the last man standing no matter what it is. If I say 'go again' he will say 'yeah'. If I say 'go again', he will say 'yeah'. If he says 'I can't', I will say 'go again' and he will say 'yeah'. It is testament to his hard work that we are here. I feel like we are the perfect partnership and that's a special and a rare thing. I will never forget this moment for the rest of my life."
That montage included the hourly slog, the daily bread, the weekly wash and tumble of workouts and challenge and the markers that make wach month one closer to the goal. It might have included that charity bike ride across Africa Marshall took the teenager on for fitness and fun in pursuit of wider horizons, perspective and resilience. It might have also included the breakthrough moments in 2014 and 2015 that led to Marshall being voted by peers at the British Swimming Coaches Association as the first women Coach of the Year and the first woman to retain that crown.
If he was learning all the while, so was she, but as peaty himself noted "you can learn from the experience of others but you still have to live through it yourself to know it".
What had Mel Marshall been feeling as she sent Peaty off to his blocks.
"Have you seen that programme One Born Every Minute? [A ground-breaking TV series in Britain that focuses on the drama and emotion of a maternity unit]. It was literally like that. It was horrendous. As soon as we had our final conversation, that's when my emotions came out. I went to the other side of the stands with a couple of the sports science staff because I knew I did not want anyone to see me pacing up and down like I was about to give birth."
Peaty was one among other swimmers who might make the very day he arrived at Marshall's pool. What were her first impressions of him? "He just had something. He had a sparkle. His breaststroke was just something different in terms of the way he swam it. I feel there is a massive amount of fate that has gone on with this journey. There were so many situations. I had just come out of elite sport from Beijing (2008) at the time. He just landed on my doorstep. It went from there."
Marshall met Adam's mother Caroline Peaty (more on Adam and his family later) and agreed to assess her young son for swimming training. The coach was none too impressed. As Peaty puts it: "She saw my freestyle and was going to chuck me out, I think. All the 10-year-old girls could beat me."
But then Marshall saw him swim breaststroke and thought "oh, that's interesting" and she agreed to take him on, a ticket stamped at the start of a long journey. It was in 2008 not longer after Peaty had been signed up that she had a dream: she dreamt that the boy would blossom and the 2016 would be the platform at which he would get off to the sound of a crown cheering his name. Says Mel Marshall:
"He was supposed to win this. It was his destiny. That's the biggest thing. If this message gets out to a wider audience and to kids then it should be that dreams really can come true. Eight years ago, I dreamt of this [result] tonight."
Asked what sets him apart, Marshall said: "His work ethic. He works harder than anyone else. He has got a bloody good coach."
Cue laughter. Spot on.
The Next Chapter
Peaty is just 21 and there's work to be done over those "eight more years" the partnership has in mind. He has spoken of Project 56 and getting the pace of 100m breaststroke inside 57sec to go where John "Tarzan" Weissmuller never went on freestyle almost 100 years ago; down to the pace of Mark Spitz for the first of his seven 100m butterfly World records back in 1967; to match the place Roland Matthes took backstroke 46 years ago. to Peaty talks of 'Project Immortality', not so much a time, for records are there to be broken and will be – but a ticket to the club of Phelps, Spitz, Meyer, Gould, Mary T, Evans and the like, their out-of-orbit achievements and longevity of their standards a mark of eternal excellence.
Says Marshall with a nod to a clock already feeling battered and bruised by the blows of Peaty:
"I thought we could go 57.2 here and we went 57.1. So I guess it's Project 56. After this year we'll be looking to rebuild and take it steady again and build up again over the next four years."
Looking back at the four years gone by since Peaty stood in a field thinking he might get drunk, with a jealous eye on Craig Benson's splits at London 2012 home Games that he'd hoped he'd be at, what did Marshall think had made the difference?
"He's just grown up. People take time to grow up and get that feeling of 'I do want to do it'. He's just grown up. Those stories…[some in news reports of him playing up for teachers] he was never a bad lad. We had one argument when he was a 14-year-old about putting his fins on, but apart from that, if you have a quiet conversation with him, help him understand the way forward, he will always listen.
"That's the one biggest thing about him: he's listened and he's absorbed. That's why he is where he is, he's been a great listener."
A great one for paying plaudits to all those who have helped him along the way, too. So what were all those folk back in Derby up to when Peaty was pulling his way to Olympic gold? "I know they had a big screen outside where he trains. I think it's too early on a Monday to get drunk, but… I just know he's been an inspiration to the kids there. We've had a very difficult year. We lost facilities and stuff. But it's been a 'we'. It's been the club, volunteers, British Swimming, UK Sport. Everybody's come together and we've achieved this. That's a great thing."
Not all has been plain-sailing, Derby having been knocked by pool closures that forced Peaty and mates to make alternative arrangements. "We've had some difficulties in terms of pools closing and stuff. All of them," says Marshall. "We lost three pools this year, but they're all back on now. That's all been noise that as a coach we have to deal with. You have to put all your eggs in one basket and try to deliver the goods. That's just sport.
The bookies had had Adam at 1/100 but had Marshall suffered doubt? She replied:
"I came into this meet and I didn't dare… because I know what it's like on the other side if it doesn't go well. There's an element of me that was cautious. But in my gut I knew what he could do. I fully trusted in him and believed in him. Yes, what a guy."
It was time to fly, to get back to work on the burning deck that Marshall need never again associate with 2004 and feel pain. The shadow of Mount Olympus, courtesy of her work, Peaty's work and the outcome in Rio last night, now serves simply to remind Marshall of the mountain climbed and conquered, the view from the summit a place of breathtaking beauty.