ISL: Dates & Venues For 1st Global Pro Tour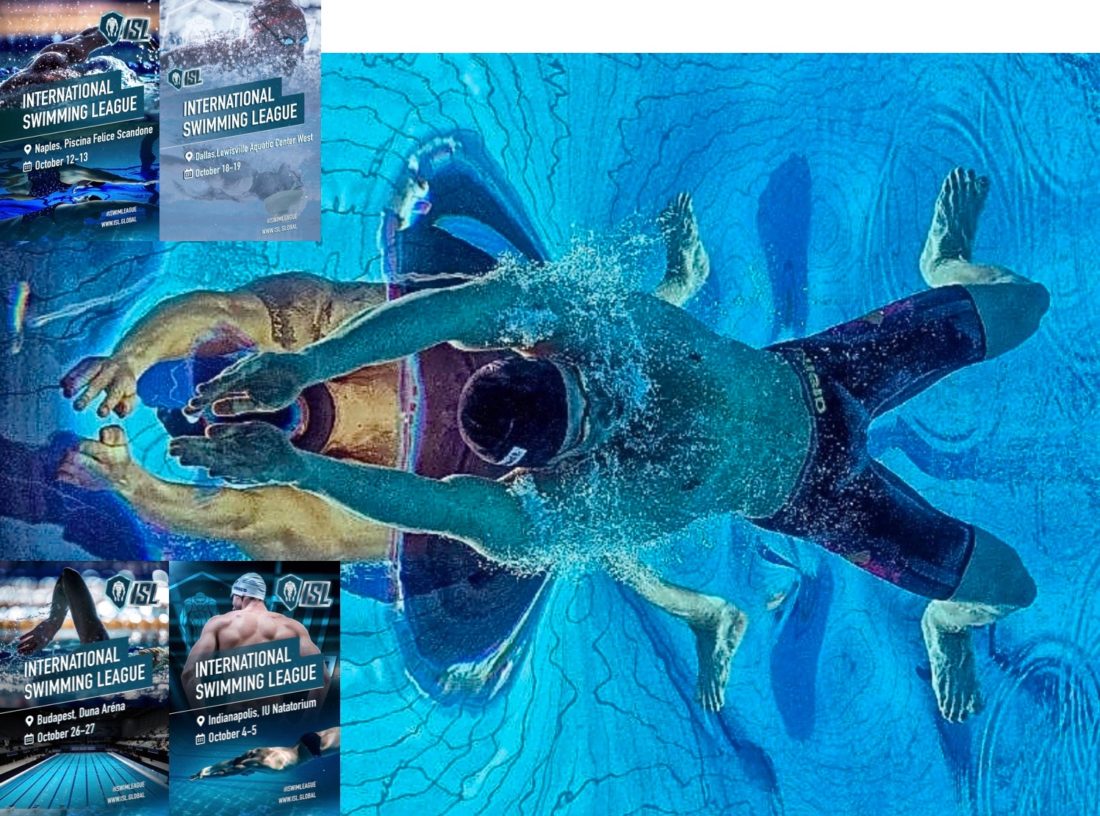 The International Swimming League's (ISL) inaugural season will unfold in seven cities across the U.S. and Europe, culminating in a December showdown at a custom-built pool in the heart of Las Vegas.
Last month, Olympic champions Katie Ledecky, Adam Peaty, Nathan Adrian, Ryan Murphy, and Simone Manuel announced their involvement as official ambassadors of the league.
Support for a sport with a Season between Games...
Having signed more than 200 of the world's best swimmers, ISL is shaking up the sport with a dynamic, fast-paced team-competition format. The goal of ISL is to offer athletes more opportunities to swim competitively outside of the Olympic games, as well as financial support and year-round recognition.
Speaking on behalf of the league, Jason Lezak, General Manager of Cali Condors, said:
"We are thrilled to introduce professional swimming to a new generation of sports fans, bringing them face to face with these incredible competitors."
The dates and venues:
October 4-5 – IU Natatorium, Indianapolis, IN.
October 12-13 – Piscina Felice Scandone, Naples.
October 18-19 – The LISD Westside Aquatic Center, Lewisville, Texas.
October 26-27 – Duna Aréna, Budapest
November 15-16 – Natatorium, College Park, Maryland.
November 23-24 – London Aquatics Centre
December 20-21 – Mandalay Bay Resort and Casino, Las Vegas, Nevada.
The Indianapolis round coincides with a FINA World Cup – and as such, results will not be "officially recognised" in FINA world. To the rest ion the world – and the athletes competing – that will not matter at all. To lawyers and competition authorities, the matter will matter much when it comes to it.
ISL Tour ticket sales will open in July.
We don't only want to be looked at as swimmers without a personality just with a flag on the cap.
The feelings of many athletes were summed up by 30-year-old Katinka Hosszu, swimmer and owner of a team in the League (a status for which there are no rules in the FINA handbook and no guidelines covering potential conflicts of interest and other issues), when she told Reuters:
"If we want to be professionals then we have to be professional." Her challenge to FINA's monopoly in a class action in the United States, coupled with the fact that waves of world-class swimmers, including the bulk of 'best in the world' stood together to demand change when FINA threatened to have their national federations ban them if they raced in 'non-approved' events, forced a U-turn from the international federation.
That U-turn is not nearly complete, however: the federation is still insisting on a system of approvals that reinforce its monopoly, including a monopoly that affects European citizens in a way that EU law no longer allows, while FINA has yet to propose or make any rule changes to back up a verbal commitment to 'ok, you can swim'. Current rules do not cater for the new situation.
On FINA's climbdown, Hosszu said:
"It was very interesting how it unfolded, ISL never wanted to be aggressive with FINA, we don't want to take FINA's place, ISL wants to create something new, to be in a parallel universe with FINA and they didn't allow ISL — they didn't have the right to do that. But at the end of the day, they settled and ISL can start."
She added: "Before it was simply FINA decided and that was that. FINA was the one that had all the control and we just did what was available to us. We want to change the fact that we are only seen worldwide during the Olympics. We don't only want to be looked at as swimmers without a personality just with a flag on the cap.
"Cap and goggles and where you are from – that is all you get. It can't be that exciting to watch if you don't know the person. That is what we are also really trying to do with ISL – create content, show behind the scenes, we are creating a season, its not just one race."
OLYMPIC CHALLENGE…
The revolution in the pool will not stop at FINA, Hosszu believes: swimming is racing down a pro stream to a place much more aligned with the structures of the biggest pro sports. Said the Hungarian triple Olympic gold winner:
"The IOC (International Olympic Committee) probably wouldn't like me saying this, but (the aim is) becoming such a professional league and generating so much money and viewership that the Olympics will be one of the swim meets, like for basketball and tennis. That's my vision."
ISL VISION
ISL's Program Development Manager, Dmytro Kachurovskyi said of late: "We think of ourselves not as a sports organization but as a sports content production company. We are developing a show that is unique…our main competitors are not federations or Olympic committees. Our main competitors are companies like Netflix who are producing content."
Couple that with this from ISL funder and creator, Konstantin Grigorishin: "Somebody has to regulate and set up the rules in swimming. If you are a regulator, you should not be organizer of competition. In the future, FINA will have to make a choice."
Indeed it will.
And that choice will come with challenges to a current rule book that will not be in place for at least the first season of the ISL, and possibly not for a few years to come if FINA do not get to grips with the issues raised.
Banning from the ISL any swimmers carrying a WADA Code penalty has widespread support. It is not catered for in the rules of FINA, however. While it does not take the absence of a rule to make it possible to bar the undesirable, it does take the presence of a rule to cope with some of the new relationships and partnerships that are highly likely to develop in the years ahead. As above: is it ok for a swimmer to be a star swimmer and a club owner and a negotiator and someone who will have a say in matters that may find swimmer and organiser and owner weighing up the balance of argument? What will happen when it comes to gambling … and on and on and on.
A glance at the FINA rule book provides little reassurance that the book of rules if fit for purpose 2019 onwards. A glance back at how FINA's leadership has treated its book of rules reminds us that calling something an Ethics Code does not make it one – and FINA's Code raises serious questions about the difference between the label and the contents in the tin.
LONG-TERM SUSTAINABILITY
Back to the ISL venues and organisers for 2019 and Natalie Taylor, Aquatics Director of University Recreation & Wellness at University of Maryland, said: "We are excited to welcome athletes and spectators to the Eppley Recreation Center on the campus of the University of Maryland for the inaugural International Swim League. Our large swimming community is ready to embrace all of the athletes and look forward to cheering on some very fast swimmers."
Paris Jacobs, COO of the American Swimming Coaches Association and ISL management consultant, noted: "Swimming is the most watched sport at the Olympic Games and we expect the ISL will generate nation-wide engagement which will lead to long-term sustainability not just for the league, but for the entire sport of swimming,"
The word sustainable, in wider context, will also come to mean how and where swimming organises itself in the years ahead. Preparation of swimmers and a regular season for that has long been an issue for FINA and its World Cup: the international federation did not listen nearly as keenly as it ought to have done. The ISL will have to consider similar issues. Cost factors, meanwhile, include $ … and the Greta factor.
As the Swedish schoolgirl might say: does it make sense for the energy of people and the energy of the planet, so to speak, to fly backwards and forwards across The Pond six times for a swim tour, or could that swim tour organise itself in a greener way? Such considerations have not been high on the list of priorities for organisers of sport to date and many will tut and shrug yet at the very raising of the topic – but the world is changing … and as FINA's leadership is learning, you need a plan as to how you intend to change with it.