Is 'Open' Only Attractive If Males Get A Ticket To Female Races? Berlin World Cup Suggests So: Not A Single Open Entry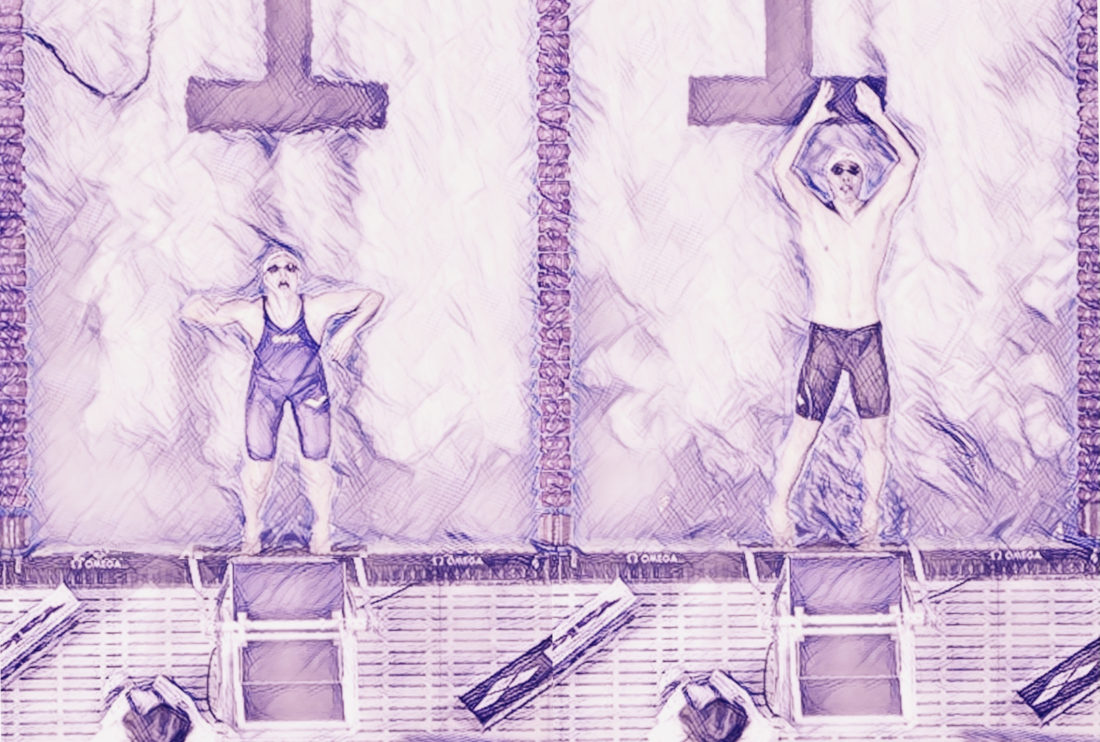 News/Editorial: What would have been the first Open swimming races in FINA/World Aquatics history at the World Cup in Berlin from Friday have been cancelled because not a single entry was received.
The idea of an "open" category for transgender athletes now returns to the global regulator's Working Group tasked with coming up with a definition of "Open" for the sport, if one is required. With no demand at elite level, World Aquatics appears to have set aside the idea of having any Open elite category.
It may now organise a pilot event in masters competition (those largely retired from elite racing and competition throughout life in five-year age categories starting at 25 and including some in the centenarian category).
The future of Open (a term which once meant – and still does – a competition open to swimmers from outside an age band or a geographical location, but within traditional fair-play, sex-based categories) remains uncertain.
What does seem clear is this: the World Aquatics decision in June 2022 to ring-fence the women's category in swimming and other disciplines for females only through rules that make any athletes who have developed through Tanner stage 2 male puberty ineligible appears to have halted the advance of activism in the sport that led to a vile debate over the deeply unpopular inclusion of Lia Thomas, nee Will Thomas, in NCAA competition in the United States in 2022.
World Aquatics issued the following statement moments ago:
Following the close of registration for the Open Category competitions at the World Aquatics Swimming World Cup – Berlin 2023 meet scheduled for 6-8 October, World Aquatics can confirm that no entries have been received for the Open Category events.
Distances in various events had been made available for the Open Category, introduced on a pilot basis following the adoption of the World Aquatics Policy on Eligibility for the Men's and Women's Competition Categories.
The World Aquatics Open Category Working Group will continue its work and engagement with the aquatics community on Open Category events. Even if there is no current demand at the elite level, the working group is planning to look at the possibility of including Open Category races at Masters events in the future.
Conclusions must include:
There is no trans population of swimmers out there willing or able to make the grade for an elite World Cup event
Lia Thomas and other transgender swimmers who made an impact in U.S. college racing in 2021-22 were either not eligible in the way that was suggested possible in the U.S., or did not feel they had any part to play in developing an Open category by lending support to the genuine efforts of World Aquatics to build a model of inclusion that went further than the traditional sex-based categories of men and women.
The only future for an 'Open' category is one in which biological sex must also be taken into account, just as it is with men and women.
Many in swimming will be delighted with the news that the first attempt to open and Open category has fallen at the first hurdle. Those swimmers who might have been eligible do not appear to wish to either make themselves known or do not wish to compete in a category the sport has chosen for them, as it is for all other athletes.
This is not the first time we've seen this trend, as Ross Tucker (The Real Science of Sport Podcast ) pointed out in response to an SOS tweet:
Reasons are many for 'no show' and refusal to accept that sex-based categories should either be scrapped altogether (we all know what that would be ridiculously, hysterically discriminatory to women) or reinforced and protected, with models of inclusion based on what they've always been about – appropriate categorisation that honours Fair Play and Safety rules. Whatever the reasons are, however, it now falls to the Working Group at World Aquatics to move to some kind of Plan B, if one is truly necessary.
What Would Plan B Look Like For Open?
Is there a need for a third category? Not really. If fair play if to be just that, then women should be for females and all others should compete in the men's category. And if there must be a third category, the simplest and fairest way forward is to have a sub-division of categories (call it Open or whatever best suits those who are either ineligible for other categories of do not wish to be in the category of their biological sex), in which biology must play a part in the process of deciding which races trans athletes have access to, if only because sport is about sex and not gender ID.
Open, if it is to survive, must also recognise biological sex, too: males do not belong in females races and spaces, including changing rooms. The issue is not nearly as urgent when it comes to females who are transmen: to be eligible to compete in the women's category, they must delay any male hormone treatment for the duration of their sports careers; to be eligible for the men's category, they can transition with hormone treatment inside limits set in the rule book.
Under such circumstances, it is highly unlikely that we will ever see a transman be a danger to the likes of Dressel, Peaty, Milak, Marchand and Co. It is, however, highly likely that a mediocre male swimmer can become a transwoman and find themselves rocketing up the rankings from many hundreds and thousands deep to a place among the best 30, 20 and even 10 and podium potential in competition with women, aka females.
The latter constitutes Unfair Play. As such, any Open category must reflect biological sex, transition and true status according to biological sex. In some sports around the world, marathon and park runs two cases in point, the trend is for Open and Non-Binary categories to receive prize money and recognition despite what that really means: more opportunities for biological males, who, as men, transwomen or non-binary have in-built and largely irreversible biological-sex advantages, physical and mental in the realm of the developmental, over biological females.
The gateway to Aquatic sports is marked by sex-based categories of men and women for excellent reasons long and well established and visible in more than a century of results, outcomes, human developmental biology and the reality of the binary nature of humans.
Here are two recent papers in which many of those reasons are explained by experts:
The Female Athlete – Sex Matters in Sports Medicine and Science – The German Journal of Sports Medicine
Sex Differences in Athletic Performance – American College of Sports Medicine
The One-Way Nature and Notion Of Fair Play According to Trans Activists
Each of the comments quoted by the German media includes references to "exclusion" (untrue) and to it being "unfair" that trans athletes don't get to choose their category (it's perfectly fair – no other athletes ever gets to choose their category in sport):
Conny-Hendrik Schälicke from the sports working group in the Federal Trans Association of Germany told national media in Berlin: "Competitive sport and inclusion are mutually exclusive [but] a problem remains "as long as trans athletes or intersex women remain excluded or are forced into an open class. That's not fair."
Mara Geri, of the Lesbian and Gay Association (LSVD) of Germany, swimming's plan to have an open category as "a backward step" noting in a statement in response to World Aquatics' promotion of inclusion. through an open category: "We are surprised that the creation of a special category at the upcoming Swimming World Cup in Berlin is being sold as an inclusion success. The attempt to force trans people into a separate or open category is a step backwards in the fight for acceptance and equality trans* people," explained
The German Society for Transidentity and Intersexuality (the term intersex is a misnomer in the English language) also criticized World Aquatics, telling Queer.de: "[Open] creates the impression that transwomen are not women and transmen are not men. Inclusion must mean making it possible to be a valuable part of society right from the start. Through this exclusion, we are categorized as second-class people."
Nothing could be further from the truth, of course. As three-times Olympian Sharron Davies says: "That's not true. Trans athletes are being treated exactly like the rest of us. No-one is barred from sport, everyone is included, everyone gets a category allocated to them according to rules on fair play and safety."
No-one is barred from sport. Precisely. And Paralympians are not second-class and no-one would dream of suggesting so but they are "excluded" from certain categories and competitions, just as able-bodied elite men and women are "excluded" from the Paralympics; just as the heavyweight does not get to fight down weight; just as the 22-year-old Olympic champion does not get to show up at school sports day and take all the certificates in the under 12s race.
Biological sex is the entry points to that categorisation of sport. Long may it remain so.
Some key resources
Cathy Devine: Written evidence to UK Parliament
Cathy Devine sets out her research and explanations on 'the impact of transgender inclusion policies on the fair inclusion of girls and women in single sex sport categories both nationally and interna- tionally' in written evidence submitted to the UK Parliament for its debates on the 2010 Equality Act and 2004 Gender Recognition Act.
Joanna Harper, Emma O'Donnell et al., 'How does hormone transition in transgender women change body composition, muscle strength and haemoglobin? Systematic review with a focus on the implications for sport participation', BMJ
Emma N. Hilton and Tommy R. Lundberg, 'Transgender women in the female category of sport: perspectives on testosterone suppression and performance advantage', Sports Medicine 51 (2020)
Miroslav Imbrišević, 'The transgender reader: language, law, sport and reality. A collection of essays, new edition (extended)' – published by Brighteye Publishing, Worthing, Sussex, 2023].
Jon Pike, 'Safety, fairness, and inclusion: transgender athletes and the essence of rugby', Journal of the Philosophy of Sport 48/2 (2021)
Jon Pike, 'Why "meaningful competition" is not fair competition', Journal of the Philosophy of Sport 50 (2023)
Jon Pike, Emma Hilton and Leslie A. Howe, 'Fair game – biology, fair- ness and transgender athletes in women's sport' [document published by the Canadian think tank the Macdonald-Laurier Institute, 2021]
Timothy A. Roberts, Joshua Smalley and Dale Ahrendt, 'Effect of gender-affirming hormones on athletic performance in transwomen and transmen: implications for sporting organisations and legislators', British Journal of Sports Medicine 55/11 (2021)
Anna Wiik, Tommy R. Lundberg et al., 'Muscle strength, size, and composition following 12 months of gender-affirming treatment in transgender individuals', Journal of Clinical Endocrinology and Metabolism 105/3 (March 2020).
The Real Science of Sport Podcast (with Professor RossTucker and Mike Finch)
Unfair Play – Sharron Davies with Craig Lord
Unsporting – Linda Blade with Barbara Kay