Irish Progress Continues Apace With New Wave Of Records At Open – National Teams Take Shape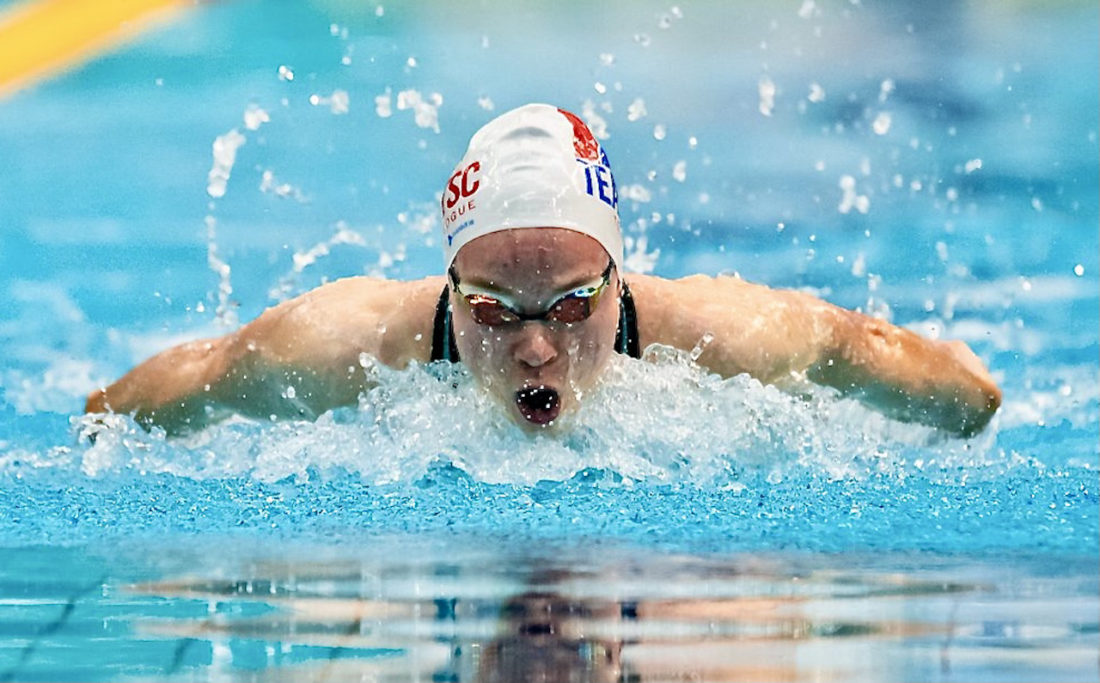 Swim Ireland's Irish Open Swimming Championships produced a wave of national records over five days of action at the Sport Ireland National Aquatic Centre in Dublin. The highlights included a 52.92 from Ellen Walshe in the 100m butterfly.
The meet served as selection trials for International competition this year: the teams listed at the foot of this file.
In heavy training, Daniel Wiffen raced a couple of events at the Open alongside his twin brother Nathan. Daniel heads into international competition as a podium contender this days after a couple of seasons of terrific improvement, including a first for Northern Ireland at the Commonwealth Games last year.
Swim Ireland National Performance Director Jon Rudd summed up the latest wave of Irish progress: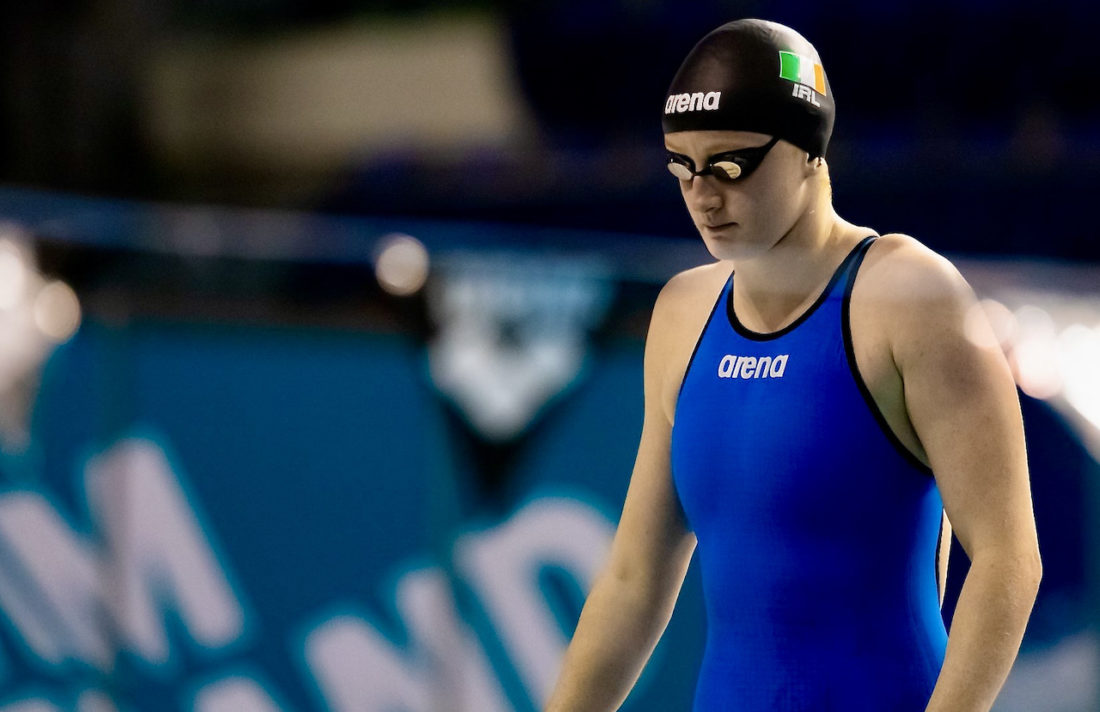 "This Championships was a huge step forwards for the Irish swimming community as a whole, particularly when we compare it to the post-COVID equivalent in 2022. Seven athletes put their names into contention for individual events at the World Aquatics Championships in Fukuoka, Japan this summer and that is before we consider what relays we opt to compete in. Fukuoka is the first major step for us towards the Paris Olympic Games in 2024 – the first of three qualification opportunities for our athletes.

Alongside this, we have over 20 additional athletes make themselves known for our junior, youth and open water teams this summer. That's a highly significant number of selections for us to consider – with 7 Irish Senior Records and 5 Irish Junior Records thrown into the mix for good measure. I'm very proud of Irish swimming today, with selection considerations coming from all four of our Provinces. With 100 days to go until Fukuoka commences, I'll be honoured as always to lead our senior National Team into what could be a very rewarding World Championships for Ireland".

Jon Rudd. Photo: Danielle Hill – courtesy of Swim Ireland
The Stats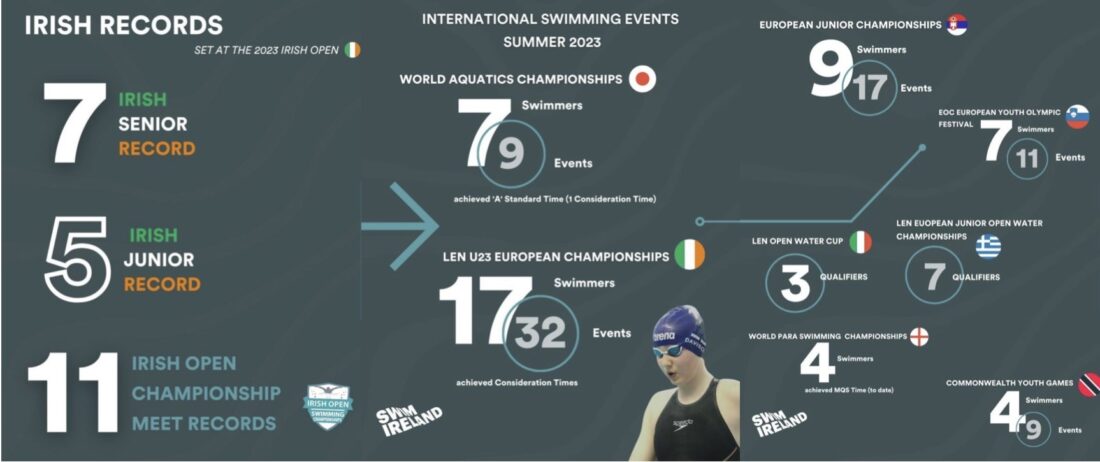 Irish Open – Links to reports, results and highlights:
Day 1 and Results from Swim Ireland – Ellen Walshe clocks 58.32 in heats of 100m butterfly for her first Irish record off the day – the second fell in the final: 57.96!
Day 2 and Results from Swim Ireland – Jack Cassin, Mona McSharry and Tom Fannon all set new Irish standards.
Day 3 and Results from Swim Ireland – Irish records fell to Mona McSharry, Grace Davison, and Jack Cassin, all broke their second Irish records
Day 4 and Results from Swim Ireland – Conor Feguson, Danielle Hill and Ellen Walshe added more "A"-qualifier efforts on the way to World Championships in Japan this July
Day 5 and Results from Swim Ireland – Victoria Catterson set Irish record of 1:59.74 in the 200m freestyle
Selections For International Swimming Events Summer 2023
2023 World Aquatics Championships (50m) in Fukuoka, Japan, July 23rd – 30th
Irish select. (Senior summer benchmark meet)
World Aquatics 'A' Time: Mona McSharry (100m Breaststroke, 200m Breaststroke), Daniel Wiffen, Ellen Walshe (100m Butterfly, 200m IM), Danielle Hill (100m Backstroke), Conor Ferguson (100m Backstroke), Tom Fannon (50m Freestyle)
World Aquatics Consideration Time: John Shortt (200m Backstroke)
Selected divers: Clare Cryan, Ciara McGing, Jake Passmore
2023 World Para Swimming Championships in Manchester, United Kingdom, July 31st – August 6th
Irish select. Minimum Qualification Standard met: Ellen Keane, Nicole Turner, Róisín NíRíain, Barry McClements
2023 LEN European U23 Swimming Championships in Dublin, Ireland, August 11th – 13th
Irish select. Grace Davison (50m Freestyle, 200m IM, 200m Freestyle) Eoin Corby (100m Breaststroke) Liam O'Connor (100m Breaststroke) Daniel Wiffen (400m Freestyle) Ellen Walshe (100m Butterfly) Grace Hodgins (400m Freestyle), Jack Cassin (200m Butterfly, 400m IM), John Shortt (200m Backstroke, 100m Backstroke), Mona McSharry (100m Breaststroke, 200m Breaststroke), Ellie McCartney (100m Breaststroke, 200m IM, 200m Breaststroke), Evan Bailey (100m Freestyle, 100m Butterfly, 200m Freestyle), Alana Burns-Atkin (100m Butterfly), Dylan Registe (50m Freestyle), Oisin Tebite (50m Freestyle) Molly Mayne (200m Breaststroke), Victoria Catterson (200m Freestyle), Maria Godden (200m Backstroke)
2023 LEN European Junior Championships in Belgrade, Serbia, July 4th– 9th
Irish select. (The junior summer benchmark meet for athletes of this age banding)
Grace Davison (50m Freestyle, 200m IM, 200m Freestyle), Liam O'Connor (100m Breaststroke), John Shortt (200m Backstroke, 100m Backstroke), Ellie McCartney (100m Breaststroke, 200m IM, 200m Breaststroke), Evan Bailey (100m Freestyle, 100m Butterfly, 200m Freestyle), Alana Burns-Atkin (100m Butterfly), Dylan Registe (50m Freestyle), Oisin Tebite (50m Freestyle), Molly Mayne (200m Breaststroke)
2023 EOC European Youth Olympic Festival in Maribor, Slovenia, July 23rd – 29th
Irish select. (The junior summer benchmark meet for athletes of this age banding)
Denis O'Brien (400m Freestyle, 200m Freestyle), Sean Donnellan (200m Butterfly), John Shortt (200m Backstroke, 100m Backstroke, 50m Freestyle), Ava Jones (100m Breaststroke), Niamh Connery (100m Breaststroke, 200m Breaststroke), Brydan Byrne (200m Backstroke), Gene Smyth (100m Freestyle)
2023 Commonwealth Youth Games in Trinidad and Tobago, August 1st – 11th
Irish select. Grace Davison (50m Freestyle, 200m IM, 200m Freestyle), Ellie McCartney (100m Breaststroke, 200m IM, 200m Breaststroke), Alana Burns-Atkin (100m Butterfly), Dylan Registe (50m Freestyle)