International Swimming League Reveals Budapest Season 2 Team Battles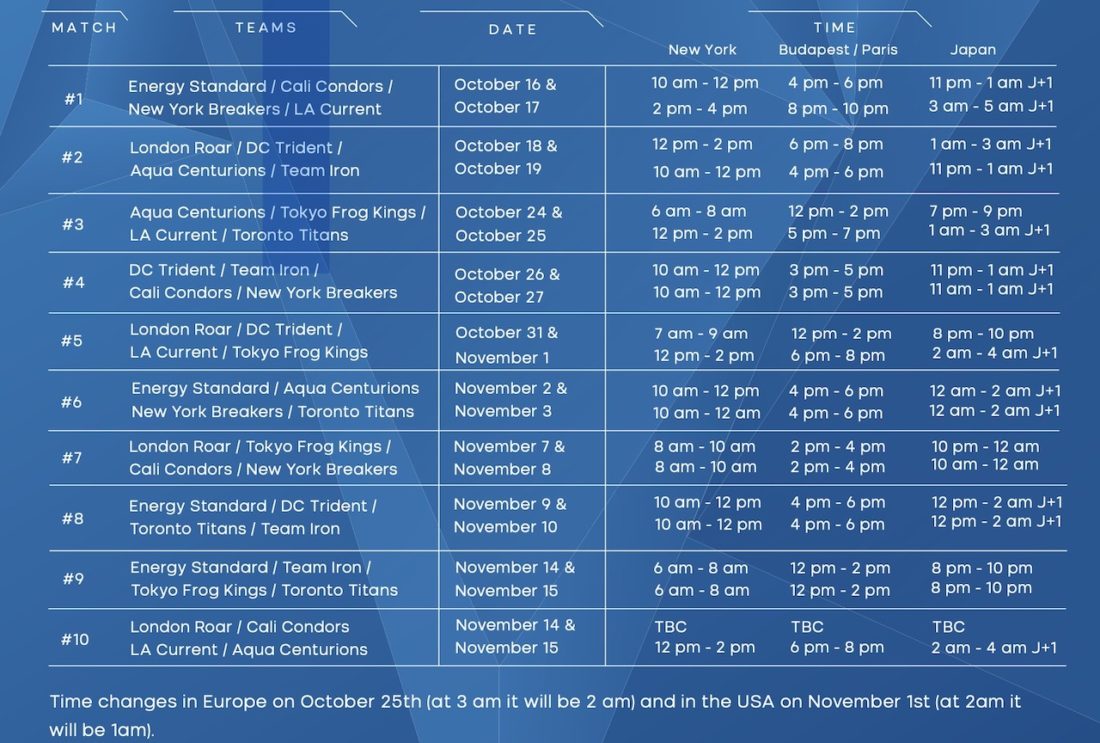 The International Swimming League (ISL) today unveiled the calendar of Pro-Swim Team clashes for the upcoming 2020 regular season (all the way to the qualifiers for the semi-final).
The Swimming League's Season 2 will unfold from October 16 to November 15 at the Duna Arena in Budapest, the Hungarian capital host to the first 10 matches of the ISL's Battle in the Budapest Bubble under conditions dictated by the COVID-19 pandemic.
The match series represents the qualifiers for the semi-finals, also in Budapest, on November 19, before the final clash brings the 2020 Season to a close in Tokyo, pandemic allowing.
The first 2020 Swimming League clash will be between the 2019 inaugural season champions Energy Standard and Cali Condors, on October 16, swiftly followed by a match between New York Breakers and LA Current on October 17 before Energy's closest rival for the crown in 2019, London Roar, takes on DC Trident on the 18th.
There is no direct Energy Vs London Roar clash in the rounds, each team scheduled to race in four clashes on the way to the semi-final.
Last week, the International Swimming League issued a comprehensive (Medical) Prevention and Intervention Protocol that makes clear that athletes will live in a bubble of training location, competition pool/venue, hotel and transport between all those during the five weeks of Season 2 and, following health and travel concerns among some federations and others, noted:
"ISL is committed to offering a safe environment to all athletes and staff. The medical protocol  developed with one of the best and renowned international scientific teams, for this year's only major competition to feature the world's best swimmers, is now available for consultation."
Swimming League Schedule & Team Rosters
The main image on this short notice provides the Swimming League match times in local and international time zones.