Independent International Swimmers' Alliance Off The Blocks In Partnership With Global Athlete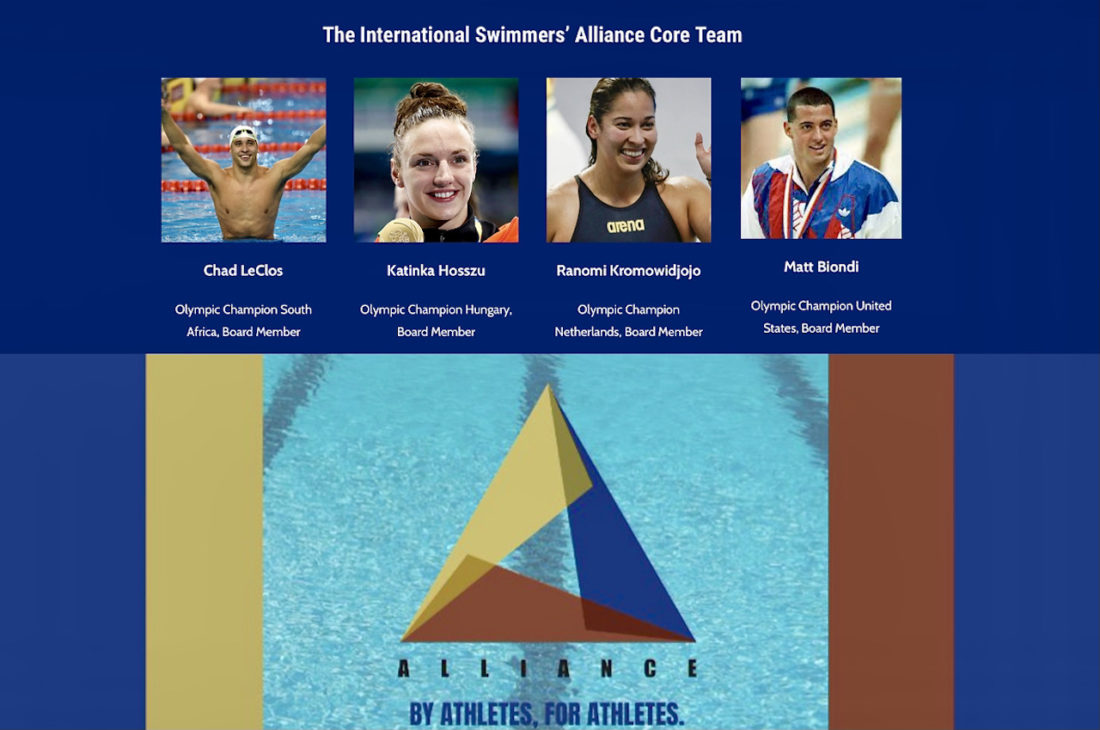 The world's top swimmers have united to formally establish the Independent International Swimmers' Alliance and a partnership with Global Athlete, the groundbreaking representative body pressing for changes to the way Olympic sports and related matters, such as anti-doping as well as athlete pay and rights, are organised.
The Alliance is to be led by Olympic swimming champions Ranomi Kromowidjojo, Katinka Hosszu, Chad Le Clos and retired five-golds-atop-seven-medals legend of the 1988 Olympic Games Matt Biondi as the core group at the helm of a 10-person Board. At launch, Biondi, the Alliance Manager (note, no emperors, presidents, kings or queens) says: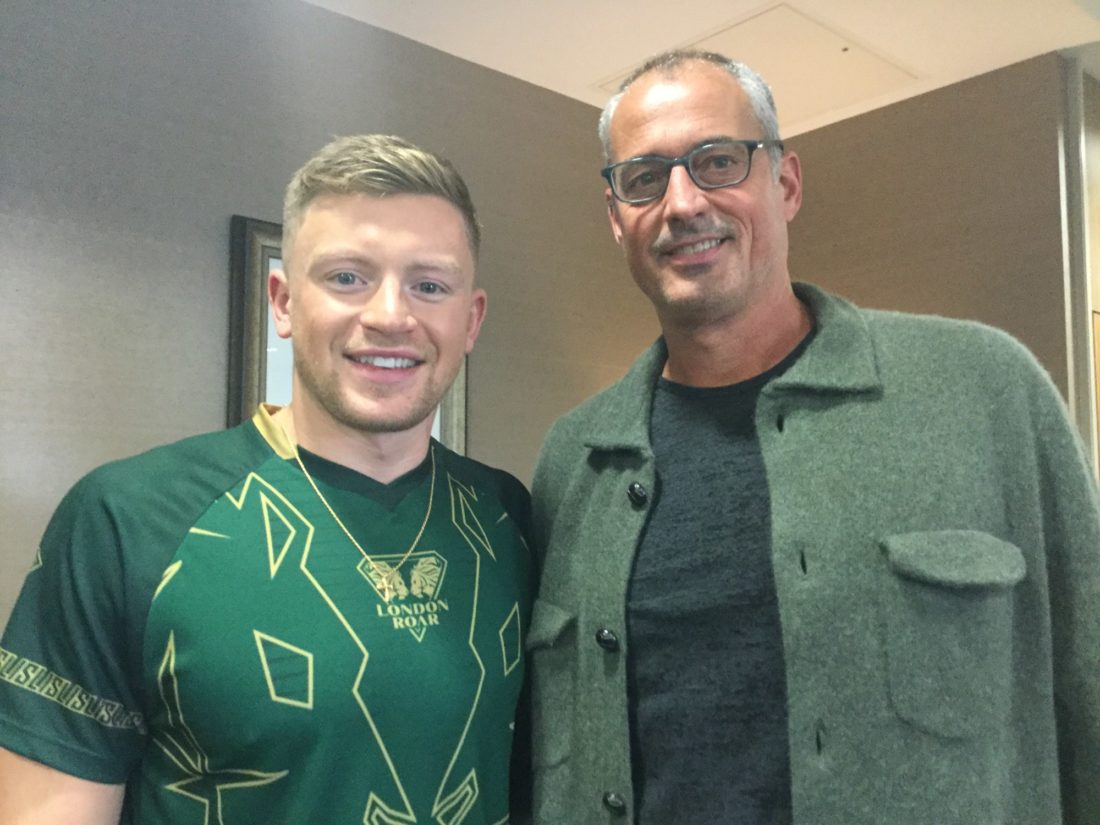 "Very little has changed in the business structure of professional swimming since Tom Jager and I were the first true professional swimmers in America three decades ago. This fact is not lost on today's top swimmers."

Matt Biondi (pictured with Adam Peaty, photo courtesy of Craig Lord)
The launch follows a weekend of some new and mostly more of the same at FINA, the international federation. Whatever comes next, the independent athlete voice and request for direct dialogue will be unavoidable.
Matt Biondi revealed plans for the Alliance in an interview with this author back in 2019 on the eve of the COVID-19 pandemic. Today, the Alliance gets its work formally underway with the launch of the Alliance website with mission statement, social media accounts and the announcement of the formation of a Board and a partnership with Global Athlete.
Later today, SOS will bring you an interview with Ranomi Kromowidjojo in which the Dutch sprint star and double Olympic champion of London 2012 outlines why the sport needs the Alliance and what the new group aims to get done.
It a statement today, the Alliance noted: "Today marks the formal launch of the International Swimmers' Alliance, an independent organization established for athletes, by athletes that aims to fight for swimmers' rights and provide them with an independent global voice.
"Formed in response to the calls from professional swimmers worldwide for independent representation, the International Swimmers' Alliance has a goal to improve personal and economic op- portunities for all elite swimmers by elevating the sport into the modern era.
"The initial International Swimmers' Alliance will be governed by the "Alliance Board" of 10 members. To learn more about the International Swimmers' Alliance, visit our brand new website www.internationalswimmersalliance.org and sign up and register to receive up-to-date information.
"The non-profit International Swimmers' Alliance aims to engage in positive dialogue with the IOC and swimming's international governing body, FINA, to bring about the change required to modernize the sport. The Alliance's goal is collaboration but at the same time hold those ac- countable at FINA when not acting in the best interest of the athletes.
"While all modern profes- sional sports leagues have an average athlete to administrator ratio of 1:3, the IOC's administration structure is 1:50 respectively. Additionally, all modern professional leagues have revenue sharing agreements with athletes of roughly 50-50, swimmers receive no compensation for competing either at the Olympics or World Championships. Swimmers have united to address these glaring comparisons.
The Alliance's main objectives, which will be decided by the swimmers include:
Promoting the advancement of all swimmers and the sport.
Improving and maintaining relations with all governing bodies and event organizers.
Improving economic conditions of swimmers (including, at the appropriate time, the es- tablishment and maintenance of pension plans, health insurance plans or other benefit plans for swimmers),
Developing enterprises aimed at expanding benefits for the Alliance and its members (including, at the appropriate time, the sponsorship or organization of professional com- petitions).
The International Swimmers' Alliance has also agreed to a strategic partnership with Global Athlete, a progressive athlete start-up movement aiming to inspire greater athlete representation in organizations across the world of sport. The partnership brings together two organizations with similar values to collaborate on projects, share insights and drive change that will ultimately benefit the athletes and the sport. Rob Koehler, Global Athlete Director General, said: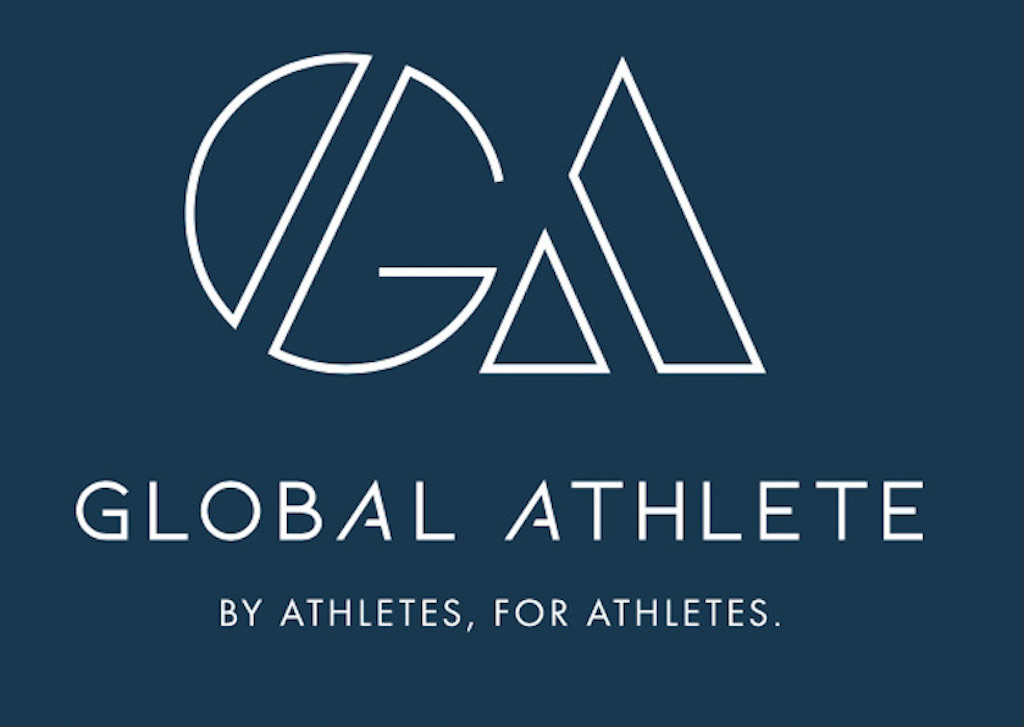 "Global Athlete is proud to be a partner with the International Swimmers' Alliance. Establishing an independent association is a critical step in enhancing athletes' rights. It is so important for athletes to have their own professional representation and they are in good hands with Matt leading the charge."

Rob Koehler, Global Athlete Director General
In its own statement welcoming the arrival of the Alliance, Global Athlete noted:
Global Athlete is thrilled with today's launch of International Swimmers' Alliance, an athlete association that will stand for athletes and provide independent representation to swimmers worldwide.
We are committed to continually advocating for and supporting independent athlete associations that are developed by athletes, for athletes. Today's announcement is an important step forward for swimming athletes, but also an important message to athletes in other sports that collectively working together to place athletes' interest first is the way of the future.
"Global Athlete is looking forward to our partnership with the International Swimmers' Alliance who now join the ranks of the Athletics Association, our other international partner set up to serve track and field athletes. The future of sport will benefit immensely by working with independent athlete representative groups and we are pleased to have supported the official launch of the International Swimmers' Alliance led by Olympian Matt Biondi," said Rob Koehler, Global Athlete Director General.
The International Swimmers' Alliance objectives are to promote the advancement of all swimmers in the sport, improve relations with governing bodies and event organizers as well as improve the economic conditions of swimmers, which are critical to athlete safety and wellbeing.
Global Athlete is committed to working together with the International Swimmers' Alliance and fully supports the need for athletes to be represented by this new independent model. Sport needs to be held accountable for decisions, but more importantly needs to place athletes' rights first in all decisions.
As an organization aiming to inspire athletes and drive change across the world of sport, we remain committed to helping other international athlete groups organize. Global Athlete provides start up support to assist in establishing and launching independent athlete representation models.
The Alliance Board meets monthly and has established short-term and long-term goals for the organization based on initial athlete feedback. The "Alliance website" further allows for current members to voice their concerns on troubling issues they are experiencing and for the board to focus on improving the most common and pressing problems faced by pro swimmers today. The website is also intended to build membership for all eligible swimmers with a top 20 world rank- ing in an individual LCM event.
Swimmers' Alliance Board member, Canadian Olympian and 2007 World 100m freestyle champion Brent Hayden noted:
"I want to be a part of the International Swimmers' Alliance as a way to give back to the sport that has already given me so much. In fact, all Alliance members have the potential to make positive change for generations to come."

Brent Hayden
Background To The Alliance …
Hungary's triple Olympic champion Katinka Hosszú was among three swimmers, with Americans Tom Shields and Michael Andrew, who took on FINA in American courts when the international swimming federation attempted to have federations penalise swimmers in they took part in International Swimming League preparation competition. Their December 2018 challenge resulted in FINA acknowledging that it could not operate a monopoly: in January 2019 is declared that athletes were free to compete in events staged by independent organisers.
Hosszu told Reuters at the time: "It was very interesting how it unfolded. ISL never wanted to be aggressive with FINA, we don't want to take FINA's place, ISL wants to create something new, to be in a parallel universe with FINA and they didn't allow ISL – they didn't have the right to do that. But at the end of the day, they settled and ISL can start."
FINA had failed to develop the sport in a way that allowed swimmers to earn a professional wage and take up branding opportunities denied to them because of restrictive rules set by the federation. Hosszu told this author that "we swimmers are partners of the governing body, not just muppets who have to do as we're told. The ISL takes swimmers seriously, not like FINA." Speaking to media in 2019, she added: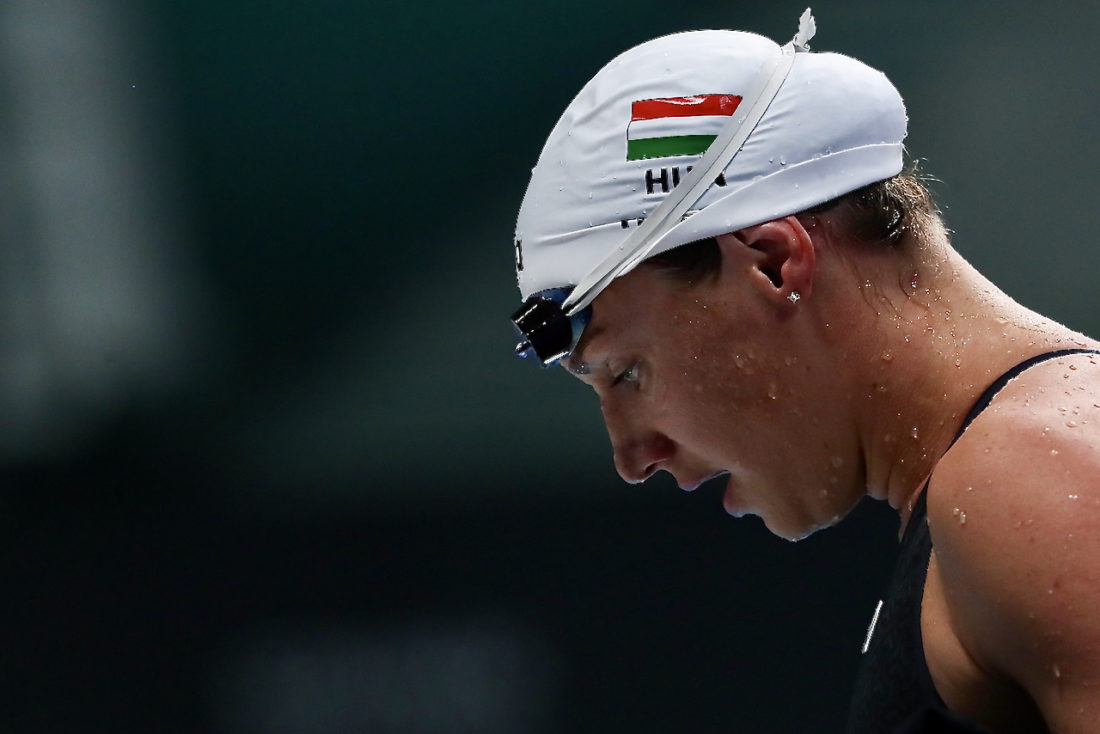 "Before it was simply FINA decided and that was that. FINA was the one that had all the control and we just did what was available to us. We want to change the fact that we are only seen worldwide during the Olympics. We don't only want to be looked at as swimmers without a personality just with a flag on the cap. Cap and goggles and where you are from – that is all you get. It can't be that exciting to watch if you don't know the person. The IOC [International Olympic Committee] probably wouldn't like me saying this, but [the aim is] becoming such a professional league and generating so much money and viewership that the Olympics will be one of the swim meets, like for basketball and tennis. That's my vision."

Katinka Hosszu, image courtesy of the Hungarian Swimming Federation
More on the Alliance later today…