In The Calm Beyond The 1:42.9 Storm, Stoic David Popovici Says "Crazy Swim … Really Killed Me – All Part Of The Experience"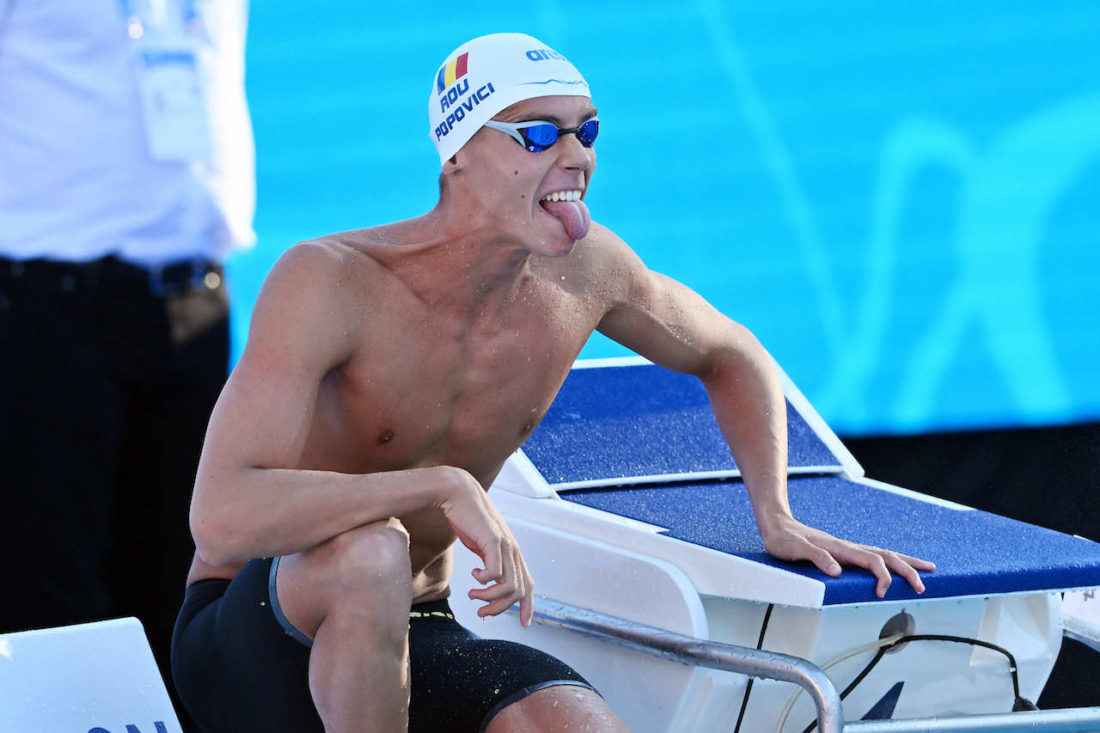 After a calm cruise through the gauntlet of TV and radio, home media and assorted others, David Popovici reached the deep end of the media mixed zone. The non-rights holders. The cheap seats, if you like.
After a spectacular 1:42.97 200m freestyle, he's been masking his way through the media mixed zone. The Result in Full.
David's cracking his dextrous wrists, stretching his fingers back, bending over on his ankles and hopping, very calmly, always calmly, from foot to foot, as he moves through the crowd of lenses, lashes, lookers on and the lady enforcing the ban on photos in the media zone where athletes walk along a corridor lines with a giant wall boasting the names of sponsors no-one can see, nor photograph.
His poise, smart but never arrogant answers, his willingness to address every question put to him, politely and honestly: all part of an appeal that spills well beyond the water's edge he's spent a good deal of his young life at, near or the other side of, in his element.
David smiles, looks at the small bank of smartphones at our waist level (not his) and decides he will stir down at us no more. He reaches for a plastic chair. A king deserves a throne, especially one doing whatever he can to fulfil his obligations as a star ascending while conserving his energy to make sure his trajectory remains on course.
Here he his, the 100 and 200 metres freestyle double World and now European Champion, the newest member of the World-record club, a shiny suits slayer on an outstanding 46.86sec in the 100m freestyle here in Rome where Cesar Cielo began his reign as Emperor of sprint freestyle pace 13 years ago. The Brazilian still has half a crown, the 50m global standard still in place.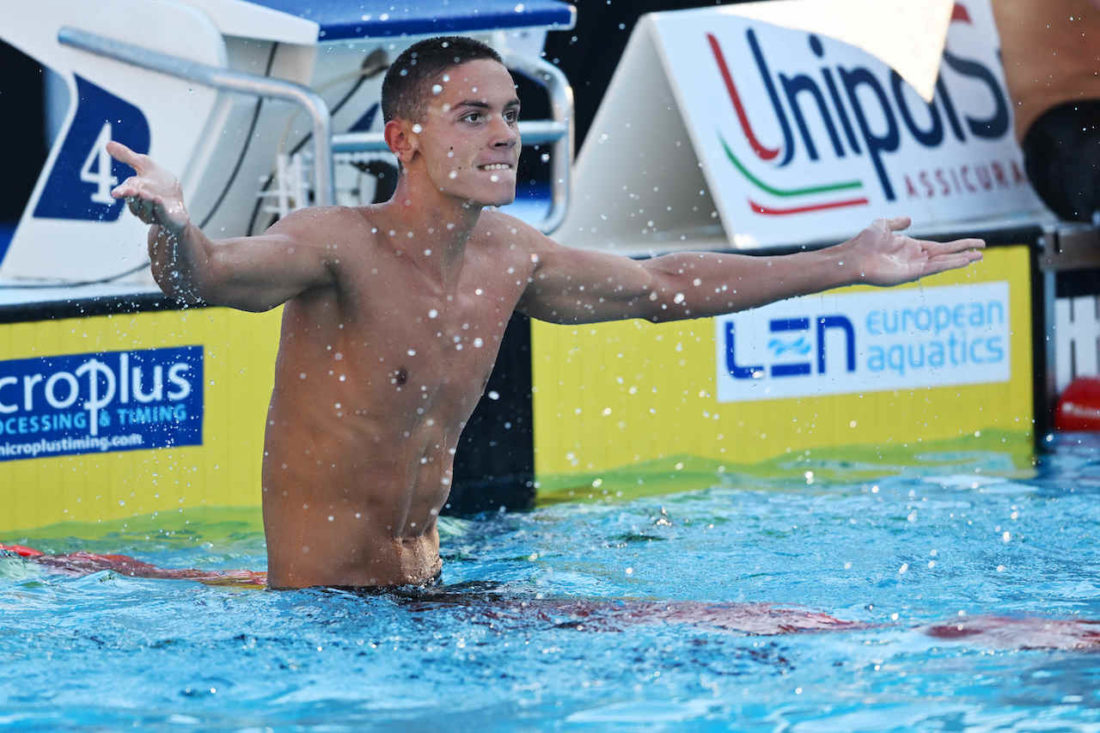 "The only advice my coach gave me when I asked him about a race plan this afternoon – he said 'just do something crazy'. I think it's crazy enough what I did."

David Popovici – by Gian Mattia D'Alberto – LaPresse, courtesy of arena
David, stoicism a stilling influence beyond the moments when he's anything but still as he hurtles down the pool like a test car in a wind tunnel on a rainy day, was still very calm. There was still no talk of being thrilled, delighted, "over the moon". Satisfied, perhaps? "I am satisfied – don't I look satisfied? I am very satisfied – we all are – it was a good race. I'm happy with it."
Could he describe how he felt, physically, at the end of such an outstanding effort, I ask.
"I was extremely tired. I've had races in which I was a lot more tired than this one but this one really killed me a little, it was hard, it's not an easy thing to do. It put its toll on me, I guess that's the experience."

Photo Gian Mattia D'Alberto – LaPresse, courtesy of arena
Experience begat experience – and here comes a new one: after a rest day, he will take on the 400m freestyle. His first one in senior waters, though, of course, he'll hardly be a stranger to swimming 400m.
Lorenzo Galossi, the 16-year-old Italian who won silver behind Popovici in the 200 at the European juniors and here in Rome this week the 800m behind teammate Gregorio Paltrinieri, awaits him in the space between.
Galossi owned the 400 and 800 at Euro juniors in Bucharest, where David attends international school and handles much of his learning in English. To win the 400 here in Rome may not take a European Elijah, Winnington having claimed the World title in 3:41 back in Budapest in June, but a 3:44-45 or better is likely to be required, Galossi alone have clocked 3:45 at nationals in April, a month shy of his 16th birthday.
What did Popovici expect of himself?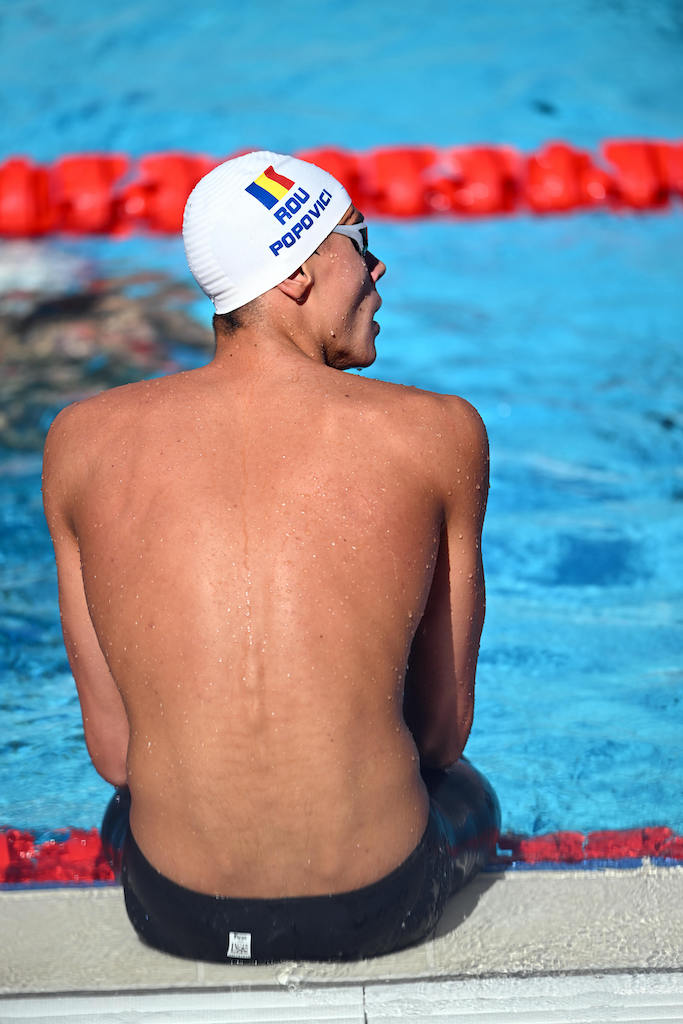 "I'm not sure; it's the weirdest race I'm going to do this week because I have no experience. I think I've only swum it three times in my life and that was at small meets. But it's a good place to start and it's a good place to see if I am bad or good."
He'll be calm, that's for sure. Celine Nony from L'Equipe asked if he was calm on the inside?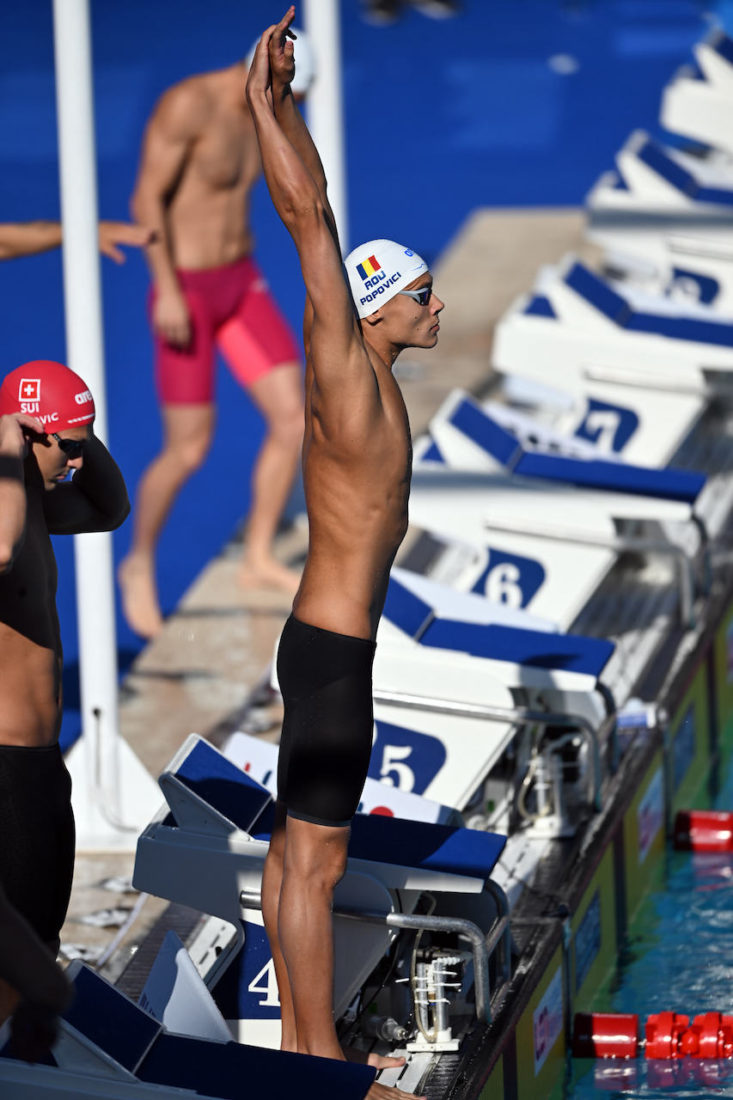 "If I was to put on a front and I wasn't really that calm and I was actually shaking on the inside, I think you'd see it under pressure. I think that's when you can't really hide it anymore and it might happen but that's not the case right now."
So, shiny suits. Popovici thinks they helped "a little bit" in terms of the physical. I offer to send him the maths. Through wry smile, he gets as close to raising an eyebrow as a calm man can on the way to his fourth international championship target this summer: two days after Rome 2022 is history on Wednesday evening he leaves for Peru and the last challenge at World junior level before he becomes an official "senior" at the end of the year.
Biedermann went through 24.23, 25.89, 26.18 and all but punched a hole in the pad after surfing home in 25.70 to destroy Phelps' 2008 World record and confine the Olympic champion to a minor spoil of suit wars.
"Weird" is how Popovici described the World-record splits. He knows there was something up. He's also polite and respectful as he reaches for balance: "I think it helped mentally a tremendous lot – sure, them knowing they have a lot of material on them that makes them slide faster through water I think really helped them mentally."
Had he been aware that he had dome to his rivals this day what Biedermann did to Phelps and the rest in the same pool down the last lap in 2009? Says David: "The last length is my speciality in the 100 and the 200 so I kind of knew I was going to leave them a little behind, that was something I expected."
Those being left behind probably expected it too. They all know a shooting star when they see one.
As does Gabriela Dāncāu, the Romanian ambassador to Italy who awaited the king on the steps beyond the enclosure where he was speaking to media.
Popovici knows there's more of that to come and accepts it and embraces it as something else to be expected. He noted on the eve of the championships that his double World-title campaign in Budapest had not so much raised hoist profile but flown it on the highest flagpoles with the national emblem across the country: where 3-4 out of 10 folk on the street might have recognised him, now it's a perfect 10, said the swimmer who as a boy was presented with a prize by gym legend Nadia Comaneci.
Was he aware of the glare of publicity surrounding him and his achievements back home?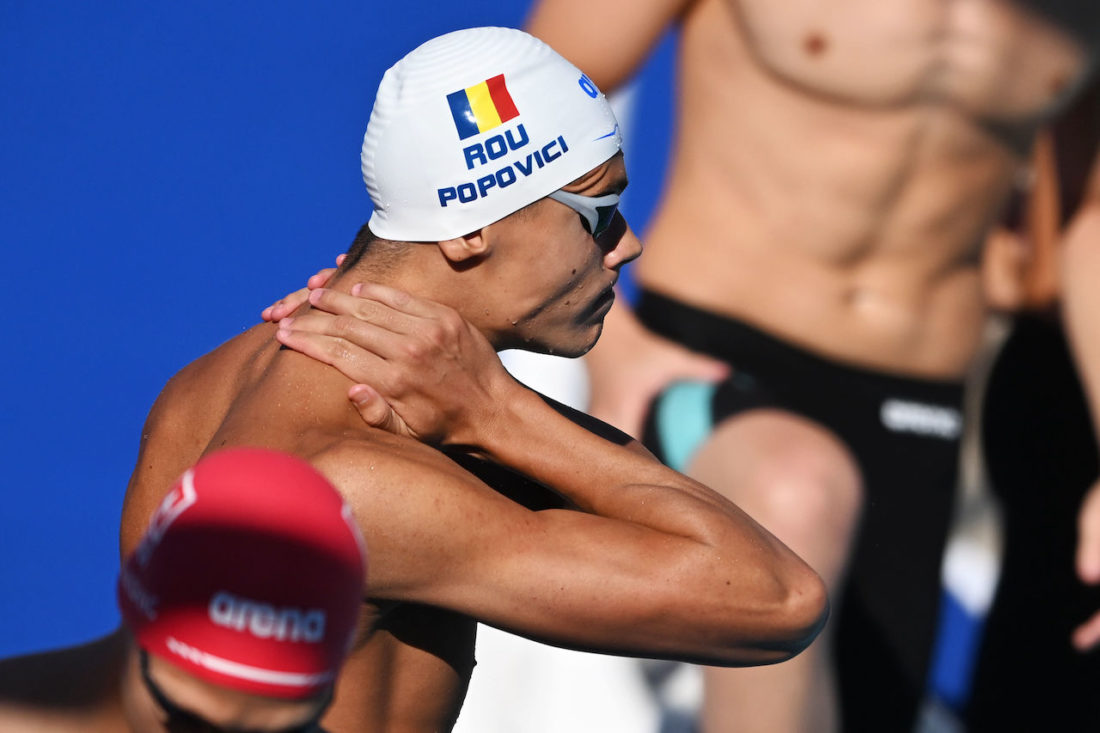 "The true and honest answer is I don't know because I haven't checked anything social media-related and so all the recognition I've had and seen is only from here which is okay, I can take it because it comes with being good of course.

"I don't really know the impact I have in Romania right now or in the world of swimming: I can only see what's around me but I will at some point get to see the impact I had on the internet and social media and all around the world.

"I can't wait to see it – I'm not nervous but excited to see it."

David Popovici – by Gian Mattia D'Alberto – LaPresse courtesy of arena
David's brought back to the world when he was five. An Italian reporter wants to know his thoughts on Rome, the crowd, the fans, the "pool of records".
He was happy that the crowd had been so supportive: "It makes me stronger".
As for the Stadio del Nuoto: "This is the pool of records and will remain the pool of records until all the 2009 records are broken. It will be hard to do that because they are very hard records to break."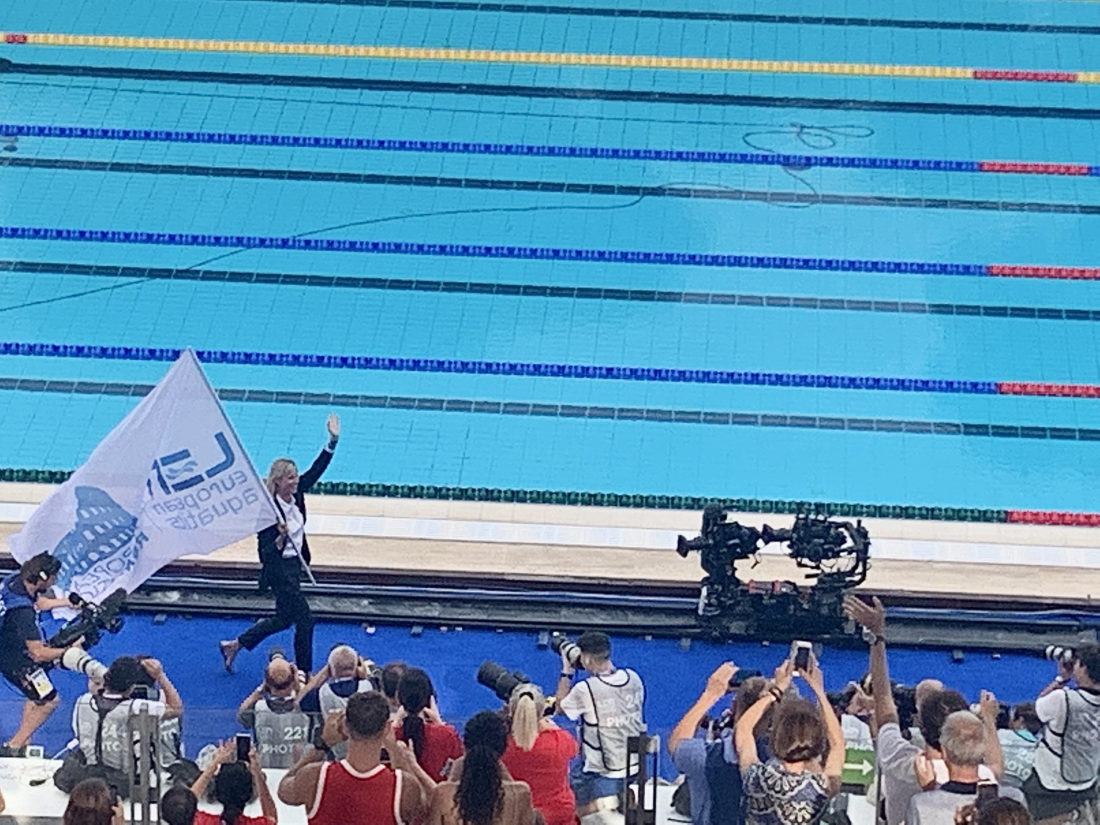 But in Italy everyone hopes that Federica Pellegrini's 1:52.9 200m free World record will be like Rome: Eternal!
David smiles. He passes no comment but the one that will have every Italian heart in his hand: "Well," he says with a beaming smile. "I like Federica!"
Don't we all.
With a final "thanks" to we who waited, off he goes, a young diplomat on his way to meet the head of his country's diplomatic mission in Rome.