In The Balance Of 46.86 – Popovici Plot To Take Back Control Of The 100m From 'Pure Sprint' Club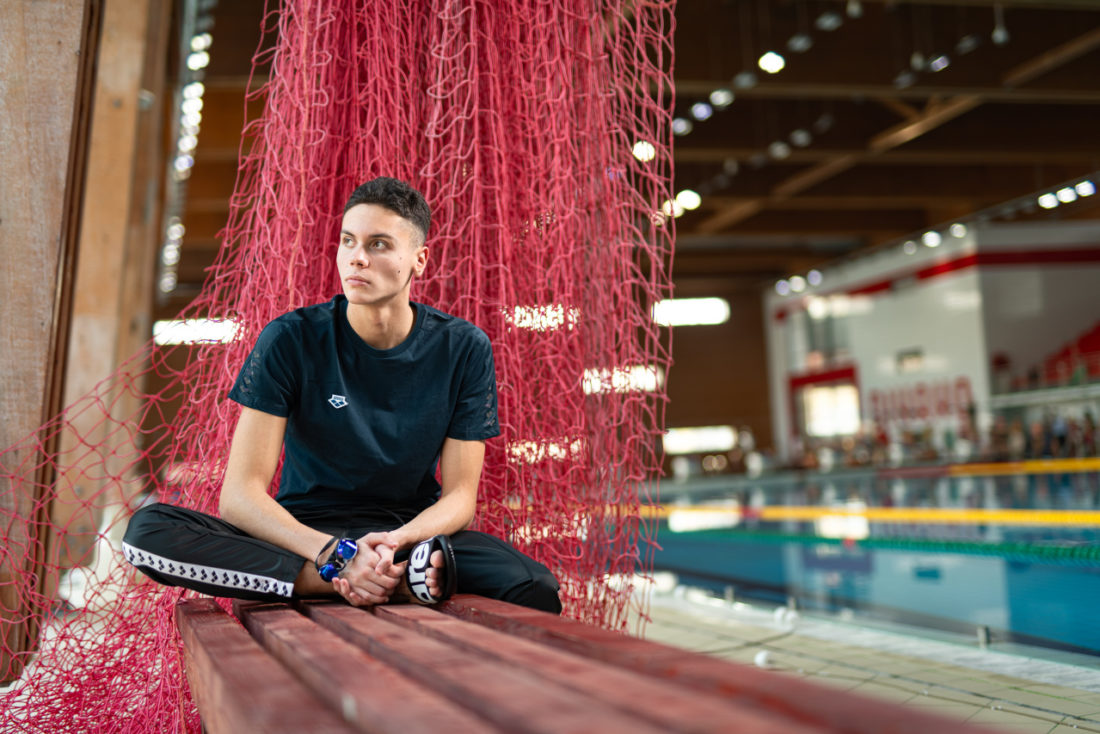 You have to chug back to the Eindhoven Express to find an engine sprinting with balance at the helm of global 100 and 200m pace, with World records and Olympic titles in both distances – and David Popovici is not quite there yet.
The runes and the 46.86 World record in the 100m here in Rome today suggest we may not have too long to wait for a man to match the feats of Pieter Van Den Hoogenband: Popovici has the 100m World title and record in what is already one of the most impressive of fledgling Pantheons; the World 200m title is in the bag, too, along with the World Junior record and a fourth place in the Olympic final at 16.
The train has well and truly left the station. On the way to Paris and a likely challenge with defender Caeleb Dressel, former defender Kyle Chalmers, Kristof Milak and all others staring at the 47sec mark with intent, attention turns to how the race can be won.
Jacco Verhaeren, Hoogie's mentor and now head of the French performance program on the way to Paris 2024, congratulated Popovici, saying: "Brilliant swim. And he may be just getting started … [Clap emoji]."
Questions Of Balance To The Wall & Back
Today in Rome, Popovici raced his 46.86 shiny suit slayer of a swim in 22.74 out 24.12 home. Sensational. A poser for the 'pure sprint club', too: Popovici would have been 0.57sec behind Cielo at the turn in this same pool in 2009; 0.45sec behind Dressel at the turn at his 2019 swiftest, until today the world textile best. At 24.12 coming home, only Chalmers, at 24.29 returning to a 47.08 chasing Dressel down for Olympic silver 0.06 from his goal, gets close.
Here's the canvas deep and wide, the battle lines of balance in the 100m ranks now and then:
The Balance Of There-And-Back In Top-Flight 100m Club: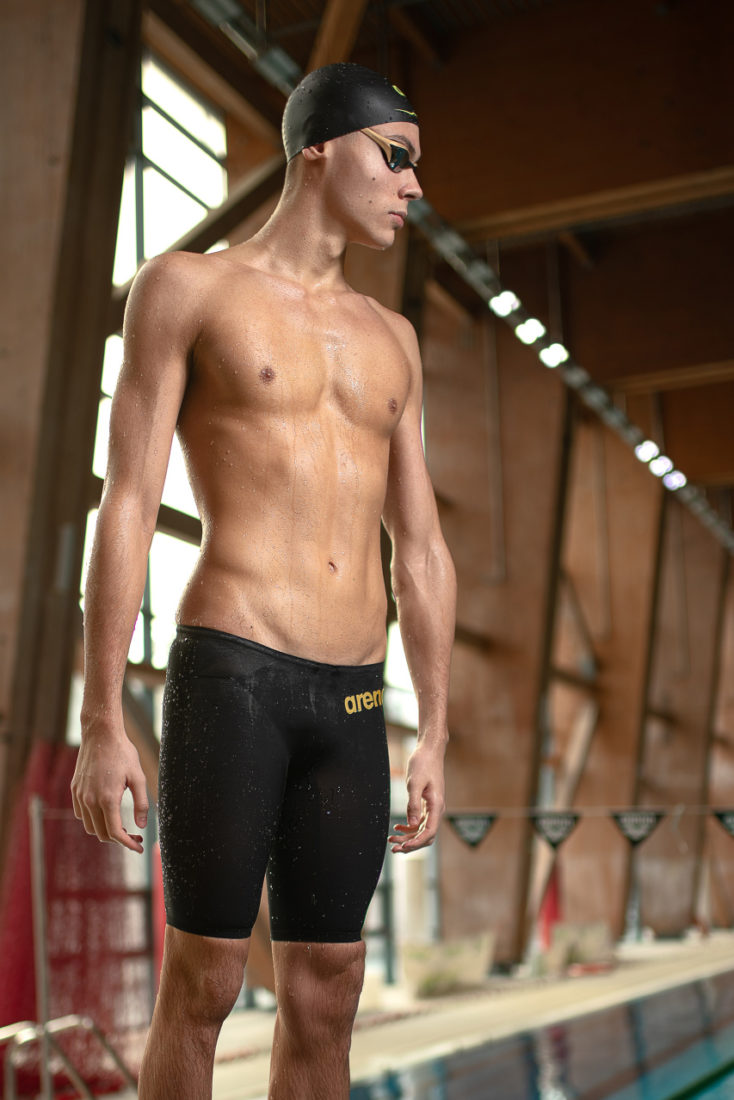 Key —————— : indicates the end of straight all-time ranking and switch to other interesting splits
46.91 – 22.17; 24.74 – Cesar Cielo BRA 2009 (World title)
46.94 – 22.35, 24.59 – Alain Bernard FRA 2009
46.96 – 22.29, 24.67 – Caeleb Dressel USA 2019 (World title)
46.98 – 22.93, 24.05 – David Popovici ROU 2022
47.02 – 22.39, 24.63 – Dressel 2021 (Olympic title)
47.04 – 22.54, 24.50 – Cameron McEvoy AUS 2016
47.05 – 22.44, 23.61 – Eamon Sullivan AUS 2008
47.08 – 22.79, 24.29 – Kyle Chamlers AUS (Worlds, Silver)
47.08 – 22.71, 24.37 – Chalmers 2021 (Olympic silver)
47.09 – 22.53, 24.56 – Cielo 2009
47.10 – 22.63, 24.37 – James Magnussen AUS 2012
47.11 – 22.49, 24.62 – Kliment Kolesnikov RUS 2021
47.12 – 22.22, 24.90 – Bernard 2009
47.13 – 22.82; 24.32 – Popovici 2022 (Worlds, semi)
47.13 – 22.67, 24.46 – Cielo 2009
47.15 – 22.33, 24.82 – Fred Bousquet FRA 2009
47.17 – 22.31, 24.86 – Dressel 2017 (World title)
——————
47.22 – 22.46, 24.76 – Dressel 2017
47.26 – 22.29, 24.97 – Dressel 2017
47.27 – 22.43, 24.84 – Brent Hayden CAN 2009
…
47.51 – 23.31, 24.20 – Michael Phelps USA 2008
47.52 – 22.64, 24.88 – Nathan Adrian, USA 2008 (Olympic title)
47.58 – 22.72; 24.86 – Popovici 2022 (World title)
47.75 – 23.25, 25.50 – Pieter van den Hoogenband NED 2008
47.84 – 23.16, 24.68 – Van den Hoogenband (Olympics, sf) 2000
47.86 – 23.34, 47.86 – van den Hoogenband 2002 (European title)
48.17 – 23.37, 24.80 – van den Hoogenband 2004 (Olympic title)
48.30 – 23.32, 24.98 – van den Hoogenband 2000 (Olympic title)
Expectations are great when it comes to prospects of a challenge to the established order in the Paris 2024 Olympic 100m. Asked 'what's the difference between you, Dressel and Chalmers', Popovici said: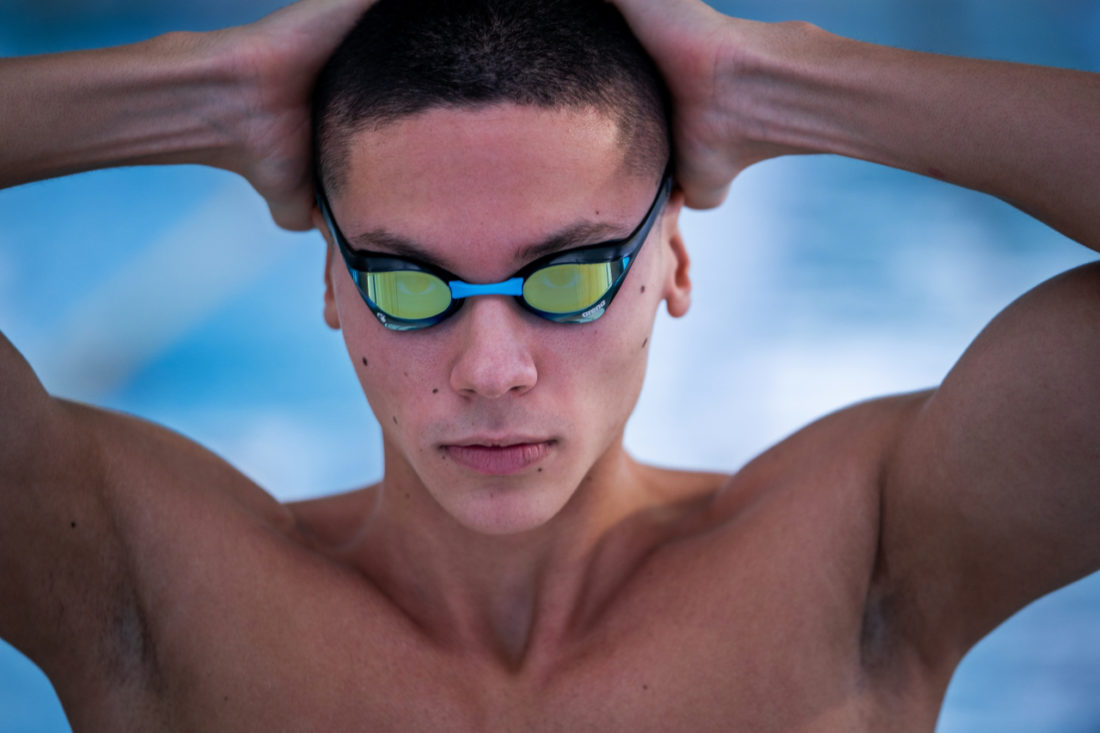 "Well, they're bigger than me. Dressel has a whole different strategy in the 100, for example. Our common ground is the 100 for us three. Me and Chalmers have a similar 100 strategy so when all three of us are almost as good as each other and are all more or less as close to the World record, I think what differentiates us in a race is who's hungry…. That's really what it's about."

David Popovici – by Mine Kasapoglu, courtesy of arena
More on that and the question of 200m balance later… for now:
Questions Of Balance & Progress Over 200m, Too
Last year, Ian Thorpe said his 1:44.06 World record over 200 metres freestyle in 2001 remains highly competitive (Olympic gold went to Tom Dean in 1:44.22) because: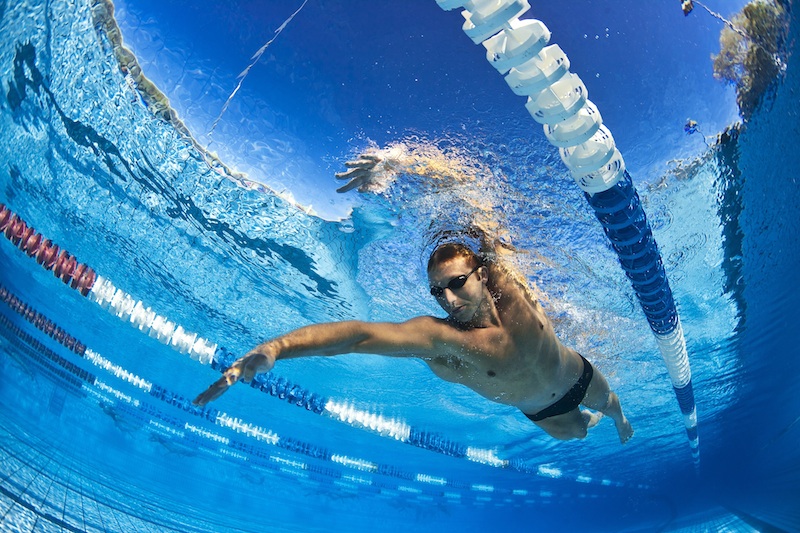 "Everyone in the world is swimming the 200 freestyle wrong. You can't swim 150 metres easy and then turn it into a sprint. You are going to limit what time you are going to do."

Ian Thorpe, talking to Brett Hawke in 2021 – Image: Ian Thorpe in 2011 – by Patrick B. Kraemer
Thorpe see it from both ends of a spectrum of excellence: Olympic 400m freestyle champion at Sydney 2000 and Olympic 200m and 400m champion at at Athens 2004, the Australian also claimed bronze in the 100m, while in 2001, he claimed gold in the 200, 400 and 800m and finished fourth in the 100m final at the World Championships, aged 18.
His advice to 200m swimmers in 2021 was to go for it from go, hurt and then be "willing to deal with the pain that is going to exist the last 50 meters".
No swim of 1:44 flat or better was going to come off a half-way split worse than a 50-point, he suggested. His back-end speed gave him a little scope to stretch his theory to a 51 at the 100m mark knowing his size 15s would come to his rescue, though even then he had learned at 17 in Sydney that there is never any room for resting on laurels and theories, Pieter van den Hoogenband the Eindhoven Express who proved the point.
The splits of Yannick Agnel, of France, and Michael Phelps, of the United States, fit the pattern Thorpe talked about in 2021.
As noted in our report on the 200m free final here in Budapest, Popovici's third lap is the fastest in history among those who have got under 1:44 or rattle the mark. What had been running through his mind as he ploughed past Dean on that sizzling third length? "I knew I was the stronger, that's all I can say," said Popovici.
Questions of Balance & Progress: splits significant to Popovici's trajectory to the top:
24.81, 51.45 (26.64) 1:18.26 (26.81) 1:44.06 (25.80) Ian Thorpe AUS 2001
24.55, 50.64 (26.09) 1:17.16 (26.52) 1:43.14 (25.98) Yannick Agnel FRA 2012
23.77; 49.96 (26.19) 1:16.27 (26.31) 1:43.21 (26.94) David Popovici ROM 2022
24.47, 51.00 (26.53) 1:17.73 (26.73) 1:43.86 (26.13) Michael Phelps USA 2007
Non-textile
24.31, 50.29 (25.98) 1:16.84 (26.55) 1:42.96 (26.12) Michael Phelps USA 2008
24.23, 50.12 (25.79) 1:16.30 (26.18) 1:42.00 (25.70) Paul Biedermann GER 2009 WR
Tokyo 2020ne Olympic Games:
24.21, 50.46 (26.25) 1:17.38 (26.92) 1:44.22 (26.84) Tom Dean GBR Gold
24.81, 51.38 (26.57) 1:17.80 (26.42) 1:44.26 (26.46) Duncan Scott GBR Silver
24.24, 50.25 (26.01) 1:17.28 (27.03) 1:44.66 (27.38) Fernando Scheffer BRA Bronze
24.23, 50.73 (26.50) 1:17.97 (27.20) 1:44.68 (26.71) David Popovici, 16, ROM, 4th
23.95, 49.78 (25.83) 1:16.56 (26.78) 1:45.26 (28.70) Hwang Sunwoo, 18, KOR 7th
Budapest 2022
23.77, 49.96 (26.19) 1:16.27 (26.31) 1:43.21 (26.94) Popovici
24.36, 50.72 (26.36) 1:17.33 (26.61) 1:44.47 (27.14) Hwang
23.72, 49.81 (26.09) 1:16.91 (27.10) 1:44.98 (28.07) Dean
What will Rome 2022 bring…