Hunger Games End With Roar As Adam Peaty Adds Missing Gold To Pantheon After England Mate Brodie Williamson Joins Club Of Champions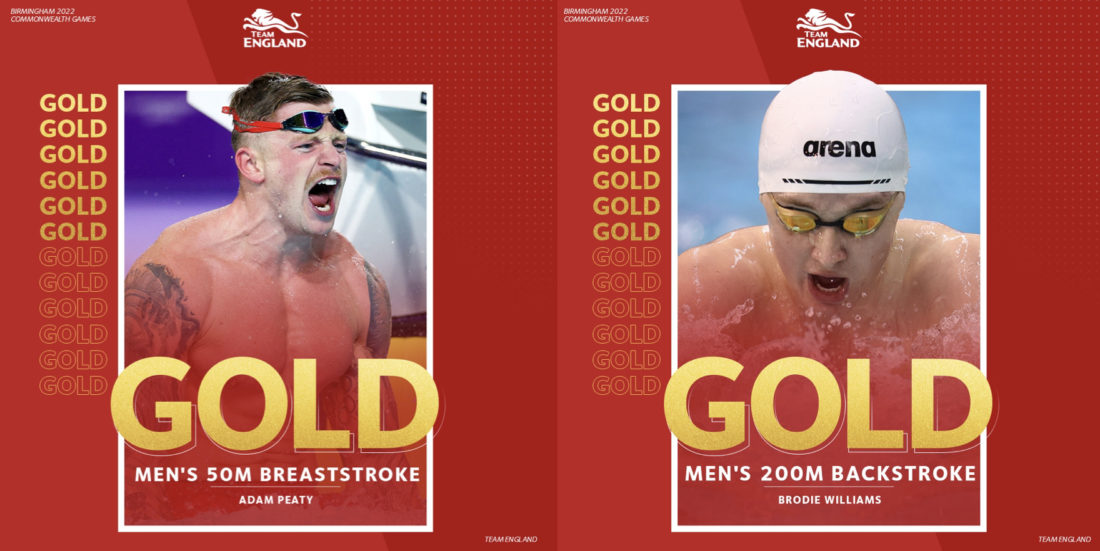 Brodie Williams and Adam Peaty shared something in common in the Commonwealth pool in Birmingham this evening: both celebrated a career-first gold, ever for Williams, in the dash at this level for Peaty, who ended his Hunger Games with a roar.
Williams won the tightest fight over 200m backstroke in the history of the event at the Games back to 1962, which granted him the first international senior gold of his career. A return to winning ways for Adam Peaty in the 50m breaststroke delivered the only gold medal missing from his glowing pantheon of titles Olympic, World, European and Commonwealth.
It was what they'd both arrived in Birmingham in search of, as had the entire Australia team it seemed in a penultimate sessions of finals that features another four golds and a sweep for the Dolphins: Ariarne Titmus led the sweep in the 800m free in a Games record of 8:13; Mollie O'Callaghan added the 100m crown to her World title off last month; Elizabeth Dekkers took the 200m butterfly; and the Mixed 4x100m medley quartet made the rest green with yet another gold rush.
That left the Dolphins way ahead on medals count going into the last day of battle, the following tallies including paraswimming events:
| | | | | |
| --- | --- | --- | --- | --- |
| Australia | 22 | 18 | 16 | 56 |
| England | 6 | 13 | 5 | 24 |
| Canada | 5 | 5 | 5 | 15 |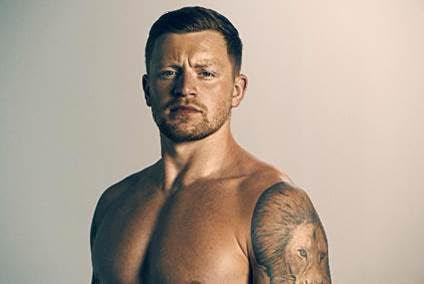 Peaty broke a bone in his foot on training camp back in April. In Birmingham he suffered not only his first 100m defeat since 2014 but ended up off the podium in fourth in a final won by England teammate James Wilby.
In the 50m, Peaty was well down on his top-flight speed and sub-26 World record in the 50m breaststroke final but in 26.76 seconds he grabbed the one gold that had eluded him, twice. The flame burns yet … and watch for the outside smoker in lane 8:
So, third time lucky, though Peaty, coached by Mel Marshall at Loughborough and City of Derby before that, hasn't been a man who relies on luck for at least a decade. After victory, Peaty's victory lap included hanging the gold medal round Marshall's neck and reaching out to his parter Eri and their son George in the stands a moment captured by Times ace snapper and colleague Marc Aspland:
In 2014, Peaty's breakthrough summer with titles European and Commonwealth, he was pipped in the dash by 2012 100m Olympic champion Cameron Van Der Burgh, of South Africa. Four years on, VD Burgh now an "old man" produced his final, and biggest upset, victory of his career, taking the 50m crown once more ahead of a Peaty boasting a wholly different status as 100m world record holder as sub-58sec pioneer, Olympic champion, twice World and European champion.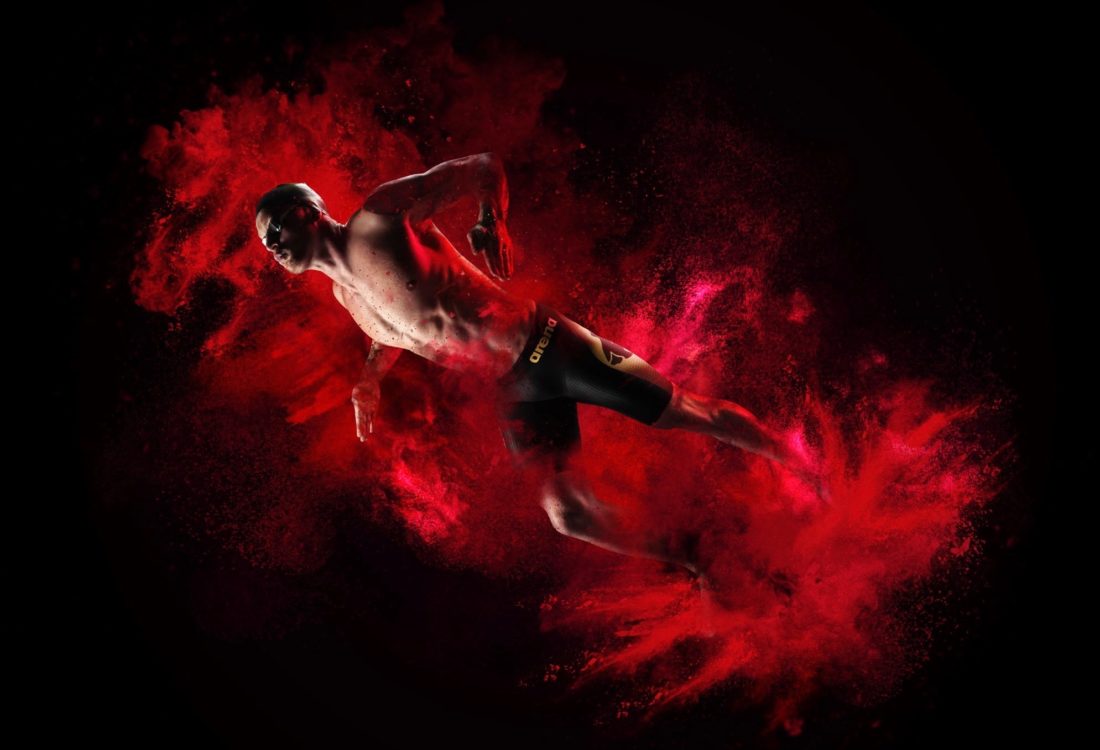 In Birmingham, a home Games and, Peaty says, his last Commonwealths campaign, the missing gold was the fuel that got him through the "heartbreak" of loss in the 100m. Would it happen again? Would he put "emotion before process" and miss the mark once more at his comeback event since injury and a six-month break following the Tokyo Olympics at which he became the first British swimmer ever to retain an Olympic crown?
No, was the answer to those doubts. Sam Williamson, one of the two Aussies on the 100m podium ahead of Peaty, took silver in 26.97, the bronze delivering a heartening footnote for two Britain teammates who have shared podiums at various times in their career, domestic and international: Ross Murdoch, whose celebrations after a third place in the 200m eight years after Glasgow gold at a home Games for the Scot sparked a celebration of cultural cheer, clocked 27.32 for the last solo podium of his Games career, one that followed some sage and sound advice for Peaty after the 100m in which both men finished off the podium.
Murdoch took bronze 0.04sec ahead of South African Michael Houlie, with Scotland mate Craig Benson next home in 27.43 and 100m winner and 200m silver medallist Wilby sixth in 27.72. Result in full.
Peaty emerged from the dash with a smile to replace the sadness he'd been struck by after finishing fourth in the 100m. He said: "After the 100, I was at the lowest of the low. I had something that was almost guaranteed taken away from me and I took it for granted I think.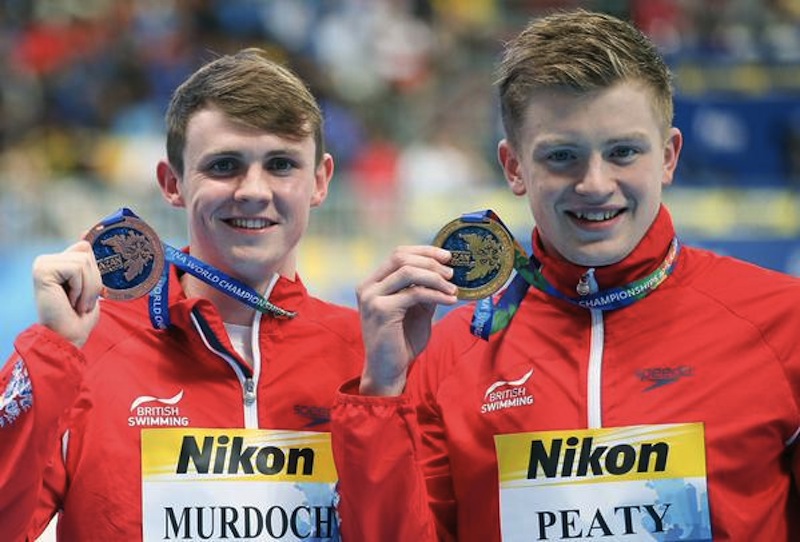 "I was saying to Ross in the swim-down I didn't want to do the 50 and he said 'no, you'll regret it and you'll regret it the day after, a year after and for life'.  And I'm glad he was there to encourage me.  Yesterday was all about going through the rounds and today was the emotion: that was the rawness and that's what you saw. I reverted to who I am. It took a whole lot of courage and balls to come back and fight for the 50m, I could've just easily let life pass me by and gone home … I feel a spark and hunger inside me that I haven't felt in a long time." 

Adam Peaty – photo: Adam Peaty, right, and Ross Murdoch, deliver two bites of the cherry for Britain in the 100m breaststroke at 2015 World titles – by Patrick B. Kraemer
With a nod to coach Marshall, the "cornered lion", as he called himself, added: "Mel said this morning – today you wake up, will you play? I replied straightaway 'no, I fight' because sometimes playing's not enough and I gave literally absolutely everything in that race. I don't care about the time, I don't care about the result, I just care about enjoying the crowd, being there and winning."
'It's Been A Very Tough Games' Says Peaty
On his experience of Birmingham 2022, Peaty said: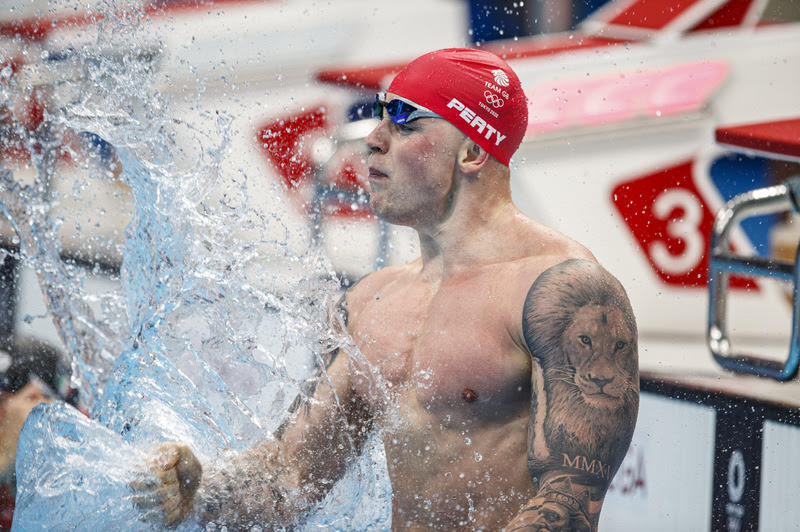 "I struggled to be honest. Really, really struggled. No race exposure, I have no idea what I'm doing. It took until today, towards the end of the meet to find that, what it's actually about. I kept myself to myself and it's been a very tough Games, a very hard Games. 

"I came from literally the lowest point two days ago and I said 'you know what – I'm a fighter – I am not going to let anyone take this and just walk it, they are going to work hard for it. 

"It's the only one I  hadn't won in my whole career and after the 100 I was like 'ugh, I'm going to have to wait another four years'  

"But I knew this was going to be my last Commonwealths so today was the day to do it, I've completed the whole collection now, just got to get some short-course. 

"It is a sweet victory for me." 

Adam Peaty – photo: Adam Peaty of Great Britain celebrates becoming the first British swimmer in history to retain an Olympic crown – by Patrick B. Kraemer
Sweet ending to the history of two sparring partners down the years and had supportive words for each other to the very last as they raced in home-nation rivals camps, England and Scotland: Peaty and Murdoch shared the podium once again at what looks set to be their last Commonwealth Games, and that in a final stacked with lore from the ranks of a fine British breaststroke tradition: it was Benson's 100m time at the London 2012 Olympic that Peaty had been watching on his smart phone in a field getting drunk with teenage mates back home when a light went on in his head: I could have done that, I could have been there, I wished I'd have been there; next time I will be: time to get a grip and knuckle down.
The rest is history, as they say.
Oddly, Peaty also felt a need to apologise this day after former British international turned BBC pundit Mark Foster criticised him for downplaying the Commonwealths in tweeting that the one goal that mattered most to him was Paris 2024 and having a shot at the 100m crown for a third time. It was, said Foster, disrespectful to the Birmingham Games.
Peaty had specifically told the BBC's poolside interviewer, Olympic medallist and former double medley Commonwealth champion Sharron Davies, that he meant no disrespect: "The Commonwealths to me, in the grand scheme of things … it's about two years time (the Olympics). That's no disrespect. I'm still four weeks into my programme, I can't put that expectation on myself."
Truth: Peaty is right on all counts – he has a right to say what feels and what he felt was said in the heat of the moment after 100m loss and when leaning to much towards the emotion of the hour could cause him to suffer loss once more. Peaty was speaking after suffering his first defeat in eight years a year after becoming the first British swimmer to retain an Olympic crown; and yes, the Olympic prizes are indeed much bigger than any Commonwealth honour. That's simply a fact.
Foster may, of course, have been speaking in the heat of the moment, too, perhaps forgetful of the ways in which he could have been said to be disrespectful as an athlete along the course of a fine career that might have been spectacular had he himself not disrespected the process and discipline required to turn up to championships racing ready to be the best you can be that day (the sure-fire win at world s/c titles lost after he arrived late for the start with his bodysuit half off the shoulder and unzipped was a fine example).
Peaty was not the best he could be the day of the 100m, far from it, in terms of performance in the pool and, as he admitted, his approach to the race.
This past week, Foster also had another go at one of Mel Marshall's team at Loughborough during the Olympic Games last year:he said that 2018 Commonwealth breaststroke champion for England Sarah Vasey had little chance of picking up an Olympic medal for Team GB unless she has what he called "an out-of-body experience." That didn't sound too respectful, to be honest.
Was Foster's ironic criticism of Peaty due? Well, in response to Foster's opinion, Peaty said: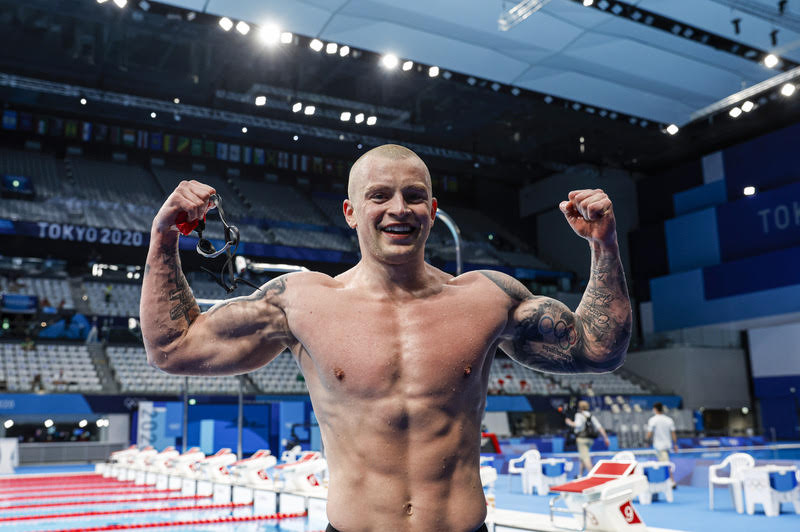 "I'll be accountable for that – I did Tweet (that the Olympics was the one he cared about). But people don't understand the lowest of lows: Mark hasn't done it for a very long time and sometimes that feeling can escape you.  As an athlete in that moment, I was at my lowest: I had nothing else to say, nothing else to do. 

"It does mean a lot to me: you can see that on the lane rope. I want to say sorry to everyone who has worked hard to get to these Games and for me now it's how can I consolidate this and show the world I am the best next year and the best after that."

Adam Peaty – Photo: Adam Peaty Power – by Patrick B. Kraemer
There's be a touch of Catherine Tate's 'am I bovered' [bothered] character in Peaty's tweet but then again Peaty has always been generous in defeat, always respectful of his opponents, win or lose. He explained his comment in these words: "I can be a mardy bastard. I was really bad yesterday, really bad, because I had nothing to fight with. My spirit was low, my physical side was low. For some reason I woke up this morning and was like, 'You know what, I'm a fighter, I'm going to do it, I'm going to make it as hard as possible for them to win.' That's what sport's about."
For Williams, silver in the 100m backstroke in 53.91, 01.13sec shy of South African Pieter Coetze, suggested the English charge was ready to turn up the heat in the 200m after a fourth place at World titles last month. England and Britain team-mate Luke Greenbank stood in his way as Olympic and Worlds podium placer but it was Williams' day and definitely not Greenbank's: although just 0.58sec behind Williamson at the end after having led for the first three of the four lengths, Greenbank ended up in fifth as the contenders crashed into the wall like waves on rocks in a scene that would have been a nightmare for timekeepers in the days before electronic timing.
A protest there would certainly have been. It's more straightforward than the naked eye these days, though win thrill and loss hurts in any circumstance.
Men's 200m backstroke – England's Brodie Williams Takes First Major Gold Of Career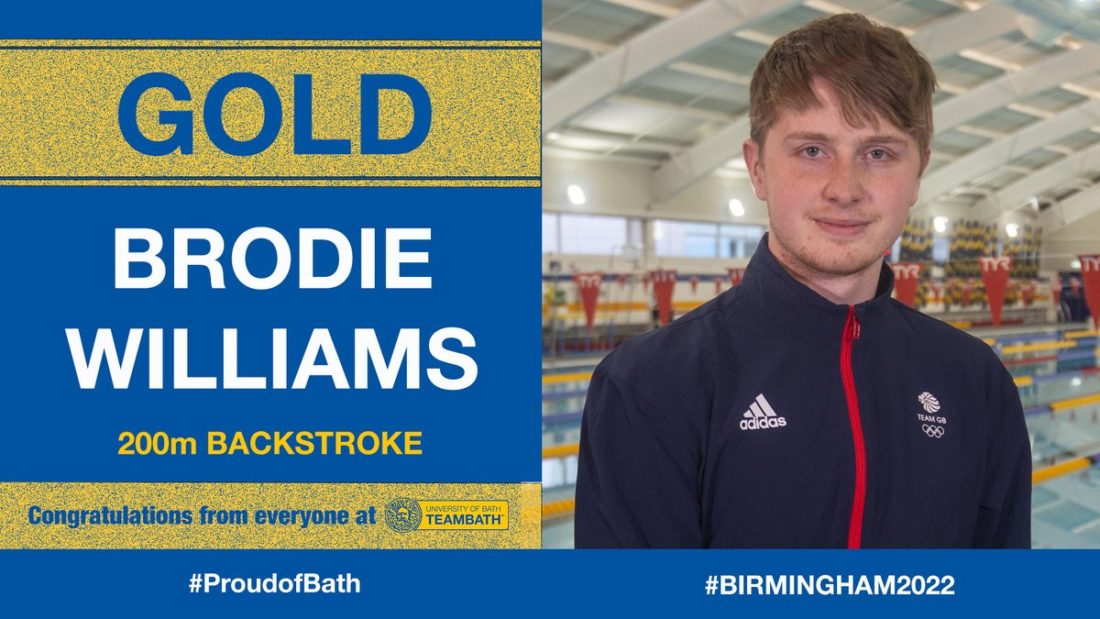 Brodie Williams grabbed the first major gold of his career with victory in the tightest 200m backstroke final in history, his winning 1:56.40 leaving him 0.58sec ahead of England teammate and Olympic and World-titles podium placer for Britain Luke Greenbank but don't get carried away with the idea of a 1-2 punch for St.George: there were no fewer than three men in the middle of the two home Gamers.
Australian Bradley Woodward took silver in 1:56.41, South African 100m champion in Birmingham Pieter Coetze the bronze in 1:56.77 and then former World champion Mitch Larkin, a Dolphin on 1:56.91 and bonded with Greenbank 0.07sec further adrift in the club of 1:56s locked out. Add in the sixth man home, Aussie Josh Smith, on 1:57.50 and there's never been a closer call in pursuit of the Commonwealth podium by six men.
By virtue of his World bronze in 2019, Olympic bronze in 2021 and Worlds silver in Budapest last month, Greenbank was favourite and lived up to his status at the helm over the first three lengths.
Out in 27.15, he was 0.17sec ahead of Woodward at the first turn. At the half-way mark on 56.24, Greenbank's closest company was was Williams, 0.48 back on 56.72, Woodward third on 56.85. At the last turn, it was 1:26.16 for Greenbank, 1:26.46 for Williams, Woodward 0.57sec off the lead pace, the rest within a fling of an arm. Then this happened, the gap between Coetze's last lap and that of Greenbank looking like the tale of an Olympic medallist shy of taper:
27.50; 56.72; 1:26.45; 1:56.40 (29.95) Williams ENG
27.32; 56.85; 1:26.73; 1:56.41 (29.68) Woodward AUS
27.80; 57.87; 1:27.77; 1:56.77 (29.00) Coetze RSA
27.59; 57.21; 1:27.25; 1:56.91 (29.66) Larkin AUS
27.15; 56.24; 1:26.16; 1:56.98 (30.82) Greenbank ENG
28.02; 57.87; 1:27.65; 1:57.50 (29.85) Smith AUS
After battle, Williams, coached by Dave McNulty at Team Bath, celebrated the first win of his senior career at a major, then turned to Greenbank, coached by Mel Marshall at Loughborough, and said: "You're Olympic bronze medallist; you'll come back from this."
The British pair had almost shared a podium at World titles last month in Budapest, when Greenbank followed 2016 Olympic champion Ryan Murphy (USA) home for silver 1:54.52 to 1:55.16. The bronze went to the second American challenger Shaine Casas, in 1:55.35, with Williams on 1:56.16 in fourth.
Williams a touch down on best, Greenbank much further shy of best and 0.58sec the difference between gold and 5th. Great entertainment.
Women's 100m Breaststroke Final – Lara van Niekerk At The Double
It was billed as. South African duel but 50m champion Lara van Niekerk turned the battle into a display of raw speedo in her way to collecting her second crown of the Games in a sizzling 1:05.47.
The 1:04.82 Commonwealth and African record was ahead of her but its owner, Tatjana Schoenmaker, the Olympic 200m champion and world record holder, was not in that kind of form today and took silver in 1:06.68, the bronze to Australian Chelsea Hodges in 1:07.05 to block England's Molly Renshaw, on 1:07.36.
Van Niekerk turned in a blistering 30.26 and came home in 35.21. No-one matched her there and no-one matched her back to an end wall that greeted her as the first South African to win the title since the dash was introduced in 2002. That was also the year that South Africa's Sarah Poewe, who also swam for Germany in her career, took the last and only other medal for the country before Niekerk today.
Men's 100m Butterfly – Liendo Leads Silver Snap For Guy & Temple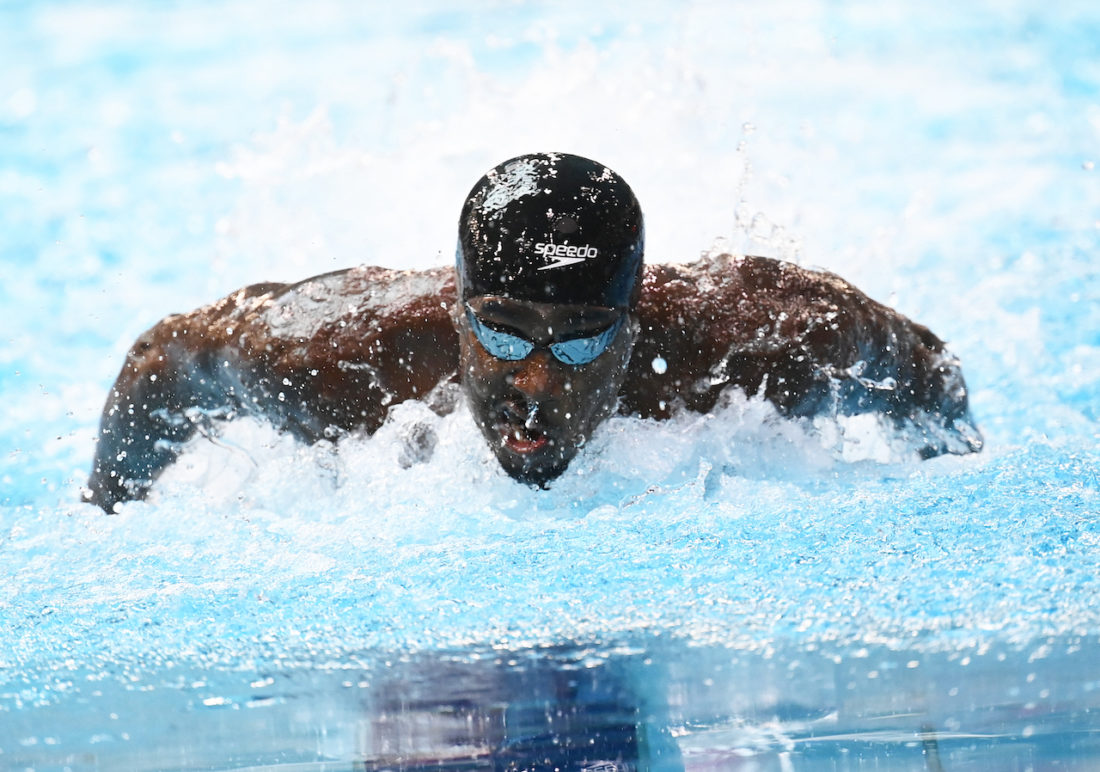 Josh Liendo, of Canada, was another who arrived in Birmingham with no prizes but will return home with gold to his name.
Victory took a 51.24, followed by a snap for silver as England's James Guy and Australia's Matt Temple stopped the clock at 51.40, 0.21sec ahead of South African Commonwealth champion on the last two times of asking, in 2014 and 2018, Chad Le Clos.
Women's 200m Butterfly – Dekkers Golds As Stephens Stops Aussie Sweep
Elizabeth Dekkers claimed gold for Australia in 2:07.26 and two teammates were home within 1.1 of her but Laura Stephens of England stopped the sweep, taking silver in 2:07.90 ahead of Brianna Throssell, whose 2:08.32 pipped Abbey Connor by 0.04sec.
Women's 100m Freestyle – O'Callaghan Adds Games To World Title At Helm Of Dolphin Lap & Sweep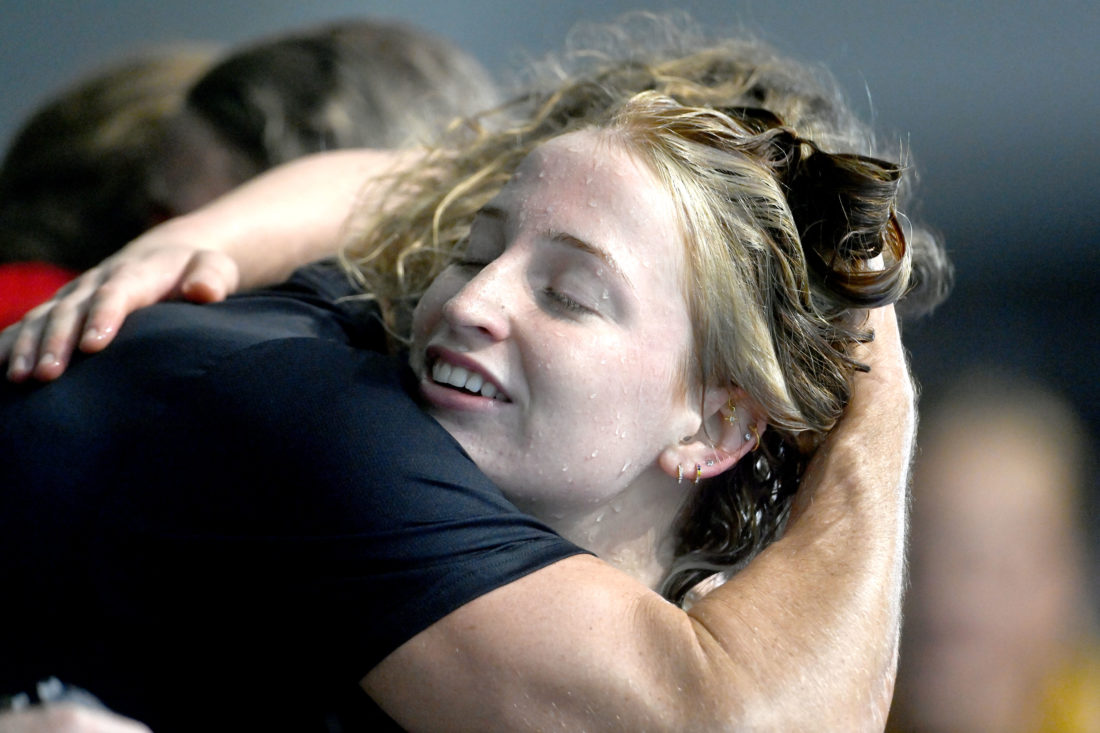 Australia's gold rush continued when Mollie O'Callaghan added Commonwealth to World title won last month, her 52.63 leading an Dolphins sweep with Shayna Jack on 52.88 and Olympic champion Emma McKeon a second down on her best for bronze in 52.94. McKeon thus matched her previous best finish at Commonwealth level, in 2014. For O'Callaghan and Jack, back from a doping suspension over a positive test for a substance the sprinter says she never knowingly took, it was their first Commonwealth 100m podium in the solo.
The Australians are a sprint class apart, fourth place a 53.57 from England's Anna Hopkin, with teammate Freya Anderson next home on 54.00.
Women's 800m Freestyle – Games Record 8:13 For Australian Golden Girl Ariarne The Terminator Titmus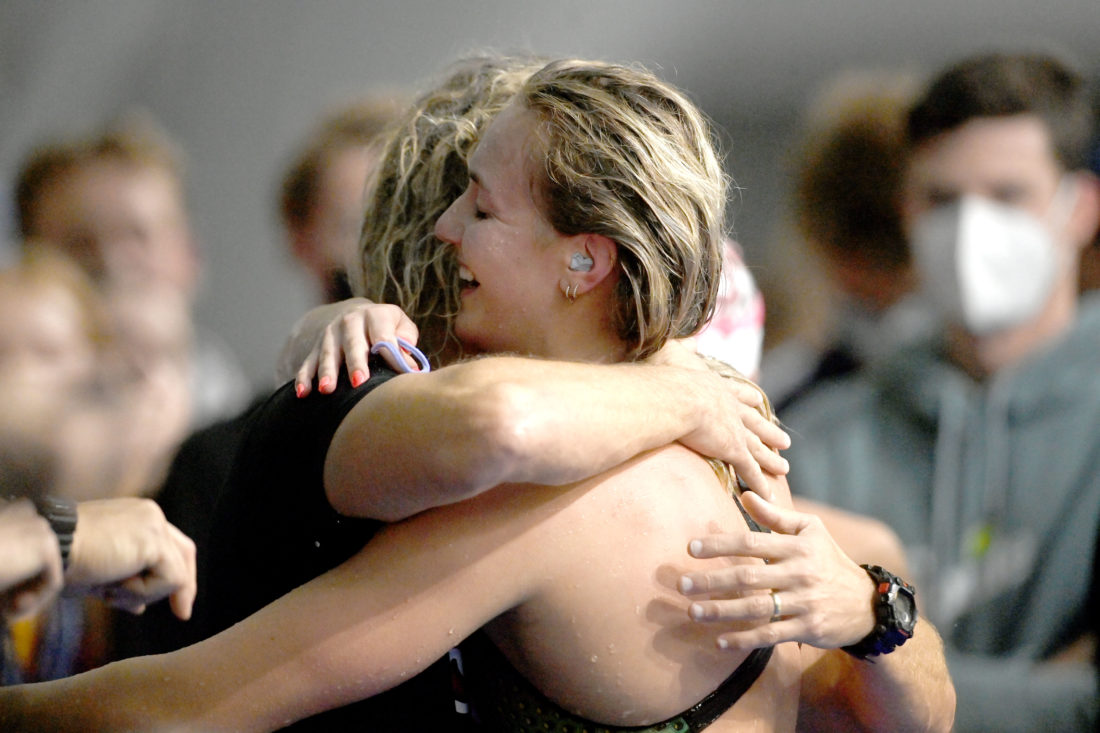 The clock was in line with her Olympic silver-winning efforts in Tokyo 2022 but Ariarne Titmus, gold in the bag in the 200m and 4x200m freestyle at these Games and three gold and a silver in the pantheon from 2018, was the hunted not the hunter this time round.
On 8:13.59, a Games record, Titmus led an Australia sweep, with Kiah Melverton on a lifetime best of 8:16.79 for silver and Lani Pallister on 8:19.16 for bronze, a fine result given that she was withdrawn from World titles in Budapest last month suffering from a Covid infection.
In fourth place, New Zealand's Eve Thomas clocked 8:32.63, not her best and shy of the 8:24.77 she has made her goal: it was the time in which her mother, England's Sarah Hardcastle clocked for 1986 gold in a time that was a fraction shy of the then World record. Caught between the sub 8:20 pace of the Australians and those lagging well behind her, Thomas had no anchor this day.
Still, the home crowd had every reason to cheer for her as the closest Britain's home nations got to having a single swimmer in the event: not a good look for a home nations that boasts Rebecca Cooke, Rebecca Adlington, Jo Jackson, Jazz Carlin, Keri-Ann Payne and Cassie Patten in the ranks of World-class podium placers 2002-2016.
Neither did Titmus, barring her sense of metronomic pace building. The only swimmer who ever swum faster has done so a dozen and half times: Katie Ledecky's 8:04 World record is the outstanding standard without an asterisk on the women's world-record books – and one of the greatest swims in history. Since the American travelled at that pace, she has swum consistently inside the best of the rest at their best, namely Titmus, who now has the edge on her rival in the 200 and 400m as Olympic champion and, in the longer race, the World record.
Mixed 4 x 100m Medley Relay – Gold For Australia
Australia brought the penultimate session of finals to a close with a 3:41.30 victory ahead of Canada, 3:43.98, and England, whose quartet featured James Wilby not Adam Peaty, courtesy of his 100m win at the Games, took bronze in 3:44.03, 0.35sec ahead of South Africa.